March 28, 2021Ninety-three-year-old Mimi Lipton has dedicated herself to a number of passions and interests throughout her life. But until her 70s, designing jewelry wasn't one of them. Though her innate urge to collect and curate has been an integral part of her selfhood for decades, she says her spectacular creative output, which features rough stones and cultural artifacts luxuriously set in 22-karat gold, is "a small paragraph in a big book."
Born in 1928 in Vienna, Lipton spent her early childhood in Belgium and moved to England with her family in the late 1930s, during the budding chaos of World War II. By 1950, she was living in London and working as an assistant to the director of the Institute of Contemporary Arts. She met her future husband, Hansjörg Mayer, a well-known German publisher, in 1967, and they began traveling together all around the world.
Favorite and frequently visited locales included destinations in Senegal, Laos, Vietnam, Cambodia, Singapore, Tibet, Bhutan and Thailand. Each stop meant that more sculpture, ceramics, textiles, metalwork, furniture, prints and other arts and crafts would find their way back to her London abode.
On her excursions, her personal style became a way of connecting with the people she met. "I've always worn masses of jewelry," she says. "It was the best thing, because wherever we went, even when we were in the middle of Tibet, all the women used to come up to me." Their interest had "nothing to do with me," she says with a note of self-deprecation. "It was only that I had all these masses of bangles on."
At home in London, Lipton fell into dealing contemporary art. Through her husband's publishing connections and her jobs assisting artists Bridget Riley and John Latham, she met a number of others — including Dieter Roth, Günter Brus, André Thomkins, Tom Phillips and Mark Boyle — and began selling their work.
But travel changed the course of her career. She started to collect jewelry and cultural artifacts, especially from Thailand, Tibet and Nepal, mounting museum exhibitions that toured throughout Europe. Her research led her to collaborate on several books, among them The Tiger Rugs of Tibet and Gold Jewelry from Tibet and Nepal (both Thames & Hudson).
Along the way, she purchased stones, minerals and curios that struck her as beautiful or indicative of a particular region. Burmese jade slabs, 18th-century wooden Chinese toggles, rough-hewn lapis lazuli from Afghanistan and carved Baltic amber all caught her fancy.
The idea to transform them into adornments came to her in the early 2000s. Lipton partnered with a few trusted jewelers and sculptors — among them Ram Rijal from Nepal and Daniel Azaro from Argentina — to create one-of-a-kind pieces for herself.
Each of these "one-offs," as Lipton calls them, is crafted in sumptuous 22-karat gold, which is malleable and warm, giving her necklaces, rings and bracelets (she never had an affinity for earrings or brooches) an air of treasure. But they're "not everybody's cup of tea," Lipton says. Appreciating her pieces, she thinks, requires a particular sensibility. "You don't wear them every day. It's special."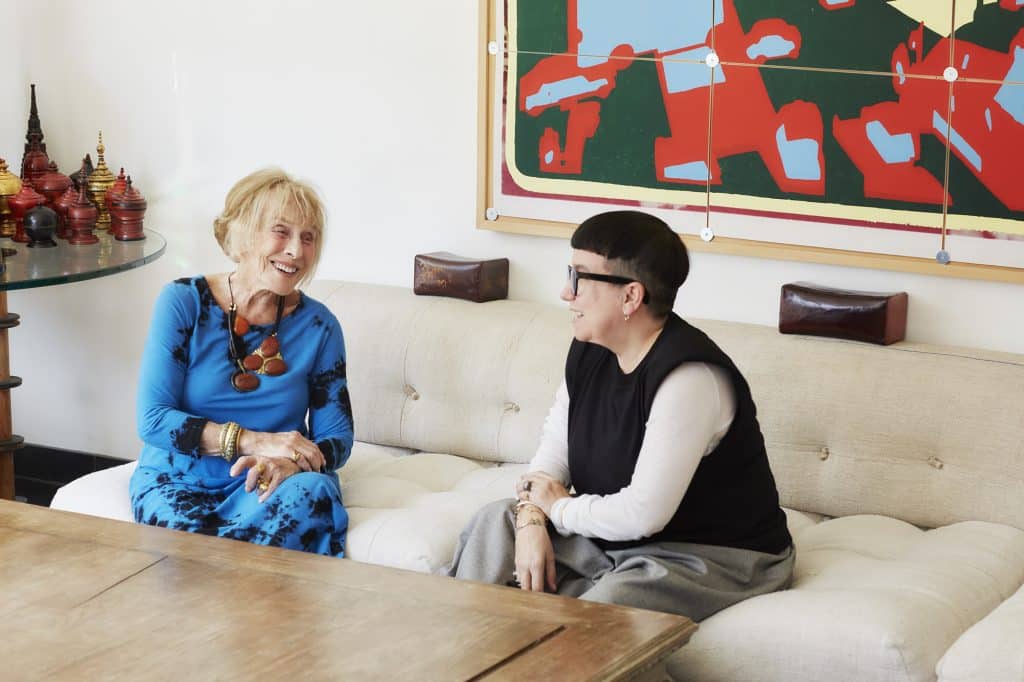 Valery Demure, owner of Objet d'Emotion, a jewelry gallery based in London, met Lipton through a mutual friend and over the course of the past year has created a showcase of pieces from Lipton's incomparable collection. "The 22-karat gold really touched me, and also the rough stones," says Demure. "I think the fact that the materials were not tampered with, that they were very respected, that really touched me."
"The collection is so open-minded to me," she adds. "There is a feeling of a free spirit."
It is not lost on anyone that this ambitious project has come together over the course of a very difficult year, and Demure says that she was able to do a lot more work with Lipton because of the pandemic. "I couldn't travel — I usually travel every month," she says. "Listening to Mimi talking about Burma and about Bhutan and her various trips, I was traveling. I think it kind of saved us both, from boredom, from despair."
Named "Collect or Perish," the showcase comprises a selection of collars and necklaces featuring material largely from China. Demure is dedicated to expressing Lipton's passion and loves telling the story of a powerful woman blazing a trail during a time when few Westerners, let alone women, were traveling to the places she has visited.
Perhaps Lipton's most eye-catching creation is the necklace that features Baltic amber as well as the vibrant feathers of the kingfisher, a common material for ornaments like hair combs in 18th-century China. Creating a piece with its brilliant blue plumes involved painstakingly gluing down the feathers to create a field of shimmering azure.
Ultimately, each jewel in "Collect or Perish" is an artifact twice over — worn smooth once by the original owner and once as an adornment around the neck or wrist or finger of a woman who couldn't resist its pull.
Ask Lipton about any of her pieces and she lights up, telling story after story in her tantalizing cadence. Elizabeth Taylor spoke about being a mere custodian of her jewels, and that is exactly the case with Lipton's as well. When someone new acquires one of her creations, it will be a changing of the guard, a custodial handoff of a magnificent piece. The next owner will not only inherit the jewel's past but add new facets to its layered history.