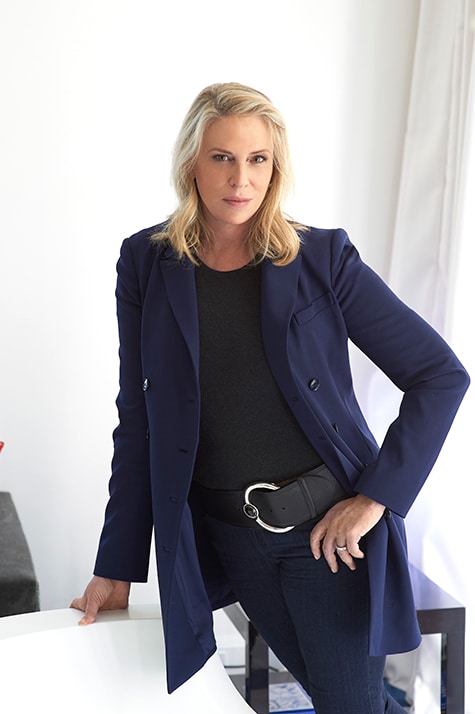 If anyone was ever born to be an interior designer, it's Victoria Hagan, who was all of five years old when her eyes were opened to the possibilities of what was to become a brilliant career. Her mother, a fashion illustrator, had taken her to the iconic restaurant at New York's Metropolitan Museum of Art, designed in the early 1950s by the legendary Dorothy Draper. (The space is now home to the museum's Greek and Roman art galleries.) "I remember looking at the black-and-white floor tiles and the big light fixtures and the beautiful water fountain with dancing nymphs and thinking, 'What could be better than this?' " Even at such a tender age, Hagan recalls, "I could see that through color, scale and imagination, you could create a magical feeling."
That's basically what the hard-working Hagan has been doing for the past 25 years, rising to the top of her profession as one of the leading lights of the American design community, with a 25-person office and a clientele so high profile most of them cannot be named (Joe and Jill Biden, for whom she designed the official vice presidential residence in Washington, D.C., are among the exceptions). Hagan is a perennial favorite of magazine editors and a fixture on Architectural Digest's AD100 list of top designers and architects. In 2002, she launched the VH Home Collection, a comprehensive line of American-made furnishings and textiles that is still going strong, and Rizzoli recently published a brand-new book of Hagan-designed vacation homes, Dream Spaces (which follows her best-selling 2010 Interior Portraits, from the same publisher).
Dream Spaces spotlights 10 inspiring getaways, in locations ranging from the Hamptons to the Rockies to Nantucket and Palm Beach, where she has homes with her media-investor husband, Michael Berman, and their college-age twin sons. To journey through its luxuriant pages is to see Hagan in peak form.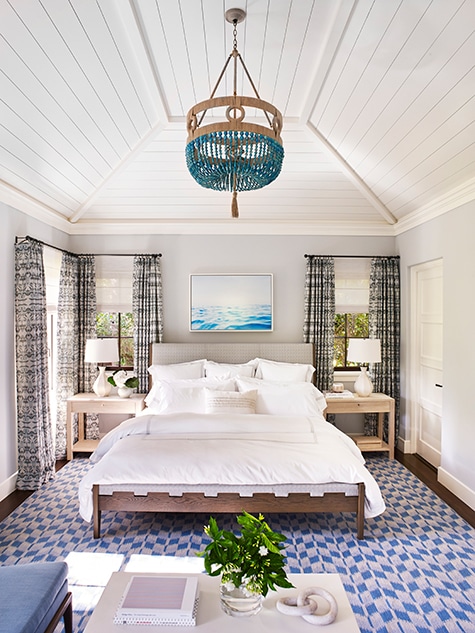 Vacation homes are different from main residences; they are an antidote to hectic modern life. "It's not a getaway if it doesn't let you get away," Hagan and her coauthor, David Colman, write in the new book. "An aura of freedom and fun" is paramount. "My clients' dream is being at the beach or having a ski house in the mountains," Hagan says. "I figure out how to create that sense of escape." For a vacation home, she may use bolder colors or choose furnishings that are a tad more rustic or casual, but what is consistent throughout Hagan's projects, whether year-round or part-time and whatever the locale, is a serene, timeless aesthetic whose hallmarks are masterful proportions; a relaxed, easy flow from room to room; and large-scale seating that sets the stage for comfortable family living.
In Victoria Hagan's world, there is nothing oxymoronic about phrases like "elegant informality" or "simple luxury." "Things can be casual and elegant or bold but understated at the same time," she says. "There's always this yin and yang." As the houses in Dream Spaces demonstrate, Hagan balances the elements with exquisite clarity and confidence.
A Florida home is an expanse of white punctuated by splashes of marine blue and unexpected touches like the master bedroom's beaded chandelier. A young family's Hamptons escape deploys bold, punchy color, in large blocks and in patterns on rugs and fabrics, against an envelope of pure white. Hagan loosened up a late-20th-century shingle-style beach house, also on Long Island, with soft colors, substituting a clean-lined, modern fireplace for the original and treating French doors, columns, turned stair rails and other traditional-style woodwork with generous doses of white.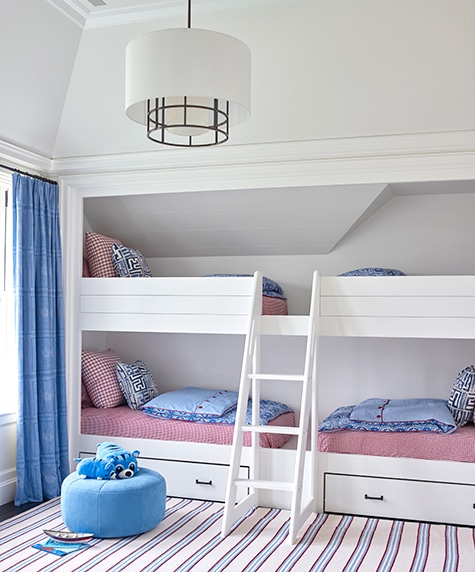 In another Florida estate, she toned down the overbearing original architecture by replacing a grand double staircase with one more modest in scale and introducing a modernist furniture vocabulary. The oceanfront home she and her husband built in Nantucket, called Fly Away, is light, airy and no-frills, with a hint of rusticity in the cerused woods, slipcovered furniture, pale floorboards and mix of modern and antique furnishings.
It wouldn't be wrong to say it's been a pretty straight shot to success for Hagan, who grew up in Westchester's leafy Pocantico Hills and briefly studied art history at Maryland's Washington College before realizing that "art history wouldn't help me become a designer." She then headed to New York's Parsons School of Design, where she says she learned "to think in the box, out of the box and about a different kind of box." Hagan feels so indebted to Parsons for the education she received that she serves on the school's board of governors and has endowed a scholarship for its new interior design MFA program.
Interior designer Simone Feldman was Hagan's mentor and first employer (the only one to respond to the slew of résumés Hagan sent out in 1982, near the time of her graduation). As partners for several years, the two women garnered accolades for the originality of their work, scoring magazine covers that raised Hagan's profile considerably and enabled her to go solo and start her own firm after Feldman's death from leukemia in 1991.
It's Hagan's infectious enthusiasm and generosity of spirit that fuel her passion for design and drive her to keep creating. "I've always dreamed of doing work that makes people happy," she says. "Making people happy has been my great motivator. I don't think you can be in the interior design business without having that be a part of you."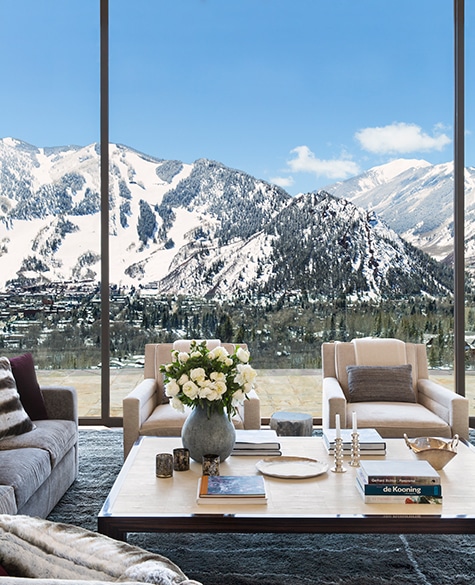 Nor is happiness achieved solely with paint and furnishings. "It's not about the individual pieces but tapping into bigger ideas," Hagan says. (Ideas reflected in the chapter headings of Dream Spaces include Bold, Calm, Open, Spirited, Creative and the like.) "What do you want your getaway home to feel like? Where are you in your life, and where do you want to be?" Her design decisions, she says, are "always rooted in that ultimate goal." Hagan starts any job by coaxing new clients to tell her about how they live, their favorite time of day, their ideal evening, their habits and traditions. Are they art collectors? Athletes? How often do they have large family gatherings? "I listen to what they say and what they don't say. It's amazing, the clues you're given."
In designing her own family's vacation homes, Hagan's process is much the same. After she and her husband bought a property on Florida's Intracoastal Waterway, where they "see almost nothing but water and sky," she writes in Dream Spaces, she went about "imagining a new house," in this case one with 11-foot walls of glass. What was different: she furnished it quickly with off-the-rack pieces, immediately deliverable. "I thought I might gradually replace items over time, but I haven't changed a thing. We love it just the way it is." Like Hagan's newly constructed house on Nantucket, where she summered growing up, and like all the getaways she designs for her clients, it's a real home — there's nothing secondary about it. "A real home isn't a ship," she writes. "It's an anchor."
or support your local bookstore