Belgian architect and designer Vincent Van Duysen readily admits that he doesn't share the personality of his interiors. Judging from his work, you could imagine him as sober and subdued. His projects to date have ranged from villas and apartments in his native land to offices in New York (for the consulting firm Capco) to retail spaces in Germany (Hamburg's Aesop store). Each is typified by pure, rigorous lines and what he likes to term a "warm minimalism."
In person, Van Duysen is certainly warm, but his demeanor is hardly minimalist. The photographer François Halard — who, along with several other shooters, is collaborating with him on a monograph due to be released by Thames & Hudson this fall — calls him "extremely affable." The fashion designer Jenni Kayne, who has commissioned him to design a house in Los Angeles, describes him as "sweet, funny and silly" and also as "down-to-earth and humble." He is lively, entertaining and very, very talkative too.
Unlike many designers, who like to keep their private realms exactly that, Van Duysen insisted we meet at his home on a quiet residential street about a 15-minute drive from Antwerp's central train station. His convivial nature is evident from the get-go, as he shares thoughts on subjects ranging from the seaside home he's building for himself in Comporta, Portugal ("I like the nostalgic feeling and atmosphere of the country — I find it's very authentic, very unspoiled"), to famous friends, like the actress Julianne Moore, whom he met in New York in 2008 at an after-screening party for her movie Blindness. He characterizes her as "caring, understated, no ego, a great mum, a great sense of humor and a great sense of taste."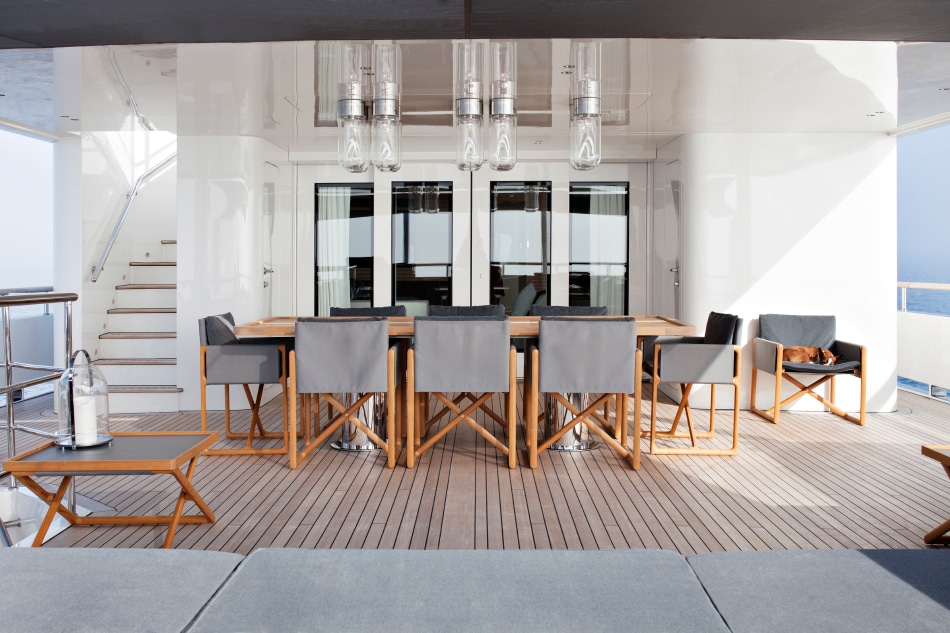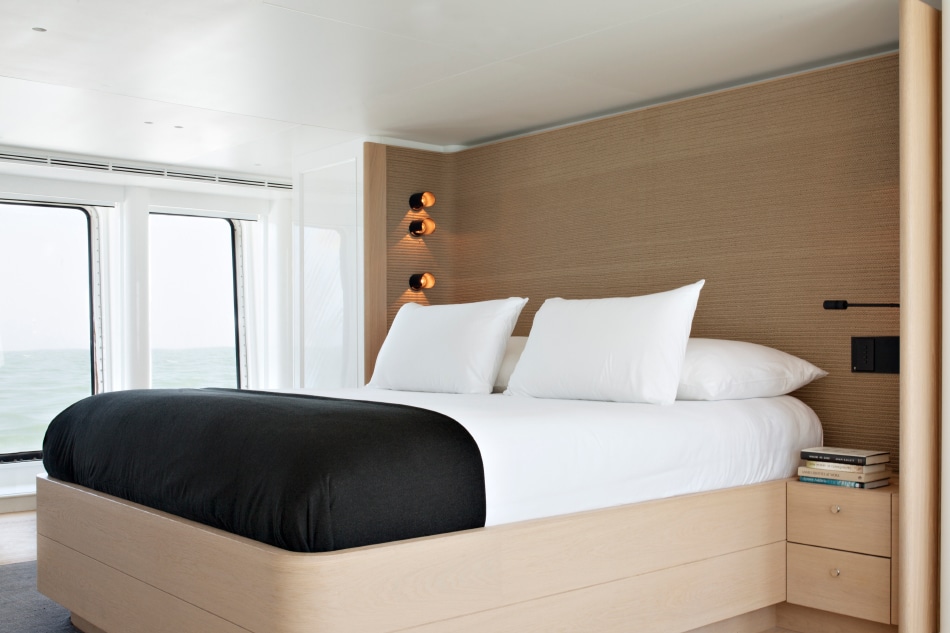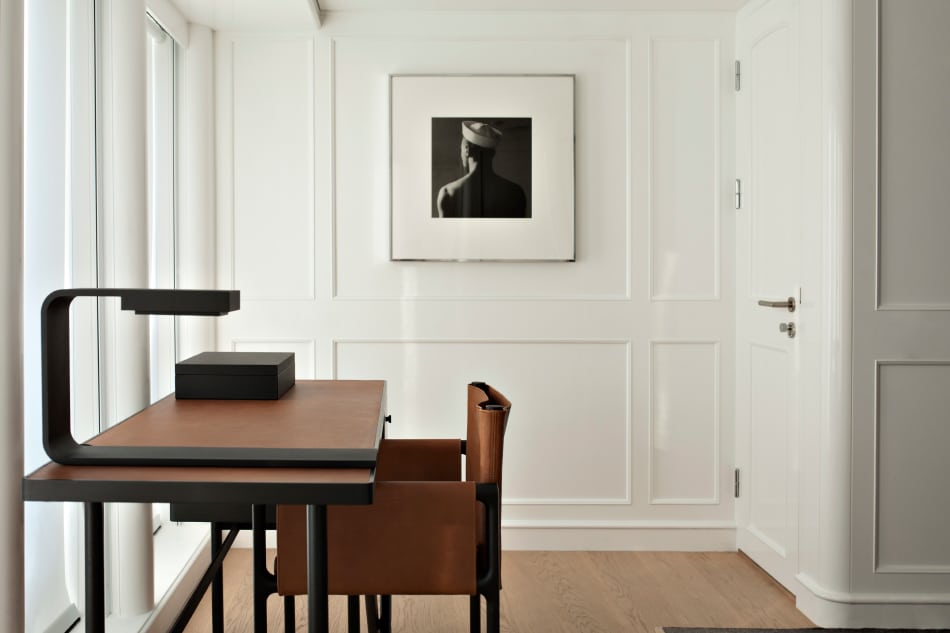 The Antwerp house, which he bought some 15 years ago, dates back to the 17th century. "It used to be outside the walls of the city in the countryside," he says of the classical white structure, which he shares with his two dachshunds, Gaston and Loulou. "It was a leisure house for men to meet, drink and discuss." Its interiors are a peerless lesson in elegant restraint. There are Belgian blue limestone and poplar plank floors, Delft tiles in the kitchen and bone-colored walls. The latter were inspired by one of Van Duysen's design heroes, Jean-Michel Frank. "He was the guy who went to the essence of what architecture and interiors should be," he says. There are also lots of discerningly curated artworks, including an Ugo Rondinone sculpture in the entry hall; a collage by Sterling Ruby, a gouache from the 1950s by Yayoi Kusama and a Thomas Houseago mask in the sitting room; and photos by Nan Goldin, Wolfgang Tillmans and Robert Mapplethorpe in a small salon upstairs. The Mapplethorpe image, of arms hugging and forming a heart, is titled Vincent and was a 50th-birthday present from his parents.
Van Duysen likes to call himself a "one-hundred-percent Belgian product," even if his mother's family originally hails from Spain. An only child, he was born in the small Flemish town of Lokeren. His father was the sales director of a firm that produced synthetic carpet fibers. Van Duysen studied architecture at the Sint-Lucas School of Arts, in nearby Ghent, but hesitated for some time about making it his career. He was also interested in fashion and performed as a dancer for the Belgian choreographer Marc Vanrunxt. After obtaining his masters degree, in 1985, he spent two years in Italy, landing a job as designer Aldo Cibic's first assistant in Milan. On his return to Belgium, he worked for two classically trained decorators: Jean-Jacques Hervy in Brussels and Jean De Meulder in Antwerp. "For me, it was important to understand how people live in their homes, to somehow discover an art of living, so I could mold it, later on, into my works," he recounts.
---
Van Duysen likes to call himself a "one-hundred-percent Belgian product."
---
Van Duysen opened his own design studio in Antwerp in 1990 and sees his career since in terms of approximately 10-year periods. The first, he says, was characterized by "hard work just to find out who you are and where you want to belong." The second: "Building up a clientele that trusts you and has confidence in your work." The third: "All of a sudden, I added this extra layer of working on product design."
Examples of the last include his Oskar dining table and Theo armchair for B&B Italia, a faucet collection for Fantini and a set of earthenware containers for When Objects Work. In 2016, Van Duysen was appointed creative director of the Italian firm Molteni. His aim there, he says, is to redefine the iconic furniture brand by giving its products a more domestic, soulful feel. "I don't want them to look industrialized," he says. "I prefer for them to appear more like handcrafted pieces." His role involves overseeing not only the furniture collections and store designs but also the advertising campaigns.
From the start of his career, Van Duysen has stayed true to the same style and philosophy. "It's like classical music — subtle variations on the same theme," he says. Carlo Molteni, the company's second-generation CEO, says of Van Duysen: "He has an architectural language that is not shy of aesthetics but resists fashion and trends, making it always timeless." That sentiment is echoed by Kayne: "Some of his oldest projects are still my favorites twenty years later."
Van Duysen avows a love of natural materials, such as stone, wood and linen, and lists among his aesthetic inspirations the Temple of Hatshepsut, in Luxor, Egypt; the tribal structures of Morocco; Roman churches; and the work of Andrea Palladio, Carlo Scarpa, Tadao Ando and Luis Barragán. He rails against the "immediate ostentation" of the so-called starchitects ("They entertain this unfortunate love for complication"). Instead, he favors a softer, more human approach, creating protective, calming environments. "I'm not trying to invent new forms," he insists. "My goal is just to create spaces and interiors and furniture that are loaded with emotion, that people want to embrace and live with."
Work is definitely the focus of Van Duysen's life. "I'm a control freak," he says. "I'm pretty much involved in all my projects, and I know them all very well." He likes nothing better than being in the office with his team and spends significant time with his clients, most of whom, he says, are friends. Currently on the drawing board are product lines for Herman Miller and David Sutherland; residential projects in Paris, Milan, Beirut and New York's Southampton; a hotel in a former convent in Antwerp, due to open at the end of the year; and service flats for the elderly in a new development called Triple Living, to the south of the city.
When he does disconnect from his work, he does so completely. "I'm not a social butterfly," he says. "The older I get, the more I'm in search of silence. It could be here at home, it could be in the gym, or it could be going on holiday. Preferably with myself, just alone."
---
Vincent Van Duysen's Quick Picks on 1stdibs