Wendy Mark takes inspiration from the Old Masters when it comes to depicting clouds, a longtime interest of hers. But walking through the selection of more than 40 monotypes and paintings of clouds made over the past four years and now on view in her current show, "Beginning with Square One," at Jill Newhouse Gallery, in New York (through November 14), it's clear that Mark is not just interested in the kind of cottony white forms that such Renaissance painters as Andrea Mantegna — one of her favorites — depicted so sculpturally in oil.
Rather, Mark has a more expressionistic take on the subject, evoking all kinds of nebulous shapes that fall under the category of clouds, from heavy, waterlogged puffs and billowing, gaseous masses, to walls of mind-fogging haze and swaths of sublime formlessness. "I never paint my clouds from real life," says Mark, who came to them through her love of landscapes. "I started off making these tiny, densely packed landscapes, and I was looking at all these great skies — by Mantegna and John Constable, and it occurred to me that clouds are much more abstract than landscapes, so I can get all this emotion out of them, and in a more contemporary idiom."
To that end, color is key to Mark, and she uses it to wonderfully expressive effect. Some of her more abstract works bring to mind the ethereal soak-stain washes of Color Field painters like Morris Louis and Helen Frankenthaler. Other times, she gives her clouds tremendous materiality for something so vapory. The ominously colored forms in her "Red Clouds" series, for instance, are particularly sculptural, spewing forth into the picture plane like ash exploding out of a volcano or toxic fumes from a smokestack.
What's particularly striking is that she's able to coax a strong sense of volume out of the medium of the monotype — a process that consists of applying paint or ink to a plate and then pressing paper onto it to create a unique print. "She has really mastered this process over a long time," says gallerist Newhouse. "There is much more layering and depth in her prints than you usually see in this medium." Her mastery has landed her monotypes in collections ranging from those of collector and arts philanthropist Agnes Gund to the Metropolitan Museum of Art, and she has taught printmaking at numerous institutions. (Twenty percent of proceeds from the sale of this show benefit the Studio in a School program.)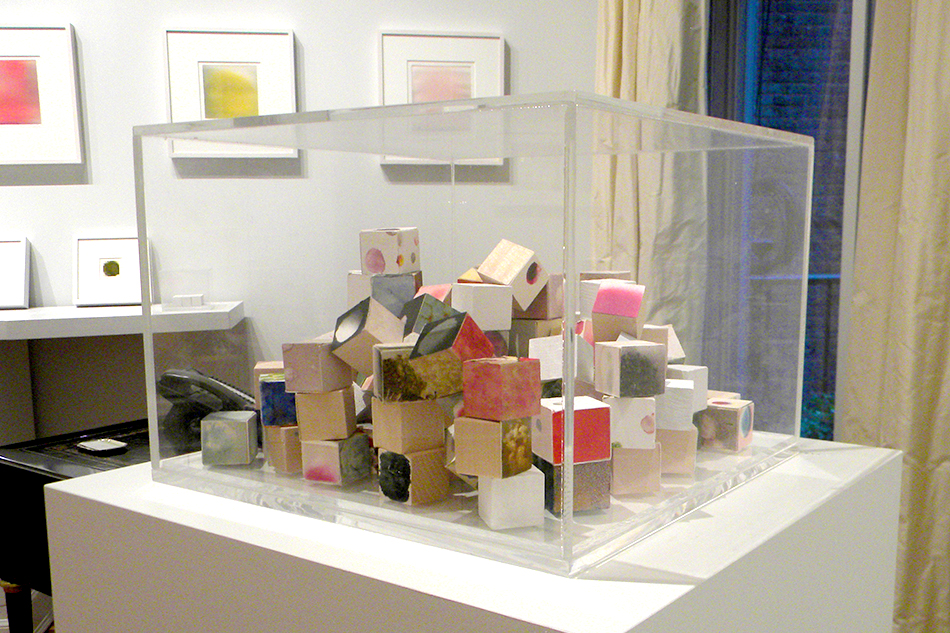 While Mark has always been painting, she first pursued a literary career — she earned an MFA in poetry from Columbia in 1974, then went on to study art history at Brandeis and painting at the National Academy of Design, School of Fine Arts on New York's Upper East Side. Soon after finishing her studies there, in 1988, she participated in the institution's annual juried exhibition and caught the eye of New York Times art critic John Russell, who wrote, "Had I a prize of my own to give, it would have gone to one of the smallest entries in the show, a monotype by Wendy Mark…A whole show by this artist would be worth waiting for." Says Mark, "With that breakthrough painting I knew that I had done a strong piece of work, as strong as my poems. I was very happy to have the wonderful review as it further validated my thoughts."
Mark has never fully turned away from the written word, however. She has a long history of collaborating with writers, including Pulitzer Prize–winning poets Mark Strand, Charles Simic and Paul Muldoon. In addition to the cloud works, there are also around a dozen text-based prints in Newhouse's show with Ed Ruscha–like printed messages. One reads "TAKE ONE," another, "In a second In a second In a second In a second." They have an unexpected, slyly humorous edge. "I respond to art with humor in it," says the artist. "Even if it's just a little buried deep within."
That embrace of humor has lead Mark to Jeff Koons, in particular, his Balloon Venus. That work inspired her to use shiny, mirrored paper for paintings depicting rows of cloud-like dots arranged in a grid. With their repeated motifs as well as their glitziness, these works — several of which are in the show — bring to mind not only Koons but also Warhol, who would have especially appreciated their evocation of vanity. "I like that viewers can see their own reflections in them," says the artist of the pieces.
A large sculptural installation made for the show takes the themes of both reflection and clouds further. Created collaboratively with the architecture and design firm AGENCY, the work, titled Cloudspace, resembles a modernist perforated screen made from a grid of white wood blocks and tiny mirrors, and it covers one wall of a darkened hallway connecting two rooms in the gallery. Walking through the hallway past the work, light flickers in the mirrors as you catch fleeting glimpses of yourself. It's an immersive, atmospheric experience that has a disembodying effect — not unlike what it might be like to lose your bearings inside a cloud. But with its flickering light and grid formation the piece has a pixelated feel, evoking not the cumulus formations of her paintings but that other kind of cloud — the one where digital information is stored.
Mark's intention isn't necessarily to depict as many types of clouds as she can, but it is certainly impressive how she manages to summon so many different experiences out of one seemingly simple subject.