William Bailey is sitting in the back room of Betty Cuningham Gallery, in New York's Chelsea, carefully examining some of the paintings in his most recent show, on view here through March 22. A former dean of the Yale University School of Art, where he taught for about 30 years, Bailey has spent more than five decades painting enigmatic figures and still lifes, almost always working from his imagination rather than from photographs or life. In person, with his quiet, serious demeanor, the venerable artist seems fairly enigmatic himself.
For his fifth show at the gallery — and his 18th solo outing in New York — Bailey decided to jostle things up by including older work alongside the new. "I want to see them together, and to see what happens when I see them together," the artist says. "I'm eighty-three years old. I've been painting all my life, painting a very narrow range of things. What is it that's kept me engaged?"
The earliest of the 18 paintings here is Italian Profile, a side view of a dark-haired woman made in 1963, soon after Bailey had broken away from abstraction. When he painted it, locating the precisely delineated face in a dark, shadowless space, "I wasn't really thinking about Italian Renaissance profiles," he says. "But then I realized, 'Gee, I've done one!' " It has traveled around with him ever since, to the various studios he's had, including the one he now maintains in New Haven.
Also in the show is L'Attesa, a 2006 portrait of a woman in a white slip standing in an oblong window, with her face in shadow, her block-shaped torso in the light and her profile reflected in an open windowpane. Asked what he likes about this piece, Bailey discusses it as though it's a still life: "It was the mystery that arrived out of that light," he says, "the tension between the hands and the head, the idea that the wall is also the picture plane."
Bailey has included a pair of new figurative paintings as well, each depicting two women lying in the grassy hills of Italy's Umbria region, where Bailey and his wife, Sandra Stone, also a painter, spend half the year. "I've never gone out and painted a landscape," Bailey says. "But I have this in the back of my mind all the time."
And, of course, there are still lifes, the earliest of which is Hotel Raphael, from 1985. To create these hypnotic tableaus, which are among his best-known works, Bailey has created a repeating cast of vessels and other objects, such as mortars, pepper mills and egg cups, all lined up in compositions that play with space and scale, with pieces at the front sometimes seeming smaller than those at the back. When painting these items over the years, Bailey says he asks himself, as he might with a figure, "What are these objects' characteristics? What is their personality?"
---
"I'm eighty-three years old. I've been painting all my life, painting a very narrow range of things. What is it that's kept me engaged?"
---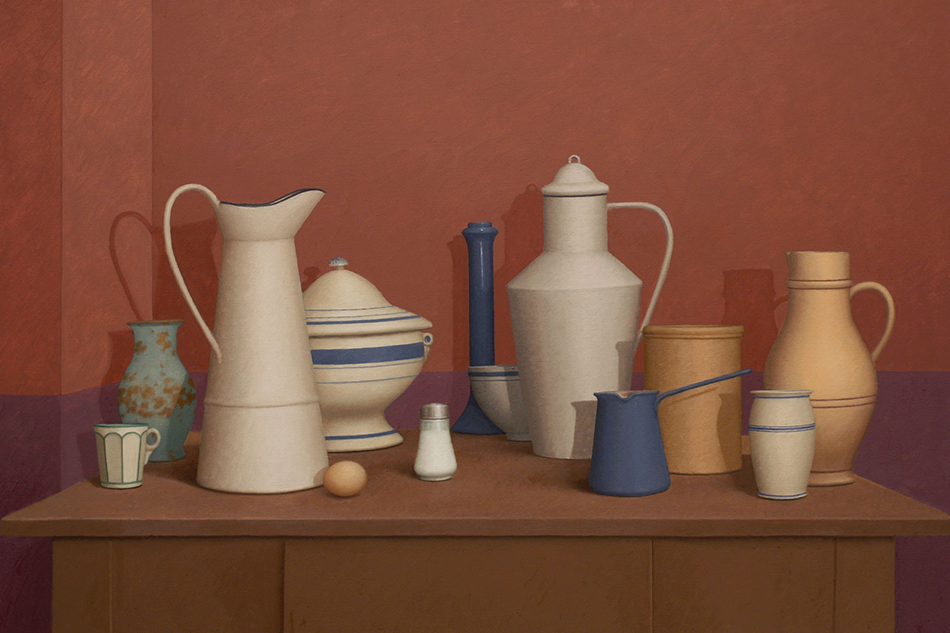 Although many have compared Bailey's still lifes to those by Morandi and his figures to those by Balthus, his dealer, Betty Cuningham, doesn't see it quite that way. "Ultimately, for me, he's like Ad Reinhardt," she says. "When you get hooked into looking at a Bailey, it's like hearing the quietest fugue. It's all about soft gradations." (She has worked with him since the late 1990s, first at Robert Miller and then at her own gallery, which opened in 2004.)
Robert Storr, the current dean of Yale's art school, also characterizes Bailey's work as "a kind of abstract painting." He elaborates: "It employs representational elements, but he moves them around in the space as much as any other abstract painter would feel free to move a square, a line or a patch of color. In retrospect, since he was a protégé of Josef Albers, it makes perfect sense."
Bailey met Albers in 1953, soon after the younger artist had arrived in New York. Even as a child growing up in Chicago, Detroit, Kansas City and various towns in the Midwest (his father's job as a radio executive kept the family moving), he had known he would become an artist. "I spent a lot of time on my own, and drawing was the way to imagine living in my little world," he recalls. "And I was pretty good at it."
He moved to New York after leaving the army, having fought in the Korean War (a period about which he speaks with reverence). Once there, however, he found himself adrift — until an acquaintance suggested he visit Albers, then chair of Yale's art department (which later became its art school). The meeting changed his life.
After perusing the young artist's drawings and offering "a withering crit," Bailey says, the legendary Minimalist — much to his surprise — commanded him to enroll there right away. After earning an undergraduate degree, Bailey spent a year in Italy and then returned at Albers's invitation to teach drawing and get an MFA. He then joined the faculty of the University of Indiana, which had a strong contingent of figurative painters, before returning to Yale once more, in 1969, and beginning his own long and influential teaching career there.
The students in Bailey's first painting class included Nancy Graves, Richard Serra and Rackstraw Downes; other former students have been Sylvia Mangold, John Currin, Kehinde Wiley and Lisa Yuskavage. Marshall N. Price, the former curator of modern and contemporary art at the National Academy Museum, in New York, who will join Duke University's Nasher Museum in mid-March, calls Bailey "one of the most important educators of the last several generations."
But Bailey shrugs off the notion that he might have been an influence. "One of the things that we prided ourselves on at Yale was that people didn't learn a style and then go out and practice it," he says. "People went out and made their own way." In a sense, that's exactly how he's done it, too.