When Kevin Smith was five years old, his mother gave him a shilling to spend at a school fête. He bought a Meissen porcelain figure. "I was just always interested in old things," says Smith. Now 75 and the proprietor of Windsor House Antiques, he owns — and sells — a lot of old things. His esteemed shop is located within Barnwell Manor, the 18th-century house that was the residence of the Duke and Duchess of Gloucester until the mid-1990s. Located 80 miles north of London, in Northamptonshire, the manor is also where Smith lives, and apart from the items in his own bedroom and a few cherished objets in his study, everything is for sale — rare and lovely pieces of furniture, beautiful ceramics, delicate porcelain services, gleaming chandeliers, gilded mirrors, bronzes, clocks, dressers, tea caddies, wine coolers, cushions covered in 18th-century wools and silks, barometers and idiosyncratic collections, like a group of grinning porcelain cats facing two large, fierce-looking ivory Dogs of Fo.
It's been a long road from his boyhood in Dewsbury, Yorkshire, to his current role as head of Windsor House's extensive operations, which include on-site cabinetmakers and polishers, gilders, tech staff, drivers and gardeners to keep the 2,500-acre grounds (complete with the picturesque ruins of a 13th-century castle and a helicopter pad) well-groomed.
"The gardeners are very useful for extra muscle when we have to move huge stone pieces," says Christopher Radford, Windsor House's general manager, who keeps an eagle eye on orders, coordinates all the logistics, travels to see private clients and makes sure the showrooms — which house additional pieces of furniture, art and objects in buildings alongside the main house — "are looking fabulous."
Smith's career has been varied, colorful and unconventional. He has opened and closed shops in London, Amsterdam, Los Angeles and Hong Kong; built and filled a museum in Kyoto; served for 23 years as vice-chairman of LAPADA, the Association of Art & Antiques Dealers; earned the enmity of dealer consortia; and spent a good portion of his life on the road, obsessively buying antiques.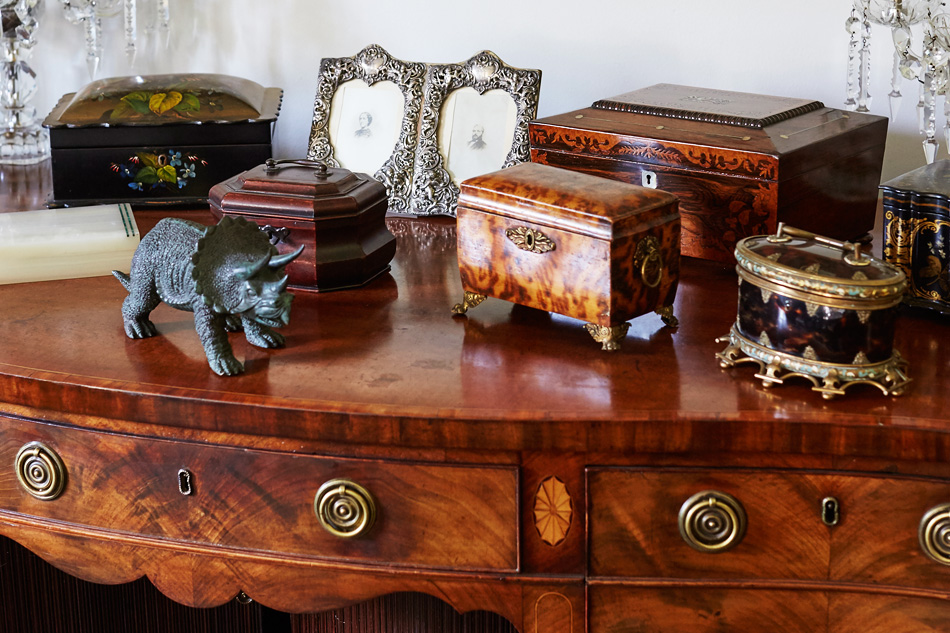 His family, he says, were builders with no interest in antiques, but starting with that age-five foray into the market, he began to collect "bits and pieces" with his pocket money. "My mother had a great friend who had no money but would drag me round Dewsbury Market," he says. "The stalls were really just junk shops, but she had an amazing eye, and her tiny detached house was full of the most beautiful things."
When he was 17, Smith started a construction business. "It was what you did in my family," he says. When he got into financial difficulties, he sold a few of those "bits and pieces" he'd collected and was amazed to discover he had made a profit. "I was hooked," he says. "Every time I made a little money from building, I would buy something. I was totally indiscriminate: Meissen, bronzes, jelly pans, fire irons, whatever caught my eye."
He began to sell to small antiques shops — "often the same ones I had bought from" — in Leeds, where he was living, and eventually began to deal full-time, teaching himself about furniture and art history, as well as the profession, along the way. He soon attracted the attention of a consortium of local dealers, picturesquely termed "the Knock," who weren't at all happy about his arrival on the scene.
"Once I started to buy the odd decent piece, they didn't like it," Smith recounts. "The business was rigidly structured, and you were meant to stay within your area." Smith wasn't intimidated, despite receiving threats. ("I was a big guy," he says grimly.) He began to sell to American wholesalers and was eventually doing enough business to have his own shop — at first one, then several — as well as warehouses.
"I worked incredibly hard. I was always out there," he says. "I would do a run down to London on a Thursday, go to the Bermondsey Market, which in the middle of the night was a very serious affair, then do Portobello Road on Friday morning and stop off at all the villages with good antiques shops on the way back. Even though I was making money, there was never enough, because there was always more to buy."
---
"Every time I made a little money from building, I would buy something. I was totally indiscriminate: Meissen, bronzes, jelly pans, fire irons, whatever caught my eye."
---
Smith immersed himself in the business, collecting avidly and learning as he went along. "It wasn't hard work for me," he says. "Searching, finding, looking, learning how to look — it was sheer pleasure. I used to work sixteen hours a day, and no one was happier."
Money seems to have been low on his list of priorities, other than as a means to keep buying more beautiful things. With complete equanimity, he tells of the financial disaster of opening a shop in Mayfair, one of London's most expensive neighborhoods ("We aren't Mayfair dealers — we have the wrong attitude, not exclusive enough!") and on Melrose Avenue in Los Angeles ("People thought our things didn't look quite perfect and were expensive").
The thousands of items that Windsor House has in stock range in date from the 16th to the late-20th century, all displayed in the showrooms in a conventional gallery-like manner, and in the manor house itself as residential vignettes, with two huge nearby warehouses holding additional stock for change and replenishment. The company is particularly known for its Georgian and Regency furniture. But Smith seems unwilling to admit to having a favorite period or kind of item. What he likes best, he says, are "things that amuse or fascinate me." He loves lead-glazed Staffordshire pottery and the Meissen porcelain figures like those that attracted him in his youth, and he has amassed huge collections of unlikely items, like coffee cans and inkstands — so many of the latter, in fact, that Windsor House is going to put on an exhibition of them next year.
The most important thing to consider when buying, Smith maintains, is that "the object speaks to you. It sounds trite, but it's the truth. A lovely patina, color, surface — it adds interest and history. I am interested in quality and story.
"A lovely handle, a carved leg, a fascinating history — that's what matters to me," he continues. "A dear friend said to me many years ago that anything that is good disturbs space, demands your attention, and it's absolutely true."
Fifteen years ago, Smith made the decision to move the business out of Leeds and London and to consolidate everything at Barnwell Manor, which he took over from another antiques dealer who had leased the property after the Gloucesters moved to Kensington Palace. "The whole business has changed hugely in my time," he says. "There has been a total breakdown of the trade as I knew it. Antiques shops struggle to make a go of it now. So we made a decided policy about four years ago that the Internet was the way to go. And we have a beautiful place here for people who want to come and see what they are buying."
Clients — mostly decorators and private individuals — do come frequently to Barnwell Manor, Radford says. "We welcome everyone, and can be here late or on weekends, but we just ask people to make appointments." About half of Smith's buyers are British, the other half foreign, with Americans' being his biggest overseas market. "We have vast stocks of things, and we own everything, nothing is borrowed," Smith says with satisfaction. Prices for items currently available on the gallery's 1stdibs storefront start at around $120 for a circa-1920 oak desk chair and run up to more than $310,000 for a George III–period hunt table.
"We have buyers across the board for all this," he says. "But what is a shame to me is that people don't understand what help you can give them. If you put one thing of caliber in a room, you can dress down elsewhere. I think people are missing out on buying lovely old things that have a story and a history. We can help people to furnish, not just put in furniture."
---
TALKING POINTS
Kevin Smith shares his thoughts on a few choice pieces.