September 1, 2019Rush Jenkins grew up on a farm in rural Idaho where, as a boy, he says, he "milked fifty head of cow, morning and night." Jenkins now lives just two hours from that farm — but he isn't milking. He is one of the best-known interior designers in Jackson Hole, Wyoming.
But take the boy off the farm, and he may just take the farm look with him. In Jackson Hole, people build houses of old barn wood and rubble stone, despite their penchant for screening rooms and Sub-Zero refrigerators. Jenkins follows his clients' leads, sometimes adding quaint elements to already-quaint houses but more often balancing rustic elements with modern ones. In WRJ's world, lighting by Lindsey Adelman and furniture by Holly Hunt, Christian Liaigre and BDDW feel right at home, home on the range.
The work of WRJ Design Associates — a partnership between Jenkins, the designer; and his husband, Klaus Baer, who handles logistics — is the subject of a new book, Natural Elegance (Vendome). All the photographs are by the estimable William Abranowicz, making it easy to compare projects, while the text by Nancy Greystone provides useful information about the dozen luxurious residences.
One of the most impressive is by architecture firm Bohlin Cywinski Jackson. Made of raw concrete and glass, it sits on a butte with views of the Snake River Valley and, in the distance, the spectacular Grand Tetons. From some angles, the house looks light enough to fly away, if it weren't tethered by concrete walls and a pair of monumental fireplaces.
"The home is stunning. Our job was to make it comfortable," says Jenkins. That meant softening it both figuratively and literally. A flowing sculpture of handmade washi paper by the Japanese artist Kyoko Ibe mediates the foyer's hard edges. And sofas and chairs are upholstered in luxurious textiles, including wools, linens and cashmeres from Loro Piana. But where doing so wouldn't compromise comfort, Jenkins opted for modernist simplicity: The coffee tables are made entirely of thin sheets of glass; the fireplace mantel is a rectangular stone slab. Furniture is low, to avoid obstructing views, and sometimes almost nonexistent. The client's office is a three-sided glass room that cantilevers out into the landscape. "We did very little to that room," says Jenkins, noting that it is "really about contemplation and clarity of mind."
Another project reveals Jenkins's lavish side. The house was designed by Bozeman, Montana's JLF Architects (the firm behind four of the 12 houses in the book) as a series of cabin-like structures of reclaimed timber and Montana Moss Rock. Perched over a stream, the dining room has bronze-framed glass doors. When these are folded back against the stone walls, "you're essentially dining on a bridge," says Jenkins, who gave the space a light-colored wool rug and streamlined furniture (including a bronze Wishbone table from BDDW) to balance what he calls the "castle-y" architecture.
As he often does, Jenkins intermingled new pieces with antiques, such as an early-20th-century American drop-front secretary once owned by Barbra Streisand. A pair of 300-year-old Balinese doors, a set of Dutch baroque armchairs and African and Chinese decorative objects are also in the mix. Soft surfaces include plaid cashmere (on a walnut settee in the foyer) and linen drapes hand-embroidered with leaves. Many items are pale blue —  "an important color here in Jackson Hole, where the skies are absolutely stunning," Jenkins says. "We wanted to bring that blue into the house."
Jenkins and Baer like to collaborate with architects from the moment a house is conceived, helping to shape both individual rooms and how those rooms connect. But that isn't always possible. A few years ago, a visitor to Jackson Hole asked WRJ to "do" her house in California's Silicon Valley. At the time, the 15,000-square-foot, Spanish-style home, by California architect Andrew Skurman, was already nearing completion.
How This Former Dairy Farmer Became One of Wyoming's Top-Tier Designers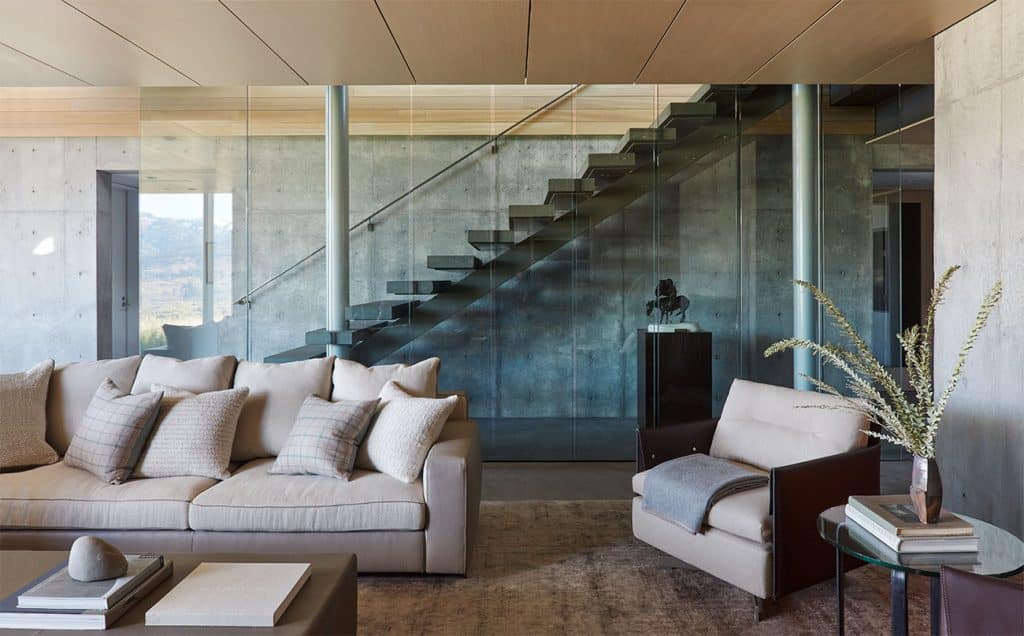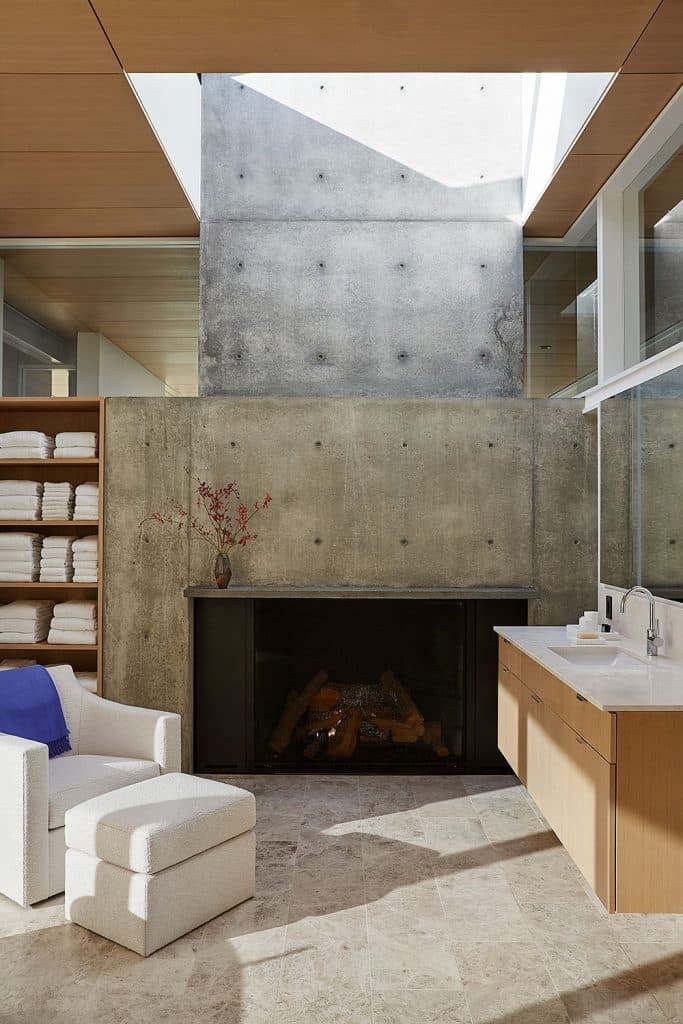 Since they couldn't influence the architecture, Jenkins and Baer did everything they could to complement it. A cast-bronze table base in the shape of a tree trunk (by artist Jiun Ho) with a stone tabletop anchors the amply proportioned foyer. Behind the foyer is a sinuous spiral staircase, which Jenkins lit with a bronze and acrylic chandelier by Johanna Grawunder that plays off the curves of the architecture. "The pieces of the fixture do a little dance," he says. Given the expansive layout, he worked to create relationships between disparate elements. The dining room features a large photo of rippling water, a fixture made of blown-glass globes and a table whose walnut surface is embedded with droplets of bronze.
Not every WRJ-designed house is sprawling. One client, a West Coast entrepreneur and design aficionado, came to the firm for help with a modest Jackson Hole abode designed by architect J. Visser. The residence's wide-open ground floor resembles a Manhattan loft — if you can imagine a Manhattan loft with a view of the National Elk Refuge. Jenkins's task was to divide this into distinct cooking, dining and living areas. Luckily, the book points out, "the series of wood beams that punctuate the ceiling help to articulate the large space." The rest of the articulation was done with furniture groupings, including seating upholstered in wool, Belgian linens and lush fur, all in colors that echo the hues outside. Upstairs, the master bedroom is white, bright and airy.
Also in Jackson Hole, WRJ was brought in to complete a house by Carney Logan Burke Architects. Since it was still under construction, he was able to hide most fixtures, so that, as the book puts it, "light appears to wash over the floors and walls." The living room posed a design challenge: Creating a furniture grouping at one end, near the fireplace, left a large residual space. But Jenkins filled it elegantly by designing a series of chairs wide enough for two. He added a perforated steel-and-glass coffee table and petrified-stump side tables, creating a look that might even work in Manhattan — but for the painting of buffaloes and the views of the Bridger-Teton National Forest outside.
Jenkins has known that kind of view since growing up in Idaho. Later, his appreciation of nature took him to California, where he studied landscape architecture. As part of his design education, he also traveled extensively in Japan. There, he came to appreciate a design philosophy he calls "half-hidden, half-seen," referring to something you don't quite understand until you're close to it. He moved to Manhattan in 2001 to become the director of design for Sotheby's New York, leaving to found WRJ in 2003. Sotheby's quickly became a major client: He designed the auction house's exhibitions for the collections of everyone from Cher to Bill Blass, Johnny Cash to Barbra Streisand. He continues to design museum installations, including the recent show of philanthropist Bunny Mellon's jewelry at the Museum of Fine Arts in St. Petersburg, Florida.
Baer grew up in Georgia, swam competitively in college and worked as a model. In 1997, he moved to New York to begin a career at an investment bank, and after meeting Jenkins, in 2000, he completed a graduate degree in interior design at Parsons School of Design. Baer became Jenkins's partner in the firm in 2008, impelled by two momentous events: The bank he was working for collapsed and Jenkins received a commission from the Ronald Reagan Presidential Library and Museum, in Simi Valley, California. "The day after my last day at the bank, we were on a train to D.C. for a private tour of the White House — research for the Reagan library project," Baer recalls.
In 2010, Jenkins and Baer moved the firm to Idaho, and the following year, they set up shop in Jackson Hole, where Jenkins had formed happy memories during childhood visits. They were "immediately embraced," Baer says, "by unbelievably kind, warm and spirited people."  The couple married there in 2015, their mothers walking them down the aisle.
Natural Elegance is, quite consciously, a celebration not only of the pair's professional partnership but of their personal relationship as well. It begins with effusive letters by the men about their love of design, Jackson Hole and each other. As Baer writes of Jenkins: "I cannot imagine being on this journey with anyone else."
Or support your local bookstore.
Rush Jenkins's Quick Picks