Fine artists have long traveled in search of inspiration. Think of Gustav Klimt's excursions to Venice and Ravenna, whose gilded Byzantine mosaics informed his own golden paintings, or Vincent van Gogh's extensive sojourn in France, whose haystacks, starry nights and cafés are now inextricably linked with the artist. Jewelry designers, too, have frequently looked to distant lands for new ideas. The New York–based, Sicilian-born duke Fulco di Verdura, for instance, turned to his childhood home of Villa Niscemi, in Palermo, as muse for many of his designs. Early in his career he also explored Klimt's Ravenna stomping grounds, whose Byzantine treasures — especially the portrait of Empress Theodora in the Basilica of San Vitale — led him to the mosaic-like brooches and cuffs he made for Chanel (a collection that also introduced his famous use of the Maltese cross).
Contemporary jewelry designers, too, turn to travel as they seek out ideas for new collections — or, at the very least, search for creative rejuvenation. Here, we catch up with five of them.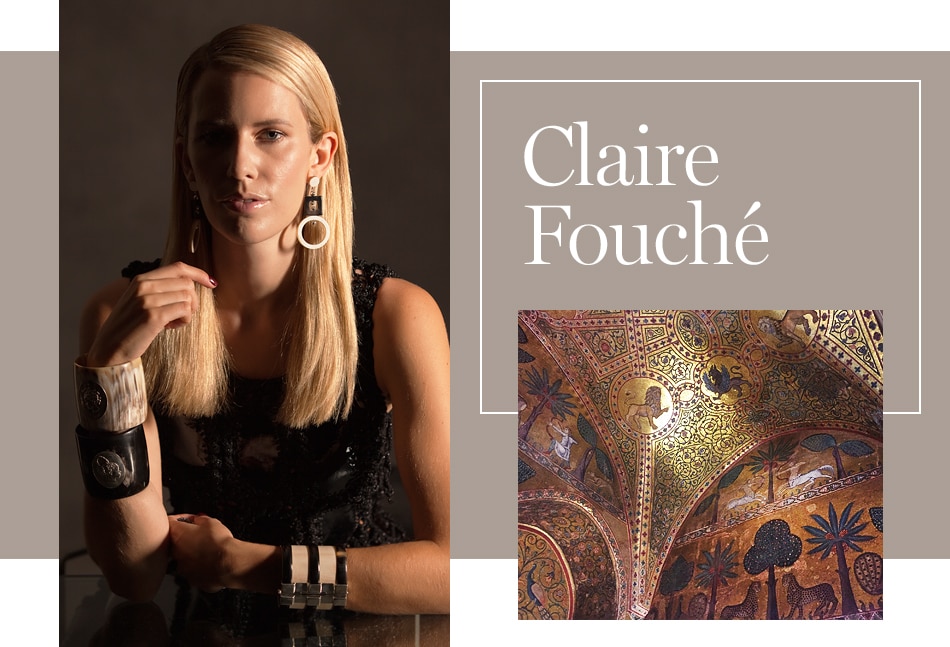 London-based Claire Fouché found the impetus to launch her collection during a three-month trip she made to Kenya, Tanzania and Zanzibar just after finishing law and business school in her native South Africa. "It was a bracing force for me. It didn't feel the way it felt at home," Fouché says of her time in Kenya. "I had a lot of important moments there." Although she spent her childhood traveling between her home country, Hong Kong and the English countryside, it was Kenya's natural resources, artisanal techniques and surprisingly diverse architecture that most moved her.
After the trip, Fouché changed career paths and found a job in design, spending five years creating intricate high and fine jewelry at Fabergé on London's Bond Street. While there, she helped launch the Maisha Foundation, a charity that sets up educational programs in Kenya. Through Maisha, Fouché met local artisans living in the Nairobi slum of Kibera, many of whom now work with her, carving and finishing pieces of camel bone (sourced from the remains of animals that have died naturally), cow horn from Ankole cattle (a by-product of the local meat industry) and local jacaranda and ebony wood. Fouché fashions these into signature pieces like large horn and wood cuffs punctuated with gold clasp pins and large hoop earrings made of horn and embellished with semiprecious stones like chrysoprase and carnelian. "It really resonates with me," Fouché says of combining the materials she finds in Africa with more traditional fine-jewelry elements. "I'm European and South African, and the jewelry reflects that."
Above: Fouché (left) commissions craftspeople in Florence to finish her African pieces, and her frequent trips to Italy have led her to explore new motifs. She took this shot (right) inside the Royal Palace in Palermo, Sicily. "I love the exoticism of these Byzantine mosaics," she says. "The palm leaf often appears in my jewelry designs." Photos, from left, by Francesco Pasti and Claire Fouché
Fouché also travels frequently to Italy, to collaborate with goldsmiths in Florence who finish her pieces. "These designs represent the finest craftsmanship in Africa, and at the same time I'm using the best craftsmanship in Europe. My dream is to showcase African-crafted jewelry on the same level as high jewelry."
The idea for her Kuba collection, meanwhile, was sparked by textiles her husband brought back from West Africa. "Klimt had a collection of Kuba textiles," she says. "The idea of modernism really comes from Africa. For hundreds of years, African artists have been using those shapes." Her trips to Italy have also provided inspiration. Fouché generated ideas for a new series of strong, modern but also romantic pieces from the clean lines of the brass work and the glossy marble finishes of Milan's Art Deco Villa Necchi Campiglio. But even in Italy, Africa calls. The continent's influence on the aesthetic of Sicily's Ortigia island led to a new pair of earrings that features geometric engravings in cow horn, sugarloaf-shaped gems and pineapple and palm motifs.
---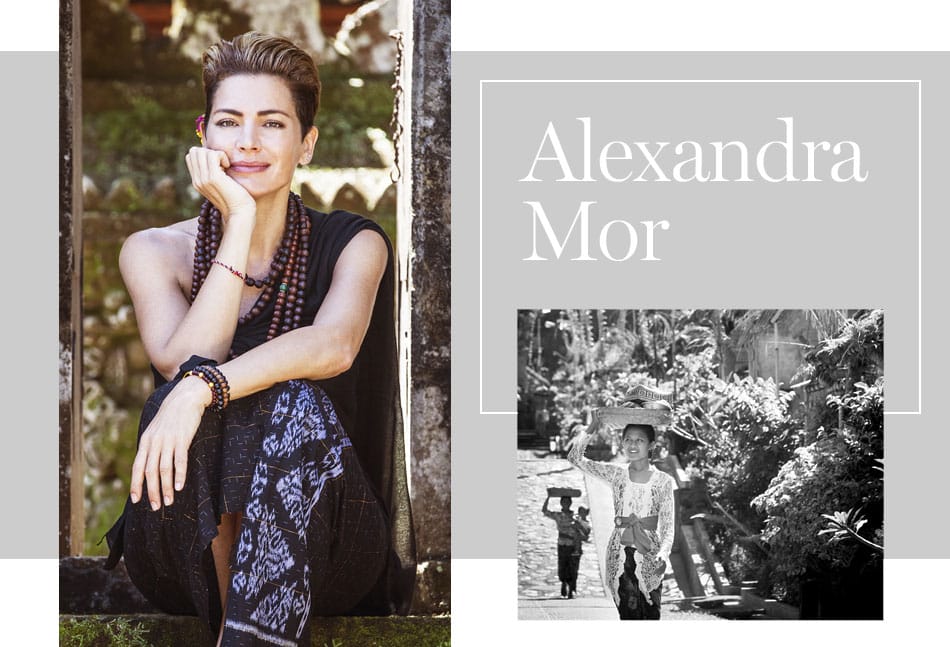 Known for work that combines strong architectural settings with sensuous, curving cabochon-cut gems, Israeli-born New Yorker Alexandra Mor can find inspiration in almost anything, from French haute couture to the simple lines of Japanese design. But a few years ago, while balancing work and family in the city that never sleeps, she began to sense a certain inertia. "It became difficult to create in that fast-paced life. I started feeling stuck," she says. So, last year, Mor relocated with her family to Bali, where they have been living since August."
If a desire for a less frenetic lifestyle was the general motivation for moving, it was Mor's interest in anthropology that specifically led her to Bali, which is known for its long and rich tradition of intricate gold and silver work. "There's a very ancient way of living here — the religion, all of the craft," she says. "I thought it would be amazing if I could travel and meet people from indigenous cultures to see how they make jewelry."
Now, Mor plans to extend her stay another year. She wants to continue learning how to design in indigenous styles using the local dark woods and gold-filigree and twisted-wire techniques, which she incorporates in her pieces along with black tourmaline, pink and rutilated quartz and other stones less precious than those she previously employed.
Above: Locals walk through Penglipuran, a Balinese village that Mor (left) says is "exceptional for it's preservation of core traditions" and "best known for its well-preserved culture and layout." Photos by Ken Kochey at Sarah Laird Agency
In Bali, Mor has also been researching ivory alternatives. She has been particularly drawn to the tagua nut, the seed of a palm native to South America that is typically used for less precious items, like buttons, rather than jewelry. "It's considered cheap, but it's one of the most beautiful things to feel in your hand," says Mor. "After a two- to three-month drying process, it has the equivalent hardness of ivory."
Mor acquires the nuts, which grow only in the wild, from a supplier in Ecuador. She then works with a Balinese bone carver, as well as a woodworker, goldsmith and stone setter, to create yellow-gold pieces that have tagua as the centerpiece "stone." In September, she'll debut a capsule collection of these creations at a Vogue Gioiello show in New York, where 13 designers will be showing jewelry incorporating tagua. "The goals of the event are to educate, to start a conversation and to raise consciousness among retailers, designers and consumers about ivory," says Mor, who plans to bring the collection, which also includes locally sourced baroque Balinese pearls, to the Armory Show next March. "If there is no demand for ivory, hopefully animal poaching will finally stop."
---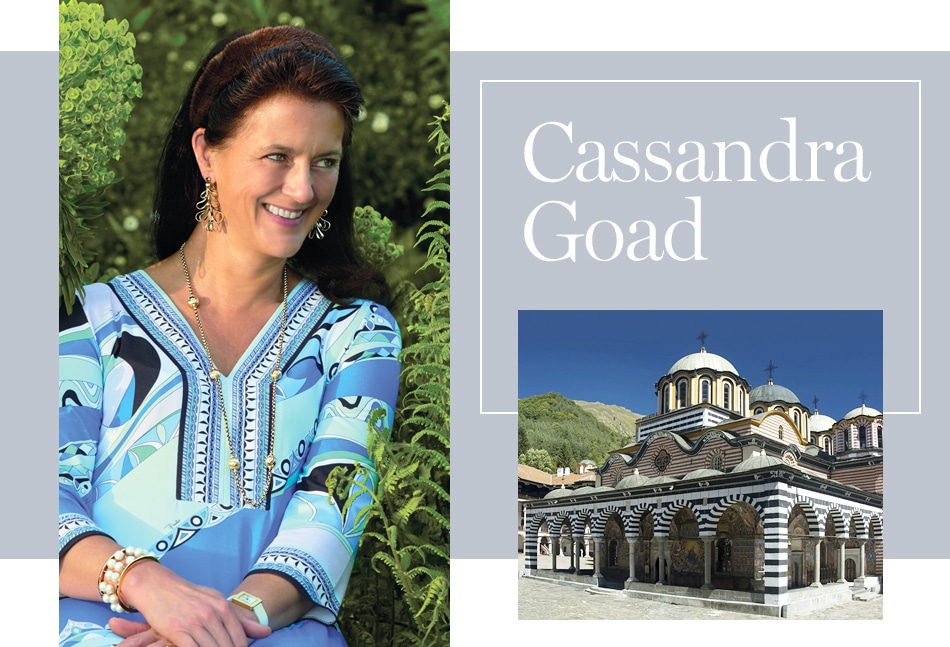 British designer and inveterate traveler Cassandra Goad has found ideas in many far-flung locales over the years, but it all started in Moscow. "As I walked around the Kremlin, I found myself fascinated by endless bits of ironwork," Goad recalls of her first trip there, in 1999. "I'd never been inspired by pure design and metal before — I'm usually focused on the stones. But the designs were so simple yet also elaborate." Goad took this excitement back to her workshop in the UK and began creating pieces in silver, enamel and gold, in shapes recalling the onion domes of St. Basil's Cathedral.
Since then, Goad has developed collections based on myriad other destinations, including Brazil, India and Turkey. After a trip to Bulgaria, she even managed to translate the scents of the Balkan countryside into tangible creations, like diamond and pearl earrings and rings in the form of roses with their petals slightly upturned. "The countryside outside Sofia [the capital of Bulgaria] is breathtaking. Colorful butterflies flit from flower to flower and the birdsong echoes over rolling hills covered in wild flowers," says Goad. "Bulgarian roses are world famous for their heavenly scent."
Above: Goad (left) found visual themes for a recent collection in the architecture of Bulgaria. All photos courtesy of Cassandra Goad
For one collection, created after trips to Denmark, Sweden, Norway and Finland in 2010 and 2011, Goad used such diverse regional motifs like Scandinavian sailing knots (which take take shape in her Gisela gold pendants) and patterns in the shape of lök (Swedish for "onion'), which have been used in traditional china, as well as birch leaves, marjoja berries and pinecones, to create silver, gold and diamond pendants.
Goad travels with two cameras, a sketchbook and a smartphone to capture all she sees. Upon returning home, she uploads her photos and looks back at her drawings, which record everything from dresses in local shops to meals in cafés. Then, she builds out storyboards to communicate a vision to her workshop and clients. "Designers are like magicians," she says of the ability to translate travel into jewelry. "We transform things."
Her latest collection was born out of a visit to Sicily, specifically to Palermo's Il Capo market. She transmuted its produce into such gems as her Cavolfiore earrings, shaped like cauliflower and set with turquoise, coral and chalcedony, and a pendant in the form of an octopus with its legs dangling, rendered in black onyx and gold.
Shop Cassandra Goad on 1stdibs
---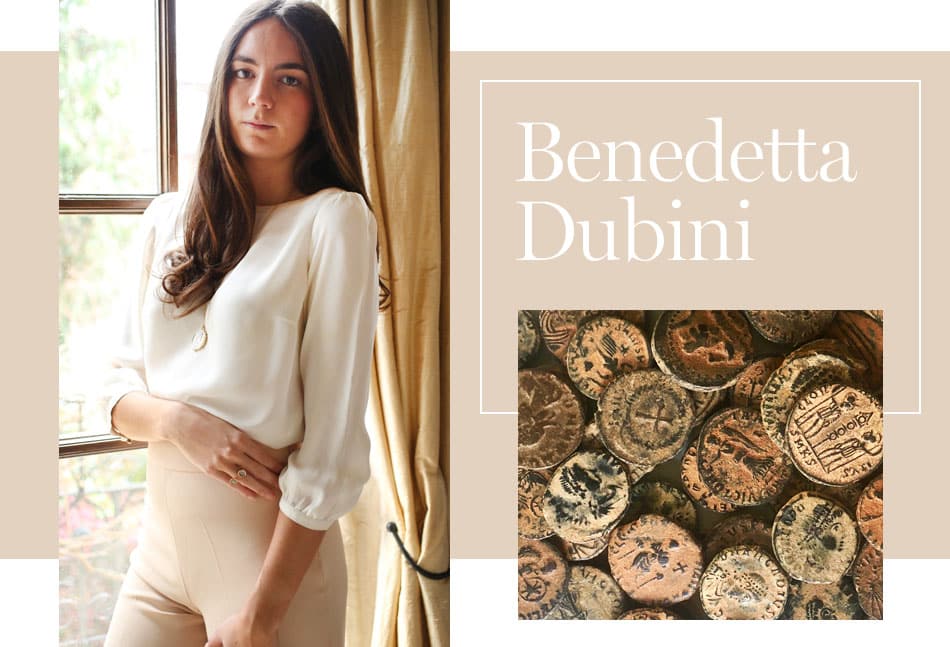 Benedetta Dubini's lifetime of travel makes its way into her jewelry less through ideas and inspiration than in the found objects she incorporates into her designs. Raised in London and Milan, Dubini grew up journeying all over the world with her photographer mother. In the marketplaces of such ancient lands as Egypt and Turkey, the budding designer picked up little souvenirs and trinkets, including Roman and Greek coins. Today, these and other bits of centuries-old currency can be found in her Empires collection.
To make these pieces, Dubini, now based in London, collaborates with craftsmen in Rome, many of whom have worked on Bulgari's Monete jewelry, which also uses ancient Roman coins. "Sometimes I challenge the artisans," she says. "I'm asking them to do things differently." Dubini places the coins in stylized yellow-gold settings and adds accents like tassels in chalcedony and garnet or citrine drops to create a look that resembles a colorful, modern update on Bulgari's classics.
Above: Dubini (left) buys the ancient coins she incorporates into many of her pieces from a dealer in London. Top: A model wears a gold Dubini choker that incorporates an Imperial Roman coin minted in A.D. 210 or 211 and an authentic Persepolis coin minted between 50 and 1 B.C. All photos courtesy of Dubini. 
Having long ago run through the ancient coins from her childhood collection, Dubini today sources the ones she sets in her pendants, rings and cuffs from an established numismatic dealer in London. This ensures that they are authentic and rare. Particularly sought-after coins include those with images of Alexander the Great and Artemis made in Macedonia under Roman rule. (Today Macedonia is part of modern Greece, not to be confused, although it often is, with the former Yugoslav Republic of Macedonia.)
"When I go to my dealer, he always has a story for me," Dubini says. She's found that many clients quickly develop a personal attachment to an individual coin and the story behind it — as has she. "The first Alexander the Great coin I bought, I went for dinner with friends of my mother, and one of her friends saw it and mentioned she also had one but lost it," Dubini recalls. "She wanted mine, and I sold it, but it was a heartbreaking thing to me."
Shop Benedetta Dubini on 1stdibs
---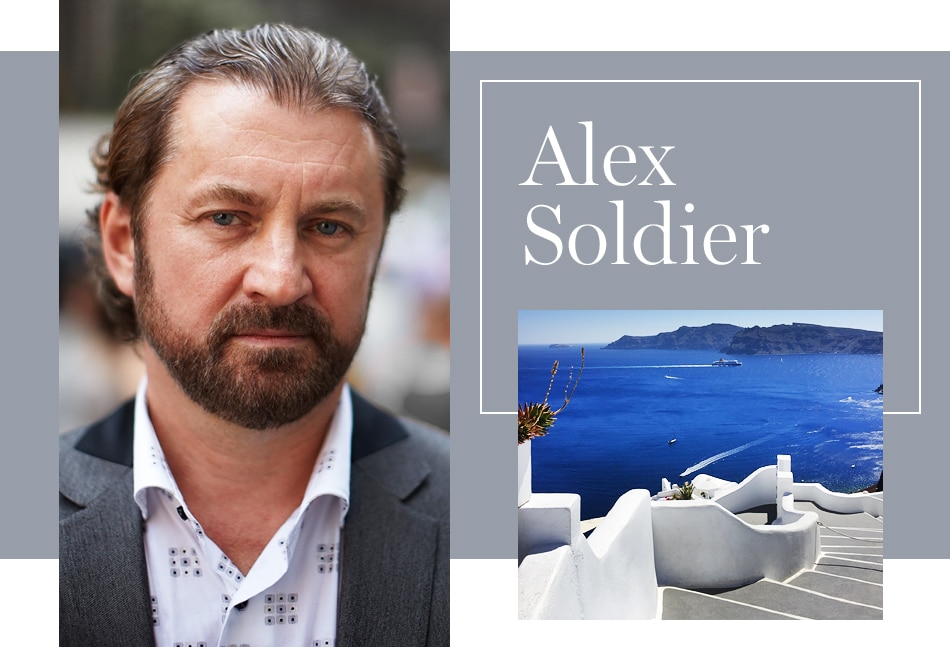 Alex Soldier grew up in the Ural Mountains of Russia and has called New York City home since 1990, but he develops the vision for much of his new work during the monthlong trips he takes twice a year to destinations around the world. One such journey several years ago found Soldier in Venice, where he became enamored of lace patterns sold at a small boutique near the Grand Canal. Upon returning to New York, he began to create lace-like pieces: ruby and black-spinel drop earrings; a tourmaline, peridot and diamond ring; and ruby and diamond pendants, among them. Later, he found other types of lace on visits to Hong Kong's Lascar Row and Istanbul's Grand Bazaar. The resulting motifs are at once graphic and delicate, the textured 18-karat gold work creating a contrasting web for the colorful pavéed gemstones.
Unlike many designers, Soldier refrains from recording his inspirations in sketchbooks or photos while on the road, preferring to keep the concept for his next piece of jewelry in his mind until he returns to his Times Square studio, where he makes a wax mold of it.
Above: The rich culture and colorful churches of the Greek Islands, such as Santorini, have inspired the work of Soldier (left, portrait by David A. Land).  Photos courtesy of Alex Soldier 
Soldier's most recent pieces are for his ever-growing Royal Collection, which takes inspiration from trips he's made to some of the world's most beautiful palaces. The series began following a 2005 visit to Morocco's ornate, Islamic-design-influenced Bahia Palace, in Marrakech. Once home, Soldier began to create stately pieces like pairs of Rose de France amethyst and rhodolite garnet drop earrings and a deep-purple amethyst cocktail ring outlined in pavéed yellow sapphires.
The designer will pivot from the Royal theme on his next trip, to New Zealand, where inspiration is likely to come from the natural riches of the region.