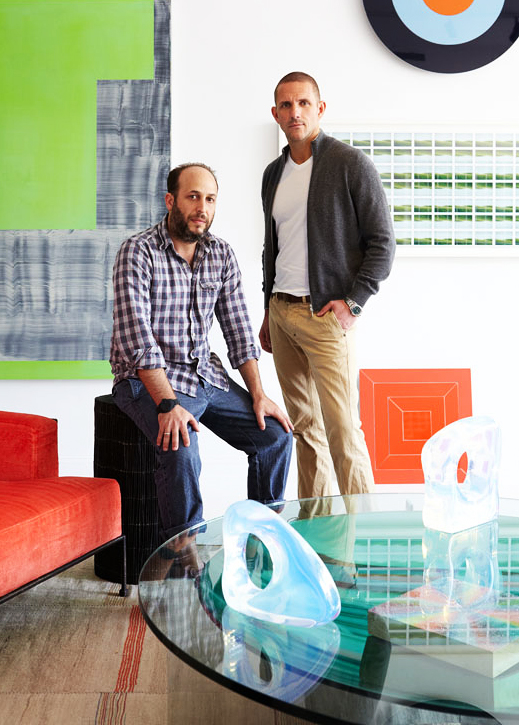 Robert Stilin is a sought-after interior designer and an avid collector for whom including a work of art in a room is as important as providing a chair to sit on. "I love having all my things around me, and that's how I design," says Stilin, who is based in New York City and East Hampton and has high-profile clients in both places. "I think people don't see clearly enough the ways you can live with art."
To that end, Stilin has curated an exhibition at East Hampton's Eric Firestone Gallery that mixes art, furniture and objects in room-like vignettes. The show, which will be on view from May 25 through June 10, features new work by Eric Cahan, Gregory Johnston and John Messinger, all of whom have shown with Firestone before, alongside a broad selection of 20th- and 21st-century objects, furniture and sculptural pieces culled from, among other sources, Firestone's inventory and Stilin's eponymous shop nearby. "I installed the art in the gallery as though it were a client's home," says Stilin, who's known for creating casually luxurious environments in which modernist gems like a 1940s leather Eero Saarinen chair share space with a plump-cushioned, linen-upholstered sofa.
It's no surprise that Stilin and Firestone would collaborate on such an integrated project. Presenting art in the context of furniture and other interior elements comes as naturally to the dealer as it does to the the designer. "For me, it's reality," says Firestone, whose previous gallery, in Tucson, Arizona, showed design alongside fine art. The two started talking informally about the show just a few months ago, and it came together quickly. "It was exciting to jump right in," says Stilin. "Robert has an impeccable eye," offers Firestone. "And he knows how to put together vignettes like these."
Inside Firestone's gallery stand three vignettes, each with a different sensibility. One is minimal and monochromatic, with a vintage French flea-market chair, an abstract sculpture by Sidney Geist and a framed grid of photographs by John Messinger resting on a studio stool that was found in the gallery basement. The featured artworks, never deployed as decorative accents or overshadowed by the environment, very much hold their own. "Gregory Johnston's paintings are quite design-oriented and installation-driven," says Firestone of the sleek stripes and mirror-like finishes of Johnston's canvasses, a selection of which hang behind a massive Ron Arad table arrayed with a variety of small sculptural pieces. A group of Eric Cahan's "Sky Series" photographs, meanwhile, can be viewed from the curved embrace of a Wendell Castle chair, which faces a French 1960s glass-topped coffee table.
As for upending the usual art-viewing context of the pristine white gallery space, Firestone and Stilin are confident that the local clientele can handle it. After all, "This is how collectors live," says Firestone. "They're smart. They get what we're doing."