When the well-known Cleveland sculptor Jerome Aidlin died in 1986, he left his tools to his son, Joshua Aidlin. "We built our first office around those tools," says David Darling, who with the younger Aidlin formed Aidlin Darling Design in San Francisco in 1998. "Woodworking was the start."
At the time, competitors were using digital technology to create striking new forms. (The Guggenheim Bilbao, for instance, opened in 1997.) Darling recalls: "Visuals dominated the profession." In contrast, the partners, who met when they were architecture students at the University of Cincinnati, decided to focus not just on how things look but also on how they feel, how they sound and even how they smell. Lacking big commissions, the two men started out working at a small scale, designing furniture and making it with Jerome's tools.
A quarter century later, the pair has large projects aplenty, including houses for Silicon Valley stars, restaurants, offices — and a meditation center at Stanford University, perhaps the first new building designed for that purpose at a major college. And they are still determined to satisfy all the senses. Take, for example, a house that the partners designed for a Marin County couple. The clients collect jewelry, which they often display for visitors. So the architects designed a wall containing showcases, some of which are fixed in place while others can roll out of their docks and "settle" anywhere in the house. The rolling cases are made of eucalyptus wood, white lacquered oak, gunmetal-finish steel and dark gray felt. "All these materials have tactile and acoustic qualities," says Darling.
When designing the house, they explored those qualities on a much larger scale. Some of the building's exterior walls are made of board-formed concrete, others of rusted steel and still others of wooden slats. "It's a kit of parts we used to create privacy and tranquility," Darling says. Because the walls extend into the landscape, shaping outdoor spaces, the approach to the front door is "very cinematic," he adds. The wood and metal screens give hints of what's to come, but only hints.
Another recent commission involved turning the top two floors of a 1904 Edwardian building in San Francisco's Pacific Heights neighborhood into a loft for a young family. The upper level had been divided into a warren of small rooms. The architects replaced some of the redundant walls with storage units that conceal structural elements. "The furniture is the architecture," says Darling. "That's a line we often blur."
Elsewhere in Pacific Heights, Aidlin and Darling converted a house by Joseph Esherick, an important mid-century architect, into a light-filled aerie. When Esherick designed the house, in 1949, it had open views of San Francisco Bay. By the time Aidlin and Darling got to it, it was surrounded by tall buildings. Maintaining Esherick's facade ("We felt it was the right thing to do," says Darling), they carved out space beneath a large skylight to form a kind of atrium. But it's hard to make a void a focal point. So they used reclaimed lumber to create a sculptural element that suggests a tree reaching to the sky. Eminently touchable, it also serves as the backboard for a pair of benches and a trellis for plants: sculpture, furniture and architecture, all in one.
In Aspen, the two men took on a rare spec project, designing a house for a developer who fortunately wasn't looking for what Darling calls a "log cabin on steroids." He did want a large structure, however, even though the site was so steep that the actual buildable area was small. Entry would have to be on the upper level, the architects realized, with large rooms extending onto the slope below. But who wants to look out on a roof? So Aidlin and Darling gave the lower level a "wet roof" — a surface of river rocks submerged in a couple of inches of water. This acts as a reflecting pool, providing an upside-down postcard view of Aspen Mountain. (The weight of the water isn't a problem, structurally, compared with the three feet of snow that might cover the roof some winters.) The house, with its rich materials, including ebonized wood and textured concrete, and its complex layering of spaces, has won the architects several other Aspen commissions.
---
"The furniture is the architecture," says Darling. "That's a line we often blur."
---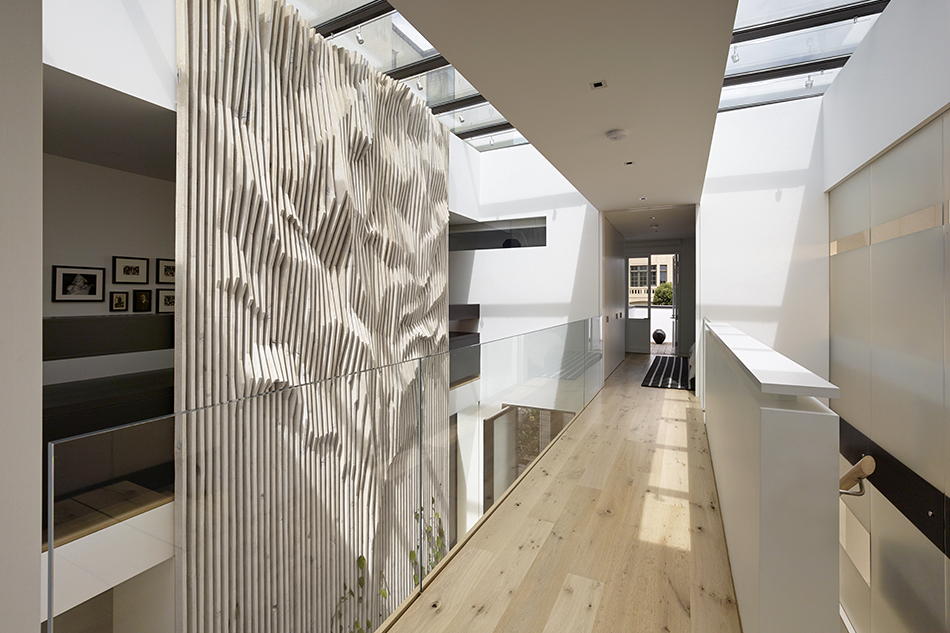 The architects don't only work for millionaires. A husband and wife with a suburban lot in Marin County asked for a modest house with the openness of an urban artist's loft. Aidlin and Darling designed a ranch house made of everyday materials — concrete floors, Sheetrock and corrugated metal. But one wall (Darling calls it the "hero wall") is covered in mild steel plate, which has a natural patina suggestive of a tapestry or a Clyfford Still painting.
To win over clients, the partners sometimes play "good arch, bad arch." As Darling explains it, "One of us vigorously defends the design, and the other soothes and patches. It's all appreciated in the end."
In their office, which holds about 18 people, one of the two partner oversees each project while the other acts as the editor, providing frequent critiques. According to Aidlin, the reason they became partners in the first place was that each felt that the other's criticism "propelled the work farther than we had ever experienced," and, he adds, "that still holds true today."
The two architects no longer have the time to spend in the wood shop, but, Aidlin says, "the ethos of our detail-obsessed studio stems from the early days of physically creating furniture." Even if they can no longer manufacture furniture themselves, they have gained something else, he notes: the "intimate and inspired collaborations we have with remarkable craftspeople all over the country." Like those artisans, says Aidlin, "we believe that materials evoke emotions."
---
Joshua Aidlin's Quick Picks on 1stdibs
---
David Darling's Quick Picks on 1stdibs