Every May, 1stdibs sponsors a series of intimate, by-invitation-only panels during Legends of La Cienega, the three-day design extravaganza in L.A. at which seemingly the entire design universe converges. This year's final talk, titled "All in the Family," featured a crowd-pleasing quartet: mother and daughter dynamos Ann Pyne and Elizabeth Pyne Singer, of the venerable New York–based firm McMillen (which was previously run by Ann's late mother, Betty Sherrill), and Robert Stilin, of the highly regarded eponymous firm out of New York and the Hamptons, and his 23-year-old son, Dylan Stilin, a designer at Brooklyn-based Ash NYC.
The conversation, hosted by Downtown gallery's Robert Willson and moderated by Introspective editor in chief, Anthony Barzilay Freund, was at once amusing, touching and highly informative about parent-child dynamics and the ways in which an interior design firm's DNA can be passed down to the next generation, both metaphorically and literally. In honor of Father's Day (and, belatedly, Mother's Day), we bring you an edited and abridged version of our discussion with the fabulous foursome we've rhymingly dubbed the Stilins and the McMillens.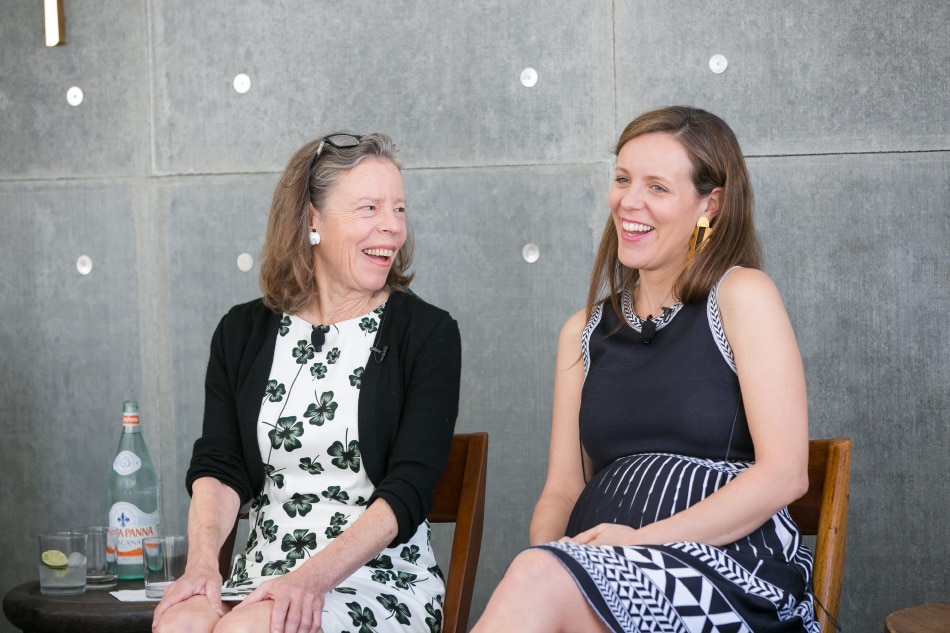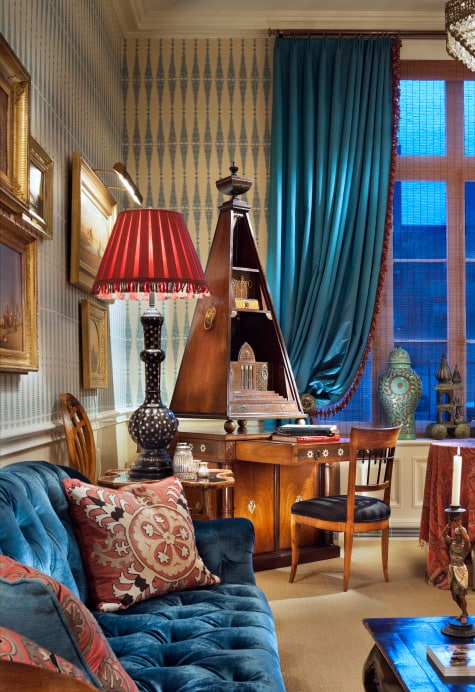 ANTHONY BARZILAY FREUND:  I'm excited about our conversation today because it's rare in the design world to see multiple generations plying the same trade — the Hickses, Hamptons and Clementses notwithstanding. Beyond that, I've always been interested in the idea of a firm's aesthetic DNA transcending the tenure of the founding partners. Think of Parish-Hadley, which no longer exists and yet the designers who once worked there — from David Easton to Bunny Williams to David Kleinberg to Brian J. McCarthy — have carried on things they learned from Sister Parish and Albert Hadley throughout their careers. Today, we're here with designers who share actual DNA, although to be completely accurate, Ann, McMillen was founded in 1924 by Eleanor McMillen. Your mother only came to the firm in 1952. Can you talk about its evolution over the last century?
ANN PYNE:  And we're still a partnership of four or five people who have no shared DNA! No scientific DNA, that is. If you look at a photograph from 1927 that we have in our archives, you'll see our room in a decorator showhouse in the Lexington Avenue Grand Palaces that was highly historicist in style. Mrs. Brown — then still Mrs. McMillen — had been to the New York School of Fine Applied Art, and she was the darling of William Odom and Frank Alvah Parsons, and that was their mission: to pass on historic knowledge. If you then look at, say, images of my mother's apartment from about 1980 and a recent project of Elizabeth's, you'll see the same sense of symmetry. I think our classical approach transcends time. Although I think Mrs. Brown would have a heart attack from seeing that last image!
ABF: Robert, you often talk about the idea of classicism being passed down through time to today. As a modernist, how did you begin looking back at the past?
ROBERT STILIN: I think the foundation of all my work is absolutely the classics, and classical architecture is everything. Getting the architecture and bones of a project right is the most important thing, and everything else follows.
ABF: Elizabeth, you are really engaged with concepts of scale and proportion. Those are classical tenets that apply today. Can you talk about how you've absorbed these points into your design DNA?
ELIZABETH PYNE SINGER: Well, when I was a little girl, I was always obsessed with objects. And then I worked at Sotheby's in the Old Master paintings department — again objects. When I first came to McMillen, I was definitely more object-based, so I would start by choosing one thing and say, "Oh, this has to go in this client's room." But what I learned first was that you have to start with the floor and the furniture plan and then fill it in. At McMillen we have interior architects who teach us such things. It's very much of a teaching environment — which I think my mother's amazing at.
ANN PYNE: Yeah, you should see how the lessons are received!
ABF: I have to jump ahead to my question about the challenges of sharing a family and a profession. Dylan, even though you don't work with Robert, can you talk about the joys, or challenges, of toggling back and forth between a father-son relationship and one that's professional?
DYLAN STILIN: For us, it's more a joy to have points of comparison. Obviously, we're at different places in our careers, but we've done projects in the same buildings in New York. Growing up around someone able to create beautiful spaces with what seems like such ease has given me what I think is the best design education possible.
ROBERT STILIN: That's nice.
DYLAN STILIN: I say nice things sometimes.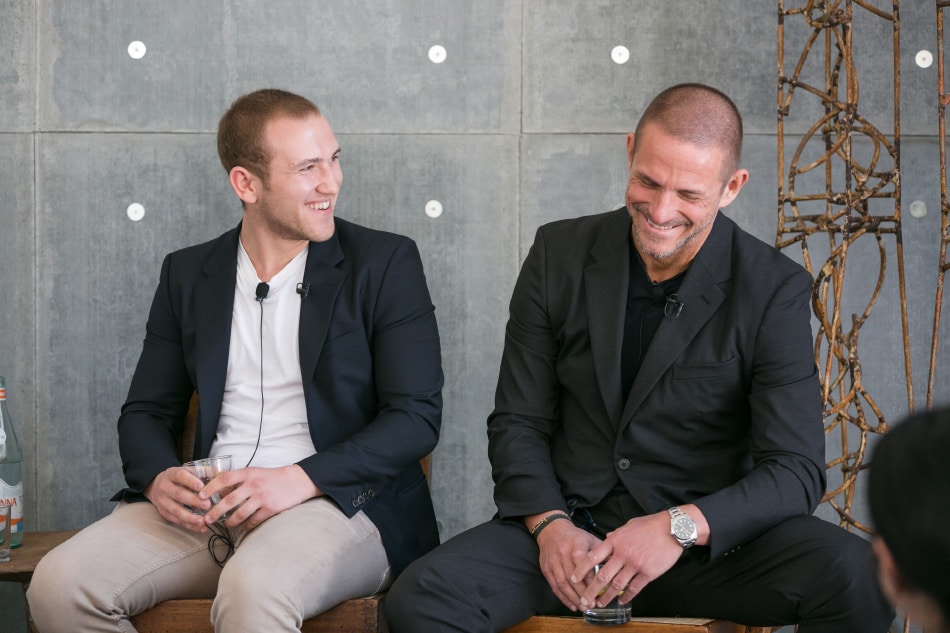 ABF: Not to put you on the spot, Elizabeth, but is working with your mother a challenge in any way? She has a formidable personality.
ELIZABETH PYNE SINGER: Yes, it's true. Well, I do always follow my mother's advice. I always come to her with my schemes. Clients want my mother's opinion. In fact, I can get frustrated because I'll be presenting something that I will have worked hard on, and they'll sort of listen to it and then say, "What does your mother think?"
ANN PYNE: I want to say something about McMillen. Elizabeth does not work for me. We have seven or eight designers, of whom Elizabeth is one. We don't really fall into the parent-child thing because of the structure of the firm.
ROBERT STILIN: I was just thinking about the tradition of McMillen and about my firm and how it works, which is very familial and very collaborative. Dylan doesn't work in my firm, but he's grown up with all these people.
ABF: Let's talk about what challenges a design practice faces today that didn't exist in a previous generation, and also what makes your job easier.
ELIZABETH PYNE SINGER: I'd say nowadays people really want to see how designers live, which Instagram facilitates, and then make a decision if they want to hire them or not. But actually, I don't think that that's changed so much over time. Designers own homes, and their stylish lives have always been something of a marketing tool.
ANN PYNE: We all hear about the Internet and the clients and the da-dah, da-dah — and clients find out what the markup is — but my mother always told me, "Ann, all clients are difficult, so get over it."
ROBERT STILIN: That's great advice.
ANN PYNE: I think nothing has changed.
---
"Growing up around someone able to create beautiful spaces with what seems like such ease has given me the best design education possible."
---
ROBERT STILIN: I've been doing this for almost thirty years. But the actual business, and why clients are hiring us, and how they hire us, are pretty much exactly the same. I don't get clients off of Instagram or even magazines that much. It's all word of mouth. It's our reputation and the work we do that propel our business.
ANN PYNE: Yes.
ELIZABETH PYNE SINGER: Fundamentally, I think it is. But it's hard not to get obsessed with Instagram.
ROBERT STILIN: No, it's important. I wouldn't undervalue that.
I would also say that we, as designers, are tough customers, just like our clients. I have very high standards, I'm difficult and discerning. My clients are hiring me to get the best, to have luxury, and that's what we have to deliver.
DYLAN STILIN: Ash, the firm where I work, is by far the youngest firm on the panel. The company was founded in 2008. So it's a baby, basically, and we certainly use Instagram, we use social media, we do a lot of our buying online. We have more of a startup, modern sensibility. But those principles of how you work in the industry are the same for us as they are for everyone else.
ROBERT STILIN: Instagram is a huge source of inspiration for me. I follow dealers all over the world. I follow galleries all over the world. I buy something on Instagram every single day. That wasn't the case five years ago.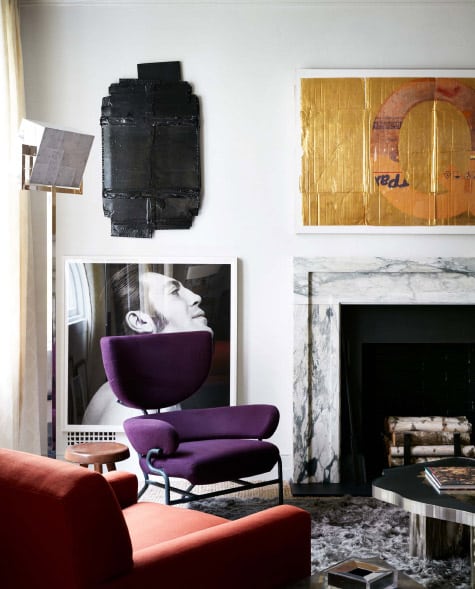 ABF: Let me ask about the word legacy and what it means. Elizabeth and Dylan, you have big shoes to fill. How does that make you feel as you're pushing the elevator button in the morning to go up to your office?
DYLAN STILIN: Well, first of all, my office is in a walk-up, I don't take an elevator. But being introduced as "Oh, this is Robert's son" is great. It's nice to have that instant recognition. But it definitely presents challenges, too. I've learned from him. So, yes, there are similarities. But I have my own design sensibilities, and I channel the aesthetic of the firm I work for. Expectations can be hard to meet or just unrealistic.
ELIZABETH PYNE SINGER: I also find it a blessing and a challenge. When I first started at McMillen, people would always say, "Oh, it's so traditional." What does traditional even mean? In every decade, we were doing exactly what was on point. That was really frustrating. On the other hand, I'm really proud to work at a firm that's been around since 1924. And I'm proud of my grandmother and my mother. And working there has enabled me to get jobs, especially in the beginning of my career, that I would not have been able to get through my own portfolio.
ABF: I want to get a little gimmicky for a minute. If you could change one thing about your parent, or child, what would it be?
ANN PYNE: I prepared for this question, so I'm going to read this: "I wish that this lovely woman here would stop being huffy, snippy, rude, arrogant, intolerant, closed-minded and hostile to me in public when she is actually worried to death about me and wants the world to see who she loves."
ELIZABETH PYNE SINGER: And I wish my mother would present herself with more self-confidence. She gets really down on herself, and it kills me because she's extremely talented, and I want everyone to see the person that I see. Sometimes she has a thornier side, which is, by the way, not the real Ann Pyne.
ROBERT STILIN: I'm quite proud of Dylan. I think he's doing an amazing job, and I'm very, very thankful that he is a responsible young man with a good job and an interesting career that he loves. I was thinking a lot about what advice I could give him about this panel, because he's never really spoken publicly before. So I kept saying to him, "Just breathe and speak slowly." Like, "You're talking too fast, slow down." He's done great today. And this is a very anti-millennial thing for me to say to him, but just be patient. He's interested in hotels and restaurants and real-estate development and design, and they are all relationship businesses. These things all take time to flourish. He does generally listen to me, so I wouldn't change that much about him.
DYLAN STILIN: I wouldn't change that much either. Well, maybe a few things. We're both very driven, solution-oriented people, and we're very focused on just getting things done. But there are instances where I'll come to you for advice, and I wish that you would just listen a little more closely to what I'm thinking and why I'm asking, because sometimes it comes across differently than I've intended. But I have so much respect for you, and you've done so much for me, and it's why I'm here.
ROBERT STILIN: This is a like a therapy session.
DYLAN STILIN: Couples therapy, parent-child edition.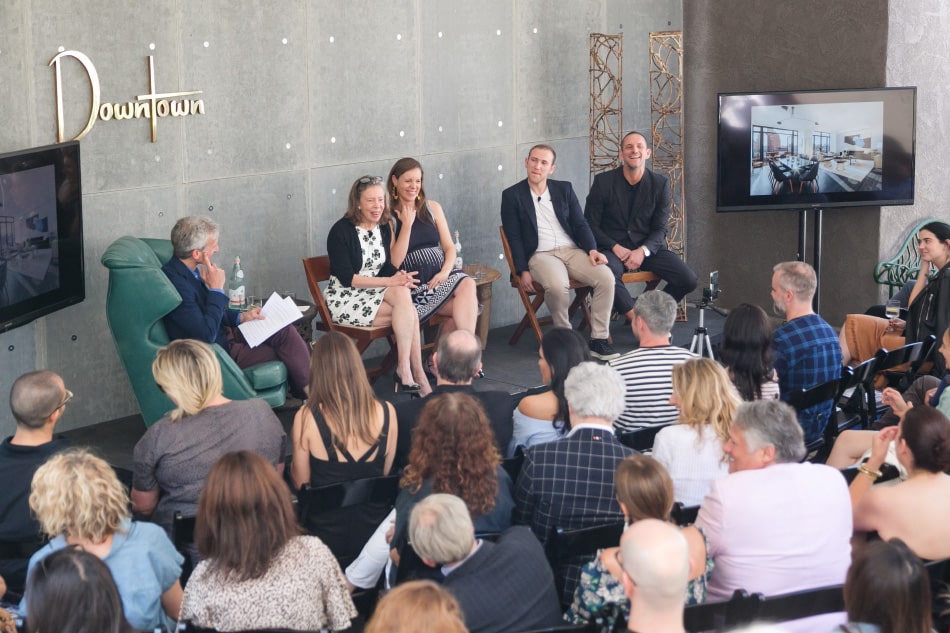 ABF: I think this is really nice. Let's turn the conversation a little bit now: If there's one thing that you could do as well as your parent or child, what would that be?
ANN PYNE: I would have Elizabeth's smile, which makes people happy. And work-wise, I would be a better salesperson. She's a very good salesperson.
ELIZABETH PYNE SINGER: I would like to have my mother's patience. Every house she does is different, every single thing she does is different, and everything has its thesis. And everything in a room plays off of everything else. I wish I had that skill, that natural skill.
ROBERT STILIN: I think, actually, Dylan has the ability to pay close attention in a way that I don't. I'm, like, doing thirty-seven things at one time. It's a goal.
DYLAN STILIN: I wish that I could create the kind of spaces that my dad does, which just feel so effortless and comfortable. You walk in, and it feels like you've arrived at the perfect place.