December 5, 2021When is an earring more than an earring? Always! says collector Annette Klein, whose interest in these adornments is fueled not just by their physical beauty but also by the clues they convey to the social and economic standing, religion, even profession of the women who originally owned them.
For her, uncovering the mystery behind each piece is a large part of the fun of collecting. "Putting earrings back into their regional and historical context is preserving their significance and remembering the women who wore them," she says.
Klein's collection — comprising more than 2,500 sets of earrings, most of them European from the 18th and 19th centuries — illustrates her point. Among her treasures are a 20th-century English pair whose amethyst and peridot stones reflect the signature colors of the suffragist movement and Neo-Renaissance-style ones, decorated with miniature painted portraits inset with real diamonds.
Beyond the intriguing backstories, "collecting antique jewelry is also a very good investment," says Klein. "I am always observing the market, and the prices have been going up constantly, so you can't really lose."
The German-born Klein, who lives in a restored 14th-century church in Lucca, Italy, with her husband, famed photographer Massimo Vitali, has been collecting earrings since childhood. With a PhD in theater history, she considers the jewels to be works of art in much the same way that costumes are and brings an art historian's approach and eye to her pursuit.
In fact, on her colorful and chic Instagram site, @mypendeloque, she posts examples from her holdings paired with contemporary photography and historical paintings showing similar styles of earrings.
Klein's dream is to exhibit her complete trove in a museum for the general public to look at and learn from. In the meantime, she sat down with Introspective to discuss why earrings are such personal and revealing adornments.
Why earrings? What do they tell us about specific places and periods?
Pierced earlobes for earrings are the oldest way there is to transform the body. I have always been fascinated by their stories, learning about the provenance and the historical context, like the Italian earrings I own that were for the daughters of bakery owners. They are shaped like shovels used to put bread in the oven — at least that's what the legend says.
Materials also tell us something about the regional resources. Italians, for example, made jewelry with what they found directly in front of them: coral from the sea, pearls from the water, lava rocks from volcanoes.
You have so many fun things from the Victorian era. Can you tell me what is special about that time in the history of jewelry?
The industrial fabrication of jewelry started during the Industrial Revolution of the mid-nineteenth century, especially in England. Jewelry became more fashionable, and the market grew incredibly, because the process went from purely handmade to more manufactured.
The Victorians were always looking for something new. They were so full of ideas and insatiable about novelty that they would come up with everything. Jewelry was made out of the heads of hummingbirds, translucent fish scales, tiger claws, milk teeth or real scarabs. They used woven sheep and cat gut, braided human hair or horsehair.
And they played with messages and symbols. I have a pair of earrings in the shape of a Maltese cross with the enameled letters D-O-N-T and a Vauxhall glass bee in the center as an encoded message: Don't Be Cross!
What is your favorite period for jewelry?
My favorite time is right after the French Revolution. I am quite a minimalistic person. I like simple things. So, after the opulence of the rococo period, there was this incredible shift in fashion to chemise dresses and short hair and from big jewelry like the girandole style to a very simple style. During the First Empire/Directoire period, women got rid of their corsets, and everything became lighter, with less artifice.
This lightness is reflected as well in the jewelry. Typical for this period is the poissarde, a creole-type earring with a decorative element like a stone or a filigree. They became hugely fashionable. It is said that originally the fishwives wore them at Les Halles, in Paris, hence the term.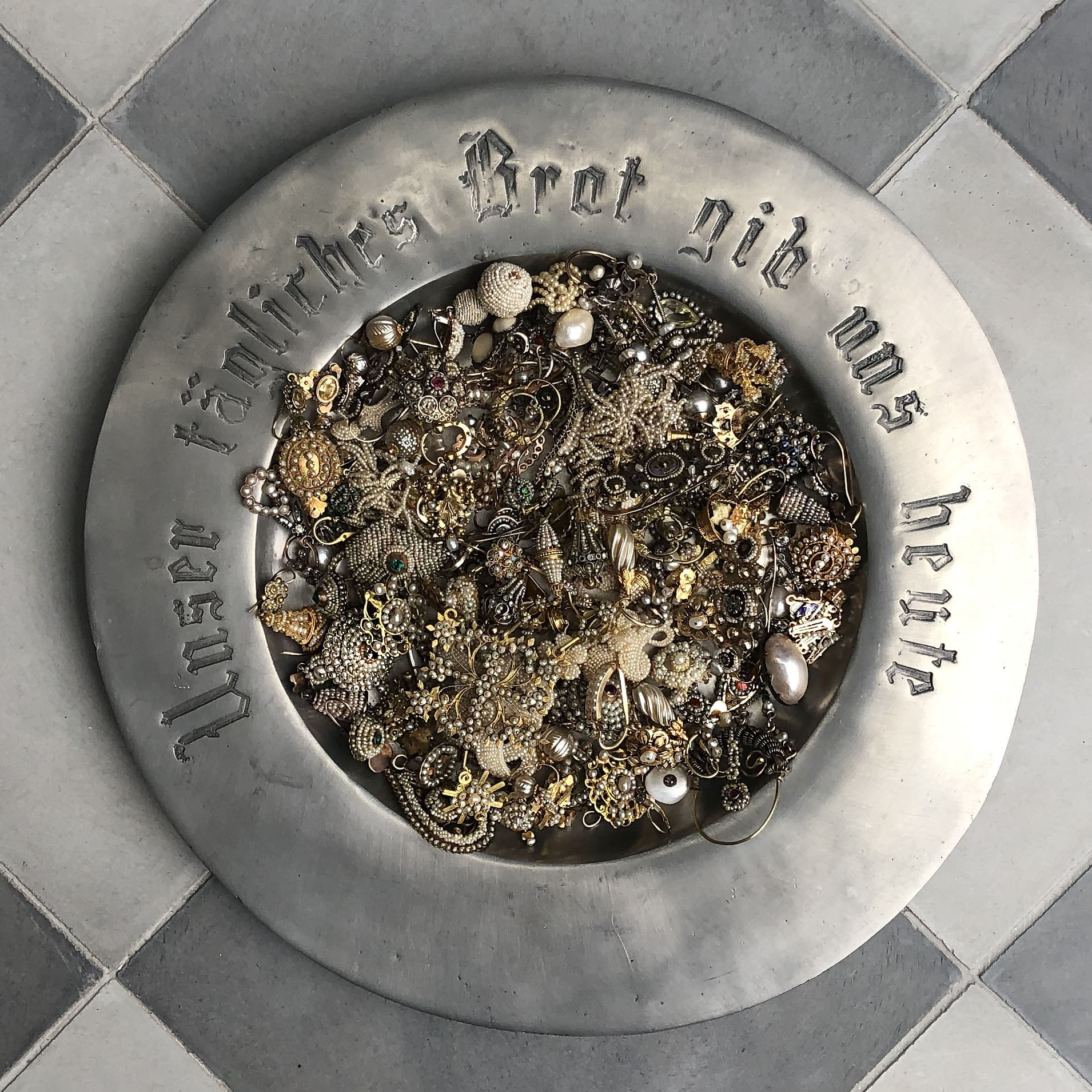 Some of your earrings are so delicate and elaborate — the chandelier-style girandoles and the intricate pendeloques. Do you ever wear them?
When I get a new pair, I wear them at least once — it's a rule I have. But for security reasons, I keep the whole collection in a vault at the bank.
I do keep three or four pairs at home and swap them out. Right now, I am wearing a beautiful pair of onyx earrings with white enamel from the eighteen seventies or eighties. They are American, very modern in style and somehow recall the promise of the New World. They feel like optimism and pledge prosperity.
You've been collecting since you were five years old, when you bought a single antique earring at a flea market. How do you collect now? Do you have a wish list?
My wish list is very long. You never think about the ones you have, you think about the ones you don't have. I'm sure other collectors know what I'm talking about. It is like a drug!
I am sort of a truffle pig. I go to incredible places to find earrings. And I do it on quite a modest budget, which is becoming more and more difficult.
My process has changed as I have learned more about jewelry. I might buy a pair not knowing anything about it because something about it talks to me, and later I do the research for it.
Trading with dealers is also a fun way to enlarge the collection. I collect only earrings. But sometimes I find interesting items that a certain dealer might be interested in, so we make an exchange, and it becomes the perfect win-win.
Annette Klein's Quick Picks