You can find them in the apartment of fashion star Alexander Wang, designed by Ryan Korban, as well as in the home of actors Naomi Watts and Liev Schreiber, masterminded by Ashe + Leandro. Interiors stars Nate Berkus and Jeremiah Brent selected one for their Manhattan penthouse, and they're also in apartments conceived by Kelly Behun and Gachot Studios. They're large-scale light fixtures with striking patinated finishes by the New York–based studio Apparatus, and aesthetically minded individuals just can't get enough of them.
"We use brass specifically because of the layers of character that you can build into it, along with other noble materials — marble, porcelain, resin, lacquer," says Gabriel Hendifar, creative director and cofounder of Apparatus with his husband, Jeremy Anderson. "We really think through and design every component that goes into every piece that leaves our studio," he adds, noting that the company's catalogue of custom parts now numbers more than 700 pieces. "We want to be making things that people are going to be collecting and trying to find a hundred years from now."
So far, it appears they're succeeding. "Their aesthetic has always felt elevated and informed," says Behun, a regular client. "There's an elegance to their work and a refinement in the materials and nuanced finishes. Everything feels timeless."
The studio's ascent has been swift. It began six years ago, when Hendifar, who was working in fashion, and Anderson, a public relations professional, starting piecing together light fixtures to hang in their own Los Angeles apartment. One evening, Sven Neumann, owner of L.A.'s Gallery L7, came for dinner and wanted to know who had made the lights. Upon learning they were Hendifar and Anderson's original creations, Neumann started selling some on consignment. Design blogs took note, and orders soon began trickling in. "We were doing these little bits and pieces in our dining room," says Hendifar, recalling projects for destinations near and far, including a restaurant in Shanghai. They relocated to New York for Anderson's day job, rented a 200-square-foot studio, officially launched their first collection at the ICFF in 2012 and almost immediately found themselves barely able to keep up with orders. Since then, they've moved through four studio spaces, each one bigger than the one before.
---
"We want to be making things that people are going to be collecting and trying to find a hundred years from now," says Apparatus creative director and cofounder Gabriel Hendifar.
---
Today, Apparatus employs a staff of more than 40 people who work in a 10,000-square-foot showroom, studio and workshop in Manhattan's Chelsea where the firm has room to give its creative vision free rein. Renovated with slender steel-and-glass French doors, clean-lined geometric millwork and paneling and plush carpets inset with brass, the space, which opened last year, offers visitors a sumptuous, warm embrace that makes it feel more like a members club than a retail destination.
"I was trained as a costume and scenic designer, so for me, the emotional impact of the space is part of the experience — it's a three-hundred-and-sixty-degree vision," says Hendifar, who leads concept development while Anderson heads up production and operations. In the New York showroom, he continues, "we've adopted a practice we call the Acts. Act One was 2016, when we launched the space with our Tassel and Circuit fixtures. We were looking specifically at Art Deco through a nineteen-seventies lens — the showroom looked as if you were walking into Halston's apartment, or Yves Saint Laurent's."
This past May, to introduce pieces like the weighty resin-and-lacquer Segment tables and slip-cast porcelain and brass Lantern lamps, they overhauled the showroom with a whole new vibe. "We presented Act Two," says Hendifar, "which included a soup of references from the beginning of the twentieth century — everything from the Vienna Secession and Eileen Gray to Jean Dunand and Pierre Chareau."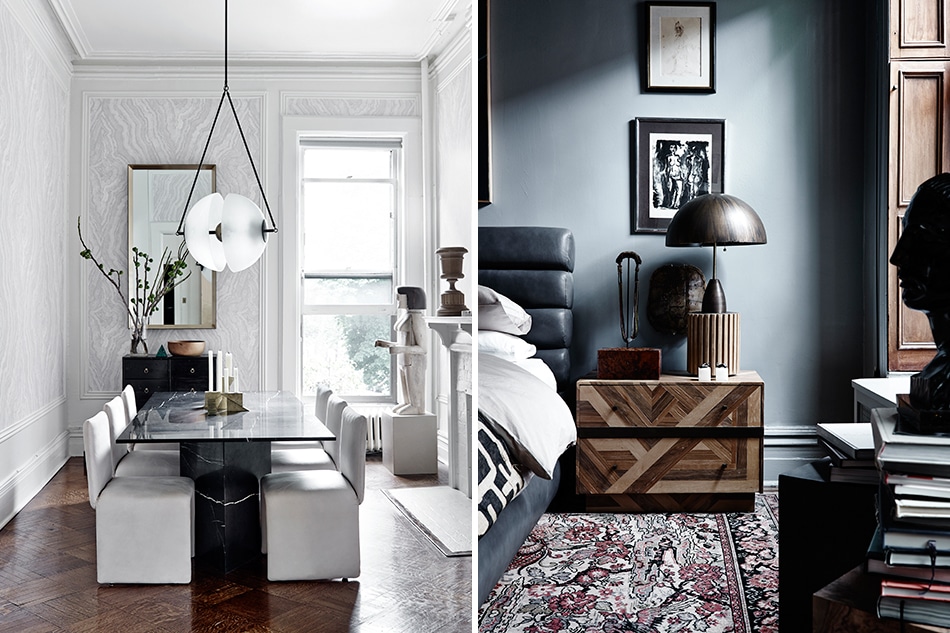 Although Apparatus is best known for its lighting, the company — which opened an outpost in Milan in 2015 — has been steadily expanding into furniture and objects. It is also increasingly recognized for its interior design savvy, as it creates buzzy showrooms and booths for design fairs.
Clients have taken note. "What I appreciate is that they really have a holistic approach to design," says Christine Gachot, a founder of Gachot Studios. "They're moving beyond product. They really do unique, special things."
This extends to the events they stage. One night each May, they kick their already-immersive showroom into theatrical overdrive, entertaining guests with performers and a flood of cocktails during an annual party for NYCxDESIGN that has become one of the design world's hottest tickets. But for the founders, such efforts are about far more than hosting memorable evenings — they're about elaborating the bigger story behind their products.
"Emotional resonance is something people talk a lot about in fashion," says Hendifar. "As product designers, sometimes we get lost thinking about the specifics of one thing, and we forget about how something fits into a larger emotional landscape. But for us, that's always the goal — whether we're making a table, a light fixture or an object or designing a space, we want to make an impression."
They are now at work on Act Three, which will be introduced next year. "It's a personal journey looking at my cultural heritage, which is Persian. There's such a rich history of the decorative arts there," says Hendifar. "But I also grew up in Los Angeles, as a first-generation American. I'm trying to understand the narrative of those two things and how it can inform a collection."
A third showroom, in a yet-to-be-disclosed city, is also in the works, and Anderson has rediscovered his interest in pottery. He's building a new ceramics studio at the couple's country house, in the Upstate New York town of Rhinebeck, and planning a solo exhibition. "Now that the company has a strong footing, we get to do these other things," says Hendifar. "And all of it enriches the creative conversation."
---
TALKING POINTS
Apparatus's Gabriel Hendifar shares his thoughts on a few choice pieces.