Zaha Hadid was in New York last fall to help promote one of her architectural extravaganzas, a condo building on West 28th Street. In the sales office, which she designed with as much flair as the rented rectangular space would accommodate, we talked about our health problems (arthritis was her big complaint). I left with a souvenir candle in a bone china holder that was unmistakably Hadid. I have been lighting the candle since the designer, a larger-than-life figure, died on March 31 at 65.
Her loss is felt most deeply in the architecture world, where Hadid was just hitting her stride, with some 26 projects currently under construction in nearly that many countries. But Hadid is also mourned by gallerists, to whom her generosity as a designer and a friend were enormous and interconnected.
The first time Gabrielle Ammann mounted a show of Hadid's furniture, in 2007, she was nervous about how the Pritzker Prize–winning architect would react to the installation. Hadid, after all, had a reputation for imperiousness. And Ammann was showing extravagantly proportioned pieces — including a series of Snow Drift chairs as expansive as their name suggests — in a compact space in the Südstadt neighborhood of Cologne, Germany.
But Hadid arrived, "and she smiled and she didn't move a thing," says Ammann, who from that point on considered the architect a soulmate. At the most recent Design Miami, last December, the gallerist says, "Zaha came by the booth, and one of my customers wanted to take a selfie with her. She was relaxed and happy."
To Hadid's compatriots in the art and design realms, she was approachable, dependable and kind. And busy — not just with architecture, of course, but with objects ranging from silverware and sofas to cars and boats to shoes and jewelry.
When Leila Heller opened a show of Hadid's designs in Dubai on January 18, the gallerist says she billed it as "a mid-career retrospective." The exhibition, sprawling over the 7,000 square feet of the gallery's main space, comprised 30 distinct bodies of work. Highlights included Hadid's 2015 line of Tau vases, made of marble, with intricate pleats that mimic the formal complexity of natural organisms, and her jewelry, which Heller describes as "architecture that transposes itself onto the architecture of the body." But soon after the "mid-career" show came down, Hadid was gone.
Heller recalls that she first met Hadid about 10 years ago. "She walked into my gallery, during an opening, and said, 'Hi. I'm Zaha Hadid. Why don't you show my friend Iran Issa-Kahn?' " Heller soon did begin showing Issa-Kahn's lush photographs of nature — and, through that relationship, became close to Hadid, who, she says, "was an extremely loyal friend."
---
Hadid's loss is felt most deeply in the architecture world, but she is also mourned by gallerists, to whom her generosity as a designer and a friend were enormous and interconnected.
---
The art dealer and impresario Kenny Schachter found out just how loyal — and prolific — Hadid could be. After cold-calling the architect in 2003 to talk about a few potential architectural commissions, he found himself organizing shows for her in London, New York, Zurich and Madrid (and most recently at Heller's gallery in Dubai). Many included hybrid pieces, environments that blurred the boundaries between art, design and architecture — though they also contained two cars and a boat, as well as furniture and household objects.
Schachter says he spent many Sunday afternoons with Hadid at London's River Cafe, "where she was like the mayor, everyone either knowing her or wanting to." He also accompanied her on jaunts to (among other places) Seoul, Korea; Zaragoza, Spain; Beijing; Istanbul; Glasgow, Scotland; and Baku, Azerbaijan. Several years ago, at the opening of the Galaxy Soho, her office-retail-entertainment complex in the Chinese capital, Schachter remembers, "there was a crowd of twenty-thousand and such a fervor that she required police protection. It was like being with Mick Jagger in the heyday of the Rolling Stones."
Starting in the 1980s, the New York gallerist Max Protetch had several shows of renderings by Hadid (who called them paintings). "She always priced them higher than the market would bear," says Protetch, who sensed a reluctance on Hadid's part to sell works that chronicled her explorations of architecture's possibilities (and which memorably filled the rotunda of New York's Guggenheim Museum in 2006). Ammann once got to show relief models from Hadid's studio at her gallery. "Everybody was amazed by them," she says, "and everybody wanted to buy them. But they were originals, and of course, Zaha would not allow us to sell them."
A few institutions own paintings by Hadid. Recently, Aric Chen, the architecture and design curator of M+, a large museum under construction in Hong Kong, acquired a painting of the Peak, her seminal project for a mountaintop social club in that city. (A companion piece is in the collection of the Museum of Modern Art in New York.) Chen also acquired one of her coffee and tea sets, made in 1995–96 for the Milan gallery Sawaya & Moroni, which continued producing pieces with Hadid through this spring, when it brought out the Mew table in Milan.  "People often describe her work as futuristic, which it was," says Chen, "but it was also very much rooted in history. Her tea set joins a long lineage of experimentation with that typology, to say nothing of how it shows the profound influence of the early-twentieth-century avant-garde, especially Constructivism, that stayed with her throughout her career."
Hadid portrayed her architecture as well in a series of "silver paintings": digital renderings of buildings printed at about three by six feet and then treated with coatings, including chrome and gelatin, that make them shiny and metallic. She was constantly experimenting with finishes, just as she experimented with materials for her buildings.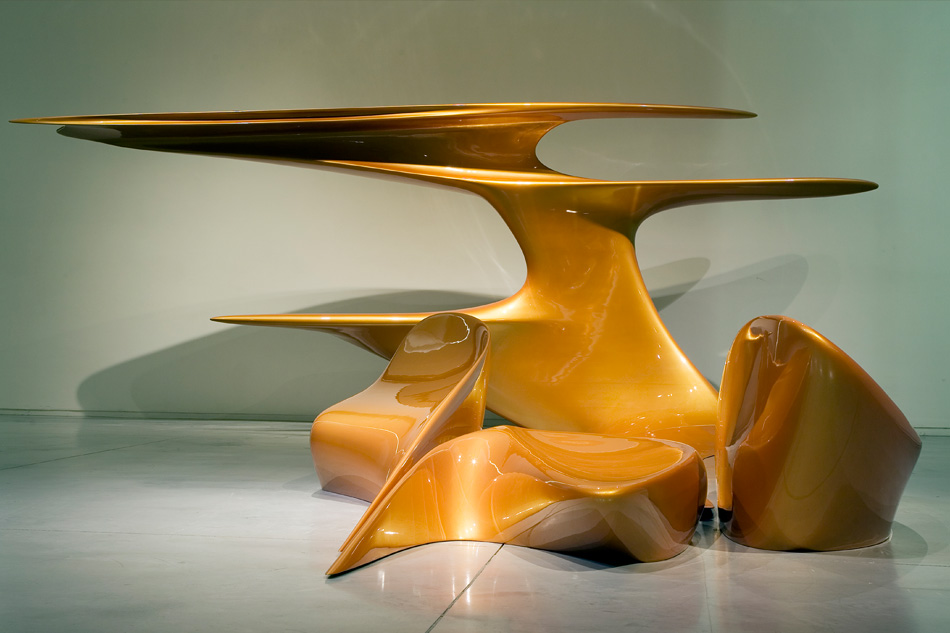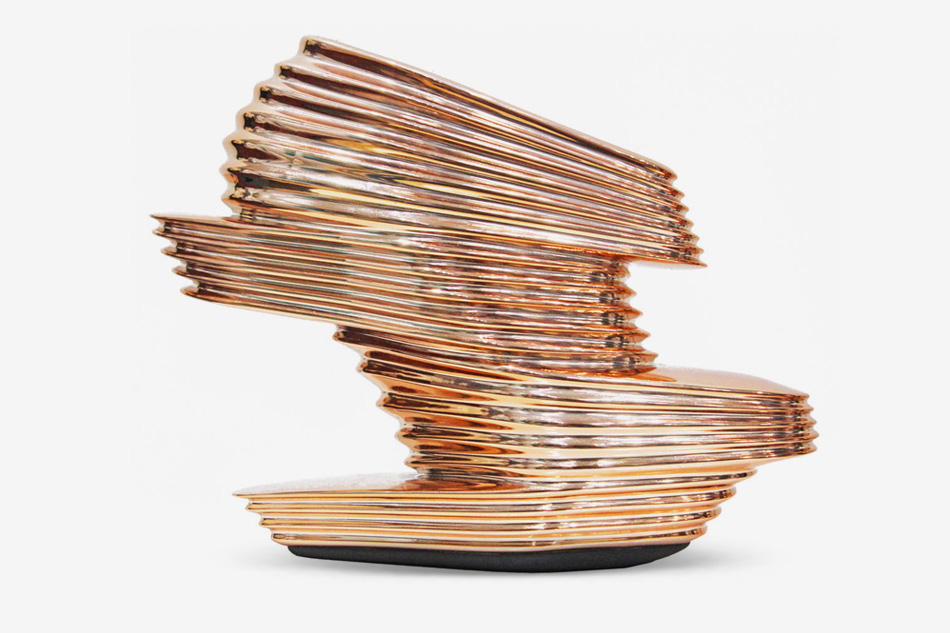 David Gill, a London dealer, had known Hadid for many years when, in 2006, they began working together. The result was a line of shimmering tables and benches dubbed Dune Formations, introduced at the 2007 Venice Biennale. Their next collaboration was a series of tables (and later chairs, stools and accessories) called Liquid Glacial, made of acrylic to resemble flowing water. At the time of her death, Hadid and Gill were well into their third project, the results of which Gill plans to launch later this year.
Several of Hadid's product designs were unveiled posthumously during Milan's design week last month, including not just the Mew table but also shelves for the Italian company Citco and a columnar, crystal and metal centerpiece for Swarovski.
Beyond these collaborations, Hadid produced pieces in her East London studio, where she could keep a close eye on their progress, showing the finished products at her own Zaha Hadid Design gallery, in the city's Clerkenwell neighborhood. There, it's possible to buy a silk necktie, a resin Field of Towers chess set or a candle like the one I have, in a matte-finish bone china holder.
Says Chen, speaking of Hadid's range: "She saw architecture everywhere and at every scale, which she translated in her inimitably inventive way." Sometimes, it's hard to know how she had time for buildings.