July 8, 2018In this era when so many ambitious artists and designers are discipline-hopping, multi-hyphenate makers who defy easy labels, more and more contemporary galleries are straying out of their conventional lanes. Heavyweights like Gagosian and Sean Kelly have ventured into modern and contemporary furniture, while design dealers such as Friedman Benda, Cristina Grajales and R & Company are behaving a lot like art galleries.
The perceptual wall between art and design has been crumbling for years. At the same time, fairs that freely mix the two have proliferated, from FOG, in San Francisco, to the Salon Art + Design, in New York. As collectors become more comfortable with this fluid environment, enterprising dealers are taking various approaches to diversifying their exhibition programs and extending their reach to new audiences and clients. The three art galleries featured here have found success going outside the lines, each in its own distinctive way.
---
Peter Blake Gallery
Over the past quarter century, Peter Blake has made his gallery in Laguna Beach, California, a go-to destination for minimalist and Light and Space works by such artists as Larry Bell, Joe Goode and Helen Pashgian. A couple of years ago, he decided to diversify.
For his 2016 summer show, Blake staged his first-ever exhibition of vintage furnishings, showcasing pieces that he and his wife, artist Stephanie Bachiero, had collected over the years. "A lot of things had been in storage, and in some ways we just wanted to see our own stuff," recounts Blake. "Even though we expected that some of our artists would get upset with us over having furniture in the gallery or clients might question what direction we were taking, we just said, 'Screw it, let's do what we want.' "
Among the pieces in the show, titled "The Tendency of the Moment — International Design: The Bauhaus Through Modern," were chairs by Le Corbusier and Richard Neutra, an Edward Wormley sofa, a Charlotte Perriand sideboard and a David Gammon–designed turntable used as a prop in the film A Clockwork Orange. Nearly everything was presented on pedestals, like sculpture, and there was zero art. "At first, we were very hesitant to combine the two. We wanted to ensure that there was no way the furniture would look decorative," explains Blake.
The show was a hit. As for the anticipated backlash from artists and clients, it never came. Earlier this year, the gallery presented its second design show: a survey of standout Brazilian furniture curated by São Paulo native Ulysses de Santi. And Blake now exhibits design and art together at such venues as the Dallas Art Fair and Collective Design, in New York, for which he conjured the home of an imaginary collector this spring. "They're no longer the typical concrete-floor booths that we used to do," he says. "Now, great design helps set the tone. The type of art we sell tends to be clean, minimalist, seductive, sophisticated, and the furniture kind of lightens and warms it up a bit."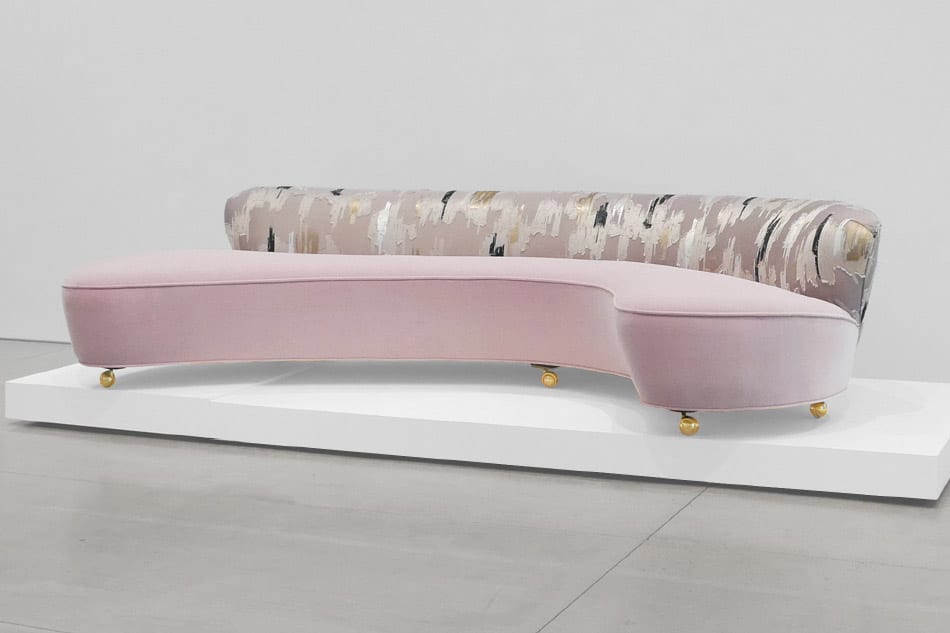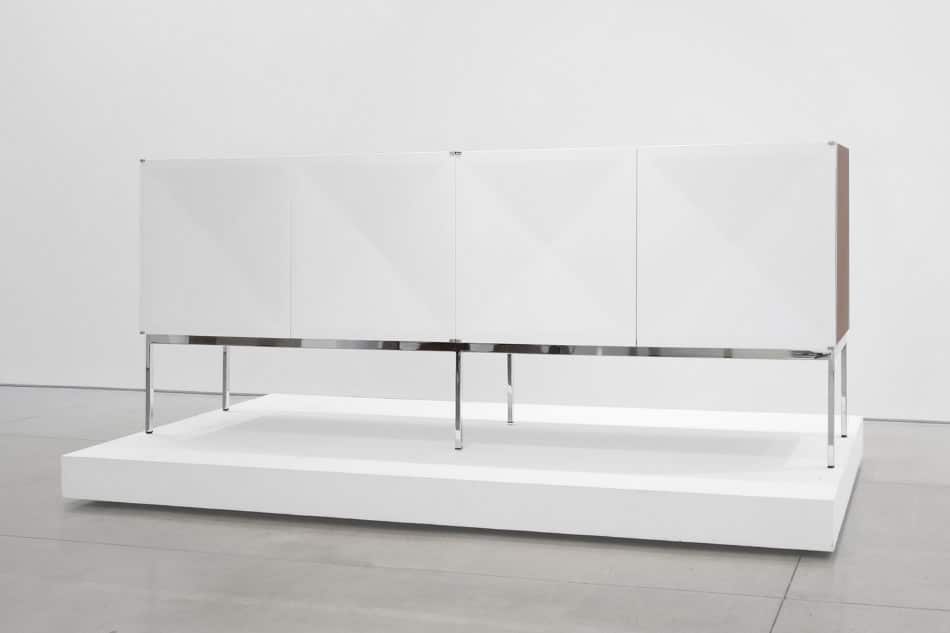 Blake is plotting several future design shows, including an exhibition featuring Antoine Philippon and Jacqueline Lecoq as well as one that will re-create a Walt Disney office based on pieces architect KEM Weber designed in the '30s. A vintage stereo design show is in the works, too. "Unlike the regional art that we show, the design has an international audience, so we find ourselves selling to markets we would never sell to otherwise," says Blake. "And people who like what we do on the design front are finding a way into the art side of the gallery. The two are growing each other."
---
Ethan Cohen Gallery
Visitors to Ethan Cohen's booth in the Spotlight section of this spring's Frieze New York fair encountered a captivating selection of Hans Breder's surreal, mostly chromatically muted photographs and videos. Offsetting those works was an incongruously purple suite of metal furniture used by staff manning the booth. The eye-catching table and chairs were specially created for the space by buzzy — and very busy — Russian-born designer Harry Nuriev, who heads his own firm, Crosby Studios.
"We needed something in the booth to balance out the pieces by Hans Breder — we needed a splash of energy," says Vlad Sludskiy, the general manager at Ethan Cohen's Manhattan gallery, who brokered the commission from Nuriev. "Harry is a friend of a friend from Moscow who moved to New York two years ago, and he's been so successful in part because of his ability to collaborate. He's done several collaborations with established brands and other design studios, and this was his first with a gallery that specializes in contemporary art."
The abstracted arch forms that define the custom-made pieces are Nuriev signatures, as is the distinctive monochromatic hue. "This vivid purple color that he used all of a sudden seemed to become so popular," says Sludskiy, noting that Frieze used the same hue in its navigation signage for the Spotlight section. (Nuriev, for his part, has apparently moved on to a new color crush.)
Sludskiy says that he and Cohen — who, in addition to the New York gallery, also oversees a building with studios and an exhibition space in Beacon, New York — hope to keep the relationship with Nuriev going. "I strongly believe in collaborations," remarks Sludskiy. "The world is no longer with us in which you stick to a narrowly defined mission or assigned role. Fashion and design and art are part of an interrelated universe of creative minds. It's really about expanding your audience and exhibiting unconventional objects in unconventional spaces."
Cohen may be best known for showing high-profile Chinese artists like Ai Weiwei, Yue Minjun and Zhang Dali, but the gallery is looking at expanding its engagement with design. Says Sludskiy, "We see design as a new channel of communication for the gallery."
---
Paul Kasmin Gallery
When it comes to collectible design with crossover appeal, few names can compete with the Lalannes: 94-year-old Claude and her late husband, François-Xavier. The French couple's nature-inspired furnishings and sculptures are coveted by collectors around the world, thanks in part to the efforts of New York dealer Paul Kasmin, who began showing their work about 15 years ago, when Lalannes mania was just beginning to take hold. Today, they are superstars of a gallery roster that includes such artists as Saint Clair Cemin, Walton Ford and Tina Barney, not to mention the estates of Robert Motherwell, Stuart Davis and Constantin Brancusi.
The Lalannes, however, are hardly outliers at Kasmin, where design is an integral part of the mix. The gallery also represents Mattia Bonetti, the Swiss-born conjurer of baroquely imaginative furnishings. And in recent years, it has exhibited Scott Burton's minimalist sculptural chairs and benches and tables, as well as inventive pieces by Ron Arad. "Throughout our program, you see a lot of people who don't fit into particular categories easily," says gallery director Nick Olney. "To us, functional work is another medium of contemporary practice. It's when artists, sculptors, designers, makers are working in the intersections, pushing what art can be in different directions, that a lot of really creative and exciting things are made."
Olney notes that Burton came to creating functional pieces from his early performance work in the '70s, while Claude Lalanne's exquisite chairs, tables and mirrors and her husband's animalistic cabinets and desks were born out of the couple's practice making Surrealist sculpture. As for Bonetti, showing furniture in an art gallery context has never been merely about blurring the boundary between design and art but rather about using it "as something to play with and prick at people's expectations on both sides," says Olney.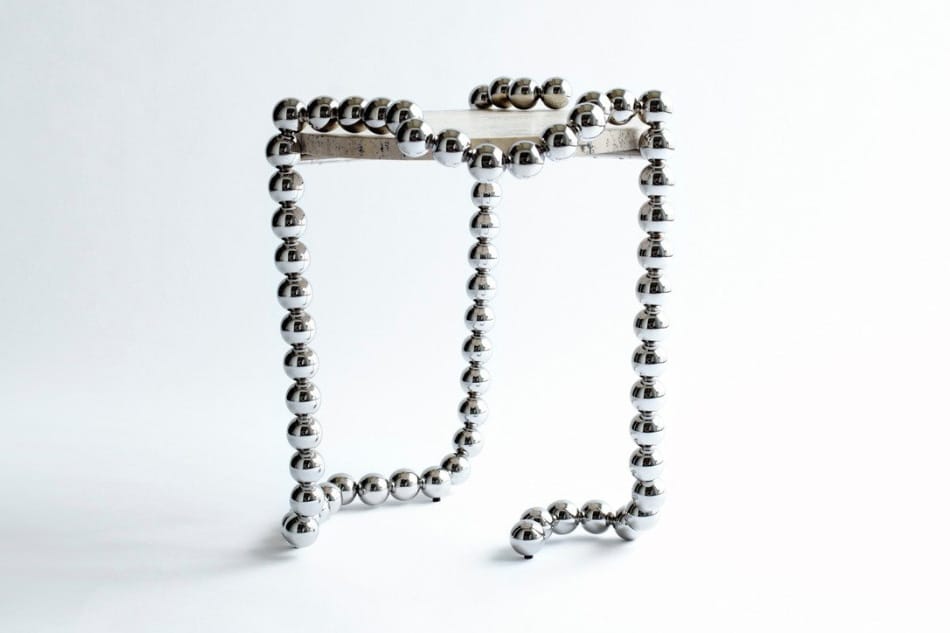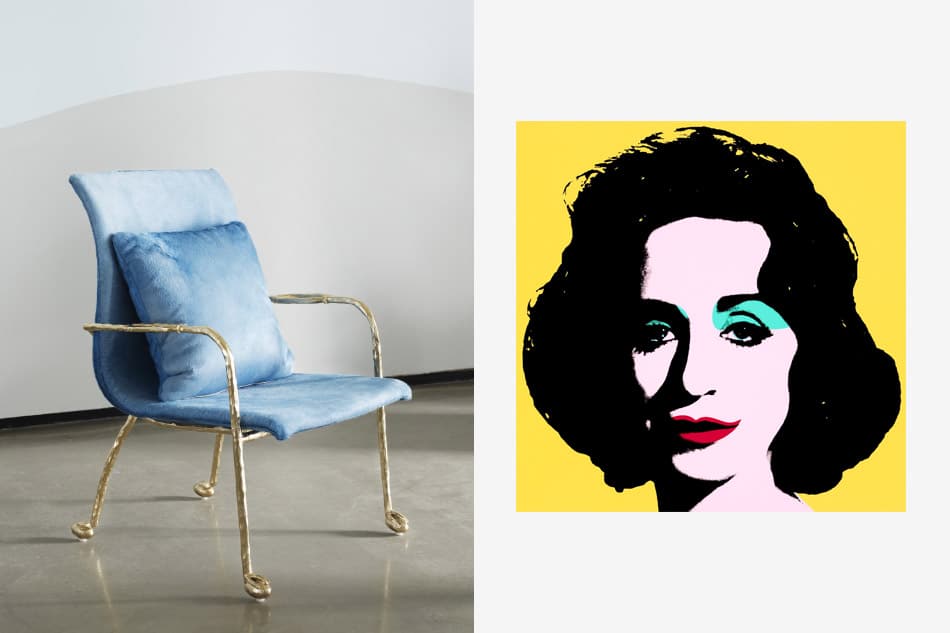 At a prominent art fair later this year, the gallery will present a new body of work by Bonetti, who marries refined craftsmanship and 21st-century technology in fantastical forms. "He'll have someone who is making incredible leaps in what can be done with acrylics combined with traditional marble carvers combined with scagliola makers and experts in the leafing process or hand-wrought iron," says Olney. "He's playing with decorative-arts traditions but then infusing that with a very contemporary language."
That emphasis on materials and artistry, wed to a compelling conceptual approach, appeals to adventurous collectors of all stripes. "Our clients have become more aware of design as unique or limited-edition or custom pieces," says Olney. "It's about objects that tell a story and really enrich a space and a collection."