It's hard to believe in this day and age that any collecting area could remain undiscovered. But Dr. Stephen Kelly seems to have found the one previously uncharted territory in the antiques market: Art Deco ceramics produced mostly in Paris in the 1920s and '30s. That's when pioneering craftsmen, either working independently or for such well-known factories as Sèvres, created sublime wares that reflected the new, pared-down style of the age, which had been popularized by the 1925 Paris Exposition des Arts Décoratifs. The artists' names, which include Émile Decoeur, Henri Simmen, Jean Mayodon and Jean Besnard, may remain obscure, but their talent was monumental.
In December 2012, Kelly, an opthalmologist, turned a 30-year avocation collecting Art Deco furnishings and objects into a business, opening the Kelly Gallery on two floors of his East 71st Street townhouse and becoming a member of 1stdibs. And now through August 13, his gallery is mounting "Art Deco Ceramics," an exhibition and sale of about 60 pieces that Kelly believes may be the largest-ever offering of its kind in the States.
The last big sale of similar material, he says, was at Sotheby's Paris in May 2003, when fashion designer Karl Lagerfeld auctioned off his own Art Deco collection. Lagerfeld was a vanguard collector of Art Deco pottery, and some of the pieces in the Kelly Gallery show once belonged to him. "He had a lot of Decoeur, Simmen, Besnard," Kelly says. "They did very well at auction and awakened people's interest. But since then, there's not been a lot coming up for resale in this country."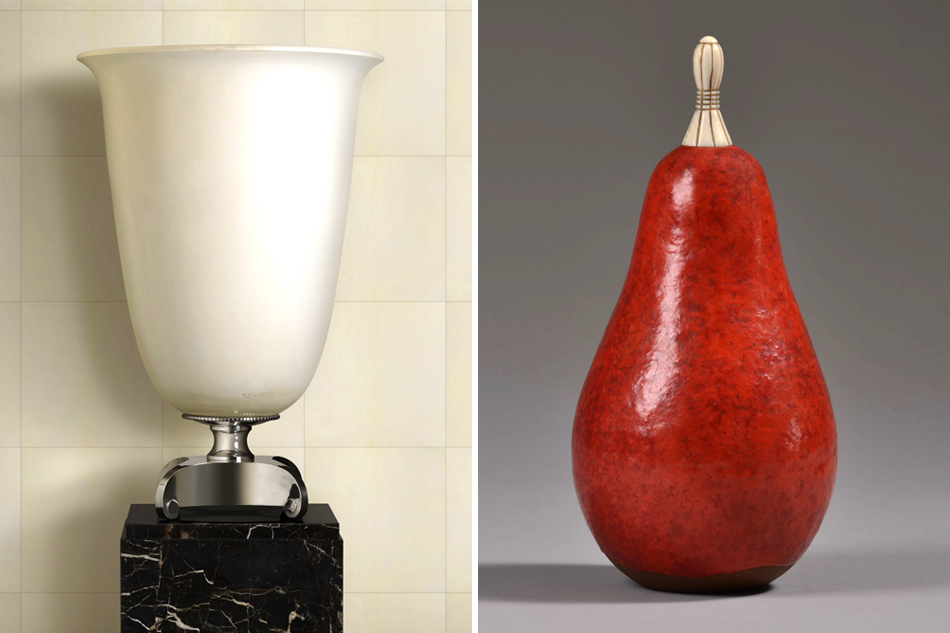 In contrast to earlier, more florid Art Nouveau pieces, Art Deco ceramics have a sober, modernist feel. "There was a distinct transition from the floral motifs and complex shapes of Art Nouveau ceramics," Kelly says. "Art Deco ceramics have simpler forms, minimal ornamentation and monochromatic glazes, inspired particularly by the Chinese. They work well in a contemporary interior and with contemporary art."
The Kelly Gallery's offerings range from stoneware vases a few inches high, priced in the low four figures, to a six-foot-tall porcelain lamp on a marble pedestal, which will set you back $2 million. That historic piece was designed by one of Art Deco's leading lights, Émile-Jacques Ruhlmann, and made by Sèvres for the first-class deck of the Île de France. (It's one of two that survive from an original group of eight.)
Other standouts include a pear-shaped jar by Simmen with a carved ivory stem and a mottled red "plaquemine" glaze that the artist worked for years to develop; a large stoneware urn by Mayodon that he painted with mythological figures and perched on a bronze stand; and a pair of cream-colored stoneware vases modeled after those at the Sèvres Pavilion at the 1925 Paris Exposition. These have a particularly impeccable provenance: Mr. and Mrs. John D. Rockefeller, Jr. bought them at the fair for their New York City apartment, and tucked inside one, with notes on the back in Mrs. Rockefeller's handwriting, is the couple's nearly 90-year-old calling card.