Azzedine Alaïa: The Couturier," on view through October 7 at the London Design Museum (LDM), shows how the fashion legend embraced rigorous design principles in his pioneering fashion career, using fabric as his medium. The beloved, elfin Alaïa (1935–2017) defied the mighty global fashion industry to take the art of couture into a rarefied space of his own making. Constantly working and revising, crafting at his own pace by his own hand until he deemed the design finished, Alaïa harked back to his favorite couturiers of the early 20th century: Paul Poiret, Madame Grès and Madeleine Vionnet. The result was timeless garments that evince Alaïa's signature purity.
"If you don't look at the dates, you do not know when Azzedine made them," says Mark Wilson, the exhibition's guest curator and Alaïa's longtime friend. "Azzedine thought with his hands, he cut and shaped on the body. He was a classicist. I wanted to call the exhibition 'Master Couturier,' but he wouldn't let me, he was too humble."
Long in the making, the show is given a reflective poignancy by Alaïa's untimely death last year. It features around 60 rare works handpicked by the artist — some from his archive, others remade for the show — spanning from the early 1980s to July 2017, when he presented his final runway collection after an eight-year hiatus. Conceived as a collaboration between Alaïa, Wilson (chief curator at the Groninger Museum, in the Netherlands) and LDM co­directors Deyan Sudjic and Alice Black, "The Couturier" is not only Alaïa's first exhibition outside mainland Europe but also the first fashion exhibition at the new LDM, an elysian space conjured up by architect John Pawson from the preexisting Commonwealth Institute on Kensington High Street (almost opposite Meghan and Harry's new 21-room married quarters in Kensington Palace).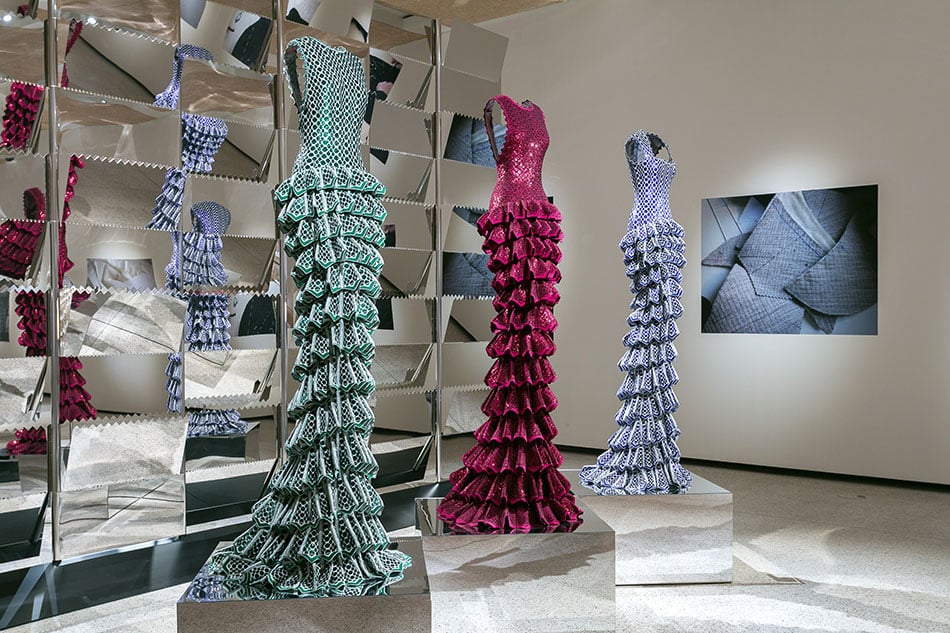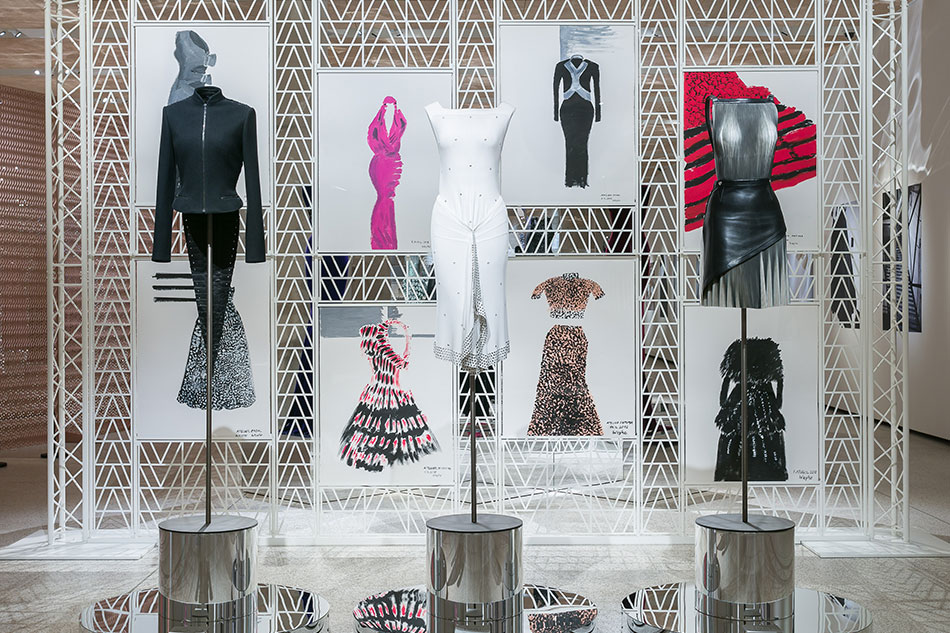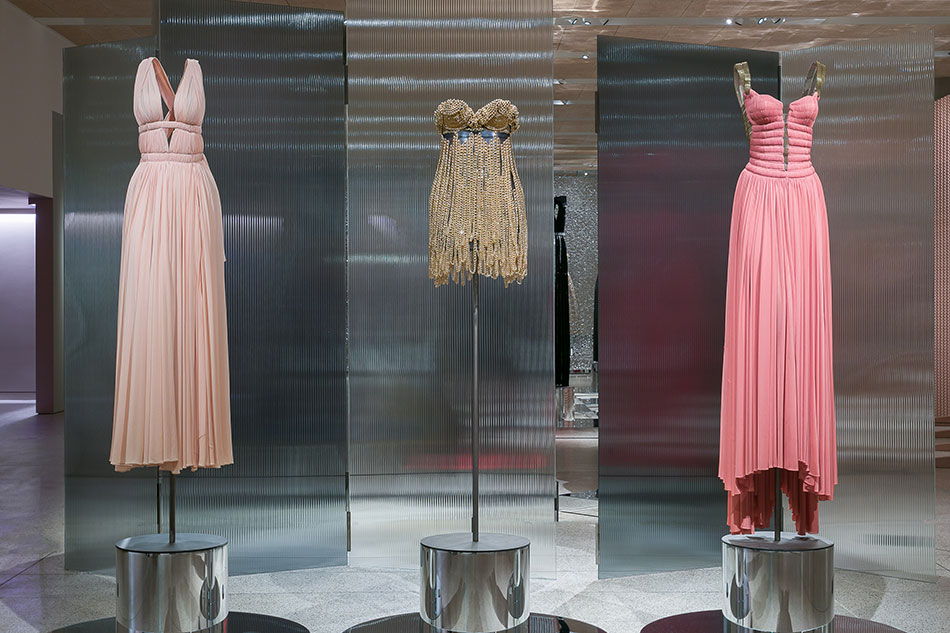 Born in Tunis into a wheat-farming family, the young Alaïa became interested in women's clothing while flipping through his family's midwife's fashion magazines. Although he studied sculpture at the School of Fine Arts in Tunis, he supported himself as a tailor, working latterly for Madame Richard, a Frenchwoman who made clothes based on Parisian haute couture patterns. Deciding he preferred molding fabric to clay, in 1956 he left for Paris. During brief stints with Yves Saint Laurent at Christian Dior and then with Guy Laroche, Alaïa became ensconced in an artistic milieu and soon started making clothes for high-society French women, such as Marie­-Hélène de Rothschild and Louise de Vilmorin, as well as actresses Greta Garbo and Arletty. His reputation as a couturier spread, and in 1964, he established his own tiny studio. By the mid-1980s he was dressing the world's powerful women and had developed a cult following. Known as the King of Cling for his body-conscious designs, he counted among his clients Madonna, Grace Jones, Tina Turner, designer Andrée Putman and Michelle Obama. Star models of the era earning $10,000 a day, like Naomi Campbell, Christy Turlington, Linda Evangelista and Stephanie Seymour, would walk his runway in return for one of the dresses he hand-stitched on their bodies before deeming them perfect and allowing them to be revealed to the impatiently waiting audience.
Because of his tailoring background, not only was every stitch Alaïa made integral to the garment, but he cut his own patterns and sewed his own samples. He performed wizardry with perfectly placed seams and zips that shaped and supported the body, creating a waist, whether using leather or knit, chiffon or chain mail. He experimented with geometric textures; one of his weaves recalls the base of Pierre Paulin's 1981 cathedral table (which Alaïa had in his personal collection).
Alaïa's circle grew and diversified. He designed the costumes for The Marriage of Figaro in L.A., collaborating with his friend Jean Nouvel, who did the sets. Marc Newson created a futuristic marble annex to showcase Alaïa shoes adjacent to the couturier's flagship store on the ground floor of his atelier at 7 Rue de Moussy. Here, in its famous kitchen, cross-discipline friendships were nourished over meals Alaïa often cooked himself.
"You ask why a design museum," Alice Black says as we stand at the front entrance of the exhibit's single spacious white rectangular gallery. She points to the first of five spaces delineated by large, wall-size screens Alaïa commissioned for the show from designer friends, including his artist partner Christophe van Weyhe, Newson, Kris Ruhs, Konstantin Grcic and Ronan and Erwan Bouroullec (whose creation comprises double-sided louvered mirror panels reflecting angular details of Alaïa's meticulous work). "The screens are the structure of the exhibition and parallel the techniques Alaïa used," Sudjic says. Elaborates Black: "He wanted to create a dynamic dialogue between design and fashion. [For his screen,] Marc Newson took the idea of laser cutout that Alaïa does in leather and used it as a design element." Newson's caramel-colored latticework also echoes that of a North African mashrabiya oriel window, evoking Alaïa's roots.
Looking like attenuated sculptures, gowns are displayed on transparent forms atop mirrored circular plinths, disembodied, reflective and towering. The setup means you are continually looking up at the designs, then down at the reflections — quite literally admiring Alaïa's technical genius from every angle — as you move through the 11 thematic groups that compose the show. Timelessness presents two brilliant tucked-chiffon gowns à la Madame Grès on either side of a wonderfully vulgar gold-metal-fringe strapless mini made for Tina Turner. Looking at it, you can almost hear Turner singing "What's love got to do with it" (never mind imagining those long, toned legs). Exploring Volume shows full-skirted gowns that are impossible to deconstruct. How did the man do it? Revolutionary Skins displays examples of his early work of the 1980s. The powerful grommeted leather is a far cry from the soft slouches, popular with businesswomen of that era, created by his contemporary Armani.
In front of Newson's screen, a series of long-skirted columnar gowns made of chain mail and black chiffon are a testament to Alaïa's skill with diverse materials and stylistic penchant for juxtaposition. "Design is about skill, innovation, constant pushing with what can be done with material, refining, reworking," Black says. "Unlike ready-to-wear fashion, which is ruled by time, Alaïa did what he wanted when he wanted. Like his friend Jonathan Ive, chief design officer at Apple, he was a perfectionist, and nothing was released until it was absolutely right."