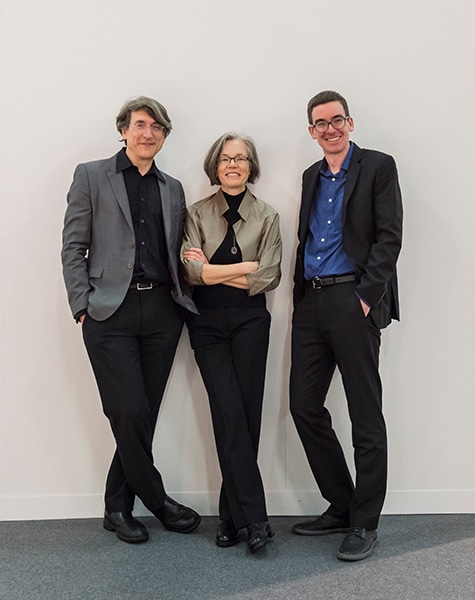 The architects Tim Bade, Jane Stageberg and Martin Cox are known for their ingenuity. When clients with a 14th-floor apartment in Manhattan's Chelsea neighborhood bought the unit below theirs, they hired Bade Stageberg Cox to renovate, a job that included adding a stairway to the 12th floor. The architects decided to make the landing, halfway down the stairs, the missing 13th floor — most Manhattan buildings lack floors with that supposedly unlucky number — and surround it with bookshelves. This gave the clients not just a circulation route but also a small library in which to linger. The plan killed at least three birds with one stone, which is something good design can do.
The partners work together in an airy Downtown Brooklyn office. "Every project gets attention from all three of us," says Stageberg, who worked for Gluckman Mayner Architects before starting her own firm in 1998. Bade and Cox, who had been colleagues at Steven Holl Architects, arrived in 2007 and 2006, respectively. The three describe their oeuvre as "high and low," ranging from grand residences on New York's Upper East Side to creations for struggling nonprofits.
They recently developed a line of inexpensive furniture for homeless people given apartments by New York City, which they designed to be made at Brooklyn Woods, a job-training program for low-income residents. Now, they're renovating a Manhattan apartment whose affluent owner has funded their research into new ways of using cast glass and other cutting-edge materials.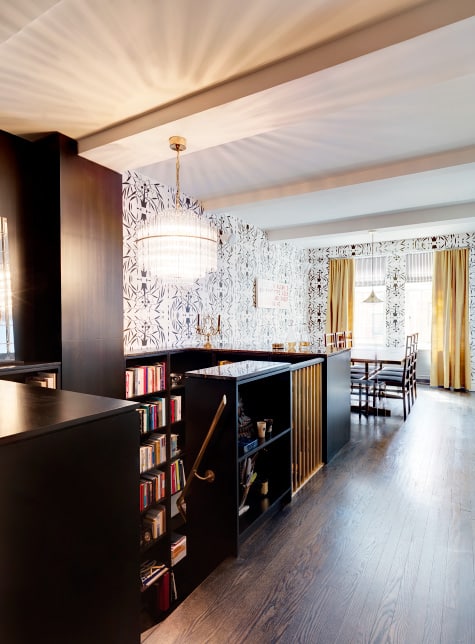 A client combining both high and low is the Armory Show, which every year brings some of the world's best galleries to a couple of cavernous piers on the West Side of Manhattan. There, expensive art meets dull surroundings. Since 2012, the show's organizers have charged the firm with outfitting the piers in ways that make collectors want to hang around. The first year, the architects and their employees collected chairs that had been discarded on Manhattan streets, then gave each of their finds — which exhibited an amazing variety of shapes and sizes — a thick coat of taxicab-yellow paint.
For next year's fair, they're focusing on making the stairway connecting Piers 92 and 94 into an art object. Benjamin Genocchio, the director of the Armory Show, says that, in addition to laying out the fair efficiently, they're "attuned and sensitive to the selection and placement of furniture, to where people will pause and rest, to thinking broadly about creating an experience."
One of the trio's (relatively) high-end projects is a house near Austin, Texas, for a family with five children. The clients wanted to live in a glass box. "But this is Texas, where the sun beats down," says Cox. So, the architects gave them a lot of glass, especially on the sides of the U-shaped house that face the swimming pool. But they also gave the building deep overhangs, to keep direct sun out from April to October while allowing passive solar heating in the cooler months. Below those overhangs, they conceived the walls as collages of transparent, translucent and opaque surfaces, designed to keep the house cool, frame the best views and give the owners privacy where needed — again killing three birds with one stone.
The translucent elements — movable panels of water-jet-cut aluminum — allow in dappled light, animating the interiors. "You have no idea you're in a suburban neighborhood," says Cox. "You feel like you're in the trees." Ceilings of richly colored mesquite add intimacy. The architects designed much of the lighting, including a 35-foot-long fixture for the hallway. "We wanted the house to glow gently at night, and we worked to avoid glare," says Bade, explaining the need for a custom fixture that directs light away from the glass.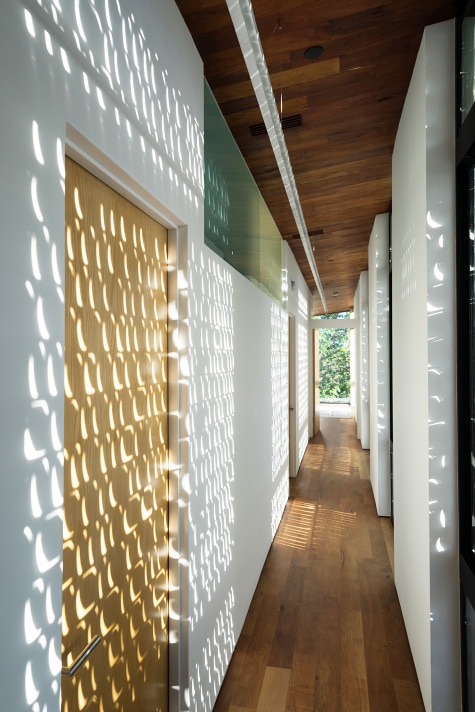 The firm has done several residential projects for Jesse Gordon, a lawyer and entrepreneur who collects mid-century design. One of his best finds was an entire modernist house on eastern Long Island with spectacular water views but not a lot else going for it. Here, the architects transformed a flat roof into a deck with a shade structure, which is now part of a series of linked outdoor rooms that overlook the water.
In addition, the firm reconfigured the house's master bedroom. That included cladding its new fireplace in earth-tone Talavera tiles that Gordon found at a yard sale. The partners also mounted in the shower a four-foot-in-diameter vintage Italian glass mosaic that the client had picked up years ago at an auction. By using Gordon's finds — not merely hanging them but building them into the house — they gave the pieces gravitas, and, he says, "They gave my collections a venue." The architects chose classics like the Paavo Tynell chandelier over the dining table and accommodated Gordon's desire for a Kerf kitchen. "They're receptive to every request," says Gordon, who calls the trio "great problem solvers with an amazing aesthetic sense."
Bade, Stageberg and Cox often apply those abilities to Manhattan lofts. In one, in a historic building with a corner "apse," they shrank the bedrooms to create more communal space. The job also entailed taking down a wall that had enclosed the kitchen and replacing it with a walnut and powder-coated steel divider. It now flanks the 14-foot-long dining table, whose form is roughly similar to that of Manhattan. ("It's hard designing an organically shaped table with a leaf," Stageberg reports.) In the living room, the architects chose furnishings that reinforce the geometry of the space: a curved-back B&B Italia sofa, George Nelson Catenary chairs, a spiraling 1970s Stilnovo pendant light fixture and a rug designed by the Bouroullec Brothers for Nanimarquina.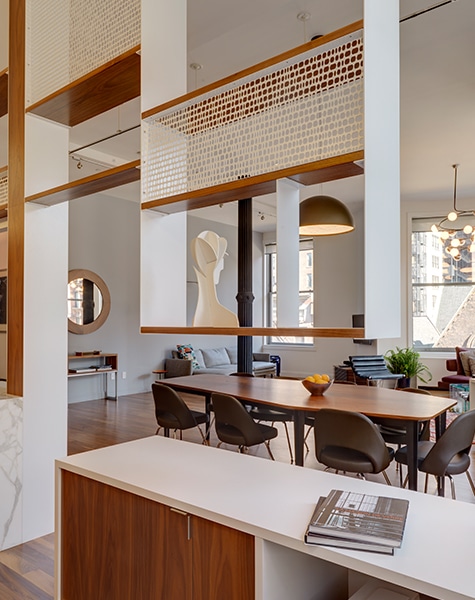 Perhaps their most ambitious loft project was for Gregory R. Miller, an investment banker and art book publisher. He wanted a warm, intimate home that could also accommodate art tours and book publishing events. They used large pivoting and sliding doors to separate the public and private zones, deploying white walls in the gallery areas and douglas fir in the domestic spaces. A library for small-scale works (and the client's art books) is furnished with built-ins, plus an Eero Saarinen tulip table and Walter Knoll chairs. For the main room, they designed a table whose shape — wide, almost bulbous, at one end and narrow at the other – allows it to accommodate anywhere from 2 to 12 people, who can seat themselves in a variety of configurations.
One of the partners' current projects, outfitting an apartment for a Manhattan family, has allowed them to explore new materials and methods. "The owners' interests spurred our research," says Cox. For the walls, the architects developed acoustic panels made of slats of maple with irregular spacers. Custom glass fixtures, conceived as cantilevered slabs of light, are being cast by California artist John Lewis. And with the bathroom tiles, inspired, in part, by the work of British mathematician Roger Penrose, they are investigating aperiodic tessellations — patterns that can fill an infinite amount of space without repeating.
Which is exactly what these three inventive architects are working toward: filling a lot of space without repeating.
---
Jane Stageberg's Quick Picks