There's something so charmingly, quintessentially English about Beata Heuman's aesthetic that it comes as a surprise to learn that she grew up in the Swedish countryside. Her fresh use of color, freewheeling approach to furnishings and fondness for decorative wall painting bring to mind the bohemian style of London's Bloomsbury Group and, more generally, the long English tradition of originality in decorating.
"I'm obsessed with Charleston and how they applied themselves to all the different areas of design," says Heuman, referring to the exuberantly decorated Sussex cottage where Bloomsbury members Vanessa Bell, Duncan Grant and the rest of their avant-garde cohort painted, tiled, upholstered and gardened in the first half of the last century.
The fresh-faced, ponytailed Heuman is a great fan of her adopted country, which has proved a fertile environment for her open-minded brand of interior design. "Being eccentric is celebrated and very much encouraged in England," says the 34-year-old. "That's what I find so inspiring. Swedish design can be quite restrained. There, it's more about fitting in and doing things others are doing. I came here and felt I had carte blanche."
And England loves her back. When Heuman started her own firm four years ago, she became an instant favorite of the influential British House & Garden, which featured her first big job — a Georgian townhouse in West London that she decorated from top to bottom — on its cover, and has twice included her in its prestigious triennial 100 Leading Interior Designers list. She had arrived in London nine years earlier, as a 21-year-old, and despite having only a partial Swedish university education in literature and fine arts, with no formal training in design, landed an entry-level job in the office of legendary London designer Nicky Haslam, known for his outrageous opulence and celebrity clientele.
Haslam's practice was her training ground — where, as she says, "I worked my way up" — but his attitude made an even bigger impression. "Nicky is fearless," she says of her 77-year-old mentor. "He doesn't care a jot what anyone thinks about him when it comes to design. He taught me that, though I was already a bit that way."
The only prior inkling that interior design might be Heuman's calling was her extended interest in the dollhouse her father built for her as a child. By age 12, she recalls, "I had stopped playing with the little figures, but I was still styling and decorating the rooms."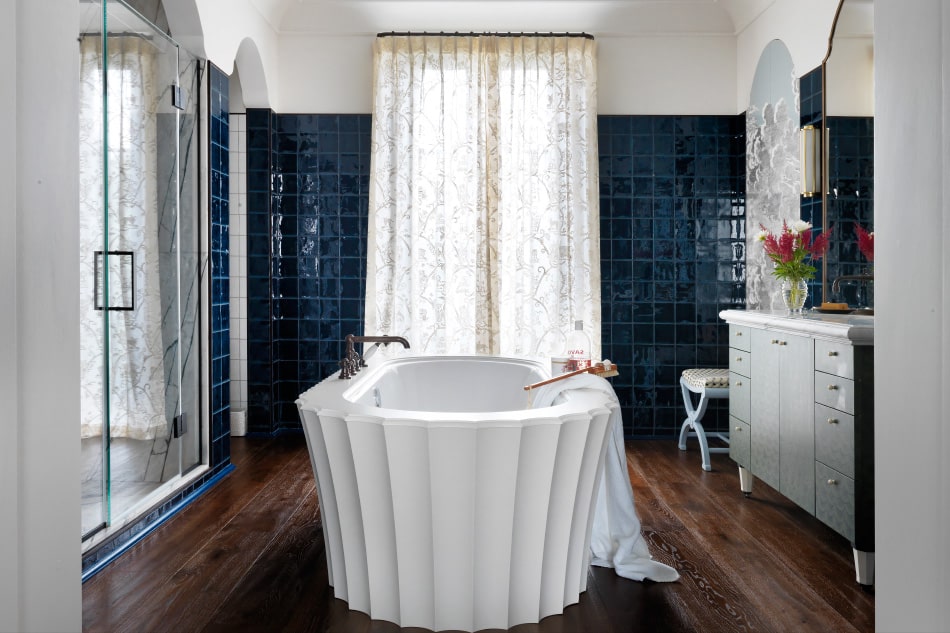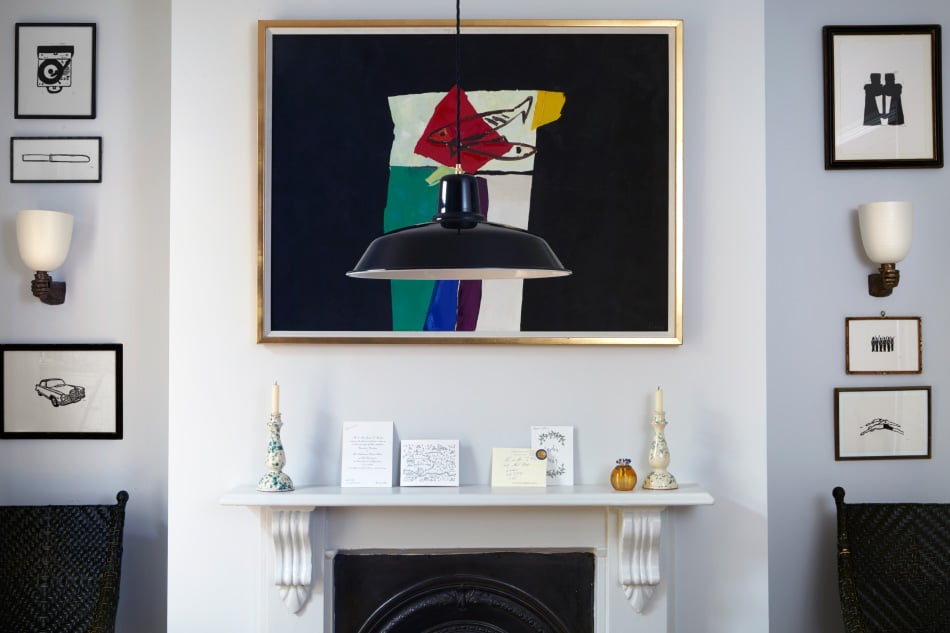 These days, Heuman is poised to take on the design world from an office on the lower level of the terraced house in the riverside Hammersmith neighborhood that she shares with her husband, John Findlay, a lawyer. It's an especially convenient setup for Heuman, who gave birth to her first child, a daughter, in March.
The 1870s brick townhouse, which they bought last year and have just finished renovating, is packed with bespoke details like an oval window in the new kitchen extension, whose refrigerator is housed in a custom wood cabinet painted teal blue; a mural in an upstairs bedroom inspired by the Ludwig Bemelmans paintings that adorn the walls of the eponymous bar in New York's Carlyle Hotel; and hardware and lighting designed by Heuman herself, including whimsical sconces with ceramic shades held in bronze hands. She has plans for a glass ceiling in the dining room, "like an Austrian patisserie of the nineteen-twenties," she says. "My builder is working up to it."
The home's furnishings display a wide-ranging mix of periods and styles. In the dining room, for instance, where French doors overlook a tranquil garden, a 1940s Swedish table by Axel Einar Hjorth from Foster & Gane is surrounded by a pair of 1970s woven-leather chairs bought in Nice. Many items throughout the house, from upholstery to cabinet hardware, are of Heuman's own design. "My favorite way of working is to have new furniture made and mix it up with antiques," she says. She credits her acquaintance with "all the best tradespeople who can make such things" to her time with Haslam.
From her downstairs office with its staff of three, Heuman runs a full-service commercial and residential interior-design practice and sells a small collection of textiles and wallpapers, which she produces. She has plans for her own furniture line in time.
---
"Swedish design can be quite restrained," says the Scandinavian-born Heuman. "There, it's more about fitting in and doing things others are doing. I came to London and felt I had carte blanche."
---
The West London townhouse with which she made her press debut stands out for its bold use of color and specialty paint finishes, a signature of Heuman's. She had the wood floorboards painted to mimic marble, and the dining room swathed in sage green Swedish linseed-oil paint. The pink living room, which features Dorothy Draper mirrors from Talisman, is "made more approachable," as Heuman puts it, by classic armchairs covered unexpectedly in blue denim. Bespoke pieces throughout include an entry hall table with cabriole legs and metal studs and, in the master bath, a fluted tub — modeled on one originally designed by Syrie Maugham — and an arched cabinet decorated with Fornasetti wallpaper and a hand-painted sky.
Among other early projects were a Holland Park flat with a mid-20th-century flavor and the Farm Girl Cafe, off Portobello Road, which has Jean Cocteau–inspired murals and handmade blue and green wall tiles. "I quite like doing commercial things," says Heuman, who has designed another café, the Feeding House, in Notting Hill. Commercial clients "come to you for a vision, and you're given more creative freedom."
On Heuman's schedule for the near future: a living space incorporating an art studio in an East London warehouse conversion; a 17th-century landmarked stone cottage in Sussex, which she's "making feel somehow contemporary, with clean lines and lots of color and pattern"; and a 19th-century vacation home in Nantucket.
Whether public or private, Heuman's work has one overarching aim. "You know how sometimes you walk into a place — it might be a hotel or a friend's home — that has a special feeling, and you can only get it there?" she asks. With each project, she seeks to capture that feeling, to "create a place that is slightly otherworldly and has its own unique soul." In such out-of-the-ordinary settings, she believes, "you forget about everything else, and it forces you to be in the moment." For a little while, perhaps? "No," says Heuman decisively. "I think it lasts."
---
Beata Heuman's Quick Picks on 1stdibs