March 26, 2023With any luck at all, designers and their clients are on the same page, in sync, simpatico. Typically, the designer guides the process, but in the case of illustrious Atlanta-based interior designer Beth Webb and her client Katie Walker — who together recently completed the down-to-the-studs renovation and comprehensive interior design of Walker's condominium in a distinguished 1960s high-rise — Webb had the wisdom to let her client take the lead.
"Katie could have been her own designer," Webb says, voicing an obviously firmly held conviction. "She appreciates a second opinion and a third and a fourth — but I think she just hired us for the office."
Walker laughs off that idea. According to her, Webb "is the consummate tastemaker. I respect her wealth of knowledge so much. And at the end of the day, someone has to know how to bind a carpet, pleat a curtain and where to get the wallpaper."
The designer — who masterminded three of Walker's previous homes and is esteemed for her casually luxurious residences from Georgia to Costa Rica, Jackson Hole to London — knows how to do all that, and then some.
The apartment was, nevertheless, a very personal project, and Walker owns up to providing "a lot of the vision."
Foremost in her mind were the sorbet colors and the richly layered look of accumulated possessions at Heron's Nest, a nine-acre Bermuda estate that had been in her family since the 1930s. Walker, who grew up in Michigan a member of the American aristocracy — her great grandfather was a Mott of applesauce fame, later a cofounder of GM — retrieved a slew of intriguing items from the property when it was sold, in 2011.
A number of these appear in the renovated apartment — among them, a pair of lead dolphins from the estate's garden walls and a Maple & Co. rolled-arm sofa her grandparents bought in London in 1939, now upholstered in green Scalamandré velvet.
There's also an array of newly acquired pieces, for Walker is not just a serial renovator but also an inveterate collector of paintings, glassware, ceramics and more. "She was on 1stDibs every single day during this project," Webb says.
Considered among Atlanta's modernist masterpieces, the building housing Walker's apartment is one of two 22-story concrete towers designed by mid-20th-century architect Ted Levy that rise out of a park-like sea of greenery. The unit's floor-to-ceiling windows, lovely sunlight and lowish nine-foot ceilings "lent themselves to nineteen-thirties and forties design," Webb says. "Books on Maison Jansen and Jean-Michel Frank were Katie's bibles."
New interior architecture by Peter Block, who spearheaded the renovation, exudes vintage glamour. Consider the entry hall's vaulted ceiling and harlequin-tiled floors, plus closet doors adorned with majestic herons hand-painted by Atlanta artist Raymond Goins. For the living room, Goins designed and painted a rounded mantel after an antique Japanese screen in New York's Metropolitan Museum of Art.
The foyer's curvaceous green-lacquered bar borrows its look from Walker's childhood memories of the Mill Reef Club, in Antigua, where her grandparents had a home. And the vanity in her mirrored dressing room feels worthy of a movie star from Hollywood's Golden Age.
The dining room is "embellished," as Webb puts it, with diamond-paned cabinetry, also mirrored and customized to store Walker's collections of inherited and foraged china, crystal, silver and linens. On the floor, tiled in another harlequin pattern, stands a gleaming round C-leg table "customized to the nth degree," Webb says. "We looked at sixty-five iterations of that table."
Above it hangs a silk pendant lamp, luminous at night, inspired by one in a French bookstore in Manhattan. But it's the Dessin Fournir Plante dining chairs that demonstrate — if it wasn't already obvious — that she is a homeowner for whom whimsy is a virtue.
"We squealed with delight" over the yellow zebra-patterned fabric by Clarence House, Webb says. To protect that precious fabric, they made custom slipcovers. "She was a little worried about the grandchildren," the designer notes.
In the "very Deco" living room, the shimmery tea wallpaper, salon-style gallery wall and Chinese rug suggest a gracious lifestyle. At the Walker home, Webb explains, "you're handed a drink on a hand-embroidered cocktail napkin the minute you walk in."
The condo project started out as a pied-à-terre for Walker and her husband, but she was unexpectedly widowed halfway through. Walker eventually forged on, with modifications to the original plan. The study, in particular, had been crafted as a masculine lair, with gray walls and a leather sofa, but "the memories were too tough," Webb says.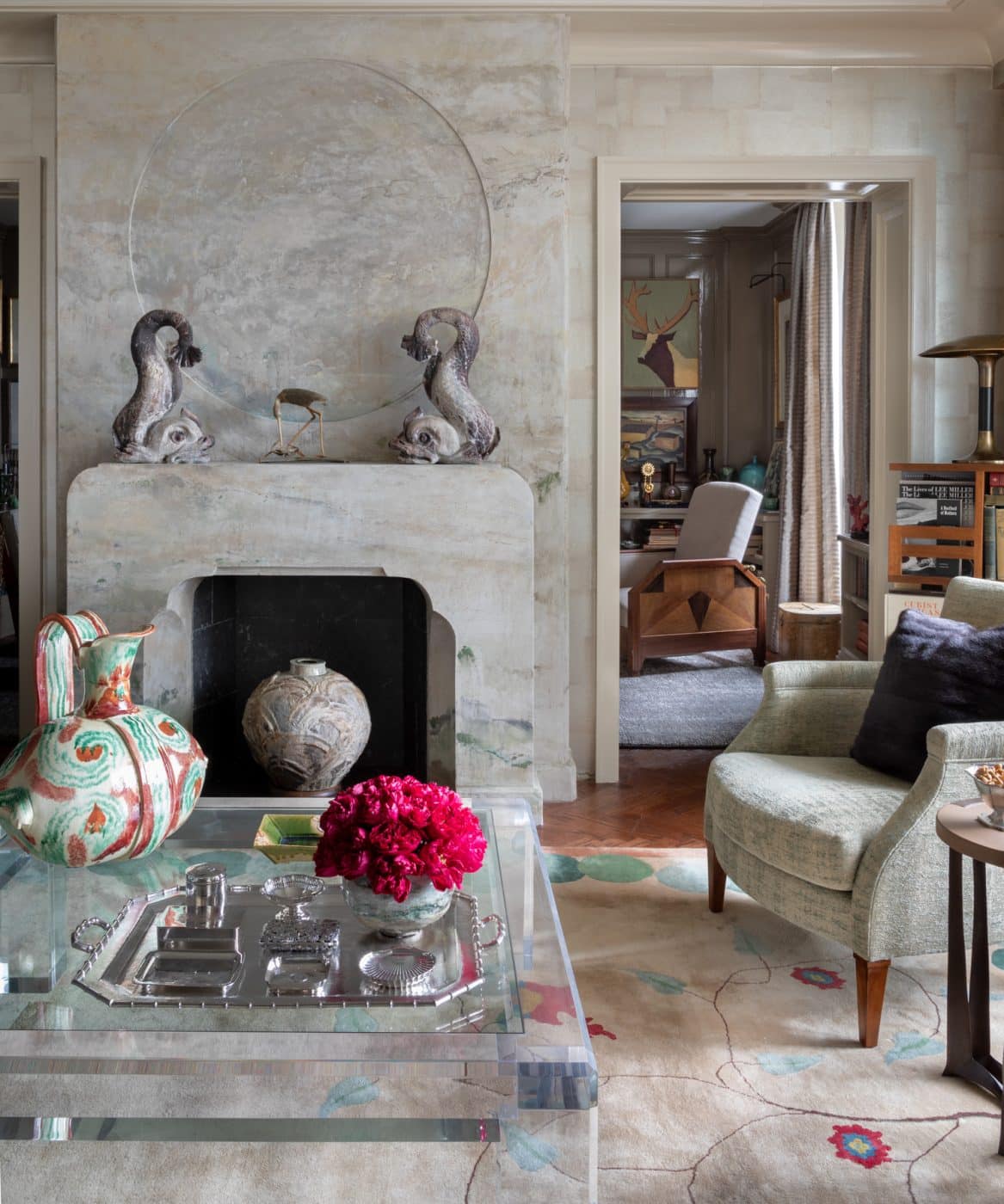 Together, Walker and Webb replaced the sofa with a chenille one and made other tweaks to the room's decor. Furnishings include a uniquely shaped wood Art Deco armchair, a pair of rakish armchairs and a hammered-copper coffee table by New York artisan Silas Seandel, all from Liz O'Brien.
The shelves are lined with ceramic objects and the walls decked with African masks, paintings and photographs, many from Walker's existing collection, some found at flea markets. As she remarks, "I'm a serious collector, but not that serious."
In most rooms, great good cheer prevails. The blue kitchen is a sumptuous upgrade on the previous galley-style one, equipped with an abundance of storage, an Aga stove and an inviting breakfast nook whose banquette and chairs are covered in a classic stripe.
Walker wanted the guest room to be particularly lively, for her grandchildren's visits — "so they'll remember it," she says. Accordingly, she went all in on green Schumacher Chinoiserie wallpaper, adding a pair of 18th-century commodes to serve as nightstands and a 20th-century black lacquer commode for a dresser, all from Atlanta's Parc Monceau Antiques.
Ultimately, Webb's main role may have been that of parer down in chief. "When you have this much of a mix," she says, referring to the wide range of periods and styles her client embraces, "the hardest thing to do is edit."