July 10, 2022"Very dark" is how Kelly Hoppen remembers Boy George's house, pre-renovation. The Culture Club star and gender fluidity trailblazer bought the creaky, creepy Gothic mansion nearly 40 years ago, when hits like 1982's "Do You Really Want to Hurt Me" and 1983's "Karma Chameleon" made him, if not royalty, royalty-rich. Built in the 1860s, it was a hodgepodge of oddly shaped rooms that felt like mausoleums. Windows of richly hued stained glass were beautiful but admitted no sunshine. In a 2013 appeal to the local planning commission for permission to build an extension, an architect for the pop star — who was born George Alan O'Dowd in 1961 — asserted that the house "did not benefit from a great deal of natural light."
Hoppen, a superstar who manages to make famous clients happy while also running half a dozen businesses (she has been named one of Britain's top entrepreneurs and was awarded a CBE for her charitable work), became acquainted with George through friends. When he visited the home she shares with her partner, in a former warehouse in West London, "he fell in love with it," she recalls. "He said, 'I want you to redo my house, and I want it to look exactly like this.'" That's a line Hoppen — known for working every variety of beige and taupe into superbly pleasing compositions — has heard before.
According to Hoppen, she told George, "I don't think you really do. We need to understand the history of the building and your life in it. It wouldn't make sense for it to look like my house." And so, she set out to get to know George, and his house, and the things he accumulated during his four-decade career. (At 61, George DJs and continues to record music.) She discovered, for instance, that the singer needed room for his paintings and drawings, often cartoony and always neon-hued. Giles Moulder, a partner in London-based F3 Architects, had already designed a modern kitchen addition with a glass wall that probably brings in more light than the rest of the house's windows put together.
The first thing visitors see is a foyer that looks more like part of a museum than a house. Round arches framed by marble columns open onto a dining area with a chinoiserie table and chairs — it's where George reads and writes, says Hoppen. The East-meets-West mix of furniture includes high-back chairs slipcovered in beige natural basketweave linen. (East Meets West is the title of the first of nearly a dozen books Hoppen has penned.) But there are blasts of color in the room, thanks to a series of paintings by George himself. They're so bright that when he sent Hoppen images, he would ask, "Are you still standing? Are you still breathing?" "No, I'm cool,'" Hoppen remembers responding. "In my work," she adds, "the base is always neutral, but I do use lots of color."
The house's key feature is an extraordinary Gothic staircase, traced by an ornate wrought-iron railing and ringed by balconies and niches. The size and complexity of the triple-height space meant that every piece of furniture had to hold its own. For a console, Hoppen ordered a large slab of Carrara marble from the aptly named Paul Vanstone. Photos by George cover the walls. Niches contain old and new collectibles. There's also a dresser by Jimmie Martin, who paints graffiti onto furniture. In this case, George came to Martin's studio to tag the piece. Hoppen gave the first landing what she describes as "a cute little banquette," explaining, "I like the contrast with the grandeur of the staircase."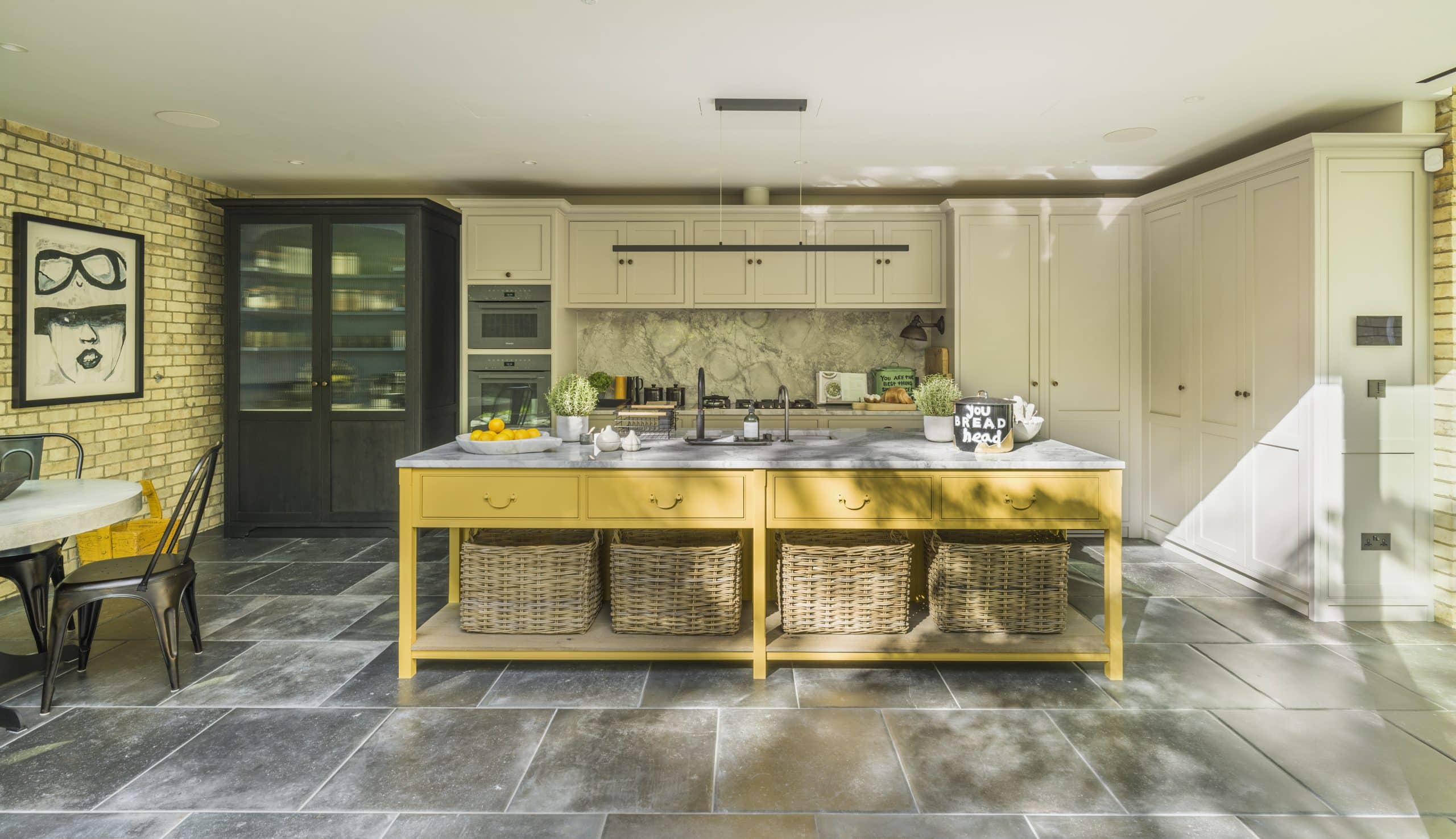 On the other side of the stairway is the main living room, with an intricately coffered ceiling that Hoppen painted — what else? — taupe. At one end of the space, she left old brick exposed, as a backdrop to George's DJ table. At the other is a large convex mirror that brings a fun-house aspect to what is already a kind of a fun house. In the center of the living room are several chairs (including tufted armchairs by Nadin and Macintosh) that Hoppen says she had upholstered "to look half done and half undone." A bench under the window features ostentatiously rough stitching.
Like guests circulating at a party, occasional tables populate the room; some are slim bronze numbers, others wooden discs with contrasting veneers enlivening their bases. Demure Belgian pottery is mixed in with George's out-there art and accessories from brands like 101 Copenhagen.
From the living room, a new passageway leads to the oversize kitchen. "George wanted something quite traditional," says Hoppen, who created what she calls "a take on an old farmhouse kitchen." That means the cabinets (from the Main Company) are painted several colors — the black section is the coffee larder — so the room, in Hoppen's words, looks "piece-made" rather than mass-produced.
Perhaps the only other room in the house that gets as much light is George's bathroom, a top-floor aerie with a giant skylight for a ceiling. Through one corner of this, a chimney twists, vine-like. "We tried to keep as many of the natural elements of the architecture as possible, rather than covering them up," Hoppen says of the eccentric masonry. Wanting the bathroom to be restful, she stuck to neutrals, including the white subway tiles and the beige skirt below the farmhouse sink, far less flamboyant than any skirt its owner would wear. An India Mahdavi totem-like stool near the tub adds sculptural pizazz. The bathroom is adjacent to a dressing room the size of a small apartment, lit by a Galerie Harter pendant. The ottoman down the middle is upholstered in Pierre Frey linen; the closet doors are covered in taupe wood veneer.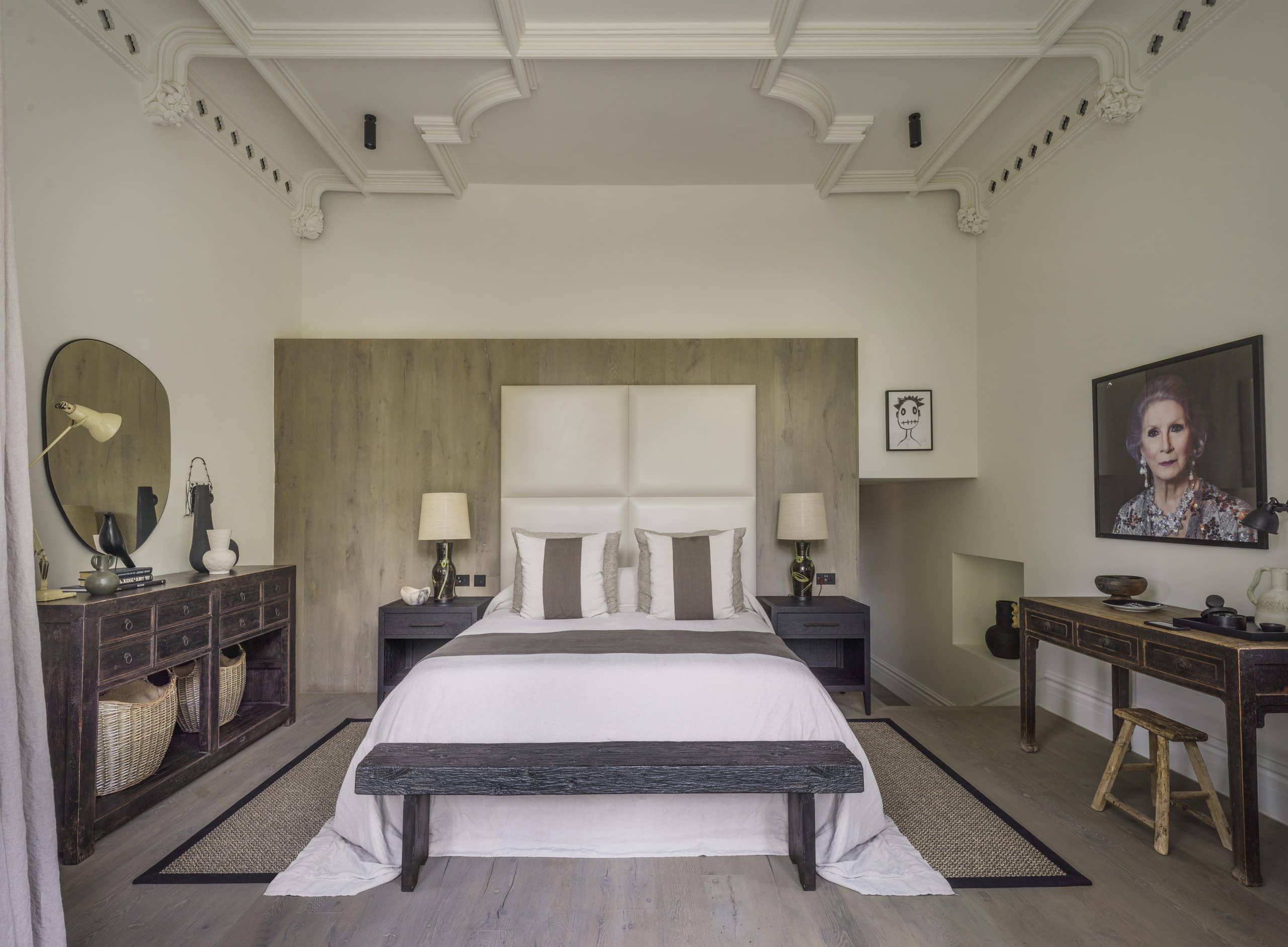 The same veneer forms a modern backdrop for George's white leather Holly Hunt headboard, flanked by Porta Romana lamps. A photo by him of the late April Ashley hangs above a vintage console from Shimu. The guest bedroom features a vintage sleigh bed in a similarly minimalist setting, with hanging lights from Viaduct. Its seating area contains an ABC armchair from Flexform and log side tables from Andrew Martin.
The coziest space in the house may be the TV room, a windowless former storeroom. "We made it snug," says Hoppen, who used lots of Belgian linen beneath the original coffered ceiling and employed the fireplace surround as a kind of proscenium for the TV. First among neutrals, the pebble-like coffee tables by McCollin Bryan command attention with their glistening, charcoal cast-scagliola surfaces. A favorite of Hoppen's, they may be the one item George's house shares with hers.
Everything else was bought, made or arranged with the pop star in mind. "It was a massive responsibility to take someone's history and shape it into a home," Hoppen says. "I felt like we were in each others' heads throughout this process."