September 26, 2021No region has a monopoly on cutting-edge design. But one place you might reasonably have expected not to find it is Piraeus, Athens's seaport, known for its chaotic ferry docks and seafood restaurants.
Yet the cosmopolitan proprietors of Carwan Gallery, Nicolas Bellavance-Lecompte and Quentin Moyse, chose to open their showcase of far-beyond-modern collectible design objects in a restored stone warehouse in the midst of the busy port.
Last September, the partners relocated the gallery to Athens from Beirut, where Bellavance-Lecompte and a former associate established it 10 years ago. The Greek capital is currently enjoying an influx of creative souls from all over the European Union and the Middle East, reprising its ancient role as a crossroads of culture and commerce.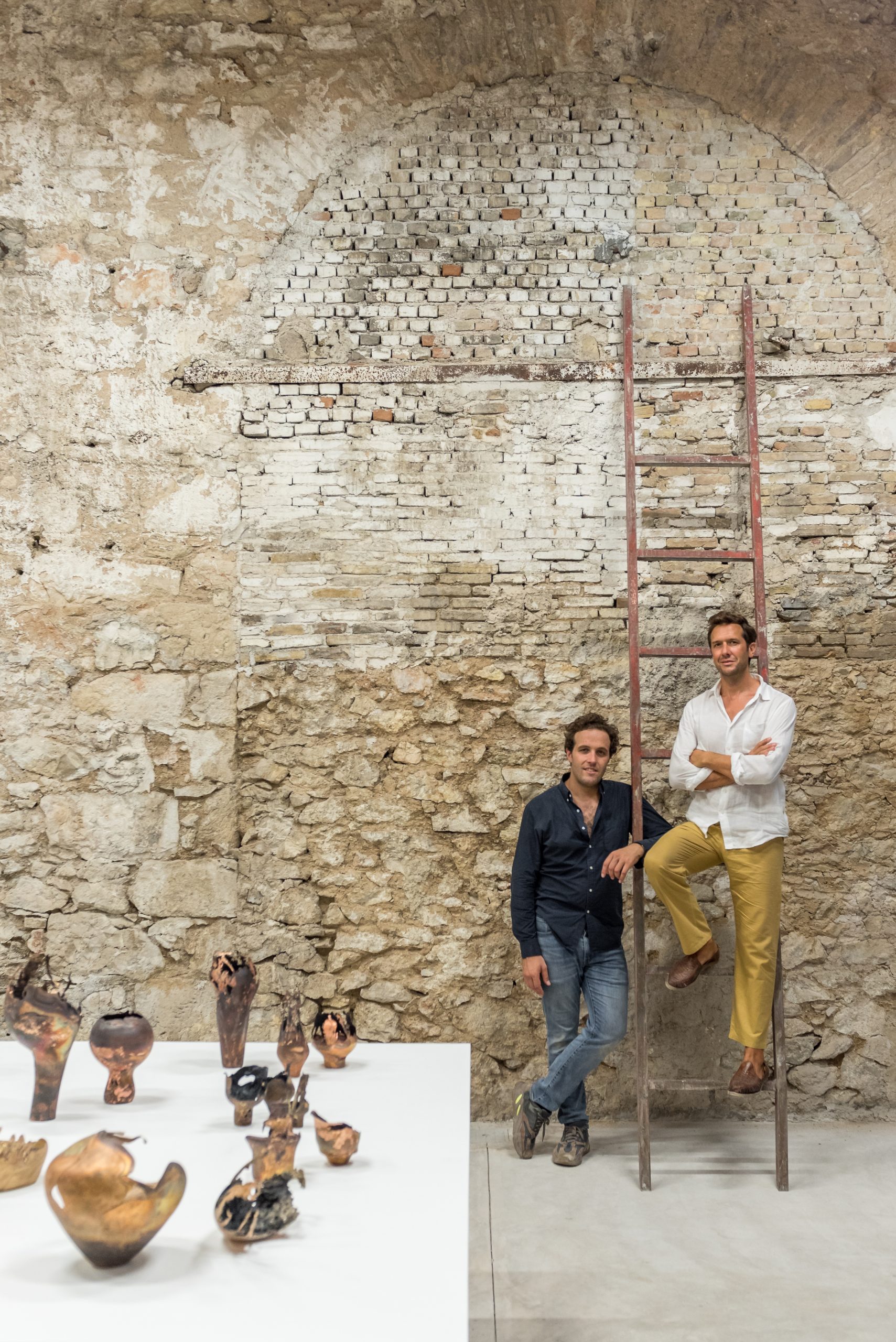 Polidefkous Street, in particular, is emerging as an avant-garde gallery hub. Situated a few blocks from the waterfront, it is also home to the Greek-owned spaces Rodeo and the Intermission, plus an outpost of Gagosian, the art-world behemoth with multiple locations in the U.S., Europe and Asia.
"In the past year, Athens has been blooming, a bit unexpectedly and out of the blue," says Adele Ferruzzi, Carwan Gallery's on-the-ground manager. Canadian-born Bellavance-Lecompte is based in Milan, where he is the creative and artistic director of Fonderia Artistica Battaglia Milano, a 108-year-old bronze foundry, while Moyse, who's a French architect also involved in property management and yacht charters, divides his time between Athens and Mykonos.
"The port is always an interesting place to be — it's a melting pot, a working area, a womb of craftsmanship, with a constant exchange of people," says Ferruzzi, a native of Ravenna, Italy, who studied arts management and administration at Milan's renowned economics school Università Bocconi. "We found a nineteenth-century warehouse perfect for the DNA of the gallery, with a sacred kind of vibe — not a white cube — that we felt was aligned with the body of work we usually present."
The name Carwan derives from the Persian word for "caravan," a group of travelers moving from place to place. It's apt for a business that has long had a presence at design fairs from Dubai to Basel, London to New York. Appropriately, Bellavance-Lecompte is also the founder of the Nomad design fair, a by-invitation-only itinerant showcase for collectible design that concluded a four-day run this past July at a 16th-century patrician mansion in St. Moritz, Switzerland. (Previous Nomad events have taken place at historic sites in Venice and Monaco.)
Since opening in Piraeus a year ago, Carwan Gallery has mounted several shows, each occupying the entirety of the high-ceilinged, 1,100-square-foot space. The latest, "Volax" (running through October 23), presents new work by Objects of Common Interest, a Greek husband-and-wife team of interior and industrial designers.
For the show, Eleni Petaloti and Leonidas Trampoukis — whose prior work manipulated materials such as marble, acrylic, glass and foam to create chairs, stools and lights with a radical, innovative spirit — have made their first foray into the use of wood. Rounded, carved formations inspired by the mysterious geology of the Cycladic island of Tinos are combined with glowing acrylic volumes to create seating and lighting elements, as well as a mesmerizing gallery experience.
Bellavance-Lecompte says a common thread running through three earlier Carwan Gallery exhibitions is that each explored "the inventiveness, craftsmanship and poetry of contemporary metallurgy, pushing the limits of conceptual design."
The inaugural show featured the unique artistry of Vancouver-based Omer Arbel, who investigates the forms that result when molten glass and metal interact. That was followed by the otherworldly, horticultural-inspired lamps and sculptural objects of Polish artist Marcin Rusak, who uses real leaves encased in a shell of zinc to play with ideas of ephemerality, decay and preservation.
Carwan's recent summer show was devoted to Italian designer Roberto Sironi's Ruins collection of coffee and side tables, mirrors and benches composed of cast bronze, glass and marmo di Rima, an artificial marble that is itself a painstaking craft product, with origins in the 19th century. In Sironi's vision, such classical architectural elements as columns and pediments meet those of the industrial era, like I-beams and corrugated metal.
The result might be called "contemporary ruins" that traverse time and geography. These pieces resonate especially well with the gallery's Athens location, informed as they are by archeological discoveries in Italy, Greece and the Middle East.
In its decade of existence, Carwan Gallery has cultivated relationships with an international roster of forward-thinking designers.
"1stDibs is really an archive of the projects we've worked on in the past ten years," Ferruzzi says. "The history of the gallery is right there." A few names are well-known in the West, including the American lighting designer Lindsey Adelman, whose bronze and glass vessels from her Liminal Collection are offered on Carwan's 1stDibs storefront; and French architect India Mahdavi, represented by a bronze and ceramic table inspired by Ottoman tile work.
Equally intriguing are inlaid ziggurat-shaped boxes with an Op art feel by Oeuffice, made in Lebanon and drawing on traditional marquetry techniques; and the organically shaped wood-clay tables and chairs of experimental Norwegian designer Sigve Knutsen. Other artists on the Carwan roster hail from Turkey, Iran, South Korea, South Africa and elsewhere around the globe.
Going forward, expect to see the work of more Greek designers spotlighted, since one of the gallery's chief aims is boosting the local design scene, much as it did in Beirut. Having made a major move, Carwan is committed to putting down firm roots in Athens and serving the region more generally. Says Moyse: "We can't wait to organize exhibitions in Lebanon again, and venture to Istanbul and Cairo, too."
"Our idea has always been to discover new places and new cultures and bring collectible design to new scenes," Ferruzzi says. "We'll continue to work with established international designers, and to foster local talent as well."
Adele Ferruzzi's Talking Points