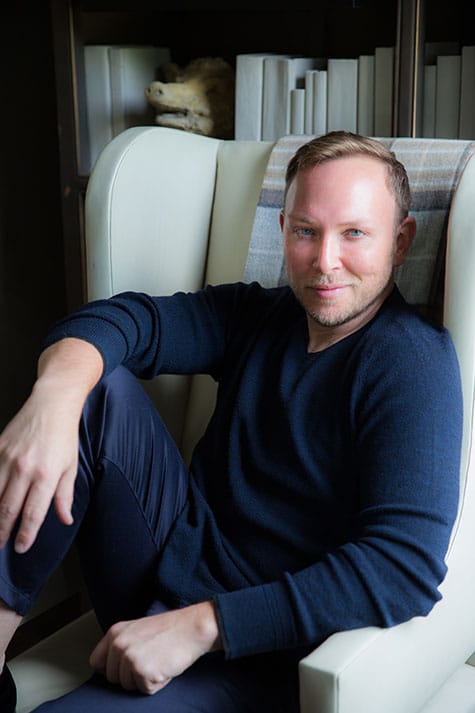 Chad James grew up in Muscle Shoals, a northern Alabama town on the Tennessee River that, he says, "was dubbed the hit recording city in the 1970s. Lots of people recorded there — Otis Redding, Aretha Franklin, the Wilson Pickett." That goes a long way toward explaining his taste in music (see Current Playlist below). But neither this nor his upbringing really indicated he would become a successful interior designer, much less one with an esteemed national clientele that includes country music artist Luke Bryan.
"Growing up, I didn't know what design was," explains James, 42, who has bright blue eyes and a neatly trimmed beard. "Women were taught how to make a home themselves. You didn't hire someone to do it for you because it seemed pretentious."
As a child, James obsessively built things with a Lego set. "Early on, my parents saw that I was a creative child and wanted to make sure that they were celebrating me rather than scolding me," he says. In a craft class at vacation Bible school when he was four, he created a portrait using dried macaroni glued to paper. "When I showed it to my mother, she said it was very nice," he remembers. Running with that praise, he says, "I got some duct tape and taped it to the best piece of art we had in the house."
Instead of reprimanding him, his parents — his mom was an administrator for faith-based nonprofits, his dad an engineer with the Tennessee Valley Authority — cleared an area of the garage for a gallery where he could display his artworks less intrusively. "Once, when asked about the moment," he recalls of his mother, "she said, 'Things are replaceable, but a child's spirit is not.'"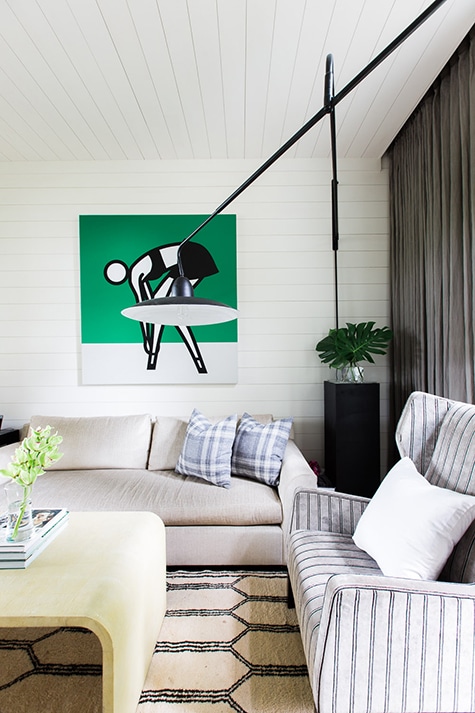 Still, when he enrolled at Auburn University as an undergraduate, he opted to major in architectural studies. He went on to earn a master's in interior architecture in 1997 because, in his senior college year, he says,"I realized I cared nothing about drawing foundations and roof lines and had this moment of, 'Oh wait! Interiors is what I want to work in.'"
Shortly after graduation, he was hired by the late Nashville-based designer Landy Gardner. "A vibrant, amazing man who had this incredible ability to pull the extraordinary out of the ordinary," says James. "He quickly realized I was a sponge, and within a year, I was a designer at his firm."
James worked for Gardner for six years in two stints. These were separated by an associate designer job with the Christensen Design Group in New York, where, ironically, he was asked to design interiors for a client building a house in Nashville. "I felt it was crazy to rent in New York and pay taxes when I was never there," says James. "The South was calling my name again." He decamped back to Tennessee and to Gardner, who eventually encouraged him to start his own business. The first venture, Chad James & Associates, "caught the eye of McAlpine Booth Ferrier, so I worked with them from 2007 to 2010."
After taking a sabbatical and then being lured out of it by a former client in New York who asked him to design a sprawling penthouse, a second entity, the current Chad James Group, was born in 2011. That led to major projects, including restaurants in many cities, a Chicago pied-à-terre, more apartments in New York, several commissions for country singer Bryan (homes in Nashville and Florida plus a "party barn") and a 23,000-square-foot Nashville mansion for a couple who had previously hired James to appoint their Montana homestead.
The love of art manifested in the macaroni portrait of his childhood is alive and well. An Aspire Design and Home article on Bryan's Nashville mansion noted that James's first apartment had art before furniture. Today, the designer lives with his greyhound, Josie, in a sleek modernist box in Germantown, one of Nashville's most distinguished neighborhoods. "There are days that I can't believe my dreams have become my reality," he says. "It's humbling to think of all the hands that have played a part in this journey. I always try to remember that if it's not fun, we're not doing it!"
---
"Growing up, I didn't know what design was. You didn't hire someone to do it for you because it seemed pretentious."
---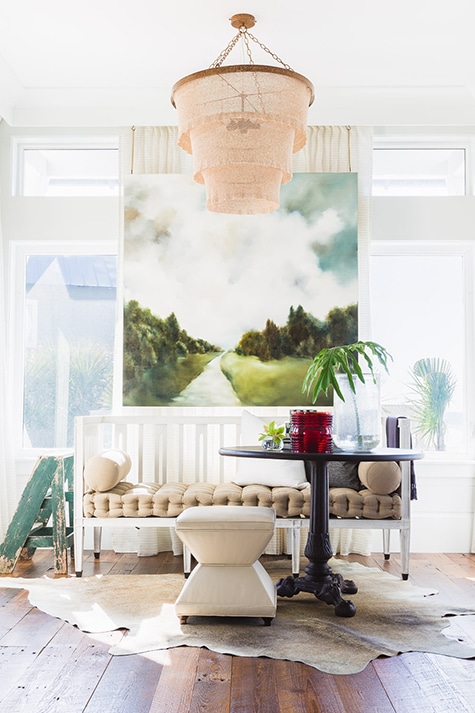 Hometown
Muscle Shoals, Alabama
Home Base
Nashville, Tennessee
First Big Break
I was in month three of a sabbatical and got a call from a former New York client. He had just bought an 8,000-square-foot penthouse and wanted me to do it. I told him I wasn't really working, but he said, "I'm sending you plane fare."
The Look
What we're putting into rooms is very mindful. I like interesting juxtapositions: traditional styles mixed with modern pieces in uncluttered environments; designs that walk a unisex line so rooms are comfortable for everyone; or pairing unexpected forms and textures, like shearling upholstery on a gilded Louis bérgère. I've done a lot of rooms that have white envelopes with blasts of bright color. At the moment, things are darker and cozier.
Art is an important big element. You want to make sure the client's art isn't downplayed but is the belle of the ball. We also have an innate ability to pay attention to detail — the smallest of trim or how nail heads are applied to a piece of furniture. There's always a level of layering and always something humorous, a tongue-in-cheek reference that taps back into the family, because design should be fun.
Early Influences
Jean-Michel Frank is my heaviest influence. Also Sister Parish. Although she wasn't Southern, there was something about her work that looked like what you would expect to find in Southern homes. And Billy Baldwin. I love the fact that he took chances and was so outside the norm.
Current Playlist
Easy, soulful music with as much body in the lyrics as in the sound — K.D. Lang, Faith Hill, Gladys Knight, old Motown, Tracy Chapman.
Favorite Artists
Donald Sultan (especially his smoke rings), Julian Opie (for his playful fun) and Sarah Morris (I like that she's very structural and architectural).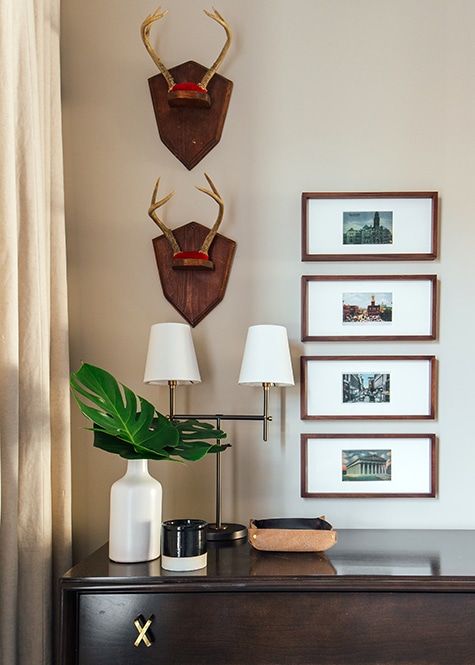 Designers You Most Admire
I'm constantly inspired and intrigued by the designers on my team who work around me. I also think Lauren DeLoach is so talented.
Favorite Drink
Champagne, Prosecco and Cava. Or cabernet.
Favorite Watering Hole
Barcelona Wine Bar in Nashville.
Go-To Place
BrickTops. If you ever want to be seen or find people you haven't seen for a while, you go there. I'm pescatarian, and the food is consistently good.
On the Nightstand
The bedroom for me is about sleep. There are probably five magazines by my bed that I finally just stuff into my bag and read at work.
Favorite Getaway Spot
A little place in the Smoky Mountain foothills of Tennessee called Blackberry Farm, which was designed by Suzanne Kasler. It's a great culinary resort with a spa, and one of those places my cell phone doesn't work!
---
Chad James's Quick Picks on 1stdibs