Some up-and-coming designers burn brightly for a while and then fizzle out. Only select few have the patience, stamina and raw talent to make the leap to the mature big leagues. Based on the evidence so far, the two 20-somethings who founded and run the firm Charlap Hyman & Herrero are firmly in the latter, rarefied camp. In their two tiny offices in New York and Los Angeles — with a number of staffers that couldn't even form two string quartets — Adam Charlap Hyman and Andre Herrero have come out of the gate with an impressive string of architecture and design projects. "We see ourselves as pretty versatile," says Charlap Hyman, 28, who is based in New York and spearheads much of the interior and product design, while his brother, Alexander, runs the business side of things. Herrero, 29, handles the architecture angle from his home in Los Angeles. The two design principals met at the Rhode Island School of Design, where they formed an uncanny bond.
"We've developed a cryptic shorthand," says Herrero. "If I tried to describe an idea to anyone else, it would take twenty paragraphs. With Adam, it's a four-word text and a question mark." The fruits of that mind meld are many, but this summer, the biggest news is the firm's collaborations with one of the most storied names in the design world, F. Schumacher & Co., and with its sister company, specializing in rugs, Patterson Flynn Martin.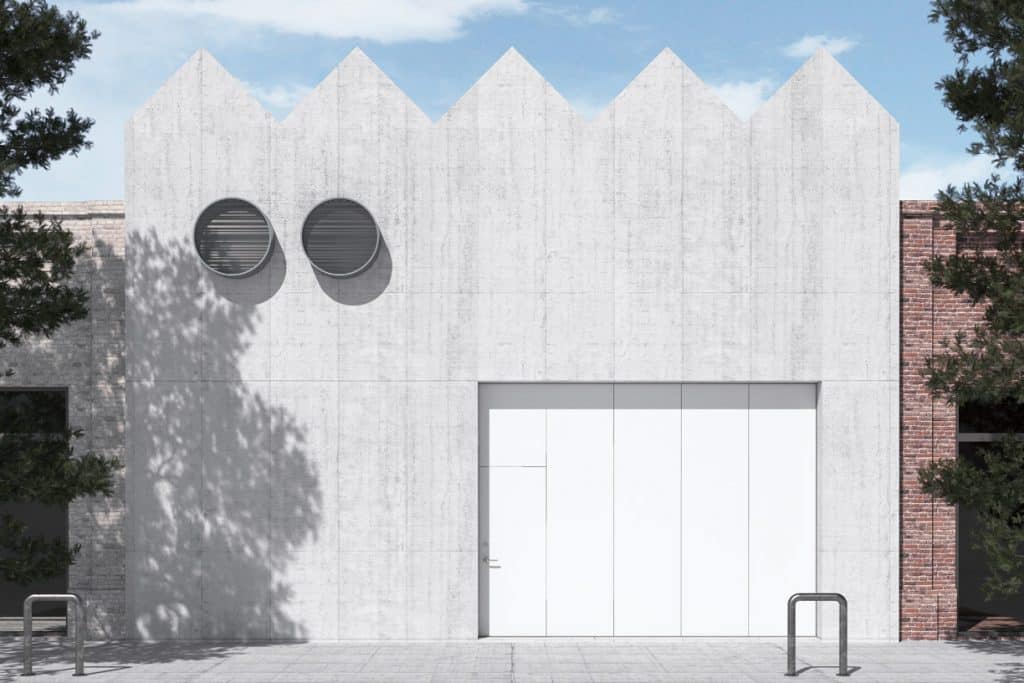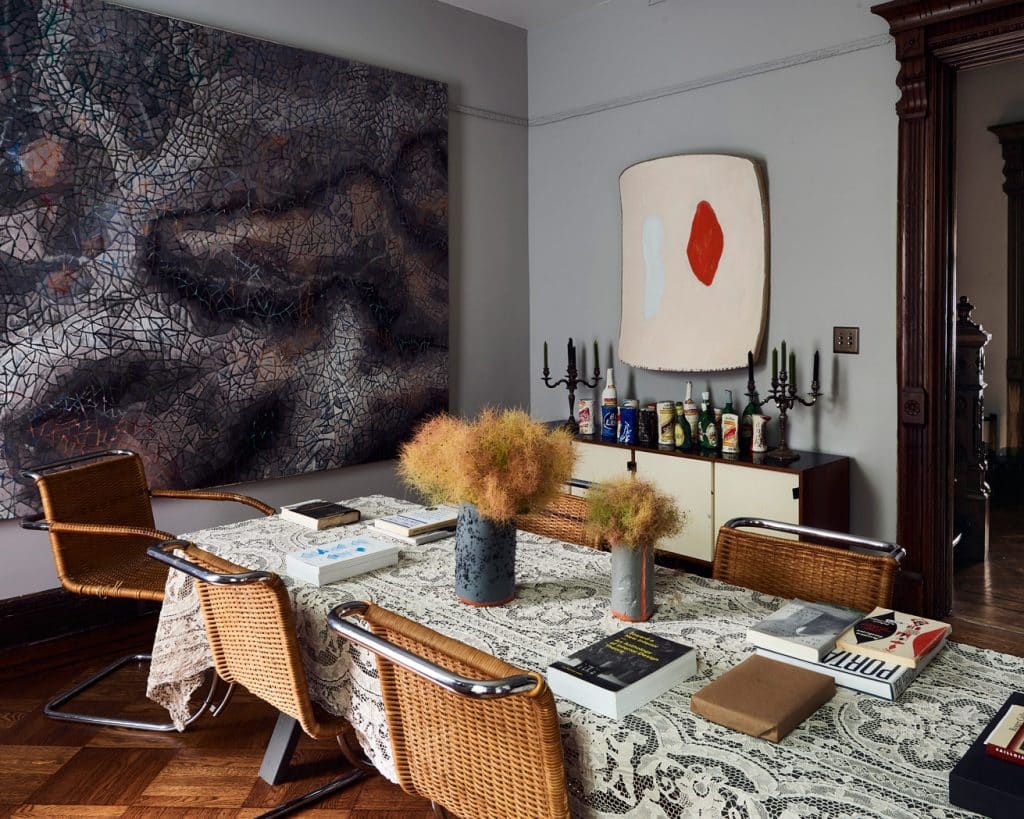 Charlap Hyman's designs for the rug line, available since this summer, are cheeky and arresting. Animal-themed, in black and white with nary a right angle, they resemble something dreamed up by Piero Fornasetti and Albert Hadley on a trip to the San Diego Zoo. Espiral, for instance, is a tightly coiled, smiling snake, and you could almost cut yourself on the jagged teeth of Cocodrilo. "We're doing very contemporary design, but there are elements of postmodernism because of the historical references," says Charlap Hyman. Indeed, he seems like someone who has deeply studied patterns and artworks from centuries past. "And we love humor too," he adds, citing a trait also in full evidence.
For Schumacher, Charlap Hyman devised a series of wallcoverings and fabrics that merges the botanical and zoological with the astronomical: Snakes make another appearance in the beguilingly intertwined shapes of Giove, but Calisto is a simple and charming star-in-the-sky pattern out of a child's storybook. The two lines accord with the partners' overall ideas about interior design. "We love making modern interiors — minimal but with patterns," says Charlap Hyman. "Patterns can give a sense of space instead of it feeling stuffy or closed in." The more you look at the designs, the clearer it is why Schumacher got involved with the firm. "I have this very astute salesperson who said, 'You should meet with Adam,' " says Dara Caponigro, the former shelter magazine editor who is now Schumacher's creative director. "I fell in love with him right away. He's an artist in his own right." Caponigro notes that Schumacher has a history of legendary collaborations. The first was with Paul Poiret; later came ones with Frank Lloyd Wright and Cecil Beaton. Quite stellar company for the young firm. "We don't do anything gimmicky," says Caponigro. "Adam's designs are inventive, whimsical and super sophisticated." That description applies as well to the rest of the Charlap Hyman & Herrero's work. For Leila Heller's space in Dubai — the largest commercial gallery in the Middle East and one of the firm's first projects — Herrero came up with an ingenious geometry: The openings between the simple white-plaster spaces are in the corners, with overlapping concrete slabs leading from one room to another. The design creates a bit of mystery about what's coming next and puts a focus on the art.
---
"We've developed a cryptic shorthand," says Herrero. "If I tried to describe an idea to anyone else, it would take twenty paragraphs. With Adam it's a four-word text and a question mark."
---
"We don't have an aesthetic mission per se," says Herrero. "We love the clients and all the nuances they bring to the table. We want to celebrate their taste." Another early project was a barn in Bedford, New York. Charlap Hyman and Herrero were designing the interior of the main house on the property, and the clients decided they wanted to turn the barn into an office and guest room. The resulting serene assemblage of pickled-pine boards created "a sublime, peaceful space," says Charlap Hyman. "We thought about de Chirico paintings and Japanese architecture" — a typically eclectic and high-brow set of associations for this crew.
Last year at Red Bull Arts in New York, the firm collaborated with artist Bjarne Melgaard on "The Casual Pleasure of Disappointment," a multidisciplinary exhibition that turned the space into a "dystopian Gesamkunstwerk." (Oh, that again.) Melgaard's clothing line and jewelry by Bjørg Nordli-Mathisen were featured in a circular area created by a curtain hanging down from a disc-like armature on the ceiling, a theatrical way to show off the goods. For curator and editor Alexandra Cunningham Cameron and her artist husband, Seth Cameron, the firm took a grand old 19th-century townhouse in Brooklyn and added fantasy furniture and "moments of ruin" for a truly playful result. "It feels current but mysteriously out of time," says Charlap Hyman. The "ruin" effect is created by pieces like the 1970s Capitello chair, designed by Studio 65 and manufactured by Gufram — essentially an Ionic capital lying on its side. Part of the look came from "strip finishing" elements like the staircase without refinishing them, adding texture and a sensation of constant evolution. Charlap Hyman & Herrero has a lot more on its slate, including ground-up architectural projects like a San Francisco office for Airbnb's experimental product development team. But the partners are self-aware enough not to rush their progress. After all, one of the Patterson Flynn Martin rugs, Proverbio, is shaped like a scroll and emblazoned with a Latin motto that translates as "What is quickly gained is quickly lost."