July 24, 2022Billy Clark and Charlie Ferrer have been friends for more than a decade. A couple of years ago, Clark needed more room for the New York outpost of his firm, Billy Clark Creative Management (BCCM). But the space he liked — with big, south-facing windows in a Chelsea building filled with young professionals — was too big for him and his six-person staff. So, he asked Ferrer, an interior designer with a booming business, to take a portion of it. It was a wise move. Ferrer decorated the 1,200-square-foot suite, making it feel almost like home.
"What I've come to emphasize in recent years is warmth and comfort and connections to the past," says Ferrer, 40. "But office design is often antithetical to that. It's efficient. It's indestructible. The exact opposite of what I try to do as a designer." So, he decided to think of the office as something other than an office. "The intent was to make it feel like a residential interior. We designed it to be efficient and functional but also comfortable and almost nonchalant."
Anyway, this particular office is more than just an office. It's a demonstration of what Ferrer can do. "I want clients who come here to see this as a look inside my brain," he explains. It's also a look inside his inventory. Most of the pieces are for sale on his 1stDibs storefront, which makes it a kind of showroom. "I love that it's been a revolving door of pieces," says Clark. "It keeps things interesting and fresh. We're constantly being inspired by what's new."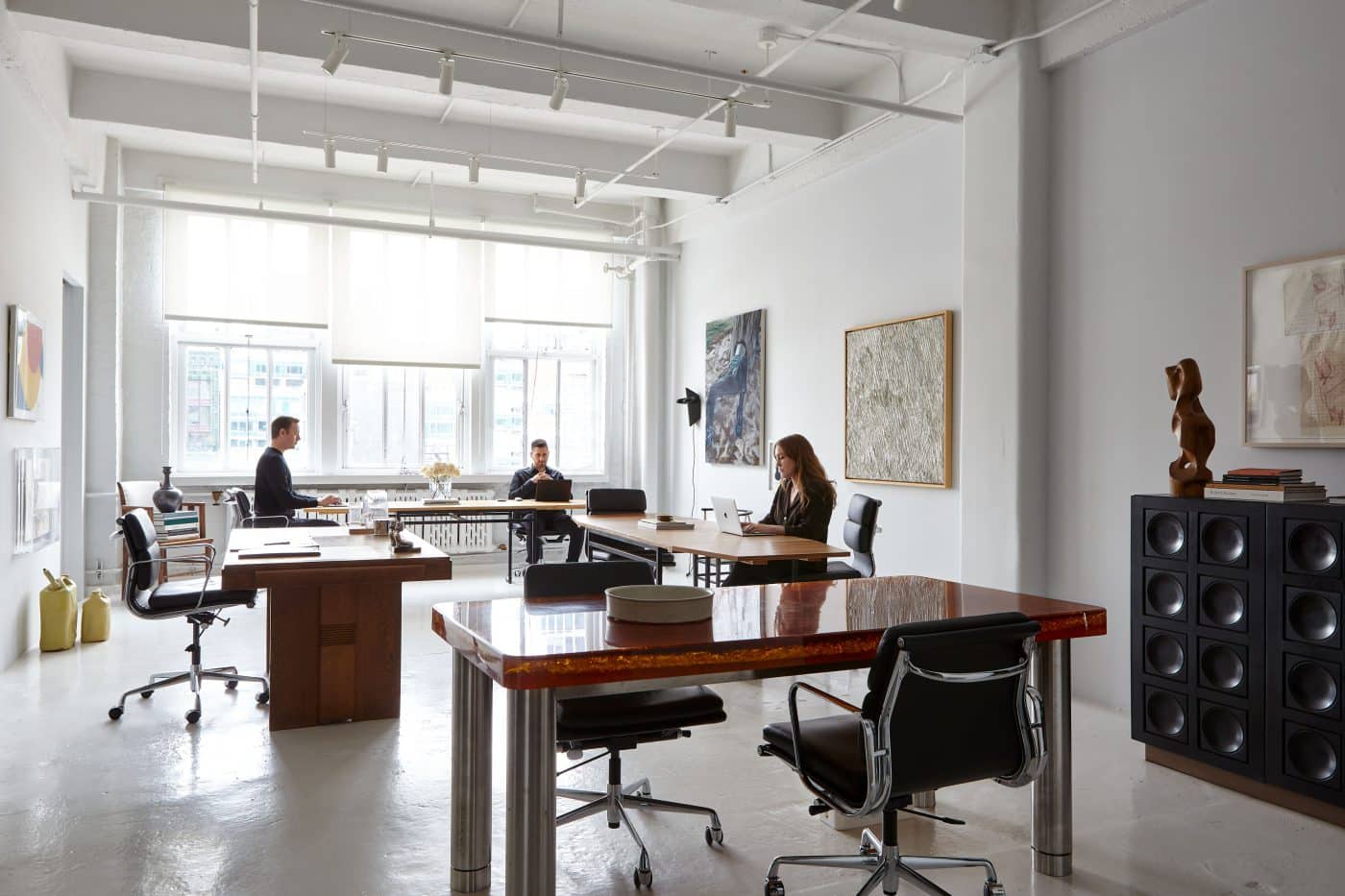 The space is divided into four rooms — a reception area, a shared conference room, and offices for the two companies. Clark, who divides his time between New York and Los Angeles, and his team sit in a kind of bullpen. "All of my work stations are really dining tables. Even though there are proper desk chairs, you don't feel like you're at IBM," he notes, adding, "I think Charlie's use of residential materials in a work environment is really unique and special. And I love the fact that most of it has a history."
The history starts at the reception area, where a Guillerme et Chambron loveseat connects 2020s New York to 1960s France. This faces a coffee table with a glass top from Saint-Gobain, a foundry established in 1665 as the Manufacture Royale de Glace at the behest of Louis XIV. Ferrer had the table's old iron base nickel-plated. The text piece, Taking refuge in the gilded margins, is by New York–based artist Maynard Monrow.
The largest room is occupied by BCCM, which matches creative professionals with career opportunities. Behind the table where Clark usually sits — marked by a pair of Uruguayan bookends — is a primary-colored Alexander Calder poster and a shield-shaped bronze mirror by Ferrer. (The mirror makes the room feel bigger, Clark observes.)
Below the Calder print is a work on paper by Leonardo Drew, an American artist who often uses found materials. A pair of ceramic gas cans by Matt Merkel Hess holds the floor. In another part of the BCCM workspace, a Regina Silveira drawing hangs above a black dresser by De Coene Frères, a company founded in Belgium in 1895. "The drawing is rather meta, as it depicts furniture pieces in an office," Clark observes.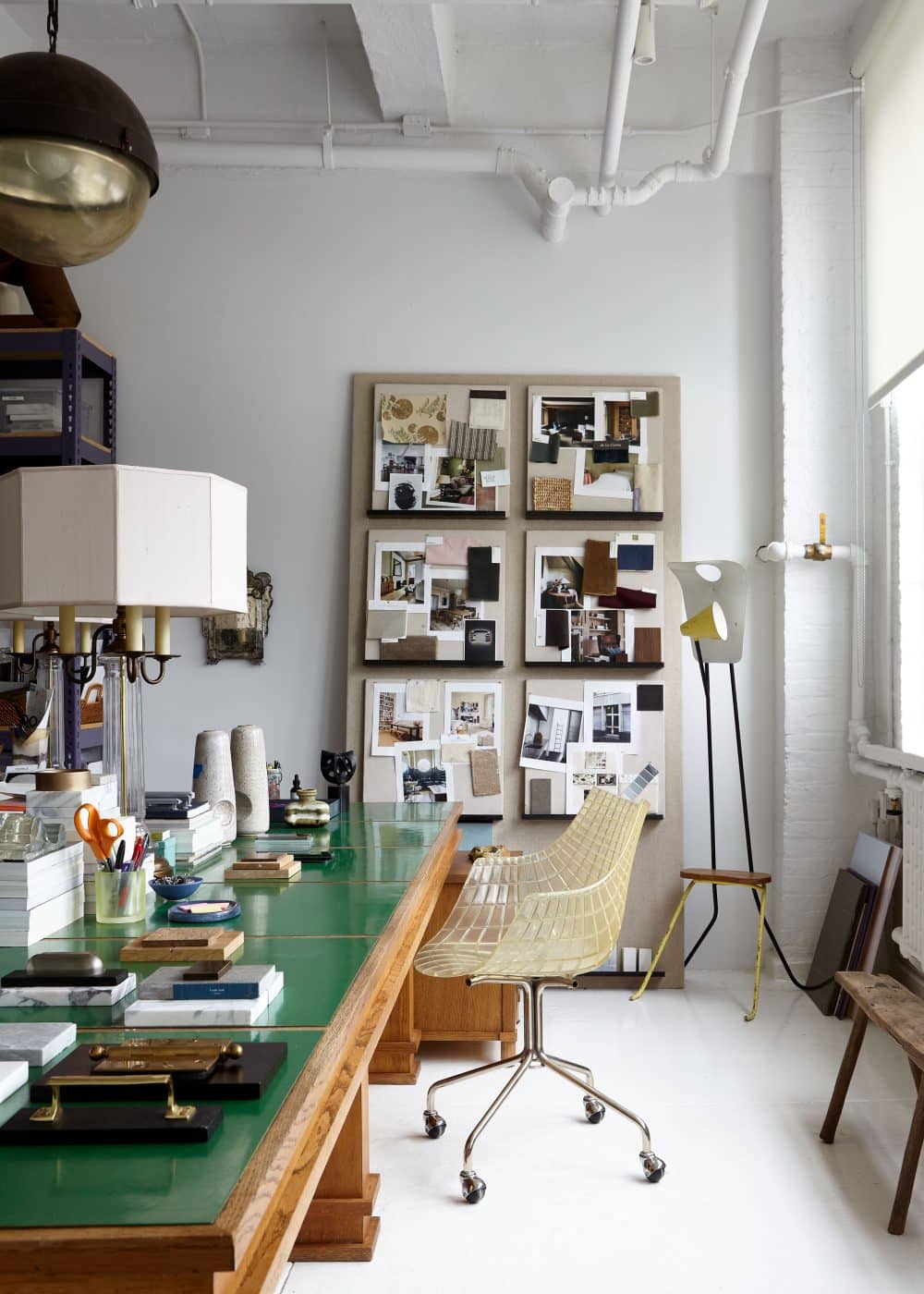 "Billy's office is clean and neat and spare," says Ferrer, whose own space is comparatively cluttered, since his work requires drawings, material samples, swatches and the other tools of the interior design trade. His desk is a monumental solid oak French library table with green laminate insets. "If someone buys it, I'll have to find another desk," he says. Ferrer may also have to find another chair: His current perch, which he discovered in an attic in Spain, has a plastic shell that shows its age, having yellowed charmingly. (Its base, on the other hand, has been rechromed.) The French roadside globe lights over the table are almost two feet in diameter, dwarfing the delicate Venetian mirror that hangs next to Ferrer's mood boards.
In the last of the four spaces, a shared conference room, a Pierre Guariche chair with bentwood arms and a 19th-century English wing chair upholstered in mohair bracket an Art Deco dresser by an unknown designer. A concrete relief, whose creator is also unknown, hangs between a pair of 1970s plexiglass table lamps. The most unusual piece may be the five-bulb overhead fixture, made of brushed copper and cream enamel by Stilnovo half a century ago.
Ferrer, whose father, Carlos, is a financier and whose mother, Rosemary, he describes as "the consummate host," grew up in Connecticut surrounded by beautiful things. "I always wanted to be an interior designer," he says. "It was just about finding the confidence to pursue it and the right path into it." The path appeared a decade ago when his parents decided to build a house in Palm Beach and gave him carte blanche to decorate it. He quickly added other clients. Now, he is juggling nearly a dozen projects in New York, Florida and California. Until Clark called him about sharing quarters, Ferrer worked out of a small office in the Flatiron District. The two got the keys to the current space on March 15, 2020, which meant that, as COVID raged, the rooms they had just leased sat empty.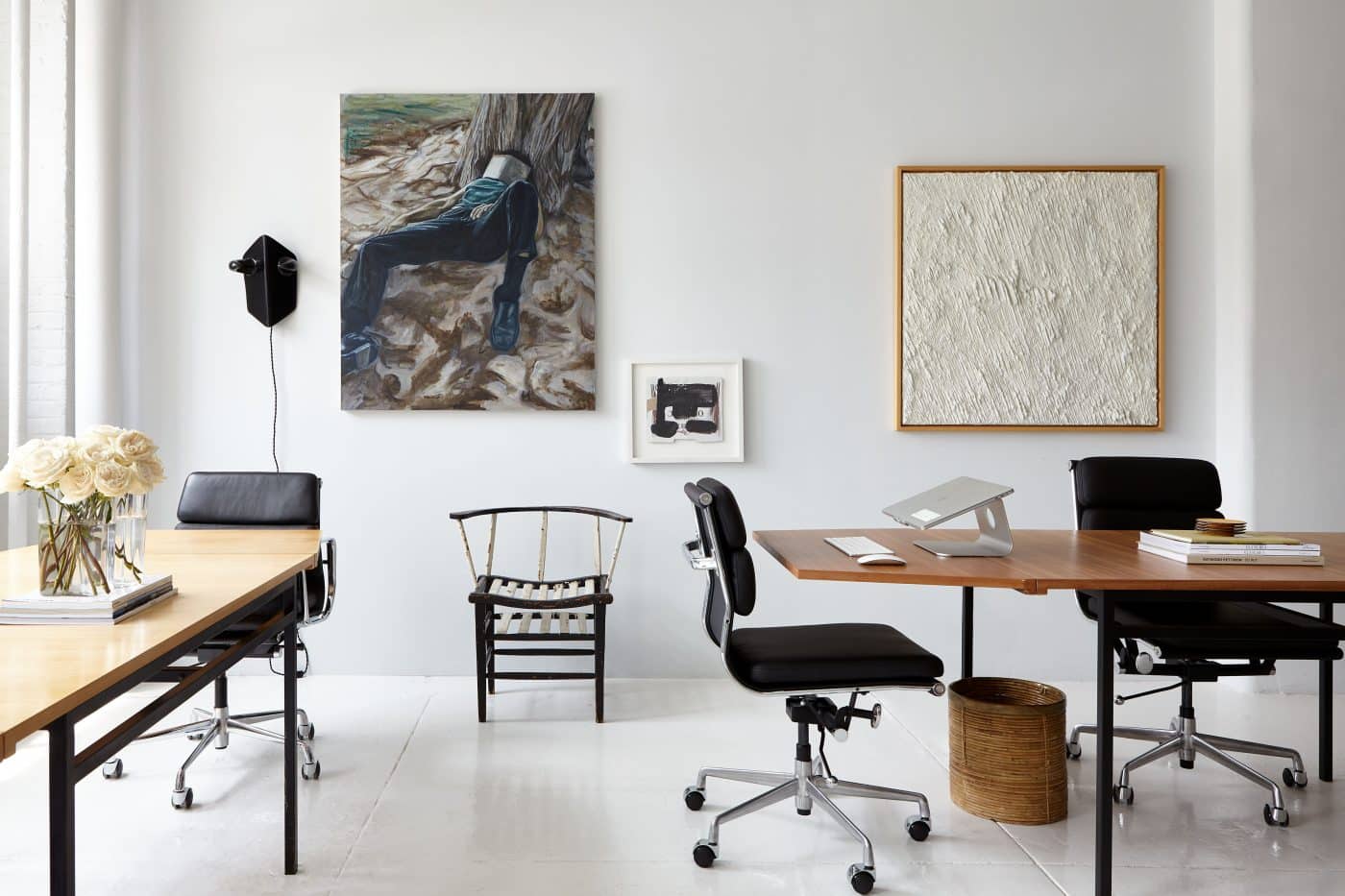 As much as he loves the office, Ferrer notes that it isn't a perfect reflection of his residential work. When he does a house, he uses rugs, wallpaper and upholstery fabrics to create layers of pattern and texture. Those elements are impractical in an office, even an office like his. And without the layering, "this isn't a fully realized interior," he says, "but more just a collection of objects in space." Perhaps, but it's a collection that anyone would feel lucky to live with.
Shop Charlie Ferrer and Billy Clark's Office