March 12, 2023Susana Simonpietri runs one of the most successful interior design firms in New York, but she isn't egotistical. For one thing, she named the firm not after herself but after an Antillean grackle, a bird known as a chango in her native Puerto Rico. And she isn't trying to develop a signature look. The houses she designs "are more a reflection of the people I'm working with than they are a reflection of me," she explains. "And I feel pretty proud of that." One reason may be that her interests go beyond interior design.
As an undergraduate at the University of Puerto Rico — with stints at the University of Warwick, in England, and the Sorbonne, in Paris — Simonpietri was a literature major who expected to become a writer. It was only when she got tired of reading four novels a week, that she decided to try something different. She enrolled in the interior design department at Brooklyn's Pratt Institute and loved it. Then, she paid her professional dues, working for several established designers, including Benjamin Noriega-Ortiz, himself a Puerto Rico–born superstar. "Being Puerto Rican was not looked on as a positive. He did a very good job overcoming that," she says admiringly.
Simonpietri started her own firm in 2009 and quickly established herself as someone who could make houses "three things everyone wants: comfortable, relaxed and joyful." That said, no two Chango and Co. projects are the same. Based in Williamsburg, Brooklyn, the firm, despite having 25 employees, has to turn away clients; Simonpietri prefers to take on ones who ask her to try new things, not simply to replicate past projects.  
Recently a couple gave her carte blanche to upgrade a spec house in the Hamptons. "They had been looking in the Hudson Valley, but I kind of steered them here, for selfish reasons," says Simonpietri, who has a home nearby. "I always try to bring as many nice people to the Hamptons as I can."
The house had just broken ground when her clients bought it, and there was still time for her to work with the architects to simplify the details. Windows that were going to have mullions, for example, were replaced with uninterrupted sheets of glass. That set the tone for the decor. "We were able to be much more minimal than we usually are," she explains. "It's something I'd been hoping to do, but I needed a client to ask me."
Simonpietri can't lure every client to the Hamptons, and she doesn't always have carte blanche. A couple with two young children and two more on the way, who had bought a house in Greenwich, Connecticut, just before the pandemic, found Simonpietri on Instagram and interviewed her via Zoom. The 100-year-old house was in a historic district, which meant the exterior couldn't be altered. They were free to change the interiors, but Simonpietri and the clients agreed that these were part of history, too, and should reflect that fact. 
Here's how Simonpietri made each house true to its surroundings, while giving both the flair for which she is known.
---
FOYERS
In the Hamptons, the walls of the foyer are white. "We usually save color for the kids' rooms," says Simonpietri. And there isn't a lot of furniture, because the stairway is the center of attention. An arch-shaped bench is practically part of the architecture. In Greenwich, making the foyer feel historic required retaining the existing moldings. And making the moldings stand out meant painting the walls a different color from the trim. To maintain the historic feel, she didn't need to use antiques, as long as what she did use — like a natural walnut and limestone console by PINCH — felt timeless. The brass sconce is from Lumfardo Luminaires.
---
LIVING ROOMS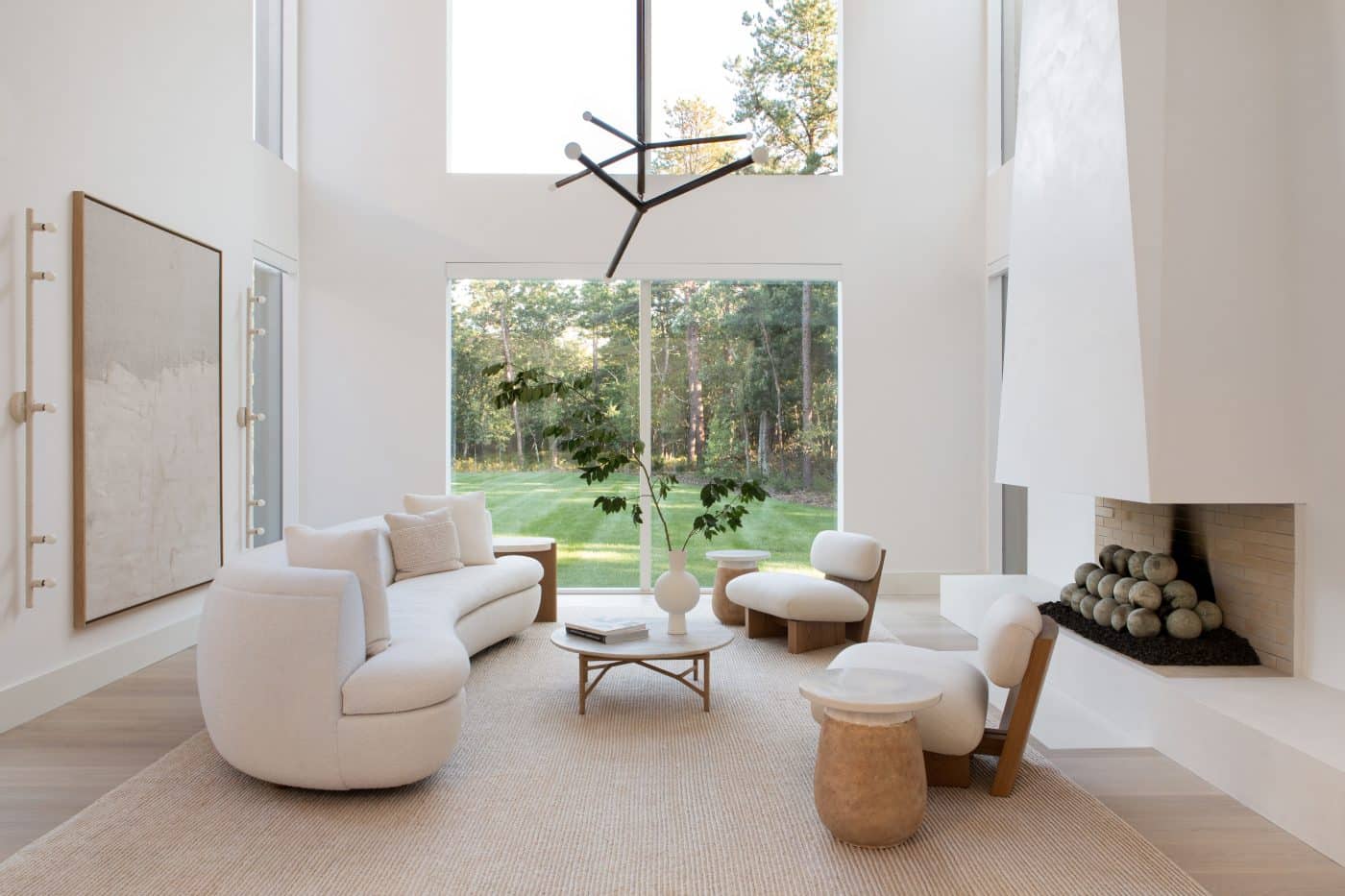 Both clients enjoy the calm instilled by white upholstery, but that's where the similarities between their living rooms end. In the Hamptons, the architecture is dramatic — Simonpietri designed the sculptural fireplace as a focal point. The custom sofa from Dmitriy & Co. and chairs from Atelier de Troupe, while functional, read almost as abstractions. Treating the room as a gallery, she says, "I used very few pieces, but each one is very special." She also used almost no color.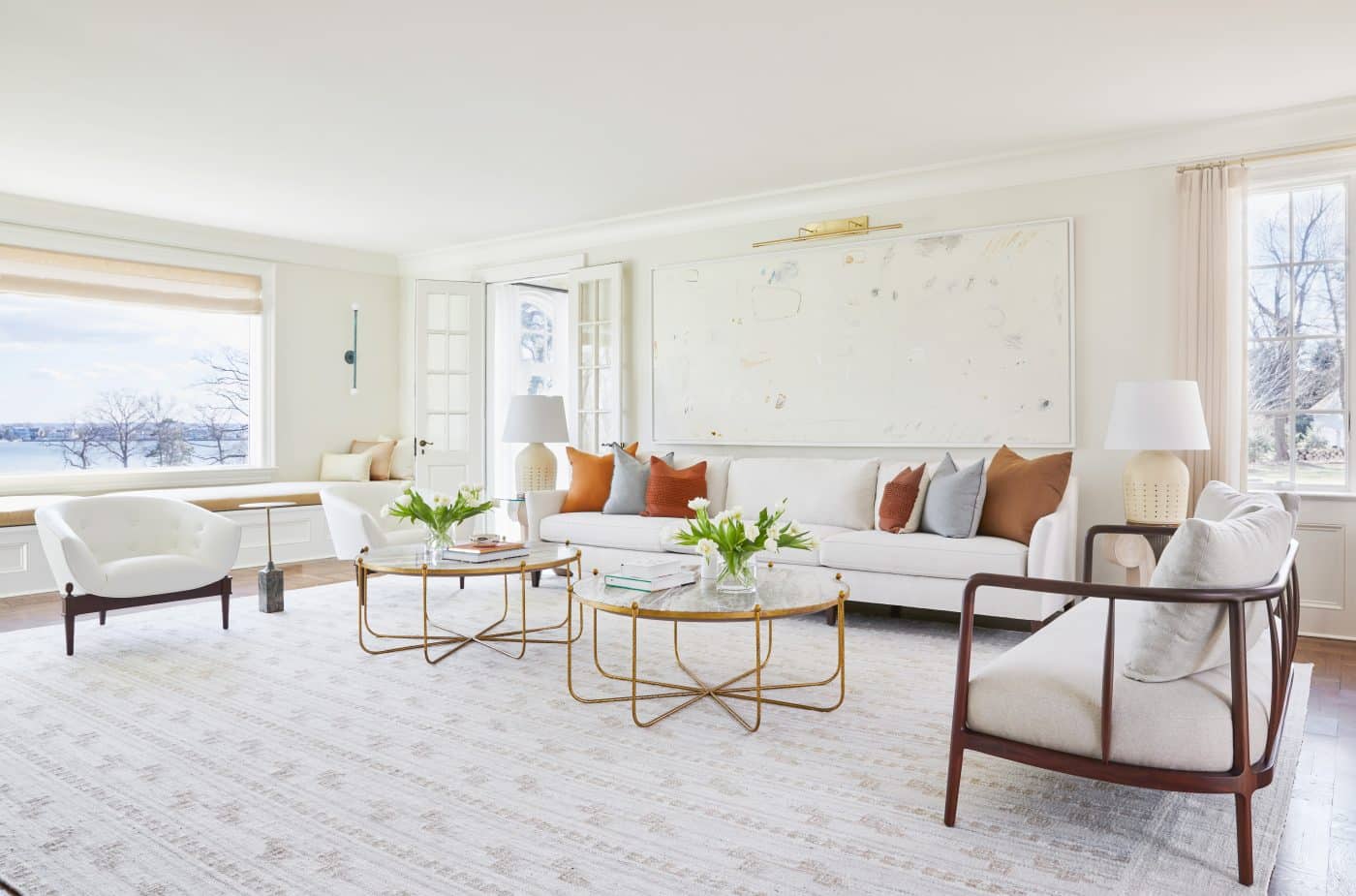 By contrast, the sofas and chairs in Greenwich aren't sculptures but, well, sofas and chairs. The coffee tables are brass with marble tops — better detailed than most coffee tables but still familiar. Despite the very elegant lines of the furniture, the effect is comfortably domestic. And not everything is white. "We needed a 'color story' that would transfer from space to space," Simonpietri explains. "We chose to anchor the room with a burnt sienna and a blue reminiscent of patinated copper, which appears all around the first floor."
---
SITTING ROOM/DEN
The Hamptons sitting room resonates with the living room, albeit with a lower ceiling and a less dramatic fireplace. But the furniture, including two beige chairs by Yabu Pushelberg, is still in the realm of minimalist sculpture. (And beige is about as dark as the upholstery gets.) The Puddle table, from Massproductions, recalls Alvar Aalto's Savoy vase, a true modernist icon. The 1950s Nanna Ditzel seating is from Henri Paris via 1stDibs.
In Greenwich, the sitting room doubles as a library. In keeping with her color story for the home, Simonpietri used a very dark blue for the walls, which brings out the orange of the Klismos chairs and the leather Chesterfield sofa from Castle Antiques & Design. Even the artwork over the fireplace is orange.
---
DINING ROOMS
There's no formal dining room in the Hamptons home. In fact, Simonopietri says, "there isn't a formal anything in that house." Not far from the kitchen island, a barnwood dining table is paired with vintage seating by Dmitriy & Co. "They're precious," Simonpietri says of the chairs, but they're upholstered in artificial leather for durability. Overhead, six custom fixtures by Doug Johnston are a functional art installation. Simonpietri paid close attention to their relative sizes and even the pattern made by their white cords.
The Greenwich house, though smaller than the Hamptons one, does have a formal dining room. A 12-seat reclaimed-Russian-oak table and a dozen dining chairs are its raison d'être. The walls are covered in textured wallpaper by Kelly Ventura. Two custom ceiling fixtures from LAAL echo the archways between rooms.
---
NURSERIES
The Hamptons clients were about to have a baby. They knew it was a girl but were open to having a nursery that was not gender specific. Simonpietri limewashed the walls to produce a subtle green tone. The pink crib, from Kalon Studios, is flanked by a pair of Puffy Daisy sconces by Eny Lee Parker. Geometric artworks tie this space to the baby's next stop, the playroom.
In Greenwich, the clients had two children and were about to add two more with the imminent birth of twins. Even as they were making the house look refined, they were determined to make it childproof. Their nursery is cheerful (thanks to the Noah's Ark wallpaper) and practical, with plenty of seating for grown-ups. A felt rug, a handloomed burnt-orange throw and a cream glider and ottoman keep the space from approaching kiddy kitsch.
---
PLAYROOMS
In the Hamptons, a highlight of the basement playroom is the modular Lunar table system from Kinder Modern. Simonpietri commissioned artwork to pick up on its shape and hues. Colorful pillows from House of Cindy continue the theme.
In Greenwich, the Milton & King wallpaper is decorated with colorful portraits that children can relate to. Simonpietri turned an entire wall into a chalkboard. The room contains a blue-and-white-striped teepee, a real younger-crowd pleaser. At the same time, there's plenty of seating for parents, including an Eames lounge and ottoman stationed on a cowhide rug. By choosing furniture with sophisticated silhouettes, she made the room comfortable for grown-ups.
---
BUNK ROOMS
"They have so many kids, and the kids have friends over, and they multiply," says Simonpietri, referring to the Greenwich clients. The sleepover solution is a bunk room, modest in materials (shiplap siding) and proportions.
In the larger Hamptons house, Simonpietri created a veritable capsule hotel, with an ample stairway and conveniences like clocks and reading lights over each bed, as well as arched wooden roofs for shelter. The turquoise she chose is more interesting than a typical "boy's room" blue.
---
PRIMARY BEDROOMS
The primary bedrooms are more alike than any of the houses' more public spaces, perhaps because everybody deserves to sleep in comfort. In the Hamptons, Simonpietri upholstered the bed in Holland & Sherry's Brunswick Snow bouclé in beige but kept nearly everything else white. A bench at the foot of the bed complements the nightstands, each of which supports a Lampampe lamp by the late great Ingo Maurer.
The lamps in the Greenwich bedroom are a bit more lamplike. Throughout the house, Simonpietri says, she worked hard to keep the components of a traditional home intact, while getting as close to the streamlined ideal as she could.