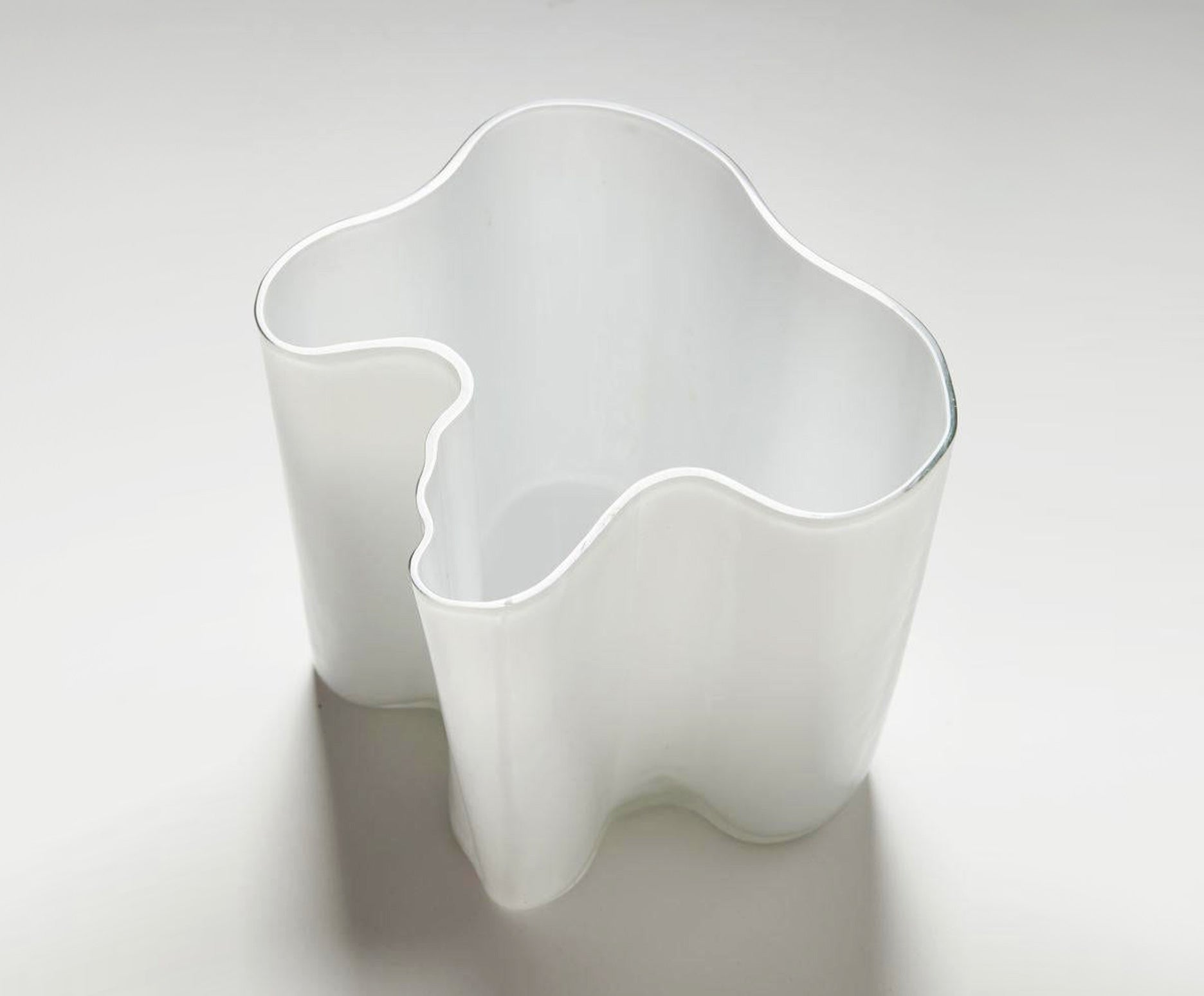 About the Design
When Finnish architect and designer Alvar Aalto (1898–1976) designed the curvilinear Savoy vase in 1936 for the eponymous luxurious restaurant in Helsinki set to open the following year, he created one of the most well-known glass objects of the 20th century. 
The Savoy vase — commonly referred to as the "Aalto vase" — won first prize at 1936's Karhula-Iittala Glass Design Competition, held to determine which works would be included in the Finnish Pavilion at the 1937 Paris World Expo. This very first vase was taller than the subsequently produced models and was executed in a wooden mold that was burned away during production.
Aalto's inspiration behind the vase remains unclear, although it has been speculated that the design is based on waves or the Finnish landscape. The abstract biomorphic shape of the vase was designed to spread out any flowers placed inside and to support the stems in the folds of the glass facing in different directions rather than keep them bunched together in a central opening. The vase, which was included in the interior design commission for the Savoy (shared with his designer wife, Aino) that included the couple's celebrated Golden Bell pendant light, was not the only revolutionary design Aalto created during his lifetime. He was a pioneer of Scandinavian modernist design as well as Finland's most important architect of the 20th century. Aalto created or cocreated with Aino some of the most revered buildings in the Northern Hemisphere, such as the Paimio Tuberculosis Sanatorium (1928–33) in Paimio, Finland, and the Villa Mairea (1939) in Noormarkku, Finland.
The Savoy vase never made any money for Aalto because it belonged to the Finnish glassworks factory that sponsored the 1936 competition. The factory's modern iteration, Iittala, still produces the piece today. Each Savoy vase is mouth-blown and can be found in various sizes and colors.
Previously Available Items