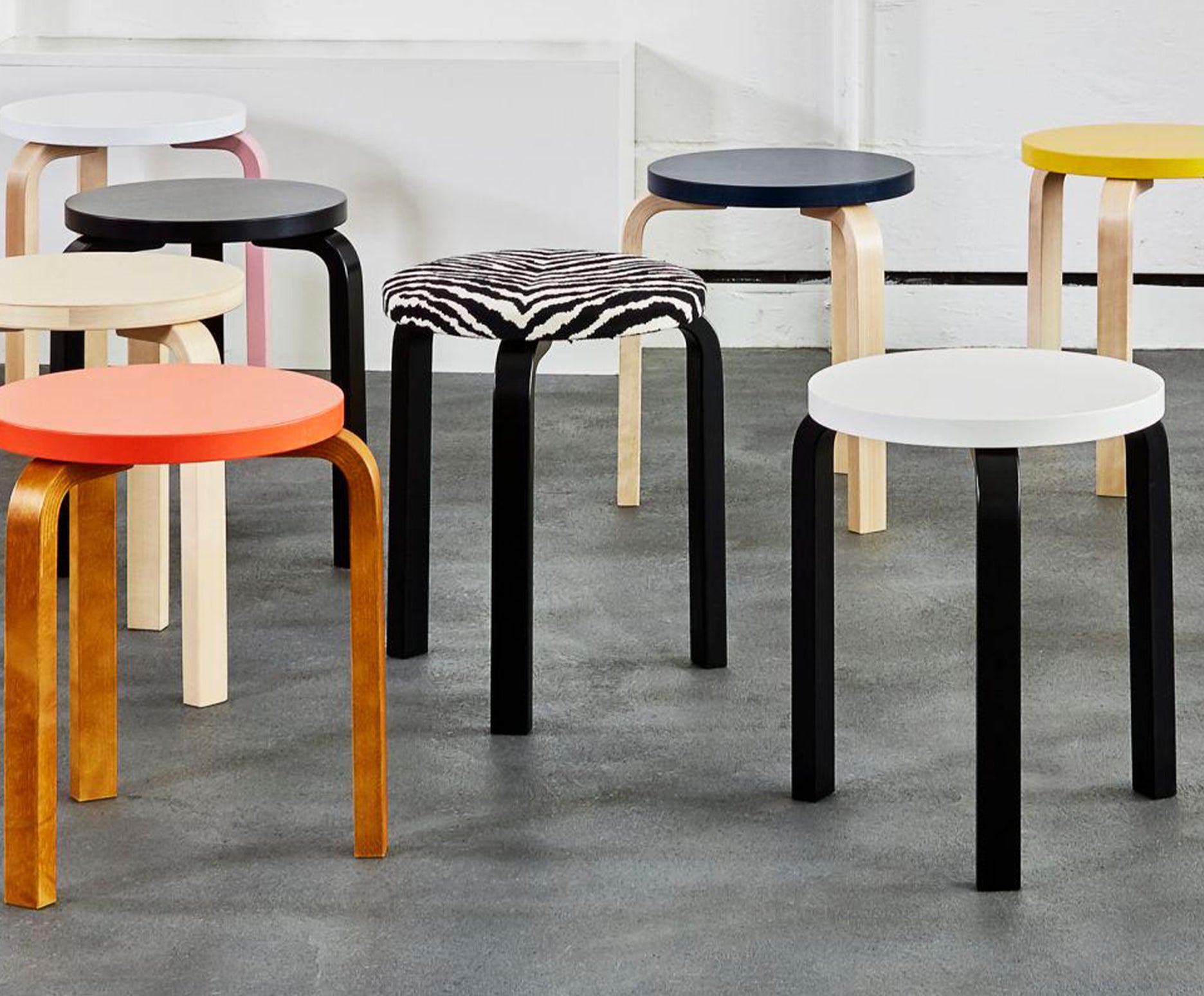 About the Design
Although Finnish architect and furniture maker Alvar Aalto (1898–1976) was recognized early in his career for his decorative interiors and innovative building concepts, his functional wood furniture reflected a simplicity that extended even to his marketing copy. "One chair is enough" is one such slogan attributed to him today.
While the renowned designs he produced with his first wife Aino for a tuberculosis sanatorium in Paimio included tubular steel, Aalto eventually distanced himself from the material, differing from peers such as Marcel Breuer in that he favored working with organic materials, having deemed wood "form-inspiring" and "deeply human." The stackable Stool 60, made of cost-effective solid birch and birch plywood, is emblematic of that approach.
In the mid- to late-1920s, with the support of fellow woodworker Otto Korhonen at a furniture factory in Turku, Finland — a densely forested country where birch trees and lumber suppliers are plentiful — Aalto developed the "bent-knee" technique for making furniture. It involves a solid piece of birch soaked and softened in water and then sawed open in the direction of the wood grain. Afterward, thin slats of wood are glued into the grooves, and the wood is heated so that it becomes malleable.
The bent-knee process, which has changed little since its inception, yielded the "L-leg" that Aalto initially had in mind for his Stool 60. Three L-legs were mounted to the underside of the flat, circular plywood seat of the Stool 60 in the Turku factory, but Aalto's innovation had applications for tables and a lot more. The furniture maker called the L-leg "the little sister of the architectural column."
When the first prototype of the deceptively simplistic-looking Stool 60 materialized, Aalto and Korhonen tossed the piece across the sprawling factory floor to test its durability. Aalto told all in earshot, "We'll make thousands of these one day!" It was a fairly modest prediction: Debuting at an exhibition of Finnish design in 1933, the Stool 60 was a revolutionary piece of seating furniture, and it has sold millions.
It is now available with seats in various colors and is part of the permanent collection at the Museum of Modern Art in New York City. The library for which the stool was first intended won the World Monuments Fund/Knoll Modernism Prize in 2014.
The Stool 60 is currently manufactured by Artek, which the Aaltos helped cofound, and it is one of the company's most cherished products.
Previously Available Items