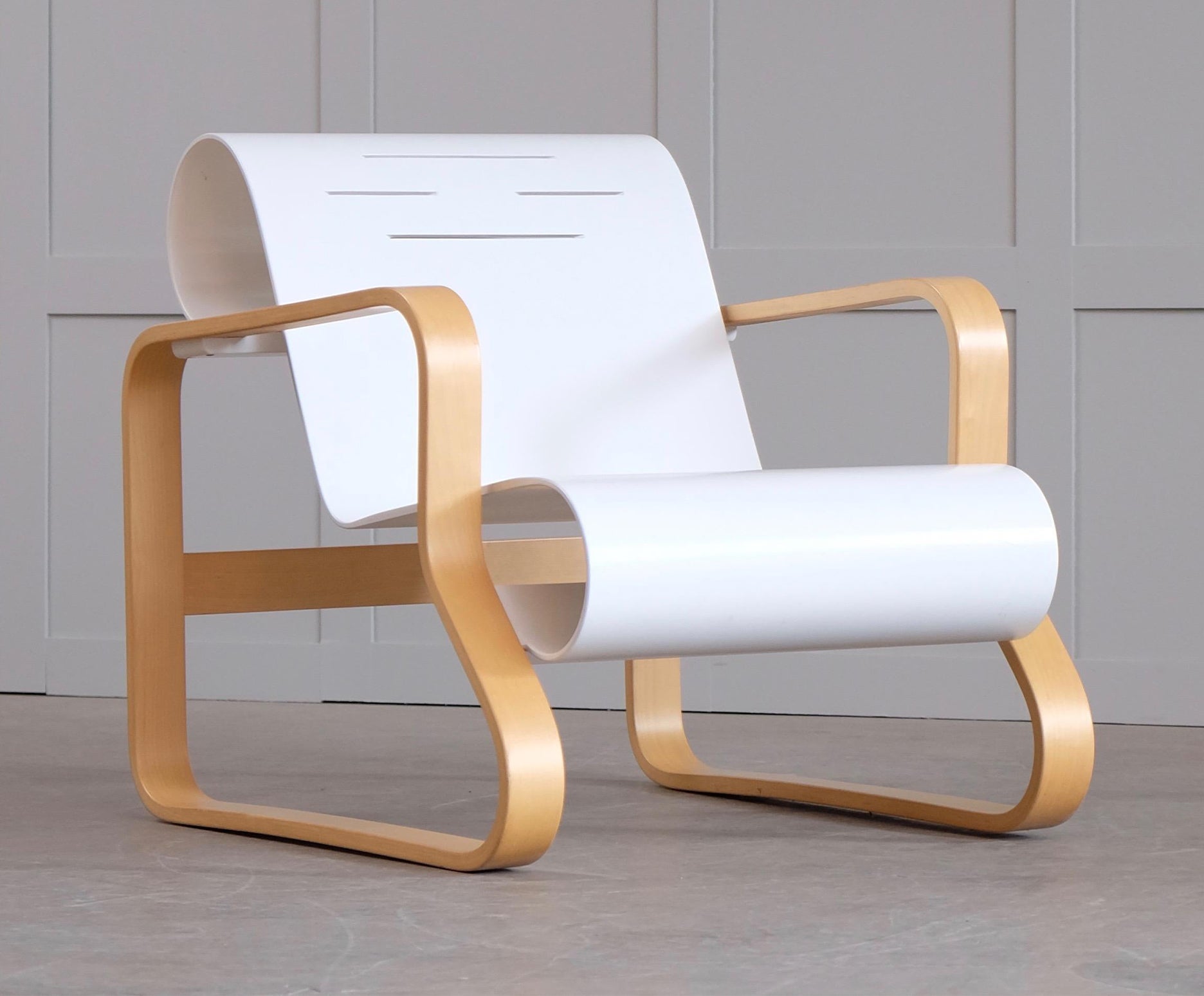 About the Design
Created in 1932, the Paimio armchair, or Armchair 41, was intended to help people breathe easier. Finnish architect and furniture maker Alvar Aalto (1898–1976) — in collaboration with his first wife, Aino — designed a tuberculosis sanatorium and all of the facility's furnishings, including the armchair, in the Finnish city of Paimio, after winning the commission in an architecture competition.
During the mid-to-late 1920s, Aalto was working with bentwood processes and producing resilient, easily storable furniture that could be tucked away when not in use. His pioneering efforts yielded malleable wood for shaping the material into sculptural furniture — stackable seating defined by sleek curved contours, such as the Stool 60 or the Paimio armchair, a masterpiece for which the Aaltos are widely known.
Paimio Sanatorium was constructed with functionalism in mind. The building and its furnishings were designed to house patients suffering from tuberculosis, a bacterial infection that primarily attacks the lungs. At the time (this was prior to the use of antibiotics), sanatorium staffers were focused on getting the afflicted outside in the sunshine and fresh air. As tuberculosis was considerably contagious and is spread from coughing and sneezing, the surfaces in the Aaltos' building had to be easily disinfected and aired-out. These concerns extended to the design of the Paimio armchair. 
For the chair's frame, the couple opted to use Finland's native birchwood, which is strong and inexpensive and felt warmer and more organic than the tubular steel found in similarly shaped pieces, like the Wassily chair designed by Marcel Breuer. 
The laminated wood loops to form the arms, legs and a pair of flat skids while its sculptural seat and back, built from a single piece of thin plywood, look as if they are suspended and are angled to support ailing sitters in their efforts to breathe. 
An integral part of the revolutionary building, the Aaltos' Paimio armchair earned the couple acclaim as furniture makers. Branded "the first soft wooden chair," the project inspired countless other designers, among them Eero Saarinen and Charles and Ray Eames, in its simplicity and striking form. 
Artek, which the Aaltos helped cofound, currently manufactures and distributes Alvar and Aino's wood furniture designs, including many light fixtures and furniture from the Paimio Sanatorium.
Alvar Aalto Paimio Armchair
Previously Available Items