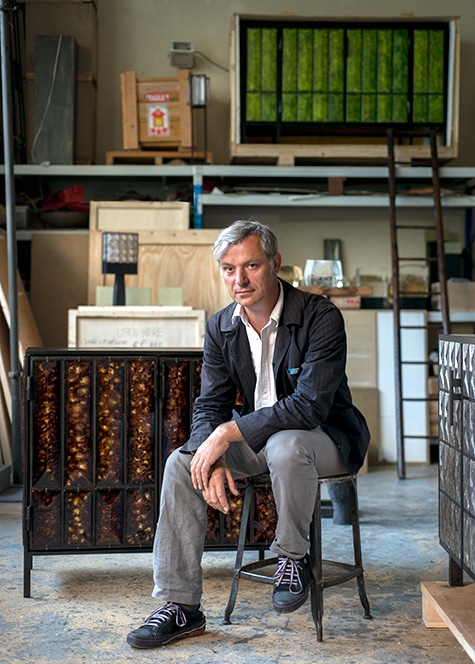 Delicate lamps with massive blocks of optical glass that have been softened and then rehardened to look like melted candy, transparent metal cabinets enclosed by tubes of Pyrex, iron credenzas sheathed in brilliantly colored lava stone tiles. Christophe Côme is a master of creating pieces that exhibit contrast and tension, marrying materials that might normally destroy each other.
"Glass and metal are two extreme materials — one is so fragile, while the other is heavy and strong," says the Paris-based designer. "Creating a balance between them is challenging, but there is also a rapport between these materials."
In recent years, Côme has been pushing his creative vision even further by experimenting with new materials and techniques. His latest explorations are on view through December 22 at Cristina Grajales Gallery, in New York. After focusing on lava stone with vividly hued glazes a few years ago, he is now fashioning pieces that reveal his investigations into rough, wild hammered wrought iron. These include one new cabinet whose branching iron tendrils cradle glass lenses finished with moon-gold and white-gold leaf. He is also producing uranium glass lamps that emit a chartreuse glow.
"I work with many different ironsmiths, ceramists and gilders, and go often to their workshops to see how they fabricate things, because they have incredible savoir faire," says Côme. "Even from one workshop to another, they have different solutions for fixing different materials together," he notes, which can help spark new ideas.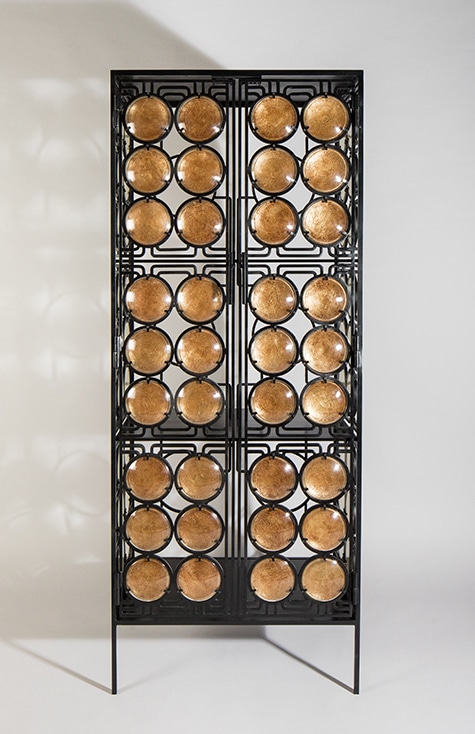 "He's an old soul, and very much a Renaissance man," says Cristina Grajales, who has represented the designer for the past decade. "He's very pure when it comes to the trades and materials, and the work he wants to do. I admire his curious spirit and the fact that he enjoys working with these old traditions to create pieces that feel so contemporary."
Côme never formally studied art or design. Instead, after a stint in the hospitality industry, he began learning how to work with bronze as a young apprentice to the French sculptor Louis Derbré. "My school was the studio," says Côme. After three years, he decided it was time to strike out on his own. Rather than bronze, however, he began by working with iron "because it was less expensive," he says, "and you welded directly what you imagined." The rugged material stuck.
Later, he found himself in a factory that made both industrial and artisanal glass — and he was just as amazed at what that material could do. "It began there, with some small lights, and then, very slowly, pieces of furniture, including cabinets that mixed glass and iron with different patinas."
In contrast to glassblowers who laboriously work the molten material to give it flamboyant shapes and colors, Côme believes glass is often most beautiful in its purist form. His Loukoum lamps, for instance, have rectangular metal bases topped by solid, clear blocks of glass that appear to sag like Jell-O. "The transformation of glass is fascinating," says Côme. "With the massive blocks, I put them in a kiln and go to the melting point, when they just start to fall down a little. You take something crude and massive and transform it very slightly, just at the minimum, but that little transformation makes all the difference."
For other pieces, like his Triscota cabinets, he mounts bricks of cast ripple glass onto iron doors as if they're armor, or he uses thick glass medallions in repeating patterns for screens and table bases. Sometimes, he still works with lava stone, a material that he finishes with his uncle, who is a ceramist. "Often, it imitates nature," says Côme. "One time, we opened a book on turtles, studied their shells and imitated one in ceramic, with green, brown and black glazes mixed together."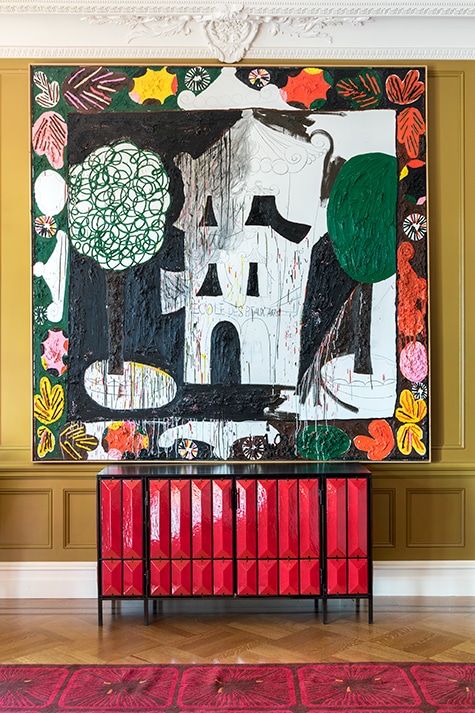 The beautifully unusual results of these efforts — visually light yet physically heavy, tough as nails yet as exquisite as jewelry — has won him many high-profile admirers. Architect Peter Marino has commissioned Côme to produce numerous pieces for Chanel boutiques, and designers including Los Angeles-based Michael S. Smith; New York's Joe Nahem, of Fox-Nahem; and Manhattan's Greg Dufner and Daniel Heighes Wismer, of Dufner Heighes, have tapped Côme to create custom works to help their projects transcend the ordinary.
"He uses amazing glass and all these other beautiful materials, which he incorporates into pieces that are almost industrial," says Nahem. "That combination is right up my alley." Among the pieces he's developed with Côme, many included in the new book Fox-Nahem: The Design Vision of Joe Nahem, are a long iron-and-glass-tube credenza for a project in Greenwich, Connecticut, and another cabinet on casters with a front that mixes glass and lava tiles, as well as a long-armed chandelier clutching glass blocks, for a penthouse in Manhattan's Puck Building.
Dufner Heighes has collaborated with Côme on room-defining screens for two Manhattan penthouses — one in the Meatpacking District, which has an orderly pattern of iron lines and glass disks, and another in Soho, where similar materials are deployed in exuberantly free-form compositions. "We love how Christophe uses glass in combination with hand-sculpted metal to create truly one-of-a-kind pieces for our projects," says Dufner. "They add a layer of texture and craftsmanship that elevates any room."
With ever-larger commissions and an expanding material palette, Côme appears to relish the challenge of pushing his art in new directions, even as he remains obsessed with traditional methods. After all, when working with materials as malleable as iron and glass, he notes, "there are infinite possibilities."
---
Christophe Côme's Talking Points
Christophe shares his thoughts on a few choice pieces.