May 28, 2021Collectible, the Brussels-based design fair, has always been a bit of a pioneer. A young upstart on the international scene and the only fair dedicated solely to the emerging and experimental collectible-design market, Collectible this year is addressing the challenges posed by COVID-19 with élan, developing a hybrid offline-online approach, complete with NFT furniture designs, a flurry of gallery shows and direct sales via 1stDibs.
This ambitious merging of platforms, approaches and realities might appear to have been intended from the start. But until the end of March, Collectible founders Liv Vaisberg and Clélie Debehault were still planning to hold the fair in its usual location: the 1930s Vanderborght Building in the heart of Brussels. A month before it was due to open, however, the number of COVID-19 infections in Belgium spiked, triggering a lockdown.
"At that moment, we didn't want to take the risk for our exhibitors, who placed their trust in us," explains Vaisberg, "especially as we have plenty of new exhibitors coming from abroad this year." Starting last October, Collectible, with support from the regional government, has built its own virtual exhibition and event platform designed to complement the physical fair. "Little did we know that the second act would become the main act!" Vaisberg says.
The proprietary digital platform that Collectible developed — Collectible Salon — doesn't try to do everything. The focus is on creating an exhibition-like experience while directing fairgoers to 1stDibs to purchase many of the pieces on display.
This has enabled new exhibitors like Copenhagen's Etage Projects to remain engaged without taking on the huge financial risk of shipping objects to Belgium during an uncertain period. The gallery is showing works by designer-sculptor Cristian Andersen, "social designer" FOS (who centers his practice on human interaction) and ceramist Karl Monies.
Going digital has also allowed Collectible to showcase even more works by young talents in its Curated Section, a core part of the annual show since its launch, in 2018. This year, it includes Adèle Vivet's Everyday Ornament vases, with Wedgwood-style ornamentation hidden on the interior; Aaron Blendowski's otherworldly Sublime Viewfinder mirrors; and Freia Achenbach's interlocking biomorphic shelving.
"Sales are good as people stay home and decide to invest more on design and art. So, overall, the market is doing well," says Debehault. "But it is way tougher for young designers, graduates and galleries who just started and don't have a strong and faithful client base. We try, by broadening their outreach as much as possible, to give them more sales opportunities. This is why the fair was created initially: to stimulate the market of contemporary collectible design and encourage people to collect more or start collecting this type of design."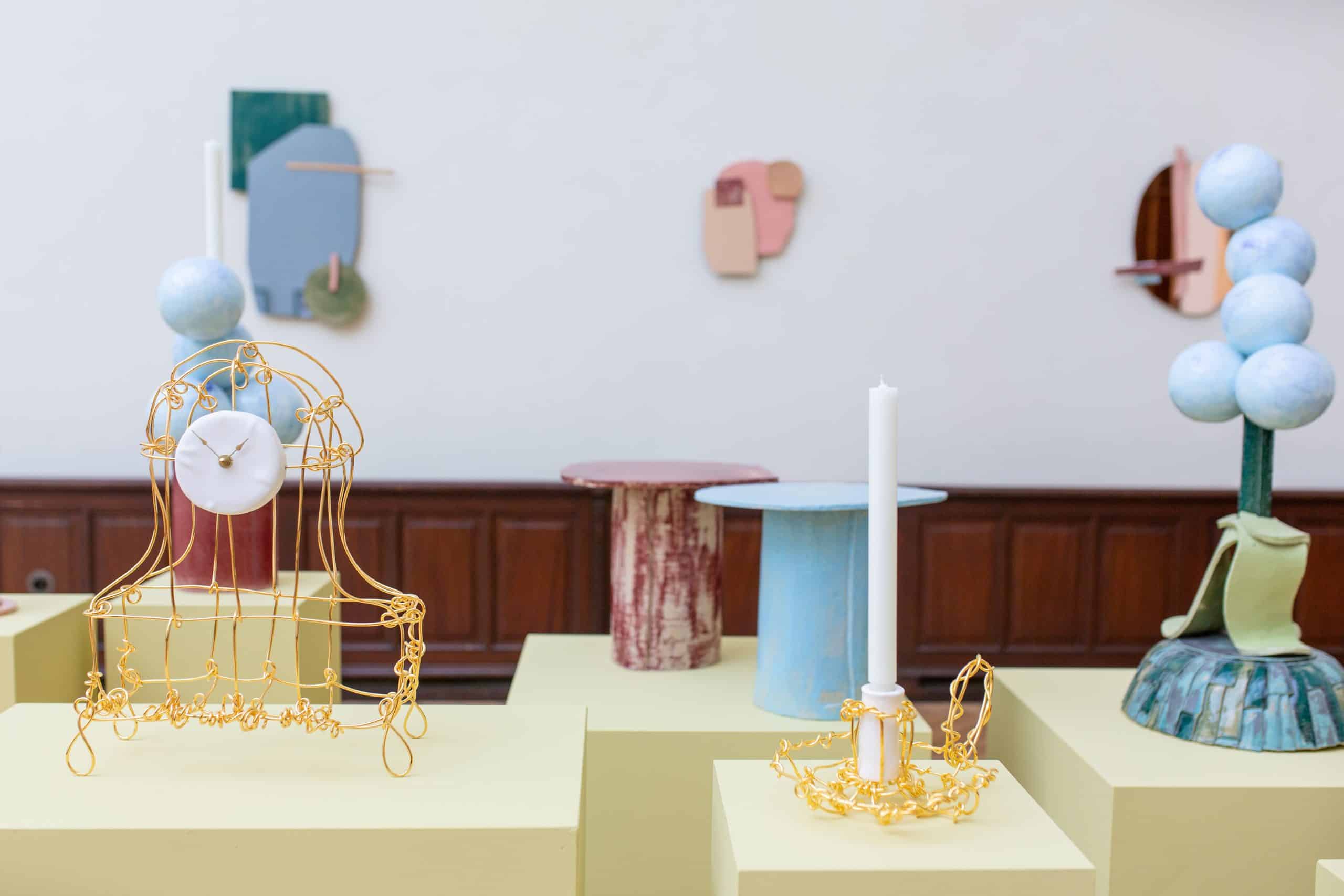 Alongside Collectible Salon, the fair launched Collectible Week (through May 30) — with events, talks and gallery exhibitions in Brussels for those who can make it there. Maniera, one of the first important galleries to emerge on the Belgian design scene, is showing a new collection from MOS Architects of indoor-outdoor furniture that riffs on the design principles of Shaker furniture. The pieces, including wooden peg-based seating and hanging racks, a multifunctional modular stove-cum-table, a seat made from modular perforated sheets of pigment-coated metal and irregular metal baskets that double as stools, is displayed simultaneously on Collectible Salon and in the Roelants House, an icon of Belgian modernism designed by Willy Van Der Meeren in 1962.
Maniera's own space is displaying an exhibition of new vases and vessels created by former fashion designer Ann Demeulemeester for Belgian brand Serax, displayed atop the gallery's collection of furniture by Studio Mumbai, the Indian architectural practice led by Bijoy Jain.
Over at Atelier Jespers, the young Rotterdam-based French designer Johan Viladrich has his own solo show. His furniture collection created from off-the-shelf parts like ventilation ducts and lengths of industrial plastic was a standout in last year's edition of Collectible.
Another solo outing worth noting is Kiki Van Eijk's "The New Harvest," presented at the renowned Lempertz auction house by the SPAZIO NOBILE gallery, run by TL Magazine editor Lise Coirier and Gian Giuseppe Simeone. Van Eijk, one of the leading names in a new generation of contemporary Dutch designers, is showing hand-stitched wall hangings she created from her own textile archive while stuck at home during the pandemic, together with her Ceramic Wall Stories line of hand-built mirrors and Ceramic Totems, a collection of colorful stacked clay objects like tables and candleholders.
Due to COVID restrictions, advance reservations are needed to visit galleries. It is a testament both to Belgians' hunger for post-lockdown cultural events and to the growing reputation of Collectible that many venues had been completely booked a week before the launch.
"There's no bigger event in the collectible-design/functional-art scene than Collectible. It's a very important part of the whole ecosystem in which we try to thrive," says Boris Devis, founder of Antwerp-based Everyday Gallery. Devis is presenting works by the Brussels-based assemblage artist Lionel Jadot and the up-and-coming Dutch-German duo Schimmel & Schweikle, who use digital modeling to create IRL furniture that is visually impactful and invitingly tactile, with a subtle sense of humor.
Devis believes the online platform and collaboration with 1stDibs this year will "exponentially increase our audience." Still, the pleasures of a physical show are not easy to replicate.
"To be able to experience the tactile nature of the works, to test their functionality and to experience how they interact with space are undeniably important," says Dallas Dunn, director of New York's Todd Merrill Studio, which is participating in Collectible for the third year in a row. "The artists we work with are creating pieces that are dynamic and dimensional and often cannot be truly appreciated unless viewed in person. Sometimes, their materials and the methods used to manipulate those materials defy standard practices, and photos can take you only so far."
Since its first edition, Collectible has developed a special atmosphere. Debehault describes the fair as a kind of "summer camp" for the community emerging around this market, while designers Merle Flügge and Job Mouwen, of Dutch studio Supertoys Supertoys, say their first experience with Collectible, LAST YEAR in the Vanderborght Building, felt "like coming home."
Still, showing online has some significant advantages. For instance, Dunn points out, "It has allowed us to show things that would otherwise be difficult to travel with" — such as ISAAC KATZ's Levitaz coffee table, which emulates draped fabric with polished bronze.
Many of the pieces on display represent responses to the unprecedented circumstances of the past year, with some makers finding in their work a form of adaptation and others taking advantage of the shift from off- to online to experiment with new approaches.
At one end of this spectrum is JeAN-LUC LE MOUNIER's Art Deco–inspired Cabinet Blanc, made of iridescent blue quartz and mica surrounded by polished white bronze. Mounier created the airy case piece, with its evocation of white sand and turquoise sea, to counter the isolation of working alone in a studio during France's lockdown.
At the other is a chair from Supertoys Supertoys' Water Is Also Just A Human series. The first of the duo's designs to be available as an NFT, it can be 3-D-printed as a life-size version or purchased as a handmade and hand-painted physical object. The designers have also created digital scenographies for presenting their works during the fair, in order, as they put it, "to enhance their narratives and give the viewer a more immersive experience."
For many, Collectible Salon offers a much-needed morale boost. This is particularly true for the younger participants, like Ward Wijnant, from the Netherlands. Wijnant is one of several designers who have found new potential in familiar materials, like the pressed aluminum foil he uses for his Chunk collection of brightly hued candleholders and mirrors.
"Everyone has encountered their own problems in this crisis," Wijnant says. "For me in particular, the lack of exposure was very frustrating, and I think galleries and other designers will recognize this. I'm very glad that better times are coming!"