Some artists just can't be pigeonholed. For these multidimensional talents, a single medium isn't enough. They move with ease from one discipline to another, their work in one area cross-pollinating the next. For instance, there's Rei Kawakubo, founder of the famed Japanese fashion label Comme des Garçons, who briefly took up furniture design nearly four decades ago "as a form of relaxation," her assistant told the New York Times in 1984. A svelte chair of steel tubing, recently available through Somewhere Tokyo, and a coffee table made of two triangles of unpolished granite, offered by 1stdibs dealer J. F. Chen, came out of that period of exploration. Meanwhile, Kawakubo's radical clothing designs of similar vintage are well represented through many 1stdibs galleries. Join us in discovering the phenomenon of crossover artists who've ventured into fields different from those in which they first made their names.
---
Rick Owens
Paris-based, American-born designer Rick Owens is another fashion-world figure who has turned to furniture design in recent years. His distressed-leather jackets and punk-inspired garments, found among the offerings of such 1stdibs dealers as Cris, Sui Generis, Eurotrash and Strut, have had a global following since the 1990s.
Less well-known are the furnishings Owens and his partner, Michèle Lamy, have been producing in Paris for the past decade. These include monumental tables informed by late 20th-century Brutalism and massive, ancient-looking urns of cast bronze. "Rick Owens: Furniture," an exhibition on view through April 2 at the Museum of Contemporary Art in Los Angeles, is sure to raise his profile in that arena.
"Rick's fashion has always had a cult following, and his current work is even more avant-garde," says Lukas Machnik, of Chicago- and Paris-based LMD/studio, which showcases Owens's recent production in concrete, bronze, alabaster and even plywood. One best seller is a dining table with a raw, unsealed brass top on an ebonized plywood base. "We'll see the piece age with time, as the patina develops naturally," Machnik says.
Part of LMD/studio's intent in collaborating with Owens and Lamy is to help revive practices like pouring bronze and hand-carving marble in "an age when technology is taking over from techniques that have existed for thousands of years," Machnik says. "Our mission is to embrace these ancient techniques and celebrate them."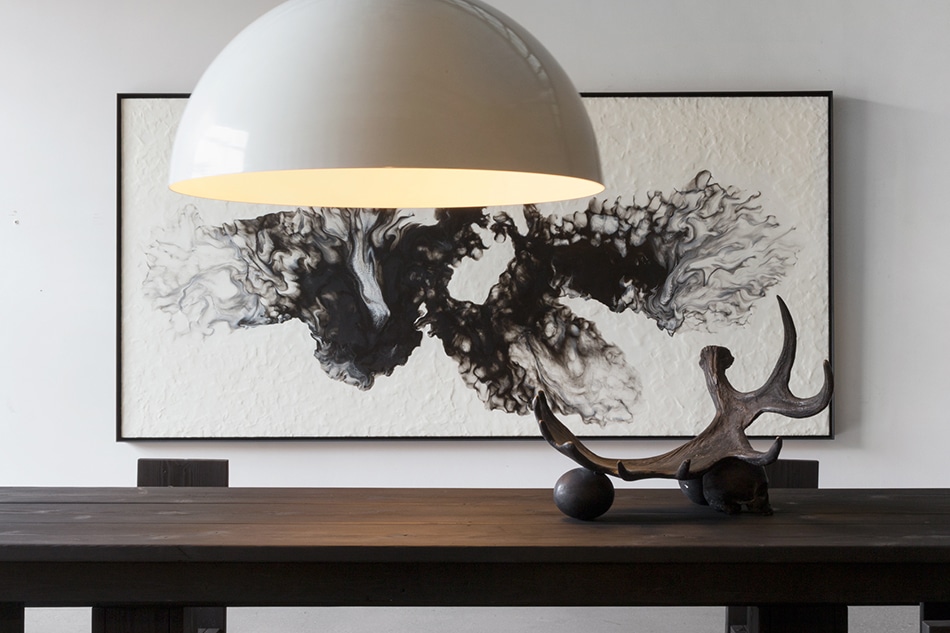 ---
Martha Sturdy
Everything Vancouver-based artist Martha Sturdy has ever made, whether three inches or three stories tall, goes back to her 1970s art-school education in sculpture. Early on, before she could afford a large work space, Sturdy made boldly scaled earrings — she prefers the term "wearable sculpture" — that became favorites of editors at Harper's Bazaar and Vogue (there's a selection on the 1stdibs storefront of Route 66 West).
Over the past 20 years, she's gained an extensive following for her minimalist home furnishings in brass, steel, resin and charred cedar, collaborating with high-profile design firms like Donna Karan, Calvin Klein, Marc Jacobs and Louis Vuitton.
On another scale entirely, one recent piece — two human figures cut out of steel for the wellness garden of Vancouver General Hospital — stands 28 feet high. But regardless of size or material, says Sturdy, "The whole story is really about sculpture."
These days, much of Sturdy's work is nicely scaled for residential use. Her 1stdibs storefront displays her current production: ribbon-like brass sculptures and anthropomorphic steel pieces from a series called "People," as well as floating coffee tables, lamps and other furnishings made of hand-crafted resin, a material Sturdy also favors for abstract wall art. "Nobody paints with resin," she says. "It sets up and gets hard as a rock in half an hour. But that's what I wanted to do, so that's what I did."
Maybe it's because of their timeless Zen quality that customers in China and Japan respond so enthusiastically to Sturdy's pieces, which she says are inspired by the simple beauty of nature. "My art reflects a reverence for everything in our world: the crashing waves, the frost on a window, flowers, leaves, snow and ice."
What keeps Sturdy evolving as a mature artist? "Growing and changing is what life should be," she says. "If you locked me into one dimension, I would be very bored."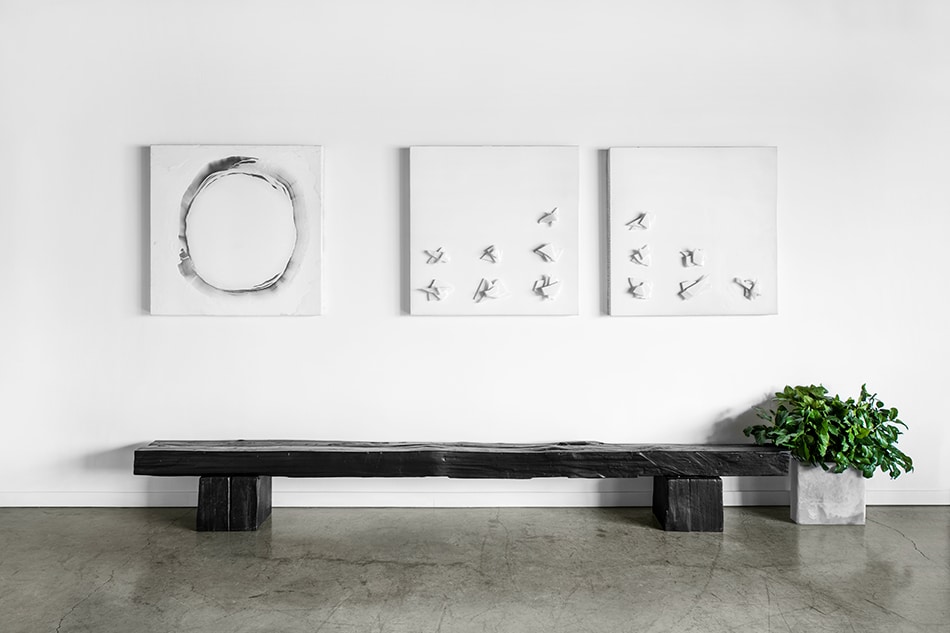 ---
Jacques Jarrige
Jacques Jarrige "creates the piece as he makes it," says New York–based Valerie Goodman, who represents the multidisciplinary French artist. "He has an ongoing dialogue with whatever material he selects."
Since deciding against a planned career in architecture decades ago, Jarrige has moved fluidly between art and design. He started experimenting with metal rods for furniture design in the 1980s, later expanding his materials to include wood, MDF (medium-density fiberboard), brass and aluminum. Most recently, he added wool to the list, designing his first in a line of carpets produced by Diurne in Paris for the Valerie Goodman Gallery.
Along the way, Jarrige developed a unique vocabulary that manifests itself across the various media. Even the artist's new cream-colored rug has his characteristic meandering lines cut into the pile.
Unlike designers who start with a careful drawing, Jarrige has a very direct methodology. "You can really feel his hand in the pieces," says Goodman. His line of exquisitely balanced earrings and necklaces made of shimmering strips of metal began with "banging on strips of aluminum and seeing how they responded," the gallerist says. "As he shaped them, they became his 'Waves' sculptures, then jewelry that moves with the body."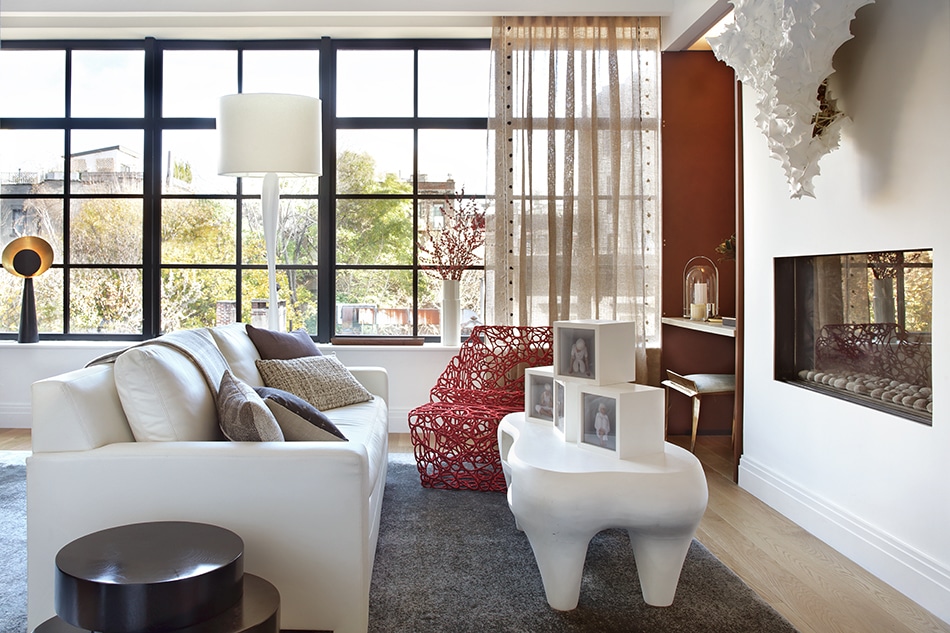 ---
Barbara Nanning
Most artists have a Big Idea that carries through their entire oeuvre. Barbara Nanning's could hardly be any bigger. For 25 years, the internationally renowned Dutch artist has taken the rounded shapes and swirls of the cosmos as inspiration for her ceramics, glass and stoneware, the grandest manifestations of which are monumental public sculptures in Europe and Japan.
Nanning's latest artistic foray is into jewelry design for the Amsterdam-based company And Sparkles, founded by cousins Daniel and Ronald Schipper, whose family has longstanding ties to the European diamond and jewelry trade. The Schippers also have an innovative business concept: They partner with design talents who might otherwise be prevented by the cost of materials from applying their genius to jewelry.
The cousins reached out to Nanning, whose work they had always admired. "She had never designed jewelry before but was inspired by the challenge," Ronald Schipper says. As it turned out, "her work translates exactly into jewelry."
Nanning created a line of 14 designs with names like Galaxy and Kiss Kiss — some bold and graphic, others demure and feminine — for rings, earrings and pendants, all found on And Sparkles' 1stdibs storefront. Another And Sparkles innovation allows clients to customize their pieces by selecting the metals and gemstones (yellow gold and diamonds are the most popular combination for U.S. customers, Schipper says).
Crafting on such a small, intimate scale is different from Nanning's prior activities only in that "it becomes more about refinement and detailing," she says. Otherwise, "I treat all my work as though it were a jewel."