January 8, 2023So many lines are being crossed in the New York design gallery R & Company's new show, "The American Job," that it is hard to keep track. 
The distinction between functional craft and art? Thrown right out the window of the 1970s Cadillac that is lovingly depicted in a sculpture. The fine membrane that separates kitsch from high art? Also roadkill.
Job Smeets — the Belgian-born designer who created the 22 pieces on view at the Tribeca gallery until January 27 — has taken a gleeful, riotous and satirical approach to his work ever since founding Studio Job (pronounced YOBE), in 1988. These days, he leads a team of 25 artisans.
Smeets rose to prominence in American design circles when he started working with influential dealer Murray Moss on signature series like 2007's "Robber Baron," described by the studio as "tales of power, corruption, art and industry, cast in bronze." (As part of the R & Company show's launch, the gallery hosted a conversation between Moss and Job.)
The new exhibition is a mix of elaborate bronze sculptures in small editions, hand-painted with a remarkable level of detail, and drawings in crayon and ink. Several of the pieces are "illuminated sculptures," meaning that they can be used as lights, "but it's functionality-optional," says Smeets.
That's true of pretty much everything in the show, a trait that fits well with R & Company. "This goes further than my previous work in that direction," the designer says of his move toward pure art objects. (Even the "Robber Baron" series was described as "furnishings.")
Smeets's subject is a summer road trip across the United States that he took in 2019, in the Before Times, when we didn't know the word COVID. His British-born partner, Rebecca Sharkey, was along for the ride.
"I love America," Smeets remarks during a recent tour of the exhibition. "But a lot of people don't know it beyond the coasts, beyond Miami, New York and L.A.
"I wanted to do an American show," he adds, "but I decided to be a Method actor." By that he means that it was time to drive right into the middle and actually experience what the rest of the county was like. And he did it in a Cadillac Eldorado that, he says, "broke down every fifty miles because it hadn't been driven in fifty years."
The car itself is rendered as a massive, 880-pound gold-leafed sculpture called Eldorado. It's a museum-worthy piece that hangs from a chunky chain, with wheels that actually turn and headlights that work, too.
The auto became a calling card of sorts on the trip. "Everyone talks to you," says Smeets. "They say, 'Oh, wow, man, cool car!' " Stopping in Tennessee, Oklahoma and New Mexico, among other states, Smeets met locals and formed strong, if mixed, impressions.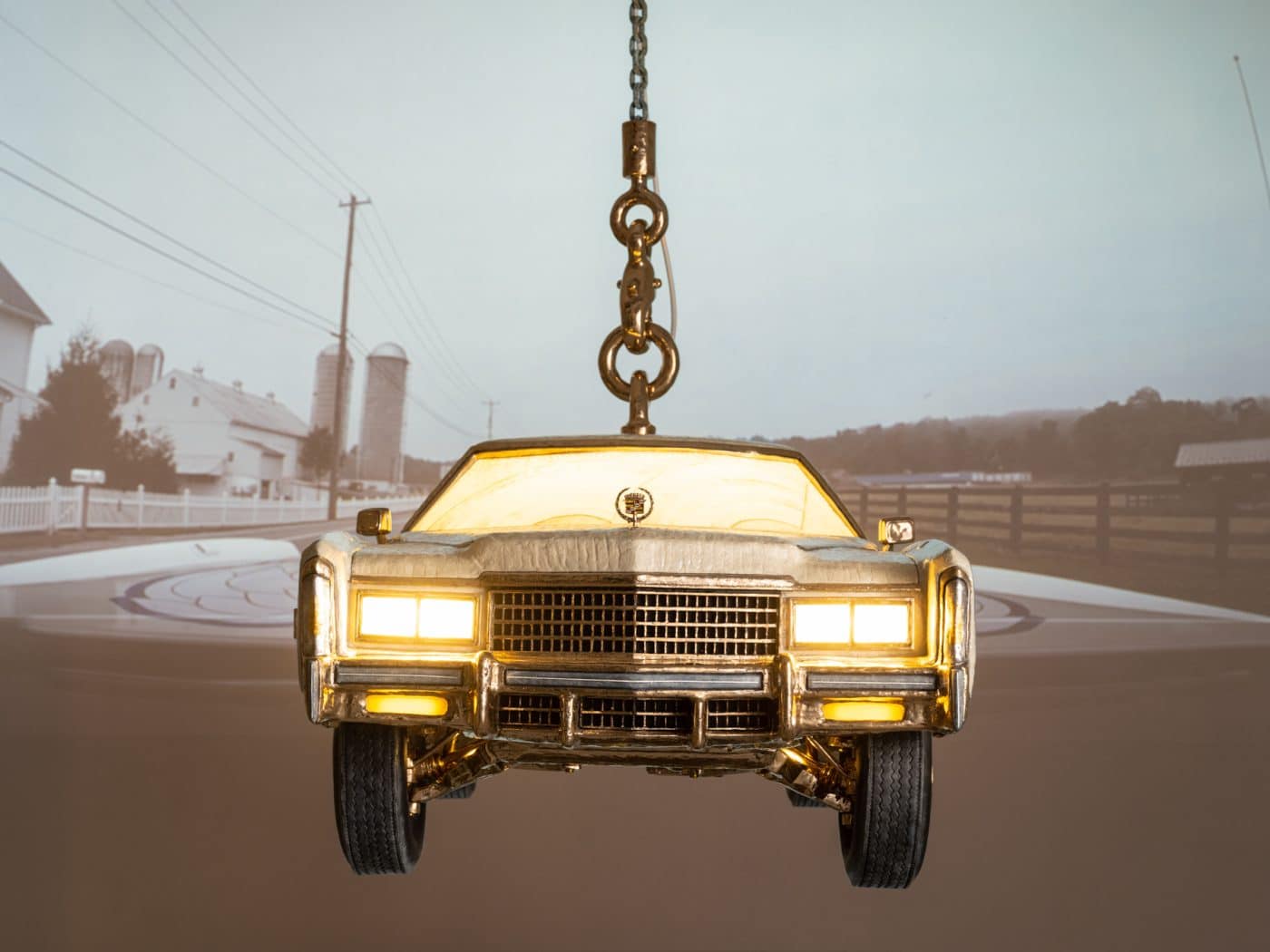 "I noticed a giant gap between the cities I knew and the rest of America," he says. Of the latter, non-coastal areas, he adds, "People were always showing us their guns — but they were also really nice."
Smeets doesn't attempt to reconcile any contradictions. He simply leans in to his personal gut reactions. "This is America through my eyes."
His nine-foot-tall bronze Lady Liberty shows the familiar statue weathering a storm, her torch and robe aflutter in a stiff wind, waves crashing below. Her head can hinge backward, and she is full of secret drawers, suggesting that things are not what they seem.
Prodigal Son, a bronze side table, is composed of a blond boy holding a silver tray above his head, à la Atlas carrying the whole world. The boy's blue gingham pajamas have such a loving paint job that it is difficult to imagine that they are not really silk.
Good taste has never been Smeet's bag — he has programmed his studio's website to have a cursor icon in the shape of a hand that raises its middle finger as you move it around. He indulges his bad-boy bent in Pollock, a silver- and gold-leafed bronze table whose legs and base depict Jackson Pollock's car-crash demise, complete with flames.
And has anyone ever done a tender drawing of the Pentagon? Smeets has here, with the famed five-sided Defense Department building looking strangely toy-like and benign.
The emotional core of the show is Elvis and Graceland. "Graceland was my favorite place," Smeets says of his itinerary. "If you haven't been there, get in the car and drive. It's so beautiful." He and Sharkey found out that she was pregnant with their son while there, and they named him Elvis.
The bronze Las Vegas depicts one of the King's flamboyant late outfits, but the man himself is missing. There are sculptures of Elvis's slicked back hair, but no head underneath, and ditto for the rendering of Priscilla Presley's coif.
Smeets sees these pieces as reliquaries. The affection evident in them is "about my experience of having children, becoming a more soft guy," he explains. "My earlier work was a little harsher."
That slight sweetening also reflects his take on the country he traveled through. "America is in many ways a very poetic country," Smeets says. "I wanted to show the soft side, not just the hard side."