On December 6 of this past year, my partner, Franklin, and I crossed a state line and moved from New York City to America. After living together in Manhattan for 46 years, the last 12 in an iconic 1970s glass tower on Fifth Avenue, with all our needs (food, dry cleaning, house repairs, deliveries and basically everything else) provided or arranged for by the voice at the other end of the house phone (even my barber was in the building), we moved to a small town outside New Haven, Connecticut.
We had fallen in love — truly at first sight — with a house that looks like a Zillow listing of Snow White's residence: a 1929 Colonial Revival, but only sort of, as it borrows heavily from the picturesque cottages of the late-Medieval period and features an overhanging second story typical of what is referred to as Garrison architecture. To be honest, however, it wasn't the romantic, absurd-yet-graceful pastiche of the architecture that made the sale; nor the diamond-pane leaded windows; nor the acres of knotty alder wood paneling, fancifully hand hewn by the original architect's Danish master craftsman; nor the Gothic arches of the two pairs of French doors leading to a terrace, which are more evocative of Noel Coward than of some Colonial dame; nor the general quirkiness of the out-of-nowhere architect, Alice Washburn, who obviously had a fixation with doors that rivaled Morris Lapidus's talent for providing as many opportunities for grand entrances as possible (our house has more than 50 wood-paneled portals). What instantly made it "ours" was the fact that it is painted a lovely red. Not fire-engine red. But toasty-orange red.
Leaving Big Apple Island is not ever applauded, regardless of the circumstances, by its inhabitants. Moving off the island is considered somehow treasonous and in some ways a betrayal, even if one no longer needs to actually be in a metropolis every day and longs for bucolic mornings with coffee on a terrace and birds in the tree and new conversations with a new cast of characters, as did we. In short, for nearly 50 years, we lived at court, enjoying our participation in the intrigues, the ambitions, the politics and the society of a contemporary Versailles. But the time had come to move on.
Lifelong friends assured us, "You can always come back." We were warned, however, "If you decline a dinner invitation more than once, you'll never be asked again."
There was also a general sense that people thought we would die in the wilderness (that is, outside the castle walls of NYC), since we don't know how to "do" anything other than our work. This, in fact, has been somewhat of an embarrassment. For example, food acquisition and preparation. We signed the contract for the house without even noticing that it had no stove. And when we bought a stove, we had to go grocery shopping, and we were frozen in place upon entering the nearby 47-aisle Stop & Shop. Completely out of our depth, we awkwardly filled our cart with oddities like frozen chicken potpies and other prepared foods, such as double-baked potatoes and a guacamole party platter. We were unfamiliar with this type of retail and noticeably insecure. Franklin began to count out loud the number of items in our cart, to see if we qualified for the fast-lane checkout. And when asked whether or not we wanted the groceries bagged, the perplexed look on our faces (how else would we transport our dinner to the car???) triggered a look on the cashier's face that we would come to recognize on many of the faces of staff members at such places as Home Depot, Ikea, Walmart, Staples and even the dry cleaners — a look that was accompanied by a bubble over their head that read, "Oh, my God, aliens!"
The first hurdle — socially speaking — was getting accustomed to the reality of having neighbors who enjoy being neighbors. In New York, we lived in apartment 29A. In the 12 years we were there, we never met or even saw the person/persons who lived in 29B.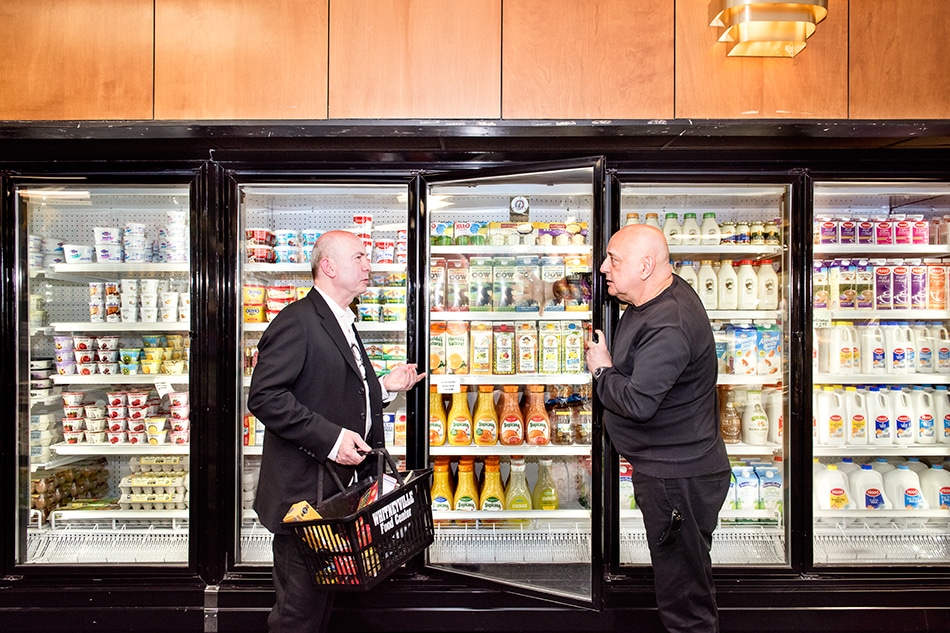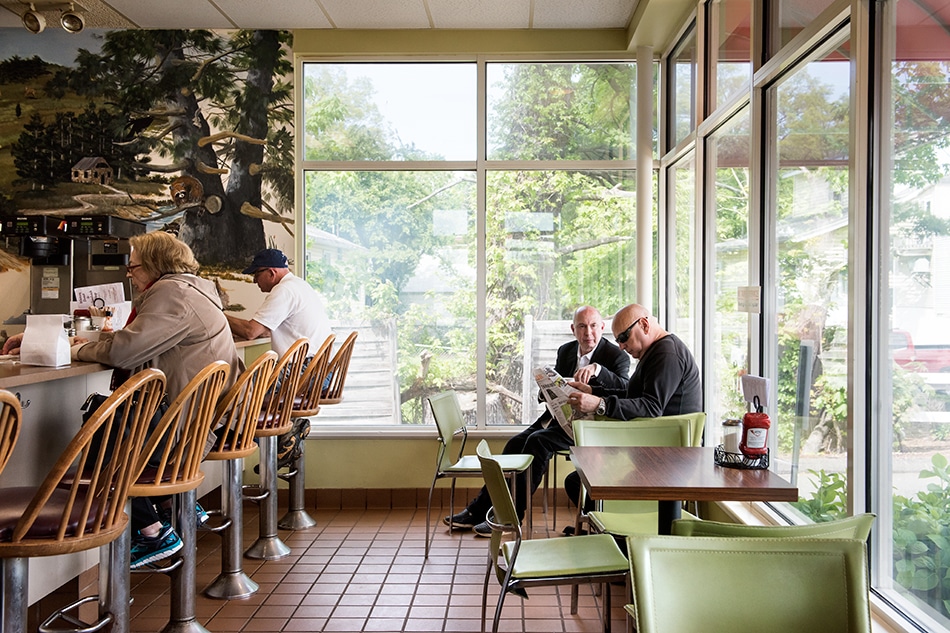 Here on Blake Road, they introduce themselves to us even when we waddle out in the snow in our underwear and tall snow boots at 6:30 in the morning to pick up the newspaper that was earlier tossed onto our front lawn. They ring the doorbell bringing bread and salt. They invite us for dinner. Turns out we live on a tony road, with rare exception all 1920s to '30s Colonial Revivals or Tudors. However, the currency here is not money but accomplishment. A Yale block through and through, our neighbors include several deans, a Nobel Prize–winning chemist, the man who invented a vaccine for rabies (or perhaps another disease) and a woman who facilitated the repatriation of dinosaur bones to Mongolia (or something to that effect; the accomplishments began to get murky and a bit entangled in our minds after a while). Here in Academia — a land I used to think was as fictional as Shakespeare's Illyria — one doesn't first ask, "Where do you live" (New York–ese for "How much are you worth?") but rather, "Where did you go to school?" Our red house was, in fact, built for a Louis W. McKeehan (1887–1975), director of the physics laboratories at Yale. Taking leave from his teaching position in 1940 to help out with the war effort, he was the driving force behind the creation of the homing torpedo.
Franklin and I feel that, inasmuch as we live here now, we must contribute to the accomplishment pool for which our road is recognized, but in our own field. So, in spite of the current nonmaterialistic gown-and-mortarboard paradigm, we have installed in our Revival abode an informed but nonetheless "contemporary" decor, replacing, for example, candle-bulb ye-olde brass wall sconces with Ingo Maurer lights wherever possible and hanging my collection of black-and-white photographs over reproduction 19th-century wallpaper. In addition, we are contemplating opening, most discretely and by appointment only, what we will name the Torpedo Gallery (our attic), where we hope to introduce the uninitiated of this New World to the wonders of the Material World, unimagined here even amongst the laureates.