Brutalist Furniture and Design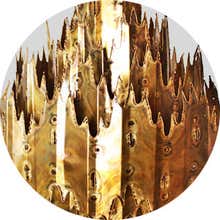 Brutalist Furniture and Design (UNITED STATES AND EUROPE)
The term brutalism — which derives from the French word brut, meaning "raw" — was coined to describe an architectural style that emerged in the 1950s featuring monumental buildings, usually made of unornamented concrete, whose design was meant to project an air of strength and solidity. Le Corbusier essentially created the brutalist style; its best-known iterations in the United States are the Marcel Breuer–designed Whitney Museum of American Art and Paul Rudolph's Yale Art and Architecture Building.
Lately, the word "brutalist" has been adopted by the realms of design and the decorative arts to refer to cabinets, tables, and accessory pieces such as mirror frames and lighting that are made of rougher, deeply textured metals and other materials that are the visual and palpable antithesis of the sleek, smooth and suave. Brutalist design encompasses that which is crafted, hewn and worked by hand — an aesthetic rebuke (or, at least, a counterpoint) to furniture that is created using 21st-century materials and technology.
Paul Evans is Exhibit A for brutalist design. His Sculpture Front cabinets laced with high-relief patinated steel mounts have become collector's items nonpareil, while the chairs and tables in his later Cityscape series and Sculpted Bronze series are perhaps the most expressive, attention-grabbing pieces in modern American design. Other exemplars of brutalist design are Silas Seandel, the idiosyncratic New York furniture designer and sculptor whose works in metal — in particular his tables — have a kind of brawny lyricism, and Curtis Jere, a nom-de-trade for the California team of Curtis Freiler and Jerry Fels, the bold makers of expressive scorched and sheared copper and brass mirror frames and wall-mounted sculptures.
The names of other brutalist designers are, so far, unknown to history. The furniture and sculptures on 1stDibs lend unique, eccentric, human notes to an art and design collection.