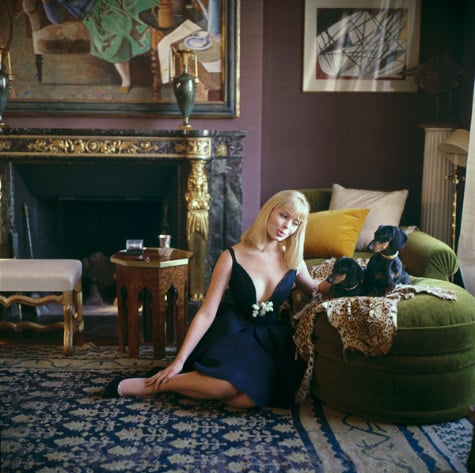 Pablo Picasso had Lump. Andy Warhol had Amos and Archie. Pierre Bonnard owned six successive dachshunds, each with the fanciful French name Poucette. And David Hockney once told The Independent that heaven, if he were honest, was his living room seen from Stanley and Boodgie's point of view.
It's no secret that artists have long had an affinity for dachshunds, which has informed some of their most famous works (see Warhol's 1976 silkscreen print Cats and Dogs [Archie] and Hockney's 2006 picture book, David Hockney's Dog Days). American photographer Toni Frissell, who owned a couple of the canines, documented their outsize personalities in the 1940 black-and-white photo Woman with Two Dachshunds. "It's a charming relationship," Takouhy Wise, cofounder of New York's Staley-Wise Gallery, remarks of the chemistry between the dogs and the individual in the photo. "They're as attentive to what she's doing as she is." (Wise herself formerly owned two wirehairs.)
German fashion model and Velvet Underground chanteuse Nico even posed with two black and tan doxies in a photo by Mark Shaw for Life magazine. But designers are equally spellbound by the dogs' elongated shape, as a cursory search on 1stdibs proves.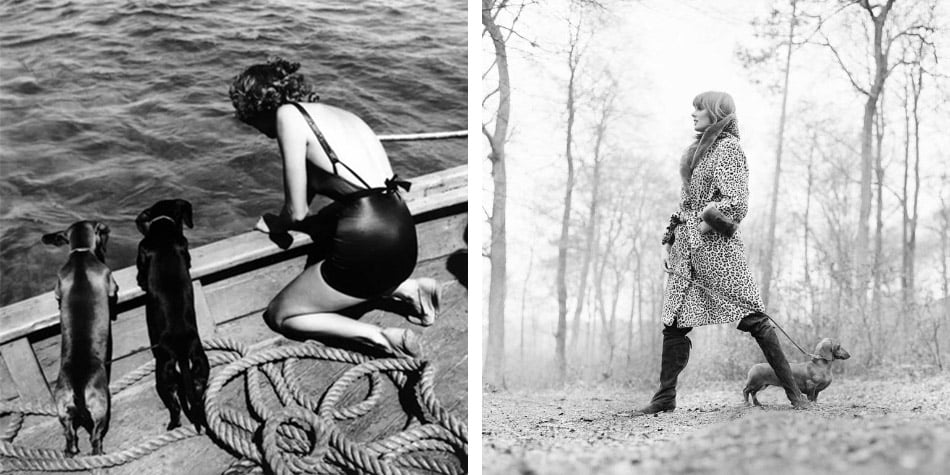 Sarah Coffin, the curator and head of decorative arts at Cooper Hewitt's Smithsonian Design Museum, agrees. For designers, "there's a tendency to think of that shape and how you would use that shape," she says. Particularly in large cities, where smaller dog breeds are common, it isn't hard to spot dachshund motifs adorning tall coffee mugs or high stools with flat tops. The dogs' comical form makes them ideal for "lighthearted designs," Coffin notes, and dachshund owners "tend to be a little amusing and offbeat as well," which may explain the appeal.
We asked a handful of creatives to share how the stumpy-legged creature has informed their work and their day-to-day lives.
---
Katie Ridder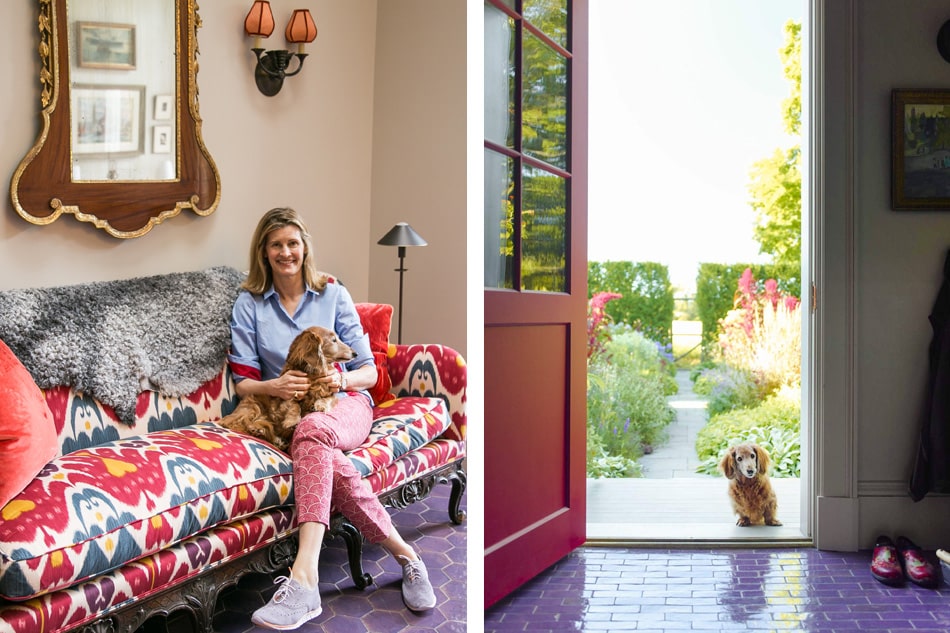 "I love the look of dachshunds, especially long-haired, red-colored dachshunds," says New York interior designer and entrepreneur Katie Ridder. "It's a lot of dog in a small package." After losing a pair of aging dachshunds one summer, Ridder drove five hours to meet Teddy at a breeder in New York's Adirondacks without telling her husband (the classical architect Peter Pennoyer). Once she came clean about her errand, "Teddy was ours!"
The 16-year-old pup's silken fur reminds Ridder of the high-gloss paints and smooth fabrics that define her interiors. "Soft and shiny," she muses. "Both words describe my dog's coat and my design choices."
---
William Sweetlove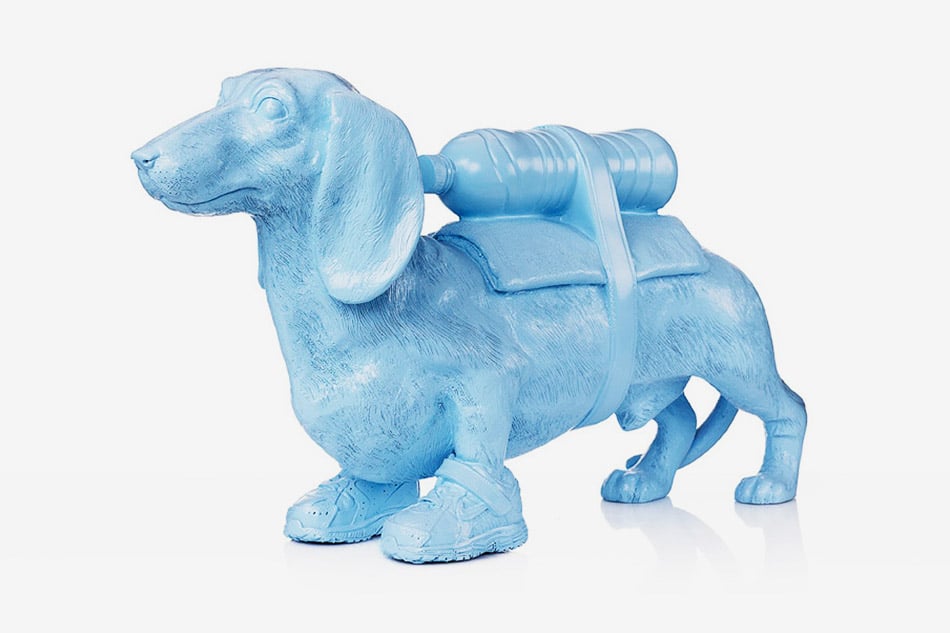 Forty years ago, the Belgian artist William Sweetlove told himself that if he wanted to get into a museum, he would need to make something original and tell a great story. He decided to focus on science, particularly his mounting concerns about climate change, and cast his sculptures of penguins, dogs, chickens and crocodiles in resin, a material derived from petroleum.
With water bottles strapped to their backs, his colorful dachshund sculptures from the series wear a solemn expression you might expect to find on a pet braving the apocalypse. The dogs' sneakers and bottles are warnings about the harm we are doing to our planet, Sweetlove explains. As for why he chose the dachshund, his reasoning is simple: "He's a special dog, like a hot dog on feet, and he's very popular."
---
Luke Edward Hall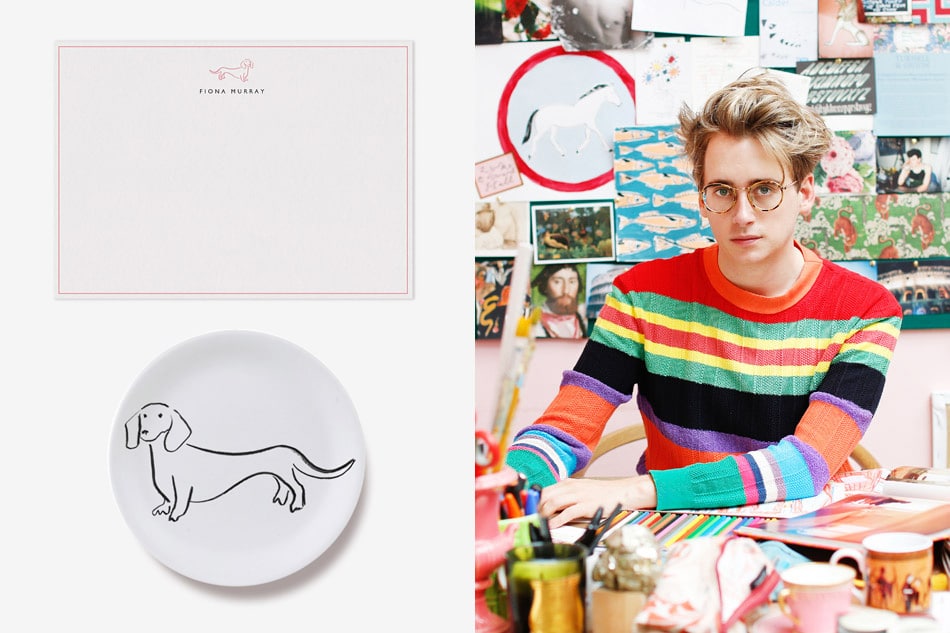 "I'm not sure why, but I've always been a bit fanatic about dachshunds," says London artist and interior designer Luke Edward Hall. "I don't have a dog, but if I were to get one, it'd probably be a dachshund. I think it's that combination of tiny legs, big ears and a wise face that make it so charming." His hand-drawn renderings of dachshunds have graced everything from ceramic plates to a note-card set for stationery maker Papier. "Their shape makes them very pleasing to draw."
---
Simon Kemp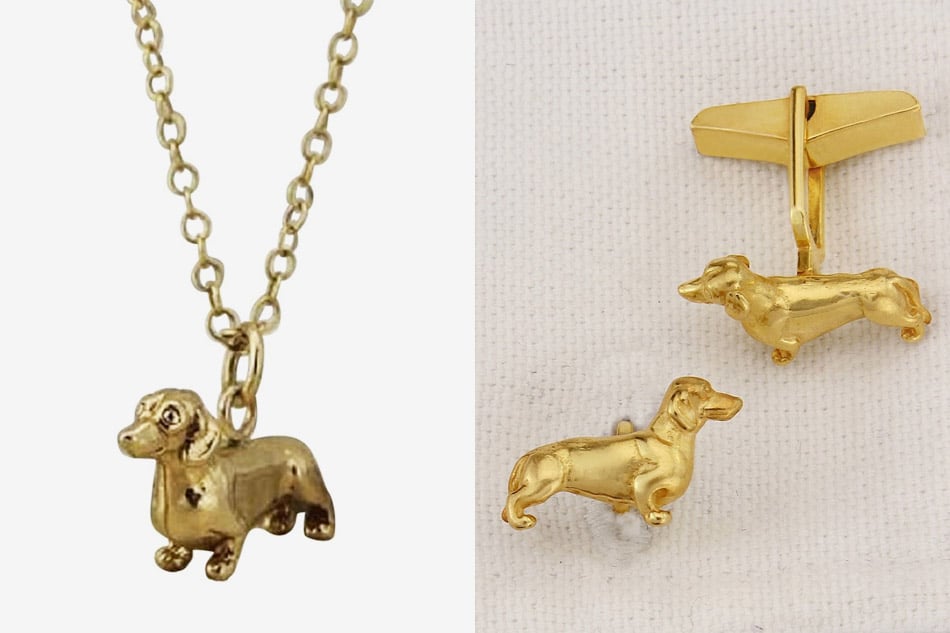 London-based jewelry maker Simon Kemp is also susceptible to the charms of the dachshund. To bring the breed's playful character to life in necklace form, he crafted a pendant in the form of a doxie with saucer-like eyes and an upturned mouth, cast in sterling silver or solid nine-carat gold (an 18-inch chain is included). Matching earrings, cufflinks and charm bracelets are also available.
"Our aim is to keep the lovable personality of the dachshund intact," says Kemp, who counts the National Trust of Scotland and London Zoo among his high-profile clients. "The body is compact and realistic, and the whole dog is effectively a miniature sculpture."
---
Sarit Shani Hay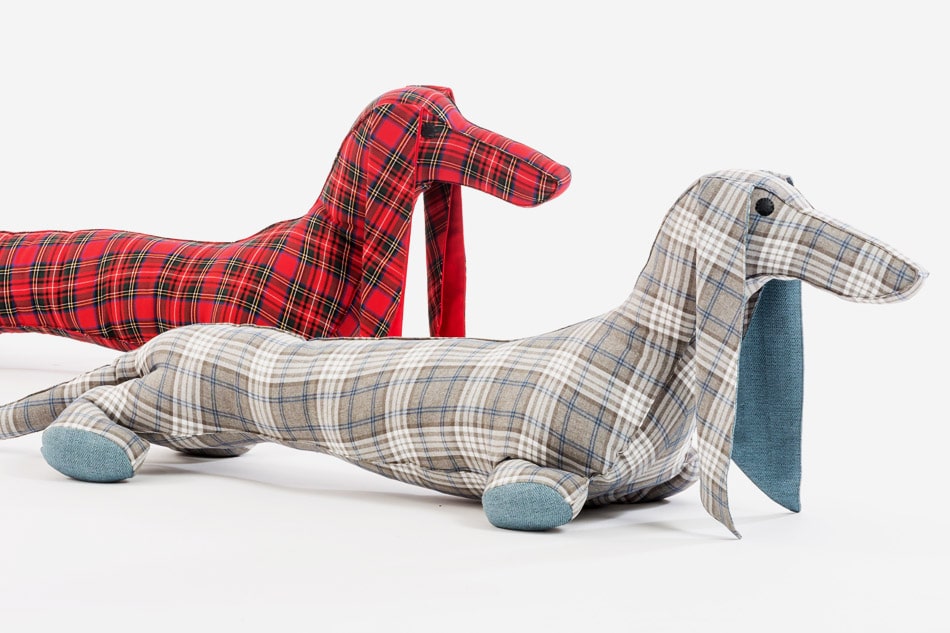 When the Israel Museum in Jerusalem commissioned Tel Aviv–based designer Sarit Shani Hay last year to create a series of handmade dolls for the "Cats + Dogs Exhibition," which celebrated the deep connection between people and animals, she immediately thought of a dachshund. "When I was a young girl, I always dreamed of owning one," she says. "I find that the breed has a very human quality to it."
She set about translating the dog's "long ears and long body" into a long pillow that can be held at any time of day. Custom sewn and hand-stitched using a variety of fabrics, the item, which is sold in two sizes on Kinder Modern's 1stdibs storefront, pays homage to "a beloved breed of dog that appeals to kids and adults alike."
---
2 Lovely Gays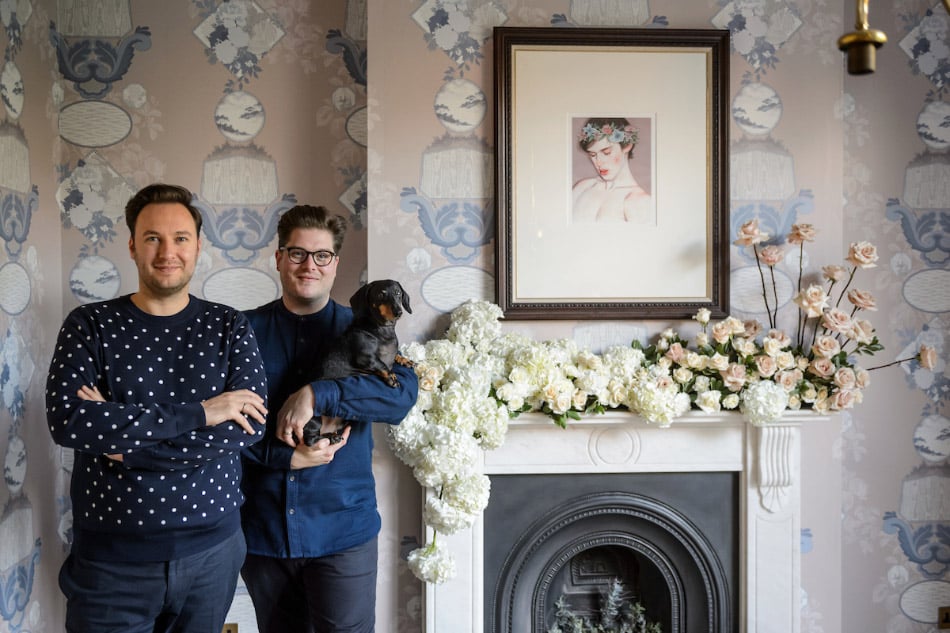 The breed's "cheeky" personality drew Russell Whitehead, a London interior designer, to Buckley, the short-haired dachshund he shares with his partner in business and life, Jordan Cluroe. (It didn't hurt that his great-grandparents, grandparents and parents all owned doxies.) "They are complex souls, and their eyes so expressive," says Whitehead, who, with Cluroe, runs the firm 2 Lovely Gays. "Perhaps designers love the madness of their shape — so extreme, but still so elegant."
---
Maira Kalman at Julie Saul Gallery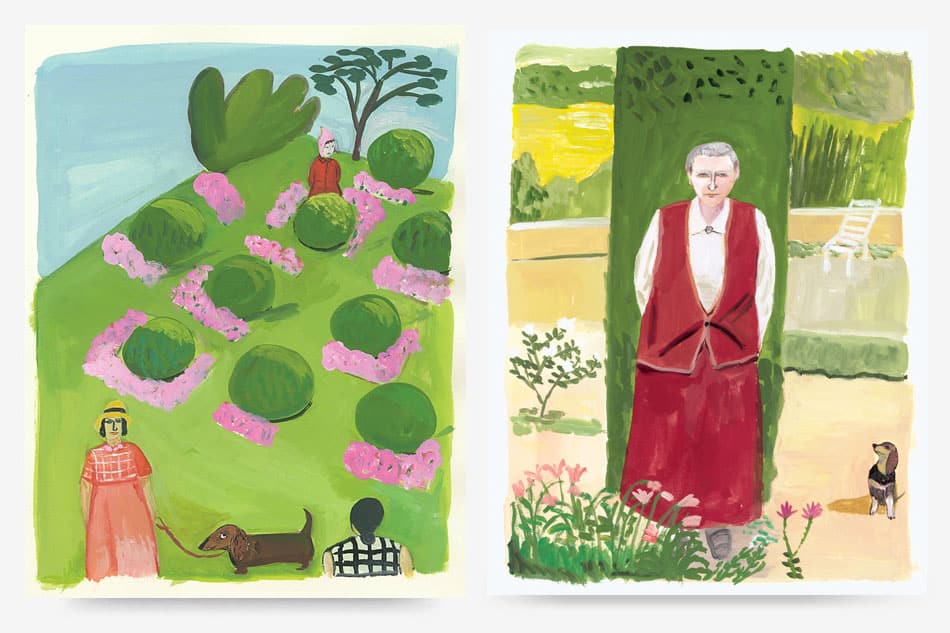 The Israeli-born illustrator Maira Kalman is known for her depictions of all breeds of dogs, not just dachshunds, says New York gallerist Julie Saul, herself a dachshund owner. However, there's something undeniably human about her doxie images. "They're incredibly appealing graphically," says Saul, who owns a seven- or eight-year-old rescue named August. "In general, she has love and beauty and humor in all her work, and that really applies to people and dogs."
---
David Scott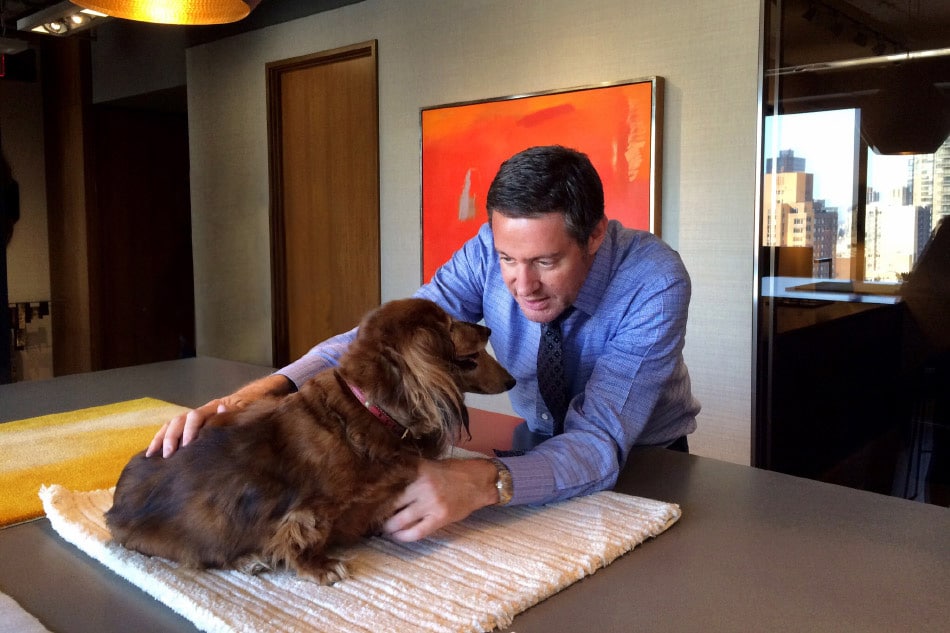 Sixteen years ago, when interior designer David Scott laid eyes on a group of long-haired dogs at Dachshund Octoberfest in New York's Washington Square Park, he was immediately smitten. He promptly tracked down their breeder, and soon enough, Ethan, an English Cream with the regal good looks of a show dog, and Josie, another longhair with red shading, were his. (The beloved pair, who both passed away over a year ago, appear in Michelle Rose's photography book K 9-5: New York Dogs at Work, published by Pointed Leaf Press.)
"I was extremely attracted to their colors, that mixture of the light tones with a little bit of dark in them," says Scott, whose interiors, like his dogs, tend to feature warm hues. "As a young boy, I decorated my room in safari tones, and there was a lion," he recalls. "Ethan was the exact colors of a lion." The doxies' intelligence, apartment-friendly size and minimal dander were also a plus. "They have big personalities," he says. "Also, they're super elegant."