In their nearly 20 years as partners, Carl D'Aquino, an interior designer, and Francine Monaco, an architect, have created scores of playful and inventive homes. "We have a lot of fun here," D'Aquino says at the Manhattan offices of their firm, D'Aquino Monaco. Often the fun involves using colors in original and unexpected ways. In a Boston townhouse, the runner on the main stairway changes hue as it spirals upward, introducing colors that reappear in the adjacent rooms. "Consider it a key," says D'Aquino. In the case of a house in Tuxedo Park, New York, he had the living room walls painted in stripes of 27 different colors. But the effect is so subtle that people first think they're looking at shadows, says D'Aquino, "and when they realize it's paint, they do a double take."
But don't think Monaco, the architect, had nothing to with the decision to use all those colors. "Carl is a decorator, I'm an architect, and together we design," she says. "It's a complete collaboration between two disciplines. And that dialogue allows us to make decisions as to when you turn up the volume on an architecture move versus a decorating move."
Besides, Monaco adds, "I resist the narrowness of thinking about color as just decoration. What we did in Tuxedo Park was an architectural intervention, since the layering of color on those walls changes how you perceive the space."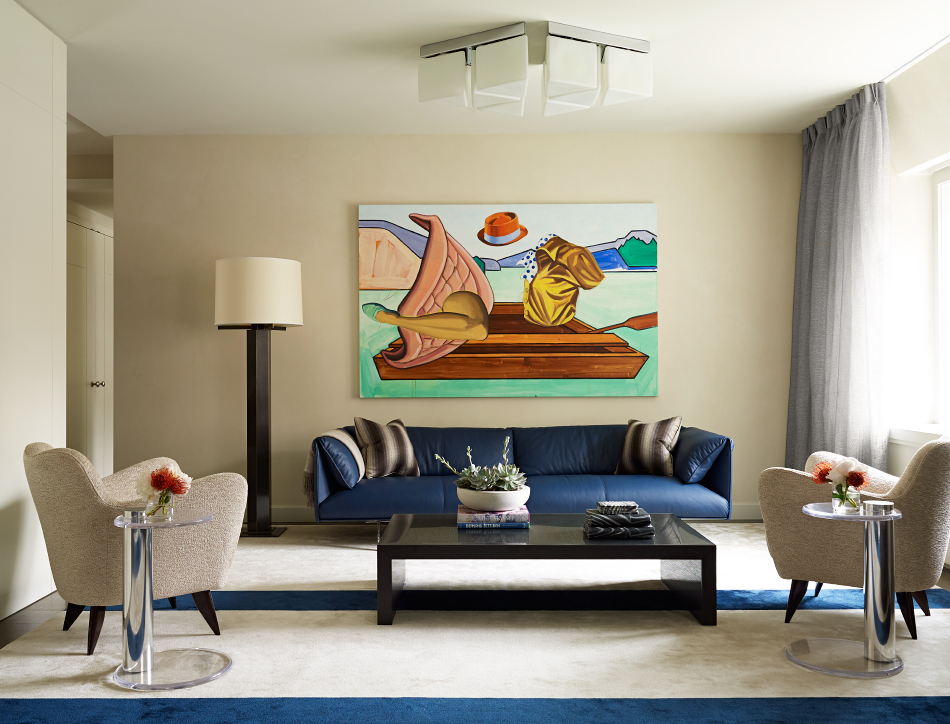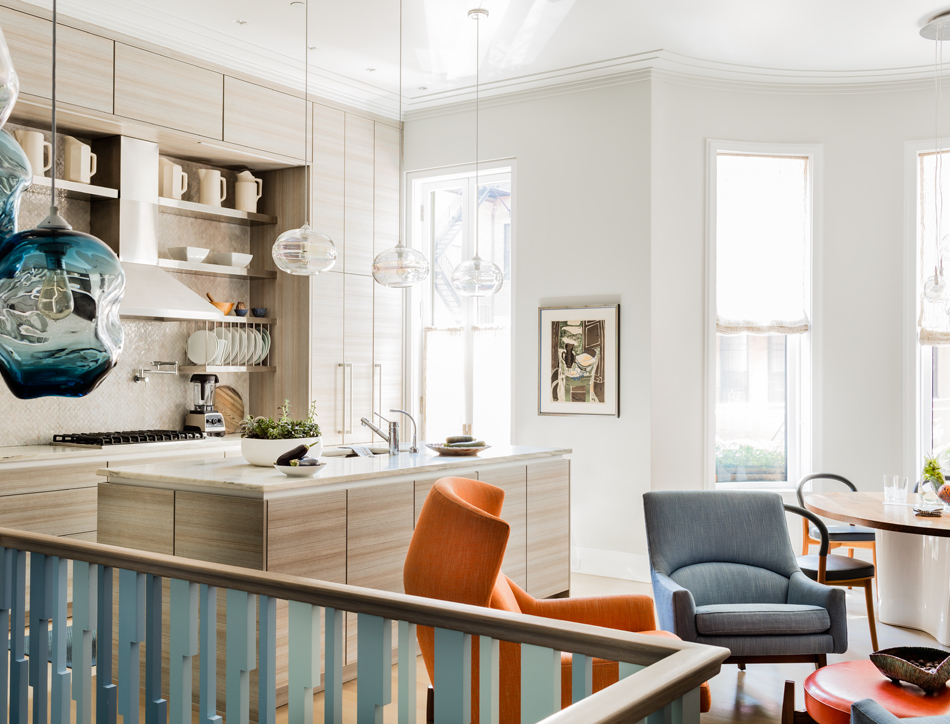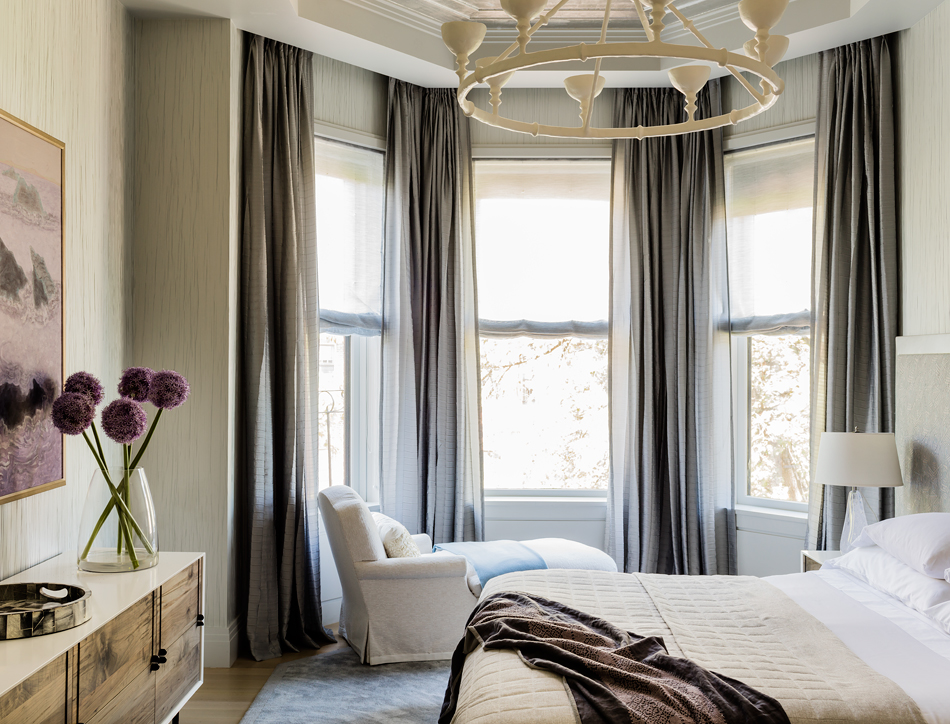 That's especially true because the stripes continue right over the crown molding to the ceiling. This kind of minor irreverence characterizes much of D'Aquino Monaco's best work.
For all their love of color, D'Aquino and Monaco listen to their clients before they use any shade more jarring than beige. "Some people are terrified of boldness," says the soft-spoken D'Aquino. "So you can't present it initially. At a first meeting, we typically ask, 'What colors do you like?' If they encourage us, we go from there."
The Boston clients, a young couple with three children, gave plenty of encouragement. In fact, they told D'Aquino and Monaco they wanted a place that would make them smile when they opened the front door. Monaco replaced a warren of small rooms with a kitchen and family room that now extends the full width of the house. And she gave the new family room a skylight almost as big as its ceiling. Then D'Aquino Monaco got to work on the interiors: The master bedroom is a "dream of soft blues, creams and grays," D'Aquino says, with walls of blue silk and a sculptural plaster chandelier from Stephen Antonson. A guest room with a hammered-tin headboard from Mexico is referred to as the "hacienda bedroom." Elsewhere in the house, D'Aquino covered surfaces in mother-of-pearl and Moroccan tiles, also deploying pottery made by the client's sister. (D'Aquino is always happy to feature a family member's handiwork.)
---
"Carl is a decorator, I'm an architect, and together we design," says Monaco. "It's a complete collaboration between two disciplines."
---
Typically, D'Aquino and Monaco meet with new clients together. Then, back in their Chelsea office, they begin sketching — and bouncing ideas off each other. "That starts a process that leads to ideas that neither of us might have thought of alone," D'Aquino says.
An expert on decorative arts who's married to the antiques dealer Bernd Goeckler, D'Aquino knows how to treat precious objects respectfully. He also knows there's nothing disrespectful about mixing periods and styles. The furnishings in his own apartment span centuries, with a particular focus on Italian design from the 1940s and '50s. D'Aquino reels off the names of makers whose pieces adorn his living room: The dining table is by Eero Saarinen, the club chairs by Giò Ponti, a pair of chandeliers by Carlo Scarpa and the floor lamps by Giacometti. But the French dining suite is 200 years older than those pieces.
Monaco teaches interior design students at Brooklyn's Pratt Institute. "When I tell people I teach, they always assume I teach in the architecture school," she says. "But through my teaching, I've gained sensitivity to the richness of the moves you can make as an interior designer." And she has worked, she says, to further the dialogue between "container" and "contained."
The duo's best clients have allowed them to advance that dialogue — and often more than once. "We have one client for whom we've done eleven residences," says D'Aquino, "and another for whom we've done nine. We love these long-term relationships, because you can pull from your shared history."
The Tuxedo Park house was a particular challenge — a rambling, Jacobean Revival mansion with 13 bedrooms and 15 bathrooms. But D'Aquino gave every room its own identity. One of the most distinctive is the library, its rosewood-paneled walls bearing nearly 100 framed artworks by the clients' five children. "We kept it a secret from the children until move-in. They were extremely proud," he says, adding that overall, "the house came alive, but not pretentiously."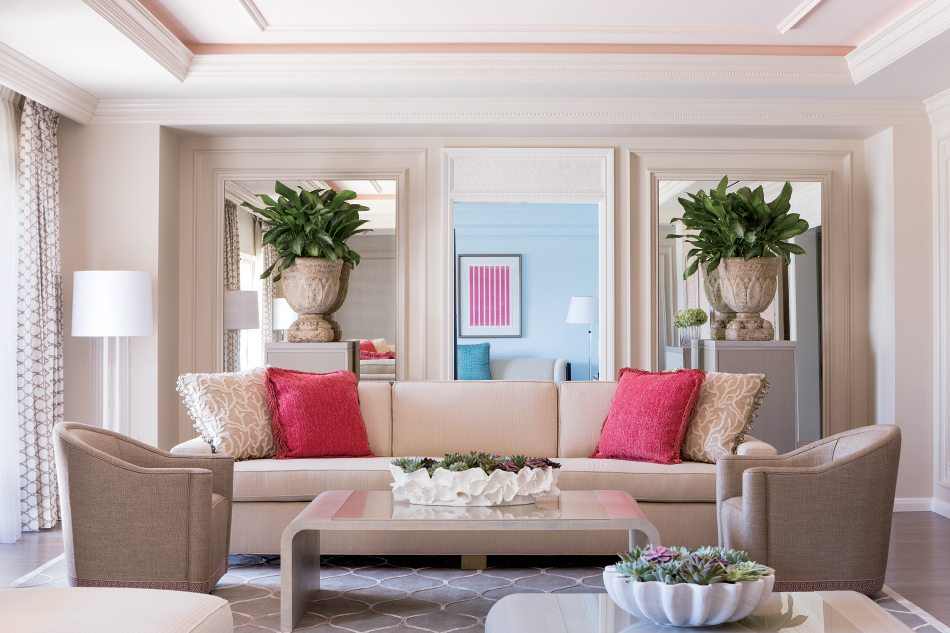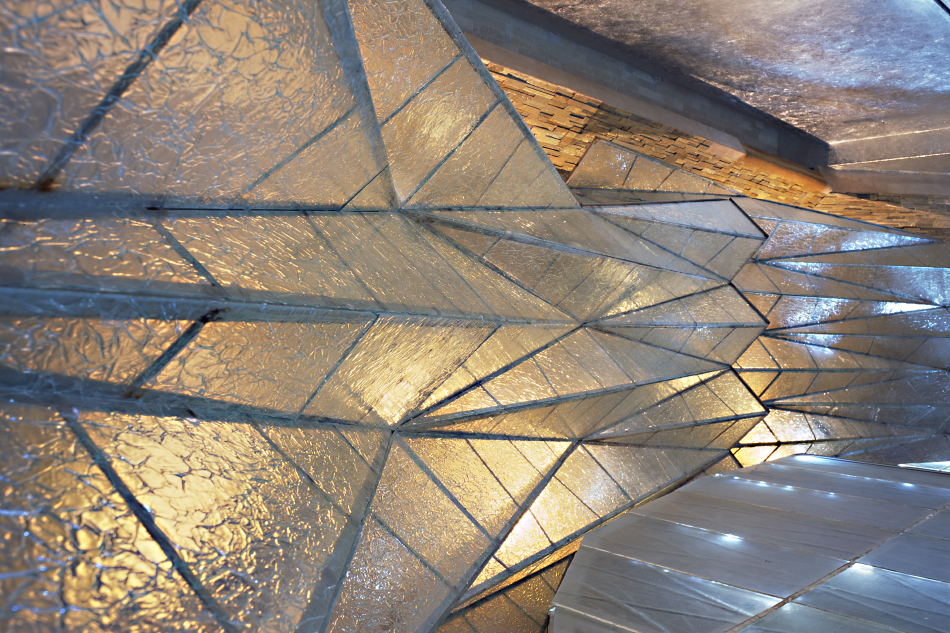 Even a 13-bedroom house isn't as complex as some of D'Aquino Monaco's hospitality projects, such as the Ritz-Carlton Grand Cayman, where the partners designed 360 guest rooms and suites plus the La Prairie Spa. When they were hired to design that wellness area, the resort was already under construction. "We had to figure out how to work around the existing framework to create a space that resonated with the identity of La Prairie — which is very different from the identity of Ritz-Carlton," says Monaco, explaining that as a consequence "we had to make a dramatic transition. So you enter a room with a glass floor and waterfalls all around you and partitions made of cast-glass panels, which filter your view. You're suspended in this space, surrounded by water and glass, and that takes you from one world to another."
Some of the residences D'Aquino and Monaco create are as bright and modern as that spa. Asked to reconfigure a Madison Avenue duplex around a client's contemporary art collection, they inserted sleek new details within the building's pre-war shell. Moving the apartment's main stairway enabled the designers to improve the flow of the public rooms on the lower level. And it allowed them to position the upstairs master suite in a quiet zone that was removed from the entertaining spaces below. The stairway itself is a glass-and-metal sculpture that plays off the Fontana Arte lighting and Ponti furniture they used throughout the residence.
When it comes to renovation, there may be no problem the architect-and-designer team can't solve. A longtime client bought a mod Fire Island house consisting of two prefabricated pavilions, one with nine sides and one with 13. For the larger pavilion, containing the living and dining rooms, they designed an interior structure, modeled on a New England pie safe, that hides kitchen appliances on one side and a panty on the other. And for the 13 windows, they created full-height shutters that could be easily adjusted to filter the light in different ways as the sun moves across the sky.
D'Aquino admits that the awkward layout of the place concerned him, so much so that he told the client not to buy it. But once the property was purchased and the commission to design it came through, he and Monaco rolled up their sleeves and made it work, as they always do, through collaboration.
---
D'Aquino and Monaco's Quick Picks on 1stdibs