Back in September 2017, interior designer David Carter was on the phone in his office in London's East End when the doorbell unexpectedly rang. It turned out to be a couple with a one-year-old baby in tow. "I had no idea who they were or why they were there," he recalls. "They hadn't made an appointment. I was a bit taken aback and quite reluctant to let them in as I had other things to deal with that afternoon." Still, he was intrigued by their appearance: "They were both impeccably dressed. They looked as if they had just stepped off a glamorous yacht."
In fact, they were just about to jump on a plane to spend six months in the U.S., and before they left, they wanted to see if Carter would be interested in decorating the rather grand 19th-century house — situated close to Holland Park, in London's Kensington neighborhood — for which they had recently signed a lease. When Carter visited a few days later, he discovered that the property had undergone a recent renovation, and he immediately understood why the couple needed help. He remembers "horrible joinery, horrible orange floors, weird patterned wallpapers and nineteen-seventies-style bathrooms." There was also a "ghastly" lift and a "terribly narrow" staircase.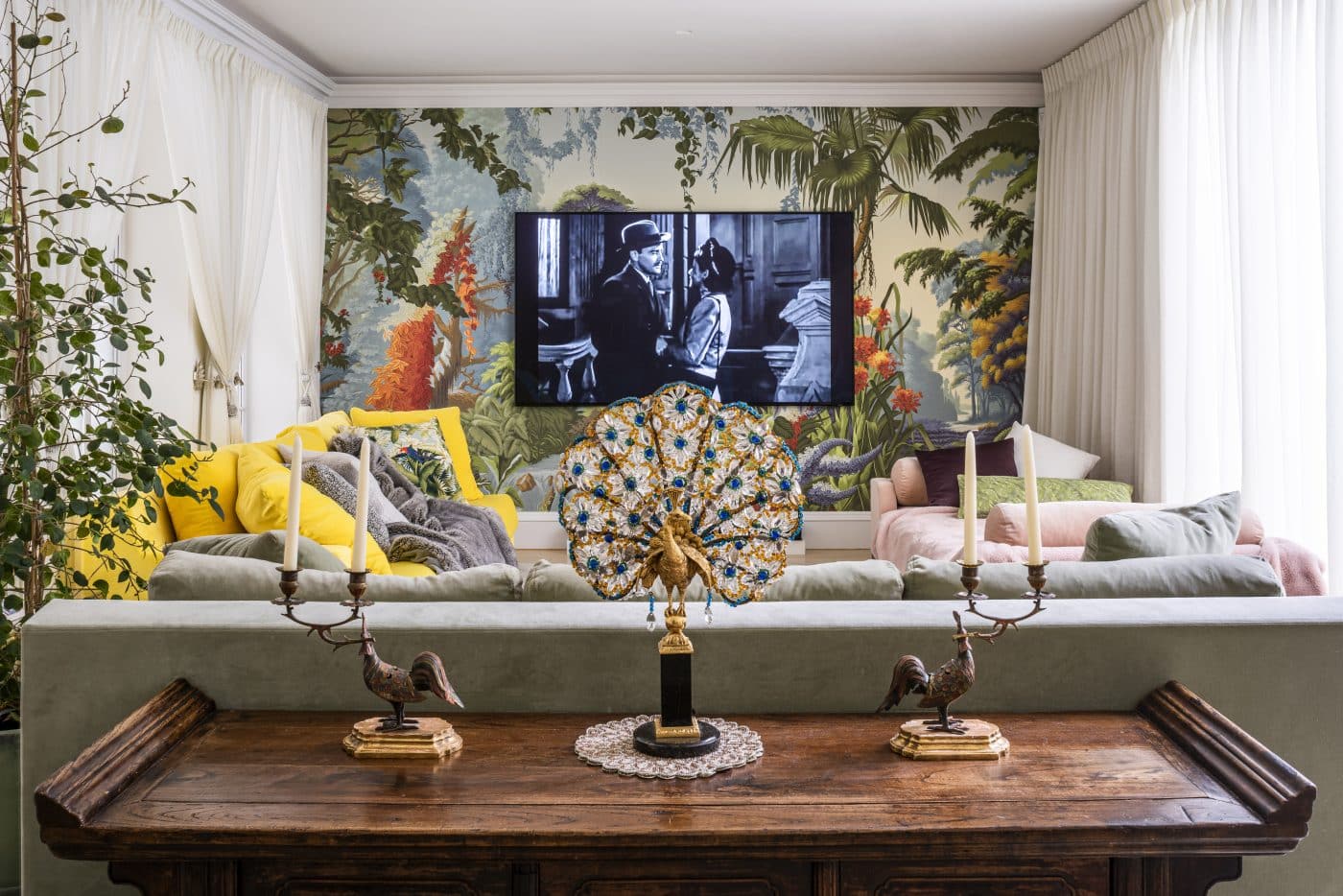 It was, he says, "just insane." As the home was a rental, he knew he wouldn't be able to undertake any major structural changes. Instead, he was going to have to work some decorating magic.
Carter has been doing just that for the past 30 years — and so successfully that AD Italy has described him as "a master of illusion." The designer developed his love of interiors early in life. His mother dabbled in antiques dealing, and he himself was already bidding at auctions by the age of 12.
He initially embarked upon a career as a freelance marketing consultant but segued into professional decorating in his late 20s, after a flat he did up for himself in London's Islington district appeared on the cover of The World of Interiors (a curtain firm Carter had hired for the project tipped off one of the magazine's photographers). Within no time, the periodical had published two more of his projects: another of his homes — "a quarter of a château" in Normandy — and a wonderfully wacky dental office situated close by, in the port town of Cherbourg. The latter featured a cornice decorated with trompe l'œil teeth and a grisaille wallpaper bedecked with medical instruments. The article about it was wittily titled "Driller Thriller."
Today, Carter describes his style as "luxury for those who like to live dangerously" and says that most of his clients don't even bother to give him a brief: "They just want something different."
That was true of his Holland Park clients — who'd come across his work in the press — only they each wanted a different type of different. "They're diametrically opposed," Carter says of the couple, an Austrian husband and a Brazilian wife, with two young sons. "He likes everything white, a bit of black, a bit of gold, but very masculine. She loves lots of color and pattern and butterflies and flowers."
At one stage, he thought of taking a lead from an 18th-century house in Northern Ireland called Castle Ward that now belongs to the National Trust. "It used to be owned by Lord and Lady Londonderry, who couldn't agree on the style of the house," Carter recounts. "They had a very amicable agreement where they literally drew a line down the middle: One half is neoclassical, the other Strawberry Hill gothic," he says, referencing the style of Horace Walpole's 1749 villa in London's Twickenham.
In the end, the wife's Brazilian brio largely took center stage, with her husband getting a few quieter moments, including a sleekly masculine ground-level study and the subdued main bedroom. In the rest of the home, Carter went to town, deploying a joyful smattering of boldly patterned fabrics, chinoiserie de Gournay wallpapers and jewellike chandeliers.
The foyer sets the tone. "I've always loved doing entry halls," says Carter. "It's that moment of magic when you open the door. It's like Narnia. You're immediately transported into a different world." Visitors are greeted by a 10-foot-high 18th-century statue of Apollo at the base of the house's main stairs and a highly charged painting by French artist Adolphe Lalyre, bought from Galerie de Souzy, which Carter describes as "a sort of bevvy of naked water nymphs, lying around in a slightly provocative way."
Similarly theatrical touches are found elsewhere, including a trompe l'œil sky painted by London-based decorative artist Timna Woollard on the ceiling of the sitting room and the imposing William and Mary–style armchairs underneath it.
"You can imagine them in the home of some movie star in the nineteen thirties," remarks Carter, who reupholstered the pieces in a chiseled velvet from Tassinari & Chatel. "They're like papal thrones."
An even more impactful fabric — a vibrantly colored chinoiserie cotton from Voutsa called Mimi — was chosen for a vintage de Sede executive swivel chair, from Sasha Bikoff Interior Design, in a boudoir-like room off the main bedroom. The space also houses a custom carousel on which the wife's numerous, often multihued shoes are stored. "It's enormously heavy, an amazing piece of engineering," marvels Carter.
One of his favorite rooms in the house is on the top floor — a guest bedroom in which he placed a Louis XV–style bed topped by a 19th-century French gilded-metal corona canopy. He had the walls clad with planks of Canadian pine, which speaks to the husband's Austrian roots. "It's a kind of princess bedroom with an Alpine fairy-tale quality to it. It's the sort of work I love doing," says Carter. "There's a playfulness to it."
Now that the project is complete, he thinks back to his initial reluctance to greet his unexpected clients. "I guess the moral of the story is that every once in a while, good fortune really does come knocking at your door," he muses. "So, don't be an idiot and send it away!"
---
David Carter's Quick Picks