April 17, 2022"You haven't heard of me because I'm not a famous designer yet," David Lucido says, by way of introduction. Until starting his own firm two years ago, Lucido worked for a single client — a billionaire wheeler-dealer for whom he managed a range of residential and hospitality projects. He left that post to work at the Mercer Hotel, in New York City, before being asked to design a Palm Beach restaurant, Le Bilboquet. That meant starting his own Manhattan-based interior design firm. When the job was done, he hung around Palm Beach, figuring he could pick up clients there. (Lucido, 36, also picked up a small house for himself in West Palm Beach; he now commutes between Florida and New York.)
His first Palm Beach clients had bought a stately mansion. "They're a newlywed couple who didn't want to do a major renovation — they were already living in the house," he explains. "But they wanted to take it from super-traditional fuddy-duddy to modern. And they wanted it done right away.
"The best way to accomplish that was to use mid-century pieces," he continues, "which would be modern but not too minimal and slick for a traditional house." At the same time, he wanted to get the clients "on the path to collecting art and design." Everything in the house was sourced domestically, often through 1stDibs, to avoid COVID shipping restrictions. "We have a lot more rooms to do," Lucido says before leading a tour of those he has completed. 
---
ENTRY
"The foyer is a massive room that called for a gigantic chandelier," the designer explains. The one he selected is Murano meets Sputnik in style, by an unknown Italian maker. The mid-century travertine table is also unattributed. The side table is "in the manner of Jean-Michel Frank," he says. "None of the stuff is that fancy. It's about ingenuity and style and mixing high and low."
---
LIVING ROOM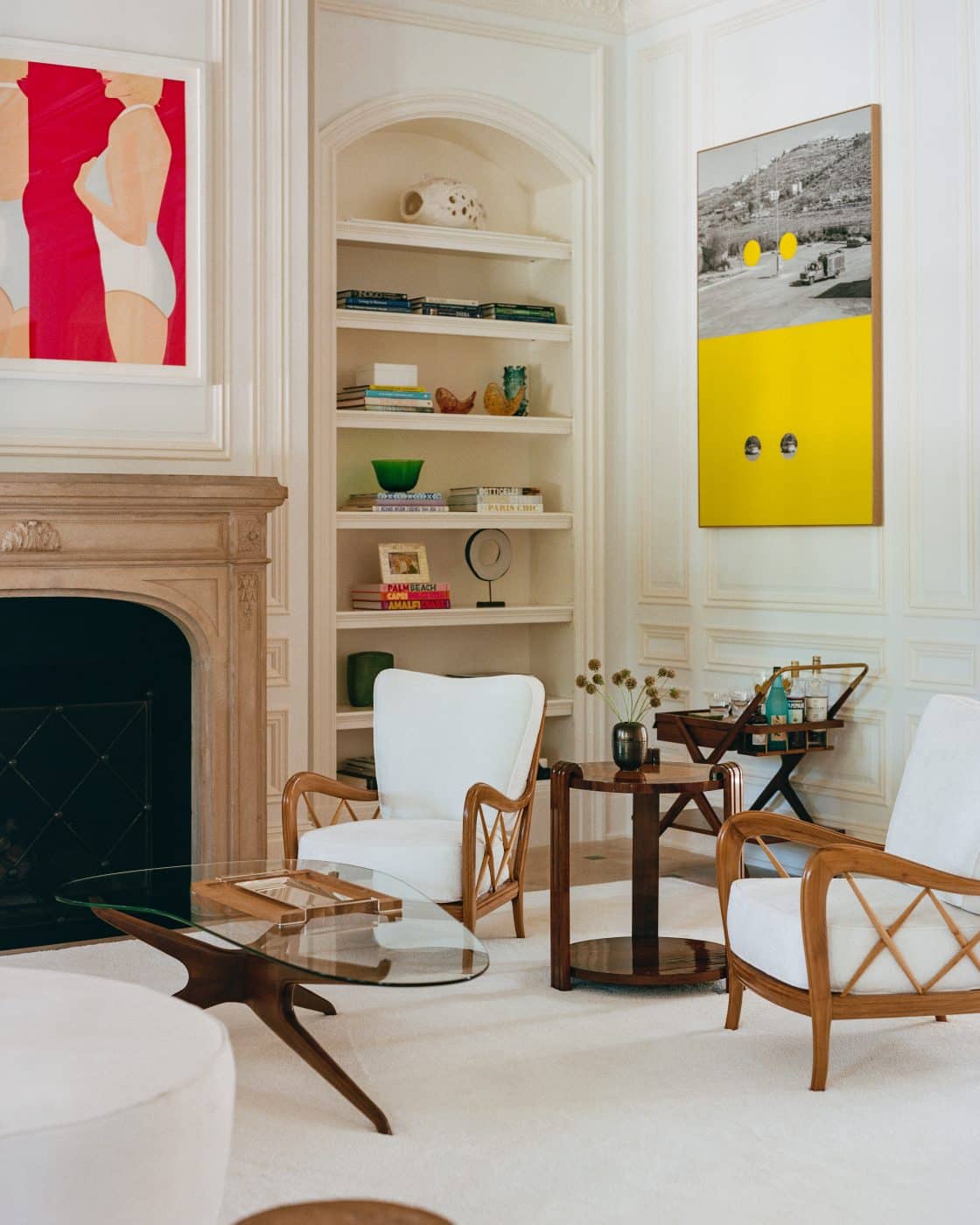 "It's a work in progress, an experiment with the way the pieces go together," Lucido says of the white-walled and white-carpeted living room. "It had been a blue room with white trim. We had to calm everything down a bit. But there's still a crazy amount of molding." The key pieces at one end include a pair of armchairs by the Italian architect Paolo Buffa and an off-white Vladimir Kagan sofa.
An Alex Katz painting hangs over the fireplace, just a few feet away from a John Baldessari-inspired artwork by Lucido's partner, Ori Harpaz (the photographer for this story).
Not far from the Kagan, a pair of stools stand like sentinels, giving weight to a room that otherwise looks like it could float away. "You can never have too many stools," says Lucido. 
A red Italian mid-century sofa reminiscent of Ico Parisi's work faces an unattributed marble coffee table and its two companions: a sheepskin chair by Gösta Jonsson, and a blue Togo chair by Michel Ducaroy for Ligne Roset. More than just places to sit, these bring new colors and textures to the mix. The wall sculpture at the end of the room is by Jenna Krypell.
---
LIBRARY/BAR
"Because of COVID, more and more clients want a bar-like experience at home," Lucido says. The first thing he did to this room was lighten the dark-stained paneling, employing a faux-finish painting technique to make it look like a paler wood. He custom-designed the bar à la Michel Boyer. The furnishings are a mix of French and Italian: The lamp on the bar is by Gae Aulenti, the chairs are Jean-Michel Frank, and the bar stools are Jean Prouvé. The coppery silk chandelier is from Ruemmler, while the white channeled sofa is by the Swedish designer Otto Schultz. The artwork behind it, by Oregon artist Benjamin Ewing, "gives the room a youthful pop and a graphic quality," says Lucido, who spent five years working as a graphic designer after graduating from Washington University, in St. Louis, and moving to New York.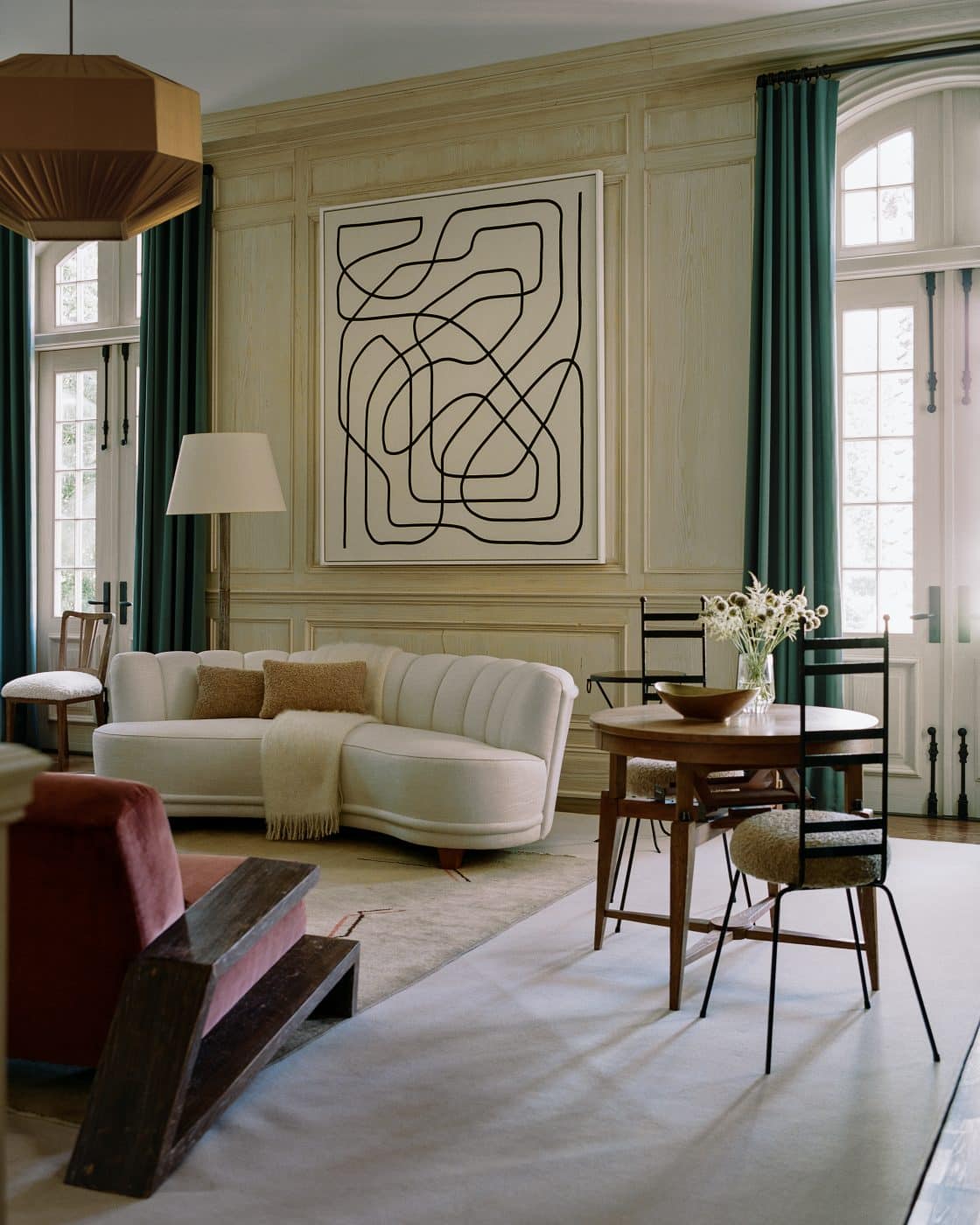 Lucido teamed a games table by Maxine Old with elongated outdoor chairs. "There are so many great outdoor pieces," he points out. "These have a nice lean line, and they have a great patina from being outside." In another part of the room, where one rug layered on another demarcates a separate seating zone, Lucido deployed a pair of Jean-Michel Frank Elephant chairs on cerused oak bases. Designed for the Llao Llao Hotel in Buenos Aires, the pieces were originally covered in a deer hide fabric. "I didn't think deer upholstery made sense for Florida," Lucido says. So, he redid them in red velvet and used the original fabric for lumbar pillows. The folded aluminum table between them is from Frama.
---
CABANA
The cabana is dominated by a beachy oil painting (French, artist unknown) and a pair of sofas that Lucido designed "in the spirit of Børge Mogensen." He used outdoor fabric, from Sunbrella, because "you come in from the pool and you're dripping." The free-form rattan coffee table sits atop a Mongolian rug from Flokati. The walls were a faux medieval stone, which he had painted over. The bar cart is vintage Alvar Aalto, and the floor lamp behind it is by Gerald Thurston.
---
GUEST ROOM
In one of the home's guest rooms, Lucido placed a Danish 1960s settee by Frits Henningsen next to the bed. The photo on the wall is by William Klein.
Other pieces include a pair of Spanish folk chairs and a French mid-century desk supporting a lamp by Mathieu Matégot. The rattan marquetry mirror is from a Florida antiques shop. The mix of big-name and no-name pieces in the room doesn't bother Lucido. The important thing, he says, "is that they play well together."
David Lucido's Quick Picks