David Roche feared that his trove of antiques would never be worthy of a museum and that his Rococo armchairs and commodes and his Fabergé objects of virtue would pale next to those of his fellow collectors. Yet no one had an eye for singular objects quite like his — and so many of them filled his house that it took more than six weeks to empty it and begin transforming it into a private museum. The Australian real-estate heir's predilection for the European decorative arts led him to purchase fantastically gilded Louis XVI skeleton clocks, dignified portraits by Robert-Jacques Lefèvre and extraordinary pieces from the Meissen porcelain Swan Service.
In 1999, Roche set up the David Roche Foundation as a first step in ensuring his legacy. He strove to build a collection to rival the Frick's, says Martyn Cook, one of his close friends and the director of the new David Roche House Museum in North Adelaide, an affluent suburb in South Australia, which opened earlier this summer, three years after Roche's death at the age of 83.
Fermoy House, as Roche called his turn-of-the-19th-century home, showcases about 3,000 pieces, demonstrating his taste for European interiors while evoking how he lived with his collection. Adjacent to the original residence is a new $5 million exhibition wing designed by Adelaide-based architect Williams Burton Leopardi and modeled after the German neoclassical architecture of Karl Friedrich Schinkel, whom Roche admired. It's here that the objects themselves are put front and center.
The inaugural exhibitions — "Neoclassic: The Spirit of Antiquity," "Rococo: Graceful Exuberance" and "David Roche: Kennels and Collecting" — explore the primary areas of Roche's lifelong passion, offering glimpses of such rare treasures as a pair of agate and ormolu urns from 19th-century France, a 1780 Louis XVI–period mantel clock in a white-marble case topped by ormolu figures, Worcester boughpots decorated in underglaze blue and a 1720s French Regency–style side table with a foliage motif.
But it is Fermoy House, with its splendor and personal history, that is the most engaging. "His directives were to keep the rooms as they were, within reason," says Cook, who preserved much of the furniture and the bold color schemes of the interiors.
From the entrance, guests navigate a wine-colored hall outfitted with silk damask wallpaper, a green Givenchy carpet and 19th-century paintings by British equine artists like John Frederick Herring Sr., George Earl and John E. Ferneley. A right turn leads to the forest-green den, where Roche spent evenings surrounded by  racing and canine paintings, such as A Pointer in a Landscape at Sunset, circa 1900, by Maud Earl. Just beyond, a French-styled drawing room dazzles with canary-yellow silk wallpaper, Boulle-style mantel clocks and the centerpiece, Mrs. Reynolds, 1768, by English portraitist Francis Cotes.
In a narrow bedroom with hand-painted de Gournay wallpaper and a rock-crystal chandelier, an early-19th-century chest of drawers keeps company with an Italian bed covered in pale-yellow-and-blue-striped fabric. The main bedroom is packed with English Regency and French Empire furniture all done in leopard print — a nod to Roche's love of whimsy. "His art was his life," Cook says.
Roche's globetrotting lifestyle and collecting habits were a product of his privileged upbringing. He was born in 1930, in Perth, the fourth of six children. His father, Jack Roche, in 1922 founded the Adelaide Development Company, which played a pivotal role in Adelaide and Perth's building boom in the first half of the 20th century. Jack regarded touring Europe, particularly its museums and galleries, as essential to his children's educations. After acquiring his first antique at 17, David was hooked.
Cook and Roche first met in Sydney in the late '70s. They both admired English Regency and Georgian furniture, medieval art and "paintings of beautiful women and handsome men," Cook says, laughing. "In the thirty-eight years I knew him, I don't think I ever once sat with him in his dining room to have a meal. Yet it was sensational, with its military theme and paintings of regiments."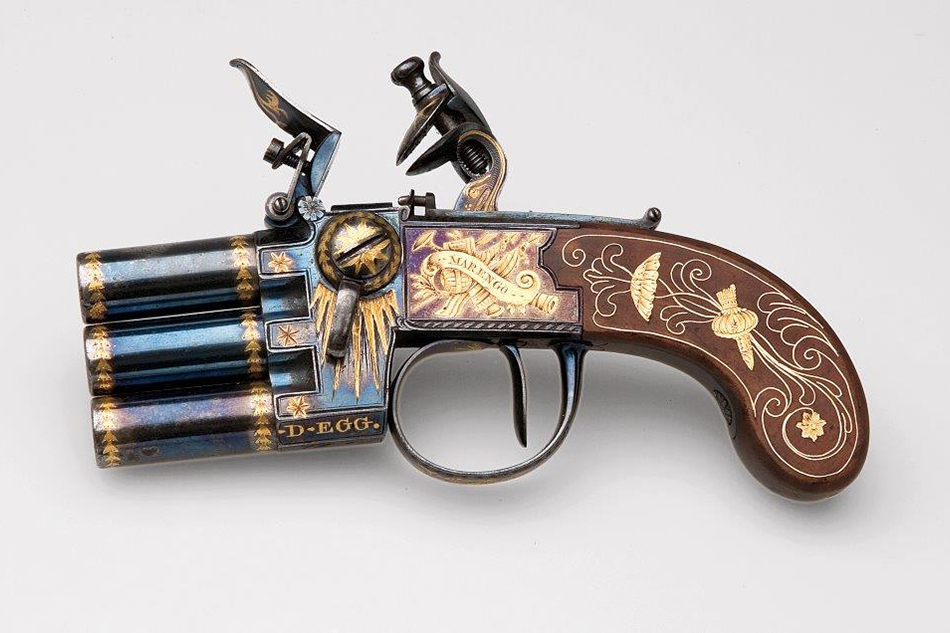 Many of these items were acquired during Roche's shopping jaunts around the world. With Cook, he hopscotched through England, Germany, Russia and Japan "in search of antiques and attending dog shows," Cook says. (When he wasn't indulging his antiques obsession, Roche was doting on his beloved Afghan hounds, Irish Kerry blue terriers and smooth fox terriers.) He regularly made the rounds of fairs like TEFAF, in Maastricht, and at Olympia, in London.
New York antiquaire Carlton Hobbs vividly recalls Roche's visits to his gallery on the Upper East Side. "His eye was so highly trained that it was somewhat like dealing with a fellow dealer," says Hobbs. "He had the quicksilver ability to assess an object for its aesthetic value, proportions and so on. When he saw an object with us, he needed very little explaining."
Roche was always focused on neoclassicism, Hobbs notes, "where the ancient world informed the design of things made in the latter part of the eighteenth century and the early part of the nineteenth." Among the items he purchased from the dealer were a set of four gilded-wood X-frame armchairs attributed to Georges Jacob (circa 1800), Dutch Golden Age painter Jan van Bunnik's Park Landscape and a pair of 18th-century demilune card tables commissioned by the powerful Woronzoff-Dashkoff family of Russia.
Roche's longtime assistant, Lorraine Felix, says that her boss's shopping habit "got to the point that I'd say to him, 'Where's it going to go?' And he'd say, 'Well, I want to put a nice piece in the kitchen.' " (These days, that room displays only 300 items, including American mechanical banks, children's toys and novelty mugs.)
Roche was blessed to live such a privileged life, Cook admits. Those who now visit his house museum are lucky to enjoy what he left behind.