I've been drawing floor plans since I was five years old," says David Scott, who has put the skill to good use as a prolific and beloved interior designer. But his first career was in hospitality management; back in the 1980s, he worked at a hotel just north of New York City. As luck would have it, the property's owners decided to convert it to condos and hired the illustrious interior designer Jay Spectre to oversee the decoration. Before he met with Spectre, Scott drew floor plans of the units with Spectre's furniture included.
As Scott recalls, Spectre "looked at the floor plans and said, 'You're an interior designer. Go back to school for design, and I know you'll be successful.' " Scott took Spectre's advice, enrolling in the New York School of Interior Design (NYSID), and started his own firm before he'd even graduated. He could have apprenticed to an established designer, but instead, he says, "I learned the hard way: by not sleeping, getting up every hour, making a sketch or jotting down an idea or worrying." He adds: "There was no way I was going to fail."
Twenty-six years later, Scott (now a NYSID trustee) has completed scores of projects, many for repeat clients. "I try to give them a better life than they had before they met me," he says.  But he manages to make clients happy without sacrificing his own vision. "If I don't like something, if I'm thinking, 'No way is that happening,'" Scott says, "people can see it in my eyes. I don't even have to speak."
The resulting projects run the gamut from traditional to contemporary, but there's considerable overlap. In Scott's hands, modernist houses gain texture and gravitas from the inclusion of vintage objects. And traditional environments — including prewar apartments with lots of moldings — are enlivened with new pieces, many of which he commissions from favorite artisans. Sometimes, he says, "I think of myself as a curator as much as a designer."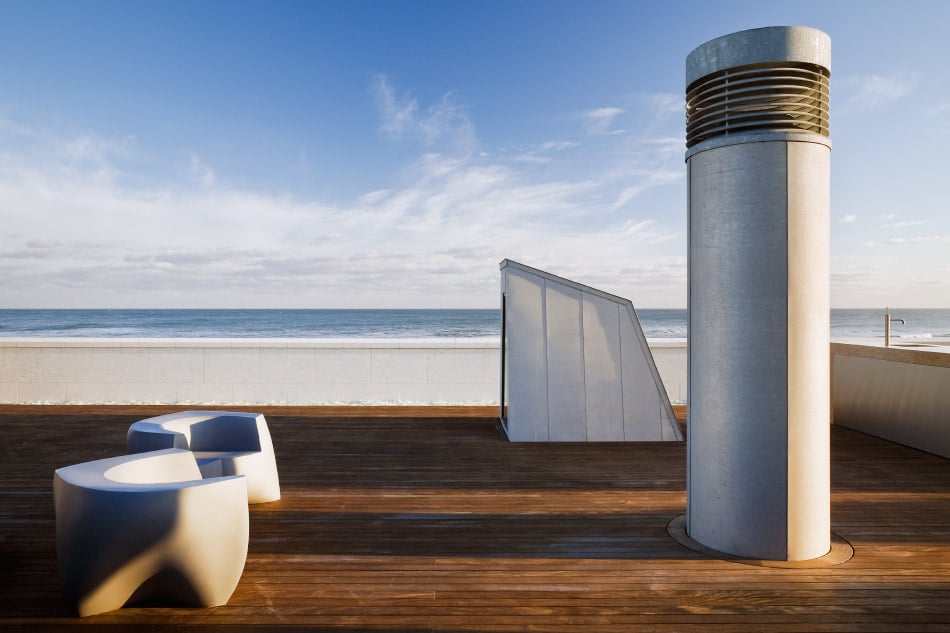 The designer/curator is also a collaborator — his best experiences, Scott says, involve working "with incredible architects," often on ground-up buildings. One such opportunity arose when longtime clients asked him to recommend an architect to design the house they were planning for a beachfront lot in Southampton. Scott introduced them to Alexander Gorlin, whose work he admired. That led to a three-year collaboration, with the architect and designer meeting once a week. "We had a common goal," says Scott. Gorlin designed the building; Scott found ways to soften it, suggesting Afromosia wood to go with the limestone the architect chose for the exterior. "David is a master of material," says Gorlin. "He was instrumental in keeping things warm and humane."
When it came to the interiors, working with Gorlin from day one meant that Scott had plenty of time to commission custom pieces, like an aluminum dining table by John Houshmand and a frieze of grilles, made of bronze and surmounting two living room walls, by Michele Oka Doner. For a windowless powder room, he commissioned French artist and textile designer Sophie Mallebranche to assemble a cascading curtain of metal filaments festooned with shells and beach glass. "It creates its own view," says Scott. But it's all very calm. "I never want to upstage the architecture."
In Sag Harbor, Scott partnered with architect Blaze Makoid on a house for a client noted for entertaining graciously. He was determined to give the house "the same generosity of spirit," he says, ensuring that "public areas flowed seamlessly together from inside to outside" and designing an oversize kitchen island to serve as an all-day buffet. Following the client's wishes, Scott used a neutral palette — white, ivory, bleached teak, caramel — but accented it with a shade of teal that had captivated him during a trip to South America. The color appears in a coffee table by Duffy London that he chose in part to draw attention to the center of the room. That's one way, Scott says, that he fosters social interactions.
Another client bought a spec house in East Hampton with Sheetrock walls and bluestone floors. "It was as cold as ice," says Scott. He worked with Makoid to warm it up. "David puts the time in to truly collaborate," says the architect, who recalls spending many hours sitting across from the designer, "egos checked at the door." Makoid added a series of wooden boxes, to serve as entry, study and master bedroom suite; Scott suggested making them from a rich-hued variety of teak. The designer gave the house an anchor: an informal dining area, facing the kitchen, with a long tufted banquette set against a tower of walnut library shelves. As he did throughout the house, Scott accessorized the room with a mix of vintage and contemporary furnishings, including a crocheted chandelier, handmade in the East London studio of Naomi Paul. "It's as much about atmosphere and sculpture as it is about light," he says of the fixture.
Scott's own apartment is in a modernist building overlooking the United Nations, in New York. "I knew I wanted to live here as soon as I saw the lobby, with its red carpets and Carlo Scarpa chandeliers," says Scott, who had previously resided in older buildings. To make the place feel more open, he enlarged the doorway between the living room and a bedroom-turned-library, creating a kind of enfilade stretching more than 50 feet. He framed the new opening in ebonized hand-cerused oak and used the same material in the niche surrounding the library sofa. That room, with walls of white Marmorino (lime-rich Venetian) plaster and original oak parquet floors (ebonized by Scott), was designed to be cozy. "Every home," he notes, "needs a warm space you can retreat to."
Scott says he has become more of a modernist over the years, in part by working with architects like Gorlin and Makoid. In the old days, meaning the 1980s and '90s, he would travel with clients to Europe to buy antiques. These days, he travels to Europe for Milan's giant furniture fair, the Salone del Mobile, where he looks at work by cutting-edge designers.
Currently, Scott is completing four large projects, two in the Hamptons, one in Manhattan and one in Miami. The houses, he explains, need not only furniture but the accoutrements "for every possible entertaining scenario," from sound systems to cocktail napkins. Installing all those things takes Scott's team at least two weeks.
Some installations end with Scott and his assistants vanishing. But other clients, he says, "don't want you to leave. We get everything set up, and when they walk in, they're overwhelmed."
Tears have been known to flow. "The first time that happened," Scott recalls, "it was two years into my career, and the client walked in, and she cried, and I knew this would be my life."
---
David Scott's Quick Picks on 1stdibs