February 19, 2023For Ghanaian-born interior designer Nina Barnieh-Blair, moving with her parents to England at the age of seven was as big a culture shock as you might imagine. Prior to that, Barnieh-Blair was raised by her grandmother in Kumasi, at a family compound "where there must have been six other aunties and uncles," she says. "It was a very traditional way of growing up."
When her mother and father relocated to London to finish their education and health-care training, Barnieh-Blair was uprooted to the English countryside, where her parents settled to be near good schools for their children. No longer surrounded by extended family and living in what she recalls as "a very sort of cold atmosphere," she felt a profound sense of dislocation.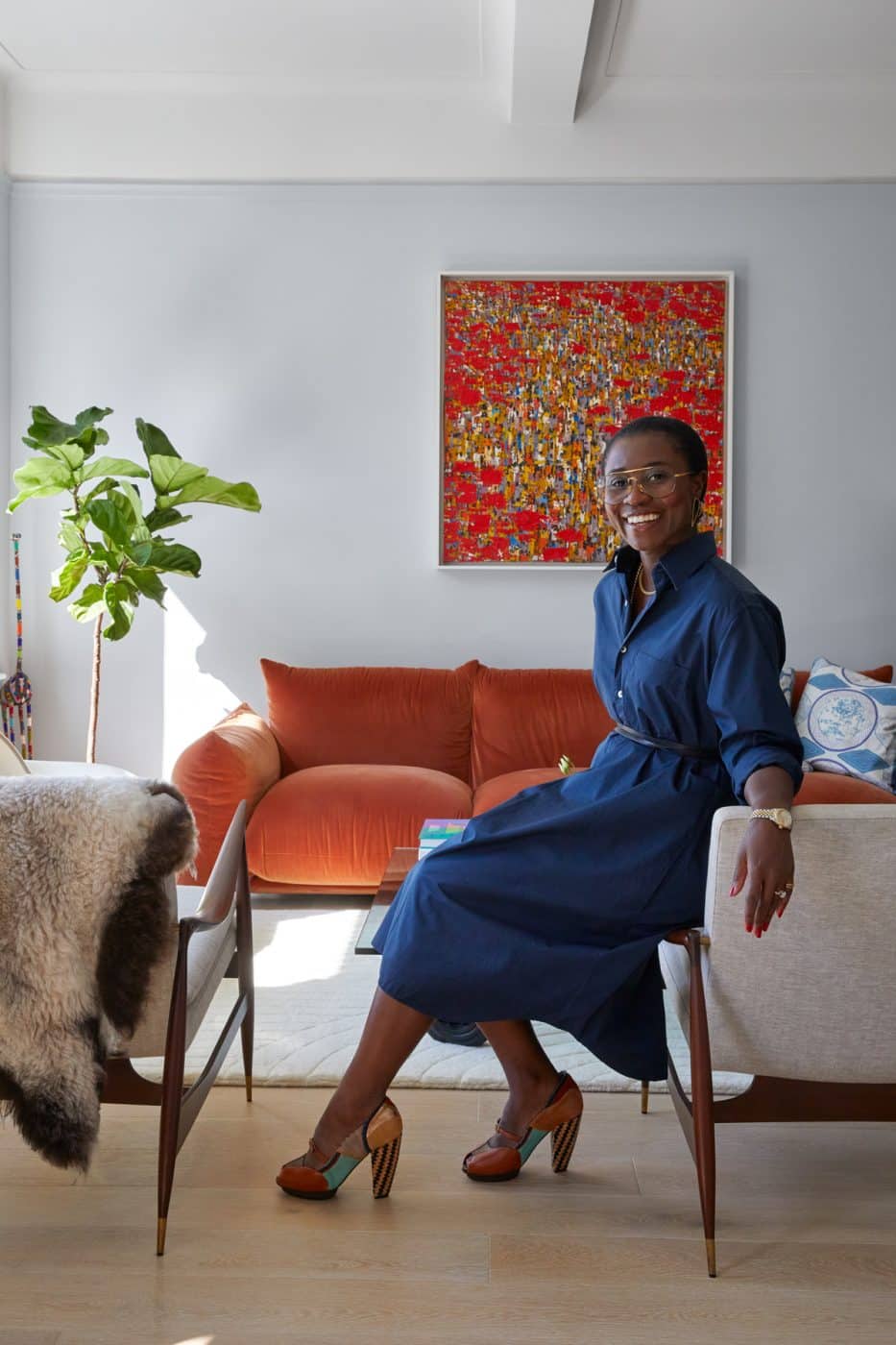 "I used to call my grandmother every Sunday, and I remember just looking forward to those calls and sort of hoping that I would move back to Ghana," says Barnieh-Blair, now based in New York City, where she makes a habit of surrounding herself with choice objects that remind her of Africa. "When I think of the idea of home, I always return to my first happy place. And I want to take that with me no matter where I go."
In the Upper West Side apartment the designer shares with her husband, Magnus Blair, and their two elementary-school-age children, classic modern furnishings are mixed with Ghanaian pottery and Zulu baskets, an Ashanti stool (a wedding gift from her parents), accent pillows in spirited African fabrics and an indigo throw by Malian artist Aboubakar Fofana.
Above the living room's Arflex Marenco sofa, whose eye-catching rust-hued upholstery reminds Barnieh-Blair of Ghana's reddish earth, is a large work by Ghanaian painter Ablade Glover. The kaleidoscopic piece, an abstracted bird's-eye view of a bustling outdoor market, evokes loads of memories.
"When I first saw it, I thought, 'I could have been in this scene with my grandmother holding my hand in the market, as we always used to do on Wednesdays,' " says Barnieh-Blair. "The place just didn't feel like home until I hung this particular artwork."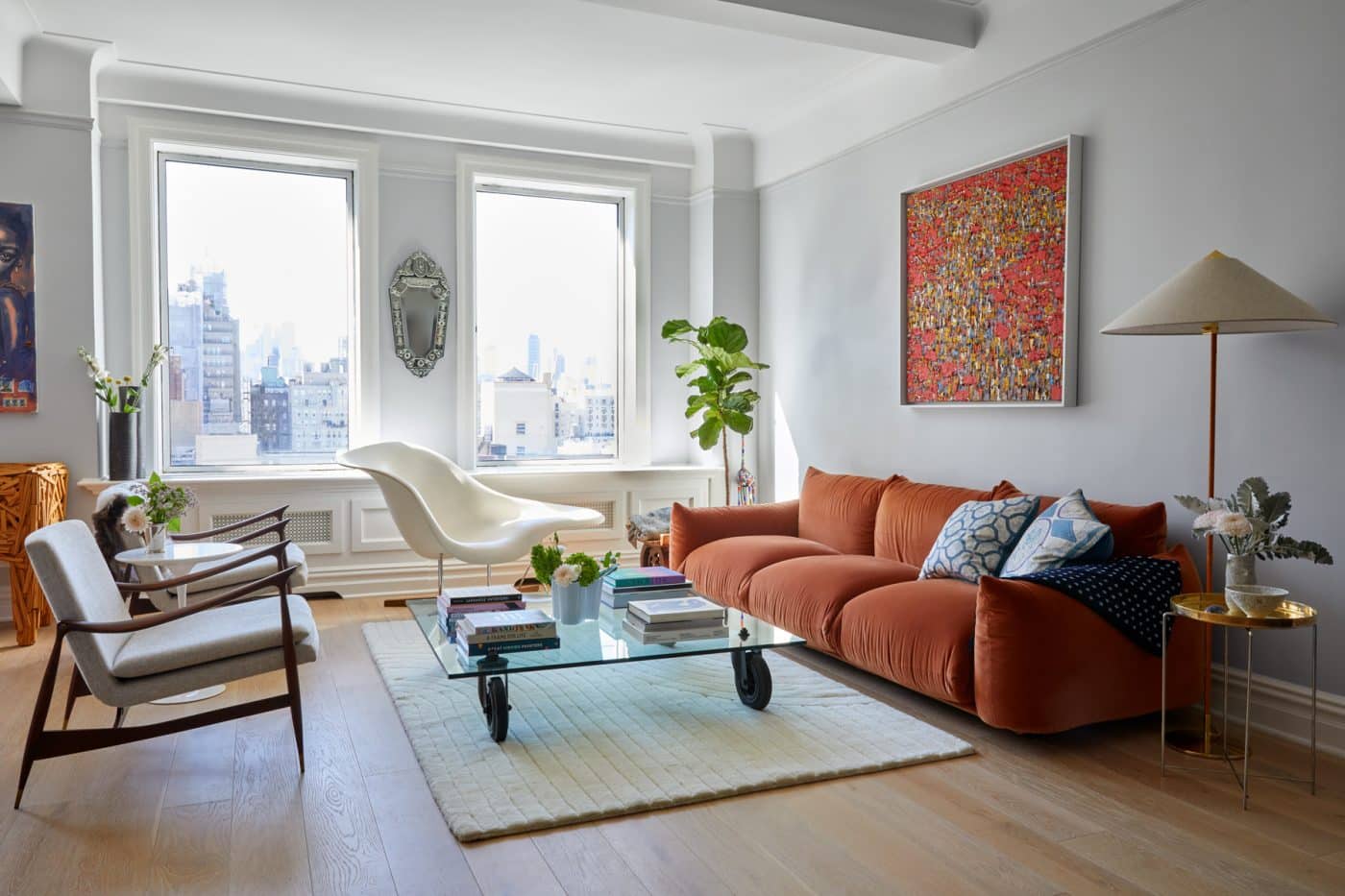 Also adding distinctive character to the space are furnishings that nod to her marketing executive husband's Scandinavian roots, such as an Eero Saarinen Tulip side table and a pair of Danish-modern-inspired Dinamarquesa chairs by Brazilian designer Jorge Zalszupin that the couple fell in love with on a trip to Rio de Janeiro.
In addition, there are iconic pieces by Charles and Ray Eames: a molded fiberglass chaise longue and a black-leather-cushioned lounge chair and ottoman that Magnus has owned since his early 20s.
"Each piece basically tells a story about us," says Barnieh-Blair, who arrayed all the seating around a glass coffee table on wheels by Gae Aulenti. "I love how its hard, industrial lines offset the softness and curves of the seating — even if you do occasionally have to be mindful of your shins."
The apartment reflects Barnieh-Blair's self-described "modern eclectic style," which she has been refining since launching her firm, Nina B Design, nearly a decade ago. She didn't start out as a designer, however.
Despite her childhood interest in art, Barnieh-Blair says her hard-working immigrant parents, with "visions of a penniless artist," discouraged her from pursuing a creative field. Instead, she got a business degree and worked in corporate public relations in London for 10 years. Ironically, it was stepping in to oversee renovations of the home her parents downsized to when they became empty nesters that convinced her to switch careers.
"Doing that didn't feel like work," she recalls. "That was my first experience of having this idea that perhaps I can combine my love of art and my love of creating spaces for people and make a living out of it."
She and Magnus moved to New York in 2007, and she enrolled in a two-year interior design program at the Parsons School of Design. When she finished, the Great Recession afforded limited opportunities, but an internship with Nathan Egan gave Barnieh-Blair some valuable on-the-job experience, teaching her all about a design business's day-to-day operations.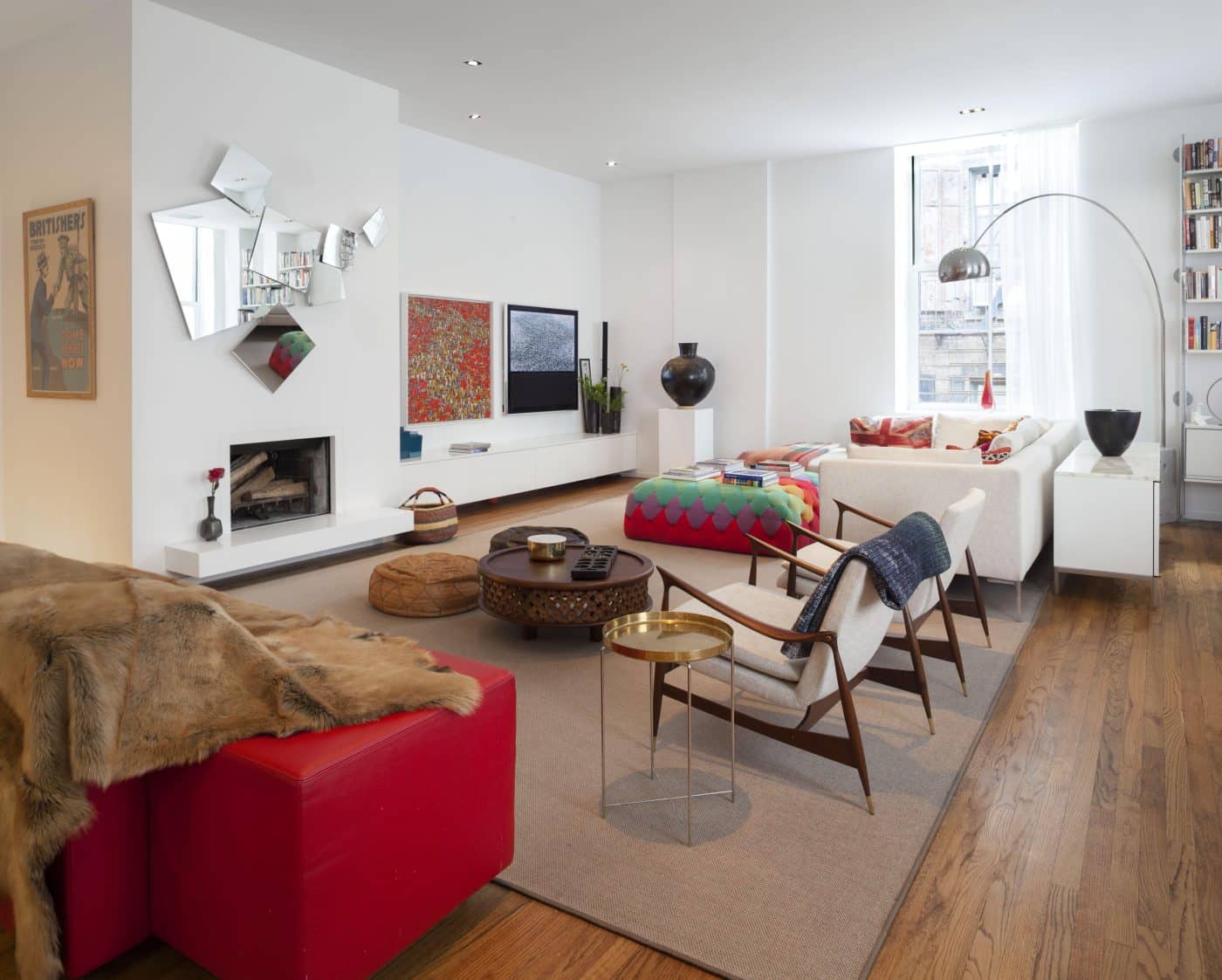 Around the same time, she and Magnus made the decision to commit to New York and buy a loft in Tribeca. "We completely fell in love with this glorious old cast-iron building on White Street," she recounts. "The apartment was on the fourth floor, a two-thousand-square-foot space, hardly any light, but we thought it would be great for parties."
A friend introduced the couple to Demetrios Comodromos and Reese Campbell, founders of the architecture firm Method Design, who worked with them to open the kitchen up to the entertaining areas and bring in more sunlight.
After taking down some awkward walls, they inventively installed glass partitions with retractable curtains that provided privacy as needed for a guest room and an office that later became the kids' bedrooms. It turned out to be a great collaboration — so much so that Comodromos and Campbell began bringing Barnieh-Blair in on projects that needed an interior designer. These partnerships have continued, and today, Barnieh-Blair, who officially founded her firm in 2014, shares office space with Method in the Financial District.
Her ever-expanding portfolio impresses with savvily designed residences that balance luxury and practicality, deploy color and texture to compelling effect and are always thoughtfully tailored to reflect the personalities of their owners.
As in her own apartment, she likes to ground clients' spaces with meaningful objects, art and even — as in the case of a one-bedroom Brooklyn apartment — resonant color. That home's owner, a literary agent, likes to sit by the window and read, work or just gaze out at the leafy treetops and open skies. The designer still clearly recalls something he said when they first met: " 'In the summer, it just feels like being in a tree house, and I can sit here as I edit scripts, et cetera, for hours and not get bored.' "
Working with a modest-size budget and space, Barnieh-Blair furnished the apartment with a few defining pieces, including the living room's Egg Collective sofa, TMBO chair by Mazo Design and Multi-Lite floor lamp by Louis Weisdorf for Gubi, as well as the bedroom's Jens Risom desk. She then added personal accents like one of the client's travel photographs and a GUR tapestry he acquired on a trip to Portugal. Finally, to bring the sky indoors, she convinced him to paint the bedroom walls, closets and sliding barn door, as well as the living room bookcases, in cerulean blue.
"The first text message I got from him after we finished renovating," she remembers, "was him saying, 'The space actually feels light, and I feel like I'm cocooned within the blue walls.' "
Barnieh-Blair is currently working on townhouse renovations in Manhattan's West Village and in Cobble Hill, Brooklyn, as well as two houses in Houston, including one for a Ghanaian woman and her American husband. "They liked the work I did on our Tribeca apartment, and they wanted a designer who could create a home that represented both of their cultures," says Barnieh-Blair. "We found out from our first phone call that our families are from the same town in Ghana, and I really connected with them. It feels like we are all going on a journey together."
At this point in her career, she says, her focus is on working with clients like these, people who "really understand what we are creating together. I want projects that mean something rather than ones where you just do the job and are gone."
NINA BARNIEH-BLAIR'S QUICK PICKS