September 1, 2019In the 1880s, thanks largely to the Industrial Revolution, the American economy started booming, and when it did, it created a whole new supply of millionaires. These railroad, oil, shipping and finance tycoons — with last names like Astor, Duke, Frick, Gould, Morgan, Rockefeller and Vanderbilt — soon acquired an appetite for European decor, and they needed someone to satisfy that appetite. Three figures were largely responsible for doing just that, refining their clients' taste along the way: Joel, Henry and Joseph Duveen.
Dealing in European art and antiques, the firm known as Duveen Brothers famously supplied the richest Americans with furniture, paintings, porcelain and tapestries for nearly a century, from 1876 to 1964. "The Duveens' real genius lay in anticipating the potential American market and building a clientele," Charlotte Vignon, curator of decorative arts at New York's Frick Collection, writes in the recently released Duveen Brothers and the Market for Decorative Arts, 1880–1940 (D. Giles Limited). "The firm had a true talent for exploiting the social ambitions of the upper echelons of American society.
"Eager for social prominence," she continues, "Duveen clients wanted to own furniture and decorative objects that not only reflected their taste but also conveyed their position as part of the cosmopolitan elite."
Over their decades-long careers, the Duveens staged their wares in elegant galleries in Paris, London and New York. They purchased prestigious European collections abroad, bought antiques at the top of the market at auction, produced lavish catalogues and shared their stellar sales with the press. These facts are all largely known. But Vignon for the first time examines this commerce through the eyes of the dealers instead of from the viewpoint of their famous clients. Most interesting perhaps, she reveals a little known fact: The Duveens were also decorators.
Unlike their competitors, the brothers realized that decoration was the best way to sell their inventory of valuable antiques, sculptures, objets d'art and paintings. Famous examples include J.P. Morgan's home in London; Miramar, the Eleanor Elkins Widener "cottage" in Newport; Whitemarsh Hall, the 147-room Edward and Eva T. Stotesbury mansion in Wyndmoor, Pennsylvania; the Paris, New York and San Marino, California, residences of Henry E. Huntington; and, in Manhattan, the mansion built by James Buchanan Duke at 1 East 78th Street and, a few blocks down Fifth Avenue, the home of Henry Clay Frick, now the Frick Collection, where Vignon heads to work each day.
The treasures the firm sold Frick for his drawing room alone boggle the mind. In 1915, Joseph — Joel's oldest son and the future Baron Duveen of Millbank — sold the 14 panels that constitute the Fragonard series "The Progress of Love," which he had bought from J. Pierpont Morgan, to Frick for $1.25 million. (That's more than $31 million in today's dollars.) As Vignon notes, "Duveen sold the paintings essentially as cost, knowing that if Frick was happy with the result, the firm had the potential to sell many other furnishings at considerable profits. His strategy proved successful." That is an understatement.
Thanks to Duveen Brothers, the Fragonard panels were eventually joined in the drawing room by Louis XVI paneling, a Jean-Antoine Houdon bust, a pair of gilt-bronze candelabra, Chinese and Sèvres porcelain, a Jean-Henri Riesener commode and a set of 18th-century chairs with their original Beauvais tapestry upholstery. The list — which also includes the mantelpiece, the curtains and the chandelier — goes on and on (and that's just one of many Frick rooms).
So who were these entrepreneurial brothers?
Cofounder of Duveen Brothers, Joel Duveen (1843–1908) grew up in Holland, where he spent much of his adolescence hanging around his uncle's curiosity shop. With art dealer great-grandparents, grandparents, uncles and cousins, Joel was perhaps naturally drawn to the trade. Wanting to set out on his own, he moved to the port city of Hull, in England, in 1865 — even though he spoke little English —  and quickly established himself in the import-export market. In 1868, he became an antiques dealer, peddling then-fashionable antique Chinese porcelain and Dutch Delftware to prosperous Victorian collectors.
In 1879, he moved the gallery to London and set up a partnership with his younger sibling, Henry J. Duveen (1854–1919), who was promptly sent to New York. Henry was only 21, but he soon wrote to his family in Europe, "This is a fine place, and I think we will do good business here." And they did.
They formally named the firm Duveen Brothers in 1890. It had outposts in London, New York and, newly, Paris. Joel was in charge of purchases in Europe, mainly sourcing from Britain, Holland and France; Henry was in charge of sales in New York. In the 1910s, when Joseph took over the New York office, he added Old Master paintings to the firm's roster. "Within a few years," Vignon notes, "he became the greatest art dealer of the first half of the 20th century."
Although the Duveens have been written about before (Meryle Secrest's excellent 2004 biography of Joseph Duveen, Duveen: A Life in Art, is a notable example), Vignon is the first scholar to have studied the Duveen archives, housed in the Getty Research Institute. As a result, she can paint a fuller picture of the family and its business and is able to refer to letters, firm inventories and contemporary articles that give the reader a sense of how the company was viewed over the decades.
In a 1898 issue of The Art Amateur magazine, for example, she found this rather breathless, but highly atmospheric, description of the New York gallery on Fifth Avenue: "Duveen's is packed from cellar to attic with curiosities, many of which are, singly, worth a fortune," the journalist wrote. "One room is completely full of Chippendale furniture, tables, chairs, cupboards and card tables; another contains tapestries of all periods, Gothic, later Flemish, after Italian designs, Gobelins and Beauvais."
Vignon doesn't shy away from scandal. The Duveens were always contesting U.S. Customs agents' assessments of their imports, which they notoriously undervalued. In one case she cites, they noted that a writing desk cost $2,550 when they had actually purchased it for $100,322. And the company wasn't above bribing government experts to accept false certificates and invoices. These dubious practices led, in 1910, to the arrest of six Duveens, including Henry and Joseph, in New York, as well as the seizure of the contents of their offices.
Two trials followed, one civil, one criminal. In the former, the Duveens pleaded guilty and paid moderate fines. In regard to the criminal case, Vignon quotes a letter — sent by the Duveens' lawyers on March 23, 1911, to the district attorney (who accepted it the next day) — stating that the Duveens desired "to make as liberal an offer of settlement of all claims as their means will permit. On this basis the Duveens will pay in the full discharge of all claims of the United States against their firm, the sum of $1.2 million." Henry Duveen, then in fragile health, was personally fined, but only in the amount of $15,000. The May 25, 1911, headline of the New York Times read: "Judge Martin … Blames Customs Officials for Making it Easy to Cheat — Also Moved by Prisoner's Health."
Hardly setting the Duveens back, these cases came just at the start of the firm's heyday, during the years — from 1910 until his death in 1939 — that Joseph served as director in New York. Joseph collaborated with the top decorators of the day, including Paul and André Carlhian, of Paris; and Sir Charles Carrick Allom, decorator to the British Crown, in London. But he always insisted on being the main contact with the client. He was a dapper, social animal, dining out at the best restaurants, becoming friends with his famous customers and being seen as a man about town nearly on their level.
The Family That Brought European Luxury to America's Gilded Age Tycoons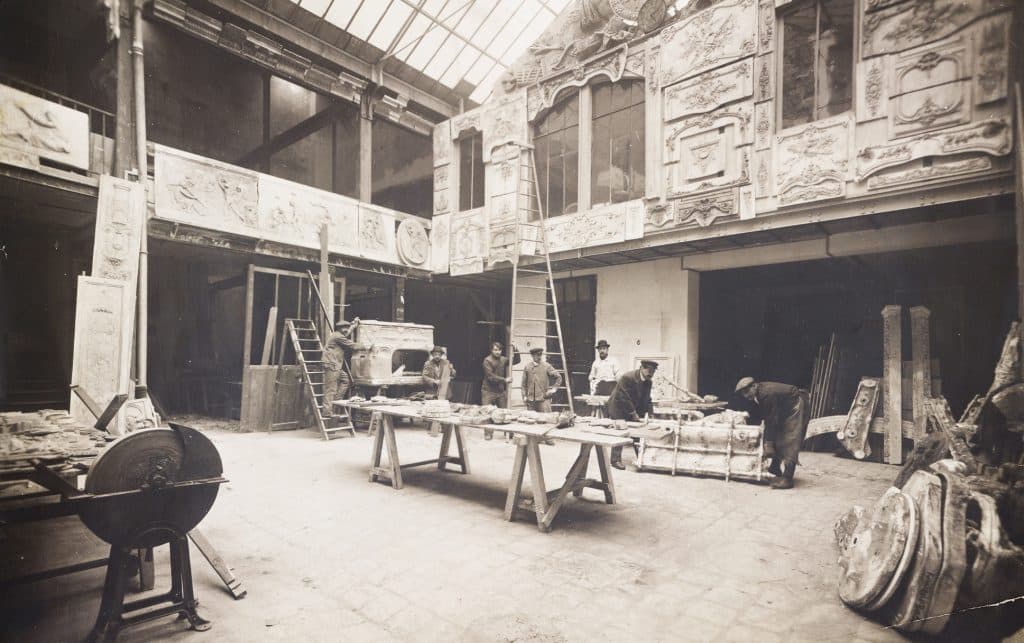 By employing these French and English designers themselves, the Duveens insured that they would be the suppliers not of only the art and antiques but also of architectural elements, including period paneling, mantelpieces and parquet flooring. As André Carlhian wrote in a 1947 letter to Edward Fowles, a Duveen partner who inherited the firm in 1939, "We do not forget in this family that the Duveen firm was at the origin of our career as decorators, that we owe most of our best projects to the intervention of that great organizer, Joseph Duveen."
The Duveens produced period rooms, adopting a decorating approach that began in the 1870s with such renowned architects and decorators as Richard Morris Hunt, Ogden Codman Jr. and Stanford White. Joseph Duveen wrote that he wanted to "create spaces governed by a single inspiration." He purposely hired mostly foreign craftsmen who knew older styles and techniques, to guarantee historical authenticity for his clients. "These clients," Vignon notes in the book, "reasoned that French-style interiors should be executed in France by French interior decorators and craftsmen, just as English-style interiors should be crafted in England by English interior decorators and craftsmen."
As a 1948 letter from Fowles to André Carlhian that Vignon quotes puts it: "The moment your business becomes too American, you are through. You will be in the same category of Alavoine, Sloane and all the other American decorators."
The Duveen Brothers played an important role in forming some of the most significant American collections amassed at the end of the 19th century and in the opening decades of the 20th. For proof of the quality of their imports, one need look no further than the quantity of their clients' pieces now in institutions: 2,000 Duveen-obtained objects in Washington, D.C.'s  National Gallery of Art, nearly as many in Manhattan's Metropolitan Museum of Art and substantial holdings in the Detroit Institute of Arts; the Philadelphia Museum of Art; the Frick Collection; and the Huntington Library, Art Collections, and Botanical Gardens, in Pasadena, California.
Vignon's is a scholarly book to be sure, but it offers so much fascinating original source material and insight into the family's business practices that it may well inspire contemporary dealers to adopt some of the Duveens' innovative strategies — though hopefully just the legal ones. The family, it cannot be denied, understood quality and salesmanship equally well.
Or support your local bookstore
Shop the Duveen aesthetic on 1stdibs