One of the most important figures in American design in the latter half of the 20th century, George Nakashima modestly referred to himself as a "woodworker." Yet, somehow, that understatement perfectly encapsulates the sensitivity of his practice and his emphasis on natural forms. An architect who left buildings behind to make tables, chairs, cabinets and much more, Nakashima (1905–1990) discovered his true calling in wood. And in so doing, he changed the course of furniture making.
His now-legendary furniture revealed not just the fine grain of the woods he chose (from walnut and rosewood to the far less common bitterbrush) but also the drama that lies within almost every tree once it is felled. His tables kept the rough edges and ragged lines of the tree in nature. He celebrated what others might have seen as flaws — burls, knots, voids and more.
Nakashima "saw" wood as no one else could, says the Philadelphia-based Nakashima specialist Robert Aibel, who owns and directs Moderne Gallery. The designer's vision is on full display in the show "Esherick to Nakashima," which Aibel helped curate at the Modernism Museum Mount Dora, a small private institution outside Orlando, Florida, built around an important private collection of American Studio Movement furniture.
The museum — housed in a 1913 former laundry facility in the heart of the charming town of Mount Dora — opened in 2013 with the exhibition  "From Wharton to Wendell," comparing and contrasting the work of Wharton Esherick and Wendell Castle, both of whom moved from sculpture to furniture.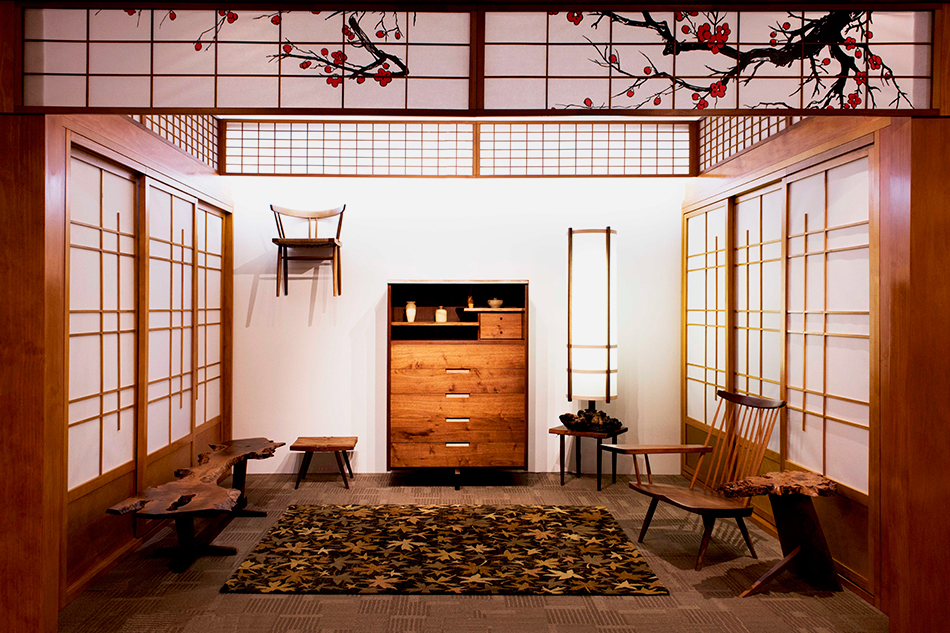 As its title implies, the current exhibition continues the intellectual thread of that first show, bringing together a wide array of Nakashima works (76 in all) and pieces by Esherick. To make matters slightly confusing, the Nakashimas and Eshericks are also displayed alongside creations by Castle: Esherick's freestanding 1963 staircase, for example, stands with Castle's 2012 masterwork A New Environment, who's twisting stairway leading to a "contemplation pod."
"With each exhibition, we will be demonstrating the common DNA of modernism in relating Wharton Esherick's work to other master craftsmen and designers," explains the museum's acting director, Juliette Davis. "Each show title reflects this. The first was 'Wharton to Wendell.' This new show, 'Esherick to Nakashima,' clarifies the story we are telling in each exhibit. Some of Castle's work is included in this show to reveal the impact of Esherick's work that is represented in Castle's."
But it is Nakashima who commands center stage. The capacious gallery space is filled with his work, displayed with  exuberance. In the center are such key pieces as the more than 16-foot-long Minguren II table he built in 1982 for Rupert Smith, Andy Warhol's primary printmaker, and a Sanso conference table that was part of a commission from International Paper Company in the '60s. Lining the back are five furnished rooms incorporating pieces from a variety of sources, including Nelson Rockefeller's Greenrock Japanese House, in Pocantico Hills, New York, and Columbia University's Kent Hall, in Manhattan.
These rooms contain such rare and unexpected objects as a Nakashima wine rack and wastebasket from the '70s, a record-player cabinet from the late '40s, floor lamps (many designed in 1962 for Kent Hall) and a 1966 rolling cart. Aibel borrowed some items from other Nakashima collectors and added several from his own gallery, but the majority come from the holdings of Ken Mazik and Donna Brown, the Modernism Museum founders.
The museum's board of directors both advises and curates. Besides Aibel, it includes Paul Eisenhauer, the former director of the Wharton Esherick Museum, in Paoli, Pennsylvania; independent design expert John Sollo; and auctioneers David Rago and Suzanne Perrault. The institution is part of a wider effort, much of it led by Mazik's commercial-property-management company, Main Street Leasing, to preserve the original architecture and character of Mount Dora. Its core mission, however,  focuses on design. "It's truly exciting to have a museum with this mission and a growing collection," says Aibel. "Until the Modernism Museum opened, there was no institution exclusively devoted to collecting, promoting and exhibiting the best of the American Studio Movement."