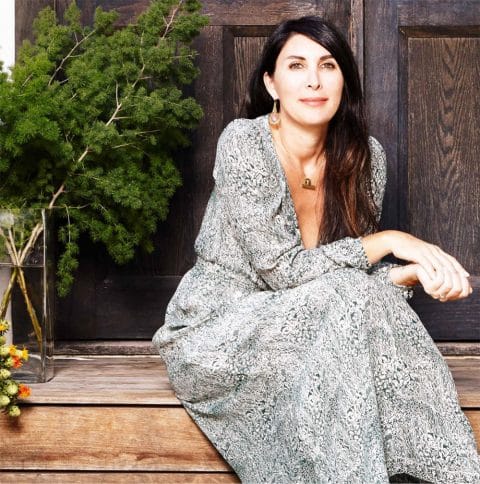 The design world is eternally loyal to the idea of sophisticated and livable spaces, but eventually even the most well-intentioned designer will stumble into the long-standing rivalry between chic and relaxed. Los Angeles–based Estee Stanley favors ease over formality. How much does she want her clients to use their homes? "Until the house is bleeding," she declares. Her own family home, a luminous abode in Hancock Park where she entertains constantly, isn't the sort of place where you sweat a stained cocktail napkin. "I get so excited when I see a broken glass after a party, I'm like, yes! It gives it character," she says.
Stanley has embraced that quintessentially kicked-back California style for two decades. While it makes for layered, approachable interiors, her gift is in summoning the right vibe without imposing a full-on look, and that ability is readily apparent in her debut monograph, In Comfort and Style (Rizzoli). "My goal is to create a feeling," she says. "I want to make it sexy, classic, eclectic, collected. I never wanted anyone's house to feel like, 'Oh, Estee did that.' I almost want you to not be able to tell, and I want everything to feel comfortable, not precious."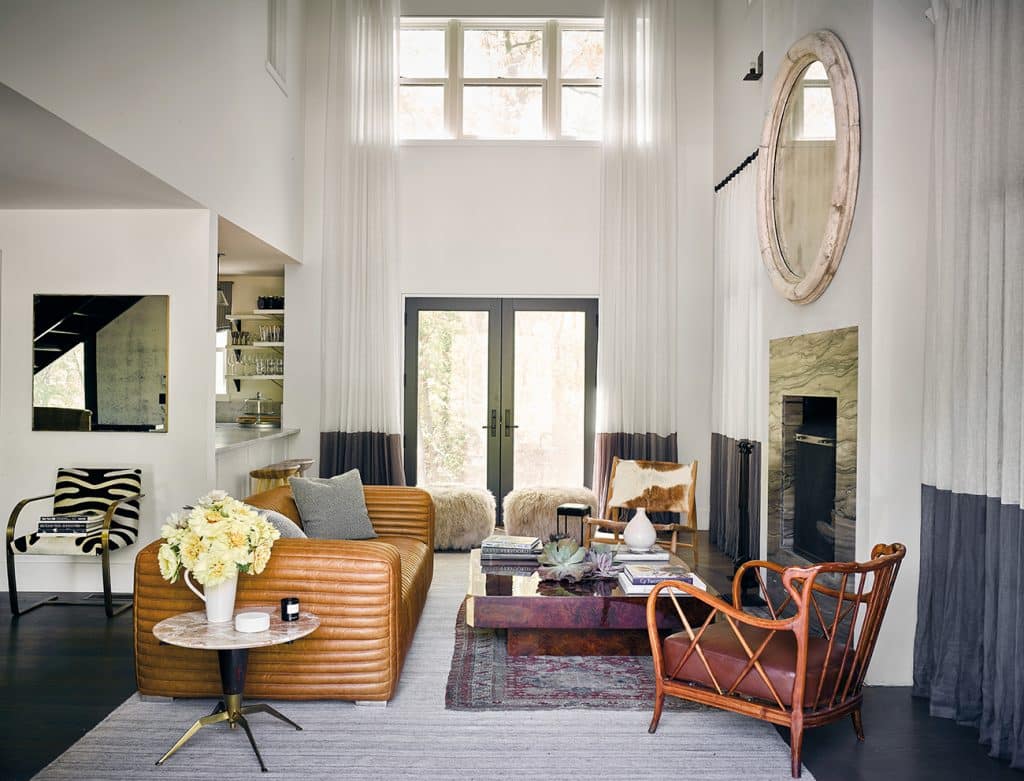 It's a quality that her many notable clients — Ellen Pompeo, Patrick Dempsey, Jessica Biel and Justin Timberlake, among them — have desired for their residences. Celebrities are subjected to the merciless gaze of a gawking public, so they possibly seek refuge in their homes more than the rest of us. Stanley's interiors embody a just-relax informality but stop long before things get slouchy or predictable.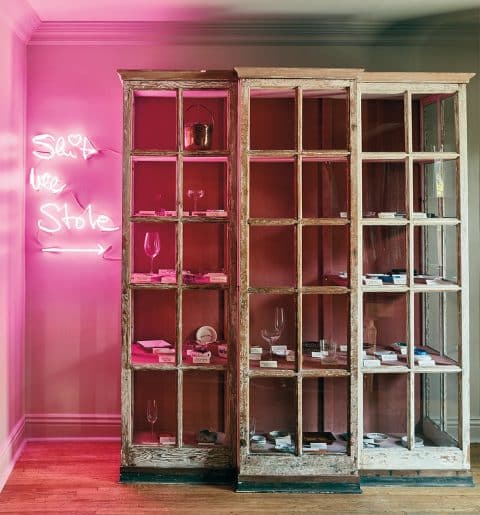 In Ellen Pompeo's retreat in Sag Harbor, on New York's Long Island, a mix of comfortable pieces and vintage finds from local stores delivers unexpected style. "The Hamptons has a very specific look. I don't need to do that. This is just so Ellen to me," the designer says of the living room's channeled leather sofa and bohemian assemblage. "She loves leather and a vintage vibe, but she also likes the funky zebra pattern. It just feels cool and edgy."
Stanley's ability to craft interiors with exactly the right attitude stems from her prior career as a fashion stylist, which the Newport Beach native turned to after studying psychology at the University of Southern California. After graduation, Stanley traveled to Europe and returned inspired but financially drained. She called a friend who was an agent to fashion stylists. "I knew how to shop," she says. "Not that styling has anything to do with shopping, but I knew a version of fashion." Her timing was excellent: The agency received a request from the men's fashion title L'Uomo Vogue — legendary fashion editor Robert Rabensteiner needed an assistant for a three-day shoot in L.A. Stanley took the gig, which paid $50 a day.
She loved it from the get-go, despite needing to figure out how to get the dozen or so trunks of clothing to the shoot (located on the top floor of a Westside loft building with a broken elevator). She continued to learn the business by assisting big-name stylists like Vivian Turner, who famously dressed Keanu Reeves and Jeff Goldblum. After three years, Stanley went out on her own. She dressed such chart-topping pop-culture icons of the 1990s as Britney Spears, *NSYNC — even Metallica — and turned out major red-carpet moments for Penélope Cruz and Mandy Moore.
Over the course of five years, she ran her styling business out of two homes: a Spanish-style house in Hancock Park with a soft rose palette, which mixed modern pieces like Roche Bobois sofas with vintage finds; and a more traditional West Hollywood place, complete with wall moldings and outfitted with her grandmother's vintage sofa, cabinet and piano; she had Gucci wallpaper in her office.
Clients visiting her studios for fittings invariably asked who designed the interiors. When Mary-Kate and Ashley Olsen purchased their first home, a mid-century modern stunner with terrazzo flooring in Bel-Air, they asked Stanley to design it. She jumped in headfirst and never looked back.
Stanley describes every project as a collaboration with the client — a holdover from her styling days, when working so close-up made trust essential. Interiors require a different kind of intimacy, but her eye for fashion translates seamlessly. Instead of applying formal precepts, she designs by instinct, editing as she goes and pairing new with old.
In her recently updated L.A. home, where she lives with her husband and two children, a striking floral work by Elisa Johns overlooks an antique console, set off by an unexpected pair of Jean Royère lamps from Galerie X. "Vintage pieces just feel real to me," Stanley says. "As much as I love the modern Italian brands and all these cool companies, the design just feels too new." For one Beverly Hills homeowner, she installed three reclaimed pendants that had formerly hung in New York's Grand Central Terminal.
Stanley has a fondness for the quirky, a penchant expressed in her beloved collection of ashtrays, displayed with handwritten notes detailing where each was found. She encourages personality in her clients' spaces. For a serious art collector, she had artisan leather dining chairs from Heath Ceramics customized with multicolored legs. For another client, she hung a leather swing in an otherwise neutral living room.
Where Stanley defies categorization is her relationship to color, which is notably absent in her interiors and, when used, appears mostly as faded tones. One notable exception is a client's TV lounge enveloped in rich blues and greens that were inspired by a light she found at Richard Shapiro. "I love color in fashion, but I can also just take it off," she says, contrasting the permanence of paint with the transience of an Oscar de la Renta gown. She explores this subject in her monograph, which is refreshingly honest and unconventional.
"I wanted the book to feel super chill, casual and almost funny in some parts," she says. "And there are takeaways. I'm not trying to keep any secrets." Her A-list clients join in, interviewing one another and getting real about the design process and Stanley's sassy side.
In one exchange, actress Sasha Alexander describes for Mary-Kate Olsen her experience working with Stanley: "Our biggest debates were about making sure the fabrics were kid-friendly. She would say, 'Well, don't let the kids sit there.' I would say, 'But it's a family room.' She would say, 'Well, too bad.' That said, I don't make any decisions in my home without her input. Even choices I resisted initially, I eventually came around to know she was right. No one has her eye and sense for design."
As Stanley has blazed a trail in the industry, unique collaborations have followed. She and designer Brigette Romanek have created a line of custom wallpaper with artist Carly Kuhn, known as the Cartorialist, under the name Hancock Design. Stanley also founded The Eye, a management agency for interior design professionals. "We're the only creative category that has no representation," Stanley says of the interior design trade. The Eye helps designers focus on creating by taking care of the business side, because, as she says, "we're literally buried in tile and don't have time to think about it.
In Comfort & Style is not your typical coffee-table design book. "There are pictures of Snoop Dogg smoking weed," Stanley notes. But it does express her vivacious approach, which emphasizes living and pursuing fun in a home — things that are frequently lost sight of in the stressful and serious business of interior design. "Your home is your sanctuary. It's the most important place to feel comfortable and soulful and get energized and have the best time of your life," says Stanley, who does so without worrying about a few wine stains.
Estee Stanley's Quick Picks