October 10, 2021A flock of porcelain origami birds floats above the mostly marble lobby entrance in a building in Oran, Algeria. A waterfall of light, made of crystal-glass diamonds and gold-plated pendants, cascades through the center of a rectangular spiral stairway in London. An undulating canopy of glass shards creates a fragmented pattern of light and shadow in a modern restaurant in San Diego, California.
All these theatrical lighting installations were created by the German illumination artist and sculptor Eva Menz, who has spent 18 years crisscrossing the globe to offer private clients lighting that not only brightens but also enlivens spaces.
Recognizing that such large, ethereal works aren't suited to every home or business, in 2019, Menz established luxury lighting brand Atelier001 to sell smaller-scale lamps, chandeliers, pendants and sconces, which she designs and which can be arranged in bespoke assemblages.
"It's perhaps like a fashion brand that has a couture side or an accessories side," she explains. "Atelier001 offers wider access to some beautifully made pieces. I think of it as mass production with more of an individual touch."
Because the pieces are all hand-made and finished by top craftsmen, each is unique, with its own coloring and patina.
Take the pendant lamps in her Cosmic collection. Each is composed of two hand-spun brass plates on a framework of satin brass and illuminated with LEDs, and all are finished in matte white lacquer or with a celestial-seeming patina. But the particular patina — whether indigo, rust, dark bronze or verdigris — varies from one piece to the next.
Born and raised in Munich, Menz moved to the United Kingdom in the 2000s to study product design at Central Saint Martins College, part of the University of the Arts London. She never, however, considered herself strictly a product designer.
"I loved materials and detailing, and from a creative standpoint, I was always experimental and sculptural," she recalls. "St. Martins allowed me to be quite free in that, even though back in those days, art and design were typically more divided. I've always felt somewhere in between, or a little bit of both."
Immediately after graduation, she had the opportunity to present work at the ICFF (International Contemporary Furniture Fair), in New York. "Because it was a somewhat hard time after college, I wanted to create glamorous pieces just to cheer me up," she says. She made two chandeliers inspired by origami birds and sold them both.
Her career took off like a flash after that. "It was a very quick transition from domestic-sized chandeliers to very large, architectural and abstract chandeliers," she says. Within the year, she'd received a commission to create a 36-foot lighting installation made of 300 hand-folded origami cranes in the atrium of the G Hotel and Spa, in Galway, Ireland.
Since then, her clients have included such top designers as David Rockwell, Monique Gibson, Timothy Godbold and Jeremiah Brent.
Her London-based operation has grown substantially. In addition to a team of half a dozen people who work with her in the studio, Menz says there are about "fifty individuals or studios in our orbit that we collaborate with and who are really instrumental to our creation, whether it's idea finding, or prototyping, or solving a technical problem, or developing a new material."
These collaborators include glassblowers, metalsmiths, ceramists, patina artists and silk weavers, located all over the world. "I like to have a small capsule of a studio and then tap into highly skilled experts on different levels, as necessary," she says. "It's a real network of expertise."
The resulting products are elegant and deceptively simple looking, with a retro feel that recalls both mid-century modern Scandinavian design and early-20th-century Art Deco. For Menz, vintage design's main attraction is its craftsmanship.
"Every time I go to a market or a fair or a collectible environment, I'm just blown away by the detail," she says. "A lot has to do with how much time people were spending on it. I just really love the old value system of treating the materials with a lot of respect."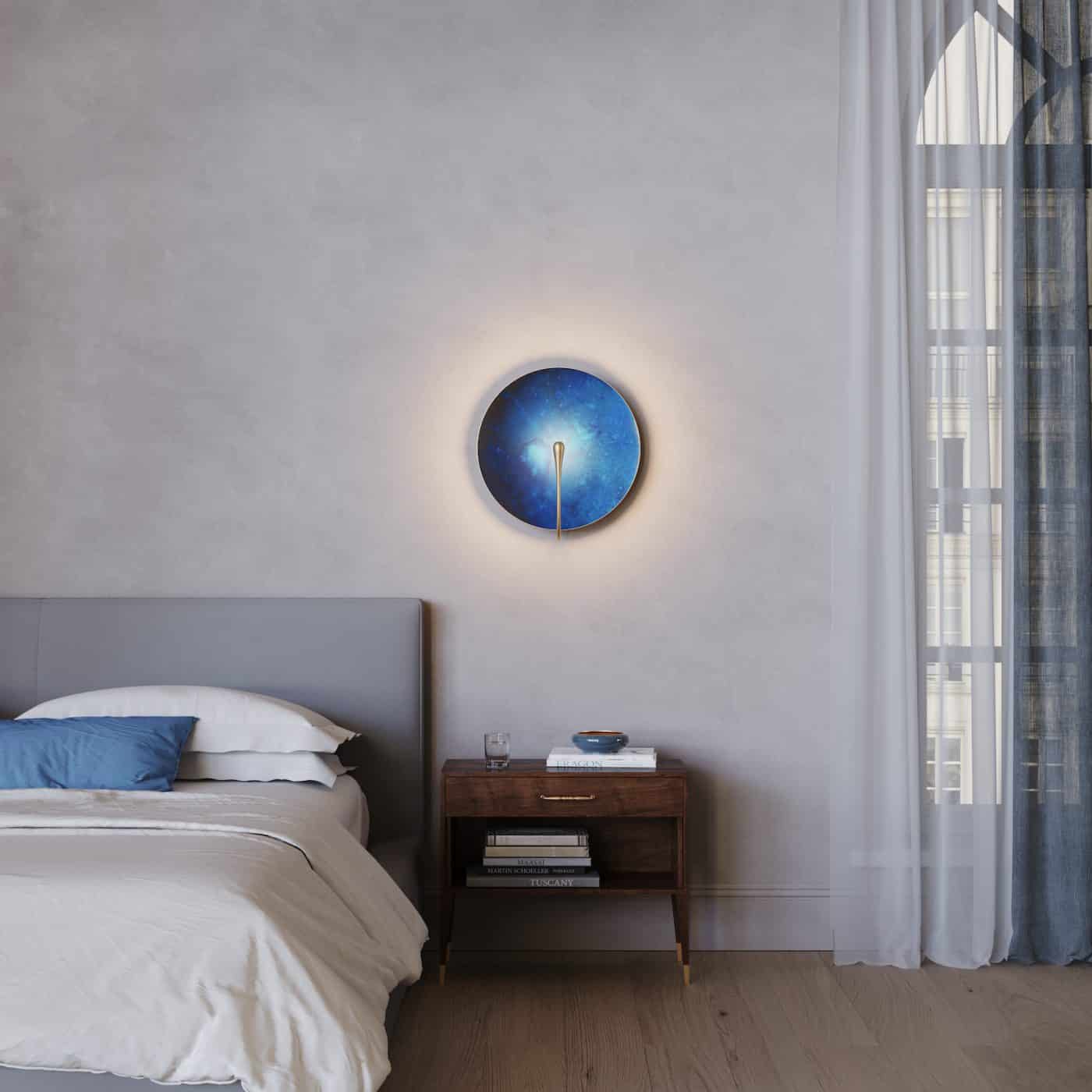 Although timeless in design, her lamps always include modern lighting technologies, using only LED elements, which she hides from the eye. "One thing that's very important to me is that you never see the actual light source," she said. "I hate that feeling in your eye, as if you just looked into the sun and you have that dot in your field of vision."
Atelier001 will soon expand beyond lighting, adding accessories and furniture pieces to its repertoire, starting with tables. "We're exploring how we can create tables that are very glamorous and artisanal but transportable," Menz says. "There will also be chandeliers in this coming collection. For me, that's obviously the biggest challenge — because they will be made more than once, I feel they have to be the best chandeliers ever."
Eva Menz's Talking Points