I've probably cried seventeen times today," Jeremiah Brent remarks on a recent Friday afternoon. Although perhaps prone to hyperbole, the designer and self-described "spontaneous crier" has more reason than usual to be emotional, as it's his daughter's third birthday. She was his first child with his husband, the equally telegenic designer Nate Berkus — son Oskar was born in March — and with a name like Poppy Brent-Berkus, she seems destined to be a decorator.
Brent and Berkus married in a lavish 2014 celebration at the New York Public Library — the first same-sex couple to do so — and since then have cemented their status as an industry power couple. In addition to thriving solo careers (Brent has offices in New York and Los Angeles, and Berkus's firm is headquartered in Chicago), they have a popular home-makeover show, "Nate and Jeremiah by Design," whose second season recently wrapped up on TLC.
On the show, Brent and Berkus help homeowners complete renovation projects that, for reasons ranging from debilitating health issues to ill-conceived DIY attempts, have become financially and physically impossible for them to complete. In one of the first season's episodes, Brent and Berkus come to the aid of a newlywed couple who tore apart the walls and floors of their bungalow seeking a more open-concept style. The problem was, neither their construction skills nor their budget matched their zeal for demolition. "Everyone likes to buy a sledgehammer, but no one can buy a tape measure," Brent quips.
Of course, he recognizes that the wildly accelerated timelines and instant gratification of a home transformation on TV are nearly impossible to replicate in real life. "There are a gazillion people working behind the scenes," he says. Not that the realities of reality TV came as a surprise to Brent, who is something of a small-screen veteran by now, having appeared as a regular on Bravo's "The Rachel Zoe Project" and OWN's "Home Made Simple."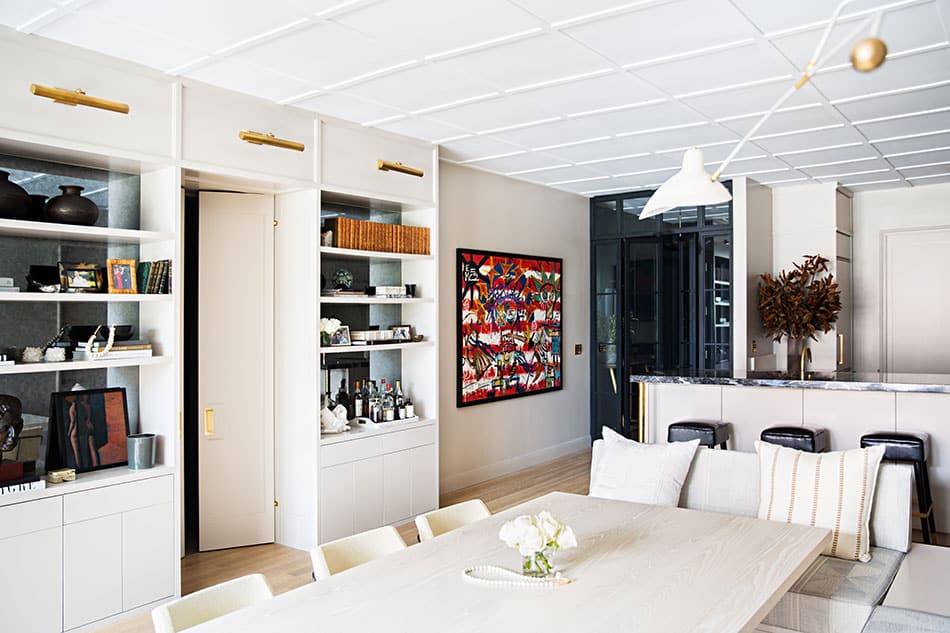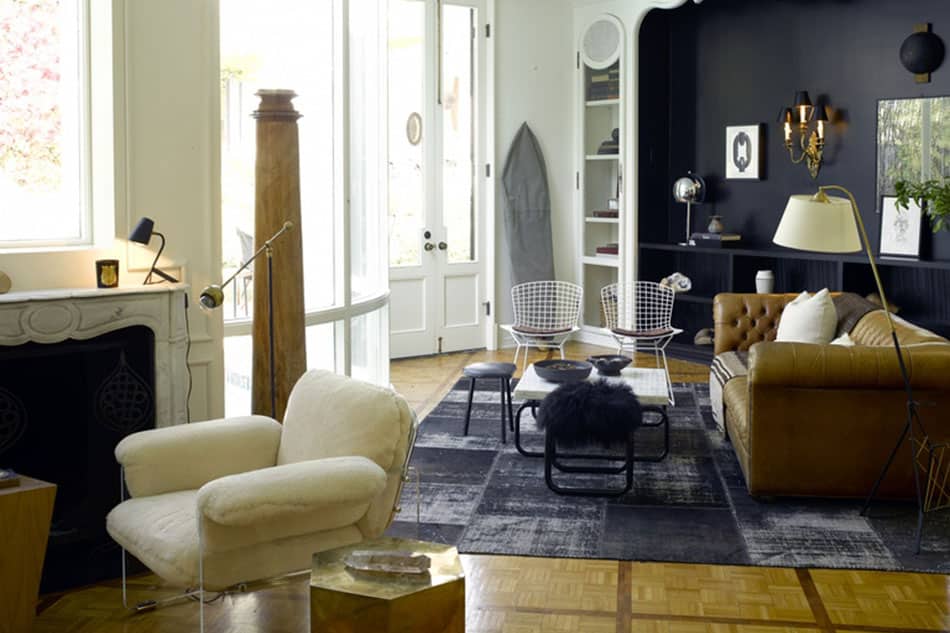 "TV's fun, and I respect it for what it is," Brent says. "It's a great opportunity to connect with people. But," he adds, "I don't take any of it too seriously. It doesn't fuel me creatively." Instead, he gets his artistic adrenaline rush from collaborating with his staff at Jeremiah Brent Design, which he founded in 2011. "In my firm, I get to work with a lot of great creative people. There's no ego for me. I don't pretend to know everything," he says. "Or anything."
His self-deprecation belies his abilities, evidenced in interiors that blend elements both rustic and modern, bohemian and sophisticated. In a West Village living room with ink-colored walls, a contemporary Gabriel Scott side table is flanked by red-velvet-upholstered mid-century modern armchairs. In an open-concept Pacific Palisades home, a marble center table is paired with a rattan stool, and a nickel canopy bed is topped with a Moroccan wedding blanket.
"I like to experiment with styles," Brent says. "I don't want to be the designer who just has the one aesthetic I do really well." He concedes, however, that he has definite preferences: "I  gravitate toward cleaner lines, natural materials, vintage furniture." Among his favorite designers are Charlotte Perriand, Jean Prouvé, Harry Bertoia and Frank Lloyd Wright. Then there's Jacques Adnet, whose name Brent cites throughout our conversation and whose Crystal Ball lamp ("I'm trying to decide if I need it") the designer is currently coveting. "He was one of the most talented people in the world."
Pursuing a career in interior design seemed like a natural fit for the Modesto, California–reared Brent, who says he "grew up as the kid who spent weekends going to open houses with my mom." His interest wasn't restricted to aesthetics. "I loved to imagine how people could live in the home." How people live is a principle that guides his work today. "In the firm, we're about creating moments and experiences that clients will have in them."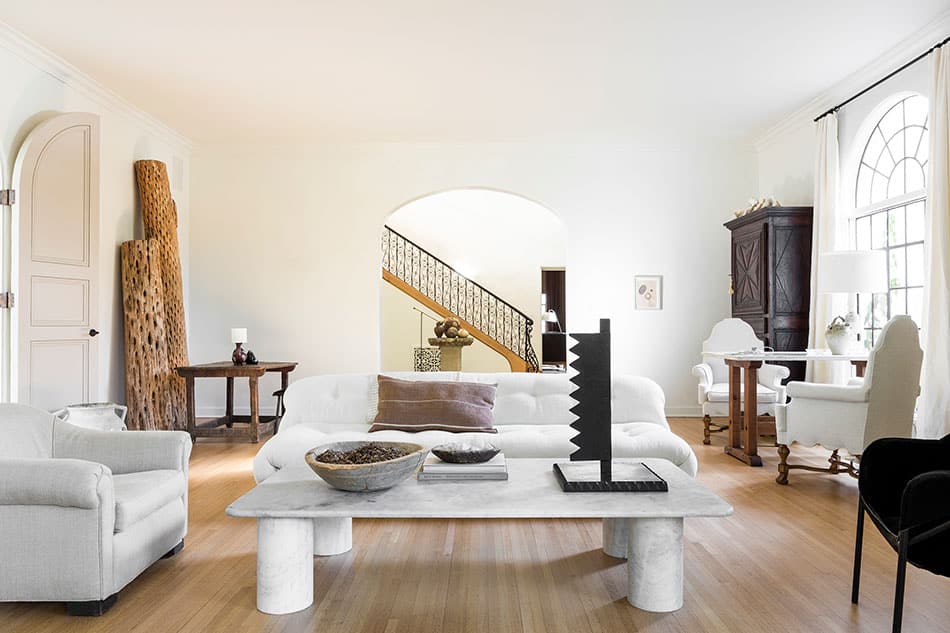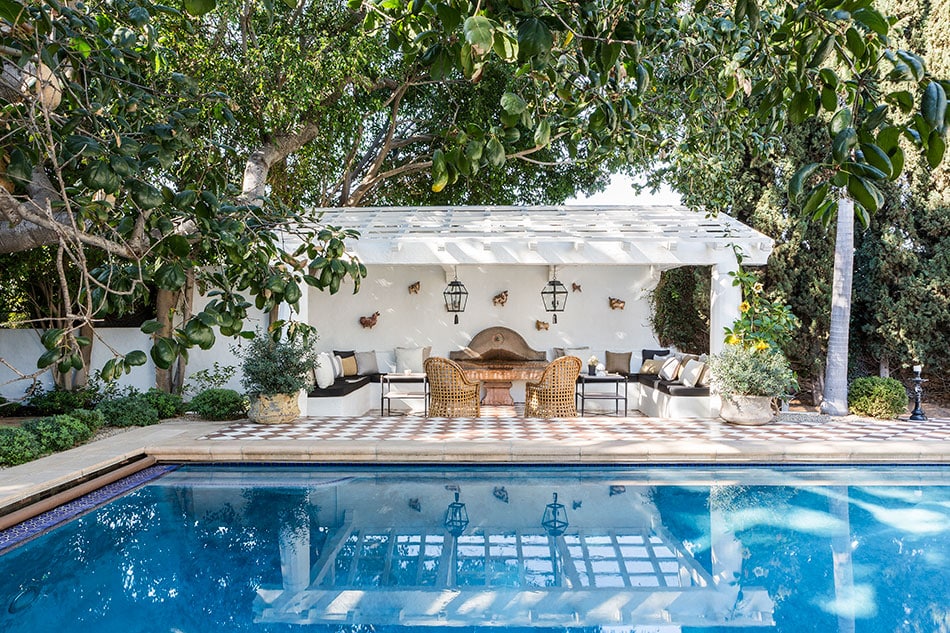 That includes his own Los Angeles home, a 1928 Spanish Colonial that he and Berkus recently renovated. The couple's affinity for neutral tones is evident throughout the residence — even in the nursery. The only exceptions to the apparent no-color rule are the books in the library and Poppy's pink-tinged bedroom and playroom, because even two grown men who also happen to be designers are no match for a toddler's commitment to the Barbie Dream House aesthetic.
How does he juggle the responsibilities of a growing family with work? It's a question often broached to working mothers but rarely fathers. "That's been at the top of our minds lately," he admits. "It is a balance, and we're trying to find it. We have the luxury of owning our businesses separately, but that's a different kind of stress." When it comes to designing a home together, the pair has learned to expertly navigate what can be a relationship minefield. Brent, who explains that they moved frequently early in their relationship, estimates that they've lived in at least six homes as a couple. "We design really well together, but we don't order pizza well together," he says, adding with a laugh, "He doesn't like to share."
Pizza conflicts aside, the two clearly have no problem accepting and embracing each other's personal histories. Just consider the name of their infant son: Oskar was the middle name of Berkus's former partner, photographer Fernando Bengoechea, who died in the 2004 tsunami in Sri Lanka, where they were vacationing. Berkus told People it was Brent's idea to honor Bengoechea in this way. The generous gesture, which some might find unthinkable, is perfectly in keeping with Brent and Berkus's partnership, both in design and in life. As Brent says, "We complement each other."
---
Jeremiah Brent's Quick Picks on 1stdibs