David Koepp, the screenwriter behind Jurassic Park, Mission: Impossible and Spider-Man, knows something about making magic. So, what better designer for Koepp than Fawn Galli, the author of Magical Rooms and a strong believer in mixing unexpected elements to give homes, she says, "an almost surrealist sensibility."
Over the years, Galli has worked with Koepp and his wife, writer Melissa Thomas, on a Manhattan townhouse, an Upper West Side apartment, a beach house on Long Island and several offices. So, when Koepp and Thomas, who have four children, decided to decamp to London, they asked Galli to help ease the transatlantic move by creating a comfortable but not dull home there. "After doing so many jobs for them, I know exactly what they like and how they live," says Galli.
In London, Koepp and Thomas found a large flat in Kensington Court Gardens, a red-brick apartment block completed in 1889 (and once home to T.S. Eliot). Because it's a rental, Galli says, "we couldn't do architecture. The biggest changes had to be made with a paintbrush." But she embraced that restriction as an opportunity —  to show how much a few bright colors, and a bit of extreme eclecticism, can accomplish. Galli shipped a selection of the couple's favorite pieces from New York, adding items that she purchased on 1stdibs or found in London — at times for a lot of money, at other times for very little. "If you do some pieces that are expensive and some that are inexpensive, it all balances out," she figures. Despite her interventions, the apartment is all about the clients' stuff, "not my preconceived notions," says Galli, noting, "Who wants a decorator's version of a home? You want your own."
---
Living Room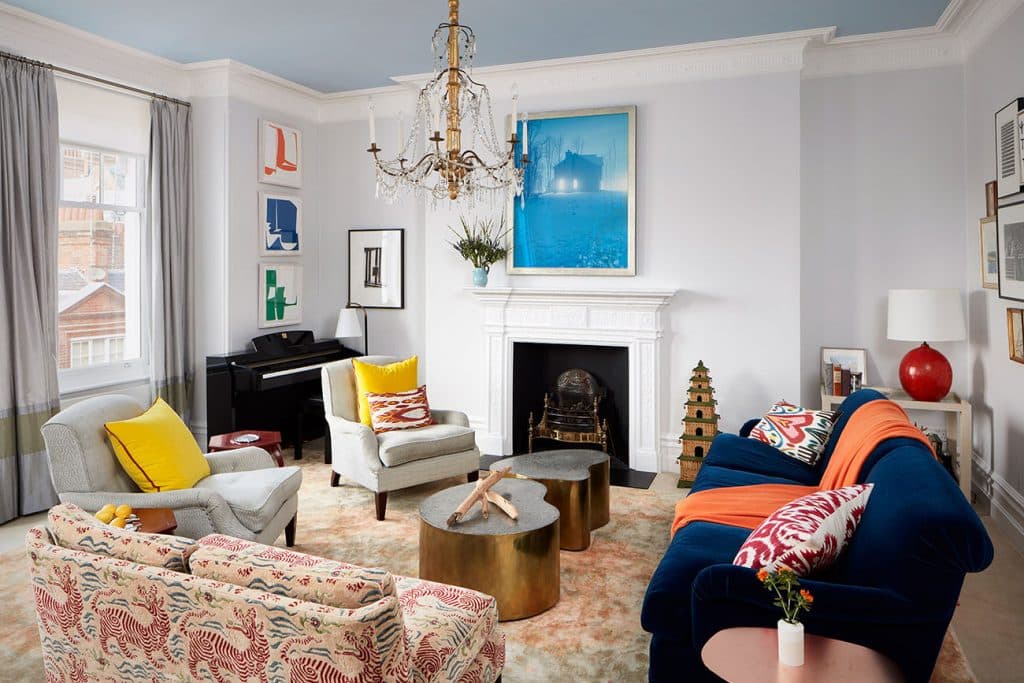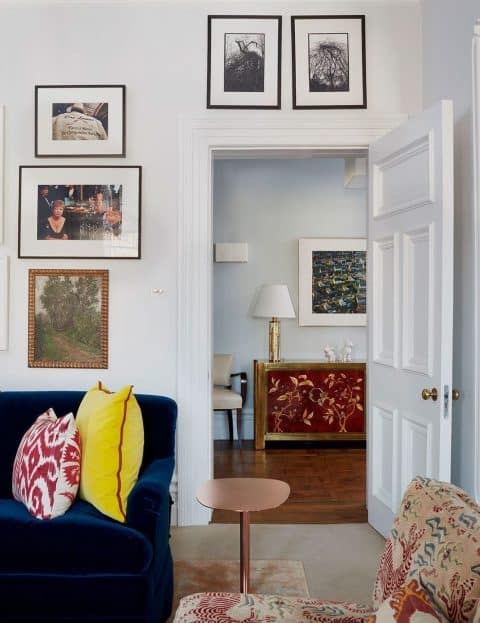 The family didn't move because they had to but because they wanted to. In her design for their apartment, Galli tried to reflect this wanderlust, their "Bohemian adventurousness," as she puts it. The rug is from Fort Street Studio; the chair is by George Smith. The bronze coffee table is from Manhattan's Silas Seandel Studio. The overall effect, in her view, "is stylish but not precious."
The chandelier, purchased in London, lends the room an old-world air, a nod to the new environs. But Galli gave the vintage settee a not-so-old-world quirkiness with a Clarence House zebra-striped fabric (Tibet small scale, in red). Hanging front and center is a papier-mâché zebra head named Jerry. He's a kind of family mascot who came with the family from New York and helps keep things surreal.
Visible through a door in the living room is the foyer, painted Benjamin Moore Tundra. The color is rich enough to add dimensionality, says Galli, who likes its undertones of blue and purple. The art is a collage of modern photographs and vintage paintings. The 1920s console (from 1stdibs) supports a Fornasetti lamp and a collection of ceramic bunnies.
---
Dining room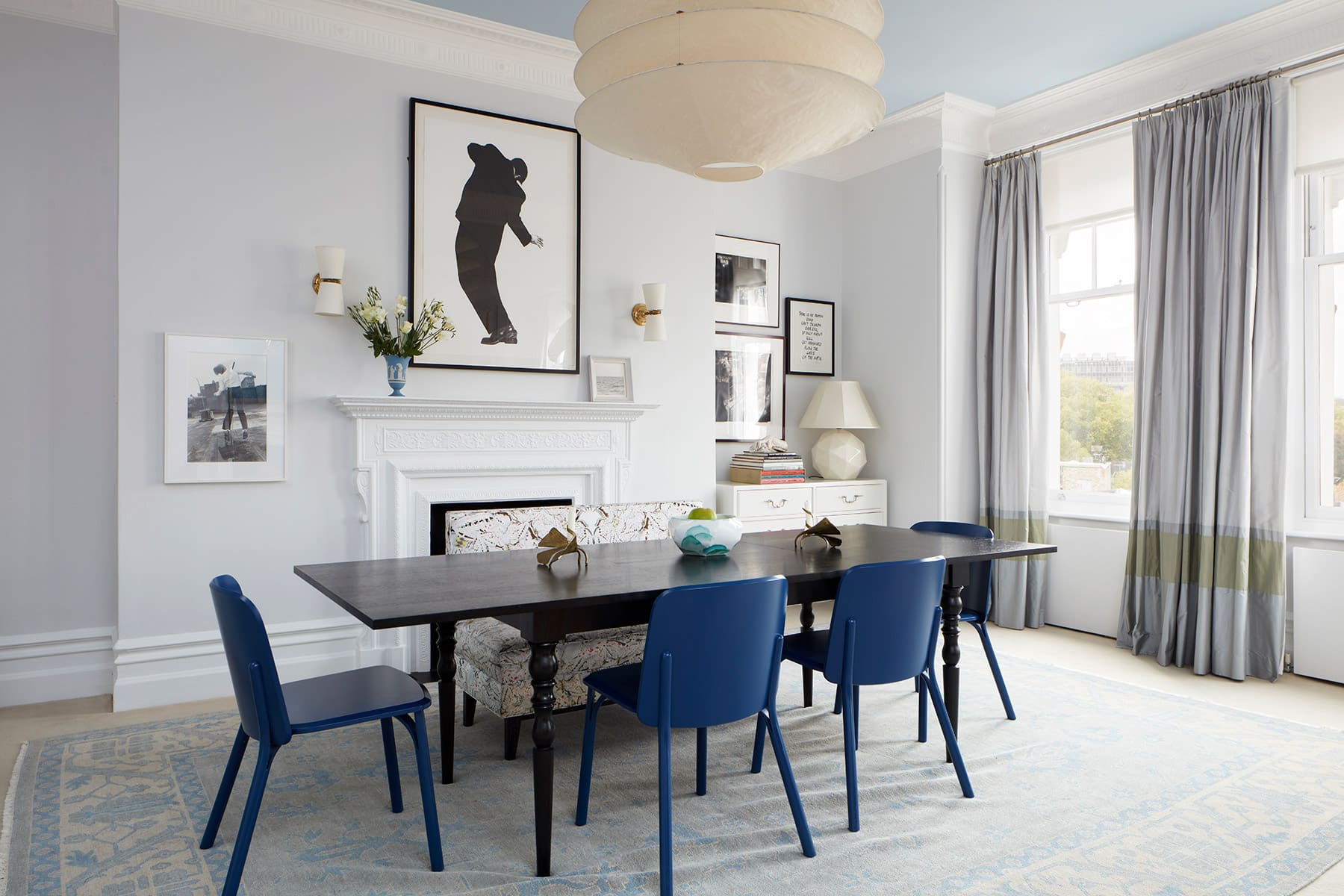 In their New York townhouse, the couple had two dining rooms: one formal and one informal. "This has to do the work of both," says Galli. "It's a place for dinner parties but also a place where children can do their homework and spill things." She painted it a Farrow & Ball blue, then had drapes made from several complementary Jim Thompson silks. She layered a new rug over existing wall-to-wall carpet and upholstered the banquette in a Timorous Beasties fabric (the winged creatures are moths). The '60s sconces are from 1stdibs. Ingo Maurer's Floating Suspension fixture anchors the room.
---
Master Bedroom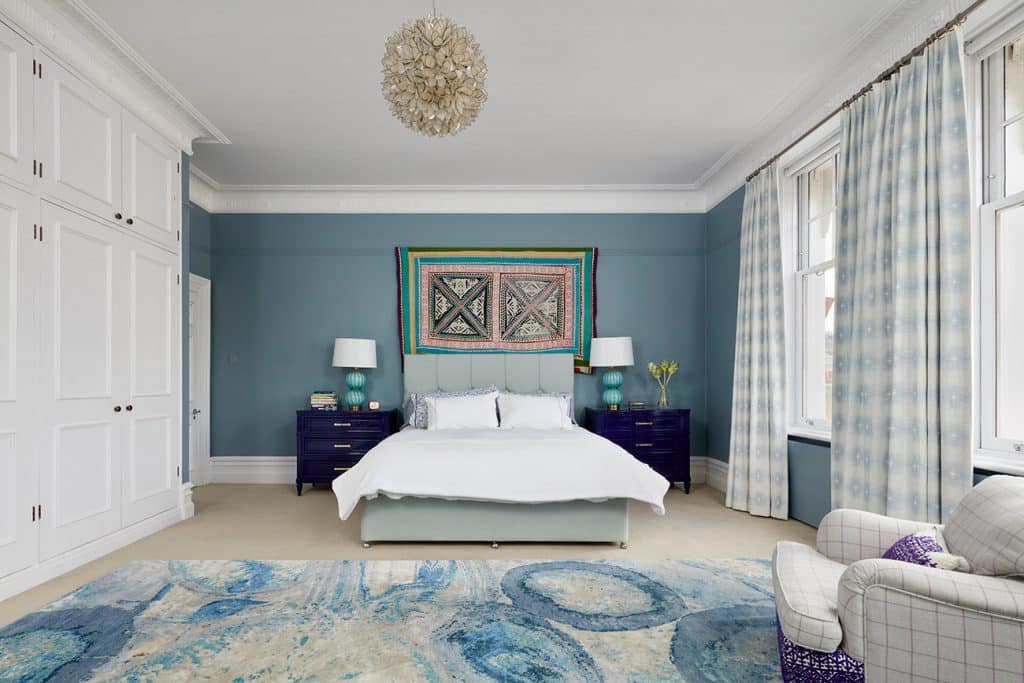 Galli painted the master bedroom a rich teal to, she says, "awaken the senses." Proving that it's possible to mix things up within a single piece of furniture, she upholstered a George Smith chair partly in a Holland & Sherry fabric and partly in Moroccan textiles owned by the clients. The drapes are from Brooklyn-based textile-design studio Eskayel. The Murano bedside lamps and mother-of-pearl chandelier are vintage.
---
Daughter's Bedroom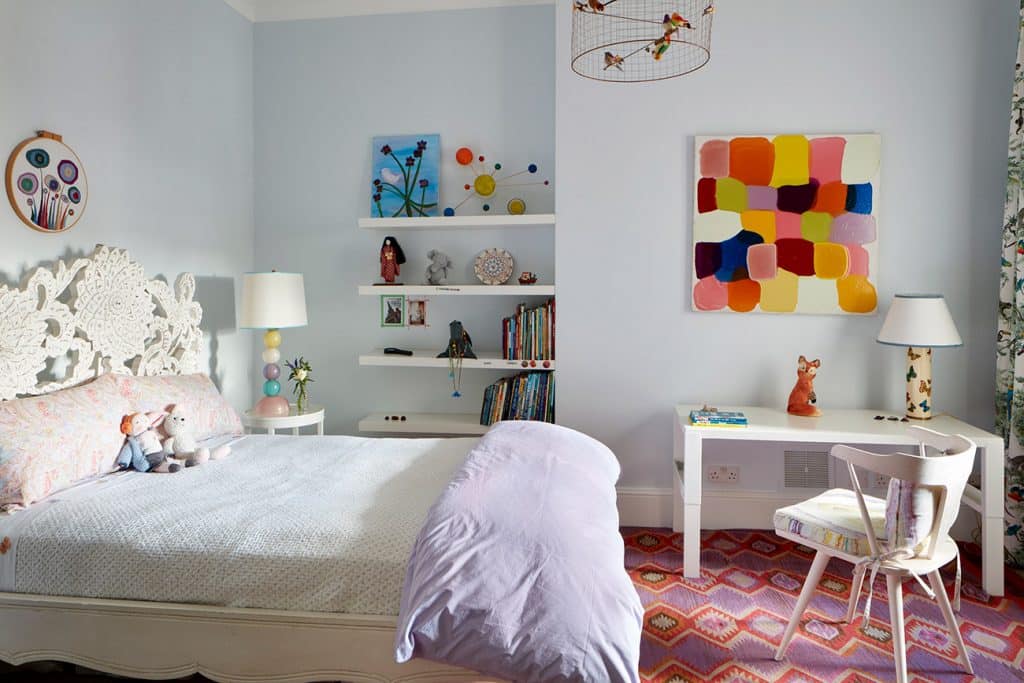 "I like kids' rooms that are vibrant and engage the imagination," says Galli, who sought to give the couple's four-year-old daughter a place she could grow into. The decorator sees the gathering of winged creatures (including the butterflies on a Fornasetti lamp, bought on 1stdibs) as joyful but not juvenile. A Dash & Albert diamond-patterned rug and Hermès drapes create a lush setting for dreamland.
Shop the Look