Since its founding in 1999, the Parisian contemporary design mecca Galerie Kreo has built a formidable reputation for its innovative, limited-edition works by today's top designers. Such talents as Marc Newson, Martin Szekely, Jasper Morrison, Hella Jongerius and the Bouroullec Brothers have been granted carte blanche by the gallery's husband-and-wife cofounders, Didier and Clémence Krzentowski, to create cutting-edge pieces that blur the border between design and art and are regularly snapped up the likes of Gucci-YSL magnate François Pinault, hotelier Ian Schrager and fashion superstar Karl Lagerfeld.
This past year, however, the Krzentowskis garnered attention for a decidedly different sort of project: their eye-popping personal collection of Italian and French lighting from the 1950s through the '80s, which they debuted at Design Miami/Basel last June. Representing the best of three decades' worth of collecting — some 800 prime examples from the likes of Frenchmen Pierre Paulin, Serge Mouille and Pierre Guariche; and Italians Joe Colombo, the Castiglioni brothers and especially Gino Sarfatti, who founded the lighting company Arteluce in 1938 — their Basel booth dazzled with 150 vintage lamps augmented by about 50 of Kreo's contemporary limited-edition lights.
The sensational selection received an equally sensational response: Nearly every piece sold. "There was a lot of interest from Americans," Didier confirms, not least of all from Dominique Levy of L&M Arts, who, Didier says, has a beautiful Sarfatti collection.
As part of the larger coming-out party the Krzentowskis are throwing for their lighting, the couple's definitive new book, The Complete Designers' Lights (1950-1990), 30 Years of Collecting (from Zurich art-book publisher JRP-Ringier), was also unveiled in Basel. A chronological catalog of their acquisitions, the tome also includes a selection of Kreo's 21st-century lighting. Collectors have greeted it as the new go-to bible on the subject. "It is already quoted as a reference by the experts at Christie's and Phillips," Didier notes with pride. "I wanted to show the history of design through these lamps."
The Krzentowskis turned to 1stdibs to shine a third spotlight on the collection. The recent launch of Kreo Light on this site presents an online offering of many of the collection's outstanding pieces. "Kreo Light is a play on words — the lighting is old and rare, but it's a different selection from our gallery limited-editions," Clémence says.
What interests me is the designer who makes a lamp that is not the most beautiful but that gives the best light," Didier confesses when I meet with him and Clémence to discuss the collection at their offices above the Saint-Germain-des-Prés gallery. Didier and I are sitting in Paulin armchairs (CM 190s designed in 1954) arranged around a Szekely liquid metal-on-metal Solaris side table. The chic and svelte Clémence, clad in a little black Alaïa dress with a pair of high-heeled strappy YSL sandals, is multitasking nearby behind Szekely's carbon-fiber desk. Above hangs the Bouroullecs' three-armed Black Light. On the walls, Achille Castiglioni's spotlight, the Bouroullecs' Rocks shelving and Andrée Putman's checkerboard mirror share space with a Nan Goldin photo and a painting by Tatiana Trouvé. The artful industrial designs carry on a smooth dialogue with the fine art.
When the couple met, they were both involved in sports: Didier owned a skiwear company; Clémence, then in her early 20s, was in charge of organizing the 1988-92 pre-Games tour of the Olympic flame — and its design-forward torch by Philippe Starck — for the French Winter Olympics. (In Kreo's collection, Starck's 1988 Flos "Ara" table light echoes the torch's horn shape.) When Didier sold the company in 1992, they established the Kreo agency — the word for "creation" in the universal language Esperanto — to link designers up with industrial clients. Notable successes included Martin Szekely's Perrier glass, of which Perrier has sold more than 2 million.
A few years later, they opened the gallery to "give those designers greater freedom and the possibility to experiment, something they couldn't find in industry," Clémence explains. "The gallery became a design-research laboratory, and because that resulted in entirely new pieces, we decided to produce limited-editions."
A dedicated collector from childhood — first of key rings, then watches and later photography and contemporary art — Didier has never wavered on his stringent criteria. "I am extremely rigid," he confides. "I need something that I've never seen before and something I don't understand immediately but have to ask questions about."
For him, the move between collecting and selling has been seamless: "I opened the gallery almost by accident to sell the duplicates in my lighting collection by such designers as Joe Colombo," he says. What is on 1stdibs now comes from this same cache — what he describes as "the most important lamps from the collection."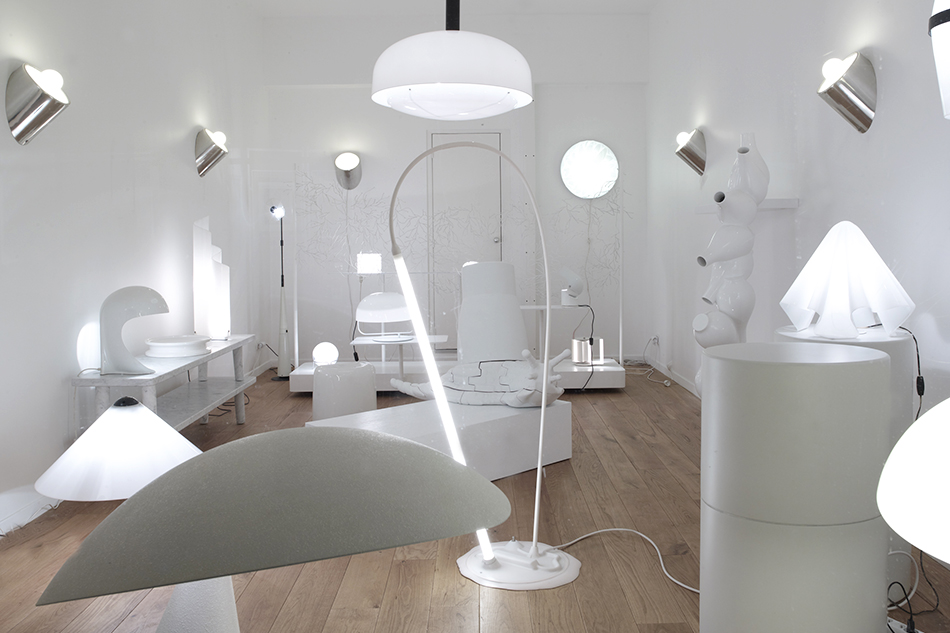 Landmark lights rarely had commercial success, Didier explains, so nearly all of these pieces were produced in small series. "When you are dealing with invention you are dealing with rarity," he writes in the book's preface. "There's always a gap between innovation and contemporary taste — the eye has to get used to things."
As we leaf through the book, Didier points out milestone pieces, some of which are available through Kreo Light. "Look at these images," he instructs, as we turn to a page of Pierre Paulin's Elysées floor lights, lacquered columns that he designed in 1970 for French President Georges Pompidou. "Paulin was enormously inventive," Didier asserts. "He was the first to imagine a shade that was not above the light bulb."
Paying attention to the dates of creativity is important, Didier says. They illustrate design connections — and ingenuity. Gesturing to a page with a bouquet of bulbs hanging from black electric cables, he says, "Look at Rudy Grauman's 1993 '85 Lights' ceiling light for Droog Design. Now, see where it comes from: Sarfatti's '2109/24' ceiling light from 1962." Sure enough, suspended from a black lacquered metal mount is the original "bouquet" of twelve frosted globes, which the Italian wizard designed for Arteluce. "There is no better way to learn than through collecting," he emphasizes.
We skip on to Pierre Guariche's 1958 white Plexiglas-tube floor light, then Sarfatti's ground-breaking Arteluce 1954 "1063" floor light in black metal and white neon tubing and his elegantly minimal 1955 white neon 1064/F floor light. As the art and design critic Alex Coles notes in his essay for the Krzentowskis' book, Sarfatti's lights clearly prefigure Dan Flavin's minimalist work from the '60s, which turned florescent-tube lighting design into fine art.
Didier began assembling these luminous pieces in the 1980s. His first lamp purchase was Danish designer Verner Panton's 1972 Wire floor light, an arresting cage-like columned base topped by a red acrylic dome. He decided to focus on Italian and French designs although exceptions were always made for a coup de coeur (irresistible love at first sight). One such "coup" was the later acquisition of Panton's "Fun 1 STM," a 1964 floor lamp with a three-tiered cloud of hand-cut mother-of-pearl disks on a metal stand.
His lighting Holy Grail, however, was the geometric, multicolored "191" wall light by Sarfatti, whom Didier considers to be the most innovative of all designers. "It was on the cover of Domus in 1951, and then it disappeared," Didier recounts. "Four years ago, I got a call from someone in Italy who knew about my collection, and he sent an image. I said, 'Buy it tout suite!' Someone else had already bought the piece but Didier persisted and eventually got it, for what he calls "a folly price." (It's quoted as about $69,000 in the International Herald Tribune.) "When you find the piece that you don't have, it's extraordinary," he says.
He continues, "There are still things I'm looking for, of course. I look all the time. I am a Chasseniaque." At first, I confuse the word with insomniaque — and he's that, too — but he means he's a hunter addicted to the thrill of the chase. "I hunt really all the time, sometimes even at night," he admits. "That's my life."
---
TALKING POINTS
Didier Krzentowski shares his thoughts on a few choice pieces.