December 19, 2021You need not be a bit religious to be moved by "Gilded Figures: Wood and Clay Made Flesh," the dramatic show of colorful Catholic sculptures on view through January 9 at the Hispanic Society Museum & Library, in Upper Manhattan.
After closing for renovation in 2017, the institution reopened to the public earlier this year, although the construction is ongoing. "Gilded Figures" is the first of a slate of exhibitions highlighting work from the museum's permanent collection that are to be displayed in its refurbished East Building Gallery.
The 25 hyperrealistic saints, martyrs and sinners in the show grieve, languish in purgatory, burn in hell and display rapture, ecstasy and pain. Artists created these sculptures — ranging from life-size figures to reliquary busts, figurines and bas-reliefs — for the church, to inspire the faithful in Spain and the New World. Today, they are proof of the talent and skill of their makers. They are simply extraordinary works of art.
Many people are unfamiliar with this genre. Although Hispanic art from 1500 to 1800 is a major area of scholarship, it is rarely exhibited in New York, according to the show's organizers, Dr. Patrick Lenaghan, the Hispanic Society's head curator of prints, photographs and sculpture, and Hélène Fontoira Marzin, head of conservation.
"The show is the result of a lifetime's worth of looking and twenty years of being at the Hispanic Society," says Lenaghan. "No other museums could put together a show like this — they don't have the breadth we do. We have the finest collection of these works outside Spain."
With pieces from both Europe and Latin America, the exhibition illustrates how the stylistic conventions of Spain were adapted in the New World. It opens in Spain with late Gothic and early Renaissance works, including larger pieces from churches and smaller sculptures that would have been used at home for private devotion. They are not made of precious materials like marble or stone (as they might have been in Italy) but of terracotta and wood, beautifully painted to create lifelike skin tones and rich fabrics.
An example from the mid-15th century is by an anonymous Spanish master, who carved a freestanding sculpture of Saint Martin of Tours, a fourth-century Roman soldier celebrated for a notable act of charity. The rather grand figure is depicted astride his horse, cutting his gold-flecked cloak with a sword to give half of it to a shivering beggar. His earnest young face, soft brown curls and elegant brocade outfit are rendered with great delicacy and skill. This is a saint meant to inspire generosity in others.
Another section of the show focuses on female artists. Women were rarely able to work as independent professionals in Spain at the time. Luisa Roldán was an exception. She learned to carve in the workshop of her father, a preeminent sculptor in Seville, married a fellow sculptor and eventually moved to Madrid, where Charles II named her royal sculptor.
"Luisa is brilliant, thinking of subjects in the most complex way," says Lenaghan, noting her ability to portray a dramatic range of moods, from sweetness to mystical intensity to horror.
One of the five examples of her work in the show is particularly disturbing: a macabre circular polychrome and gilded terracotta relief of the severed head of Saint John the Baptist, 1692–1706. This is gory naturalism. Blood drains from his ear and severed neck. His mouth is open, his eyes closed, hair askew, skin snow-white in death.
"I think this was a teaching vehicle, to inspire people," Lenaghan explains. "It might have been made for a convent or monastery, because we see things like this today on the sides or the lower part of an altar or in a sacristy.
"These artists are not household names yet," he continues. "but they met the demands of the church and the patrons of their time."
In the Latin American section are works by Mexicans and Ecuadorans. One showstopper is the circa 1775 Four Fates of Man: Death, Soul in Hell, Soul in Purgatory, Soul in Heaven, a set of four carved wooden figurines attributed to the Ecuadoran artist Manuel Chili, known as Caspicara.
Soul in Hell is particularly striking. The small bust has metal chains around its bloody neck and torso, which are painted in bright red over silver leaf, giving it a high shine (Ecuador was a major source of silver). The face has a furrowed brow, agonized red glass eyes looking skyward and streaming tears and a mouth wide open in terror, tongue sticking out.
"He was the best-known sculptor in Ecuador at the end of the eighteenth century," says Lenaghan. "These figurines have such incredible quality in the precision of the carving and detail and invention. The mouth is open with the teeth showing, and the blood is pooled through his hair and ear. It shows a great deal of imagination. There is no other set of figurines like this."
One might imagine that pre-19th-century polychrome figures are rare on the market, but there are examples for sale by galleries in Spain. (It is far easier to export such pieces from there than from Mexico and Ecuador. As Lenaghan explains, "Latin America has export laws that have gotten tighter and tighter. Twenty-five years ago, pieces left countries that wouldn't leave them today.")
The Madrid gallery Z. Sierra, which has been in business for 30 years, offers a wide range of early Spanish religious sculptures. The price, says the company's Laura Rodriguez, depends "on the authorship, quality and state of conservation."
Among the gallery's offerings are a number of 16th-century figures, including a wooden sculpture of Saint Luke the Evangelist writing on a board as a bull looks up at him, a pair of Castilian School wooden sculptures of the apostles John and Paul and two carved polychrome reliefs of saints John and Matthew.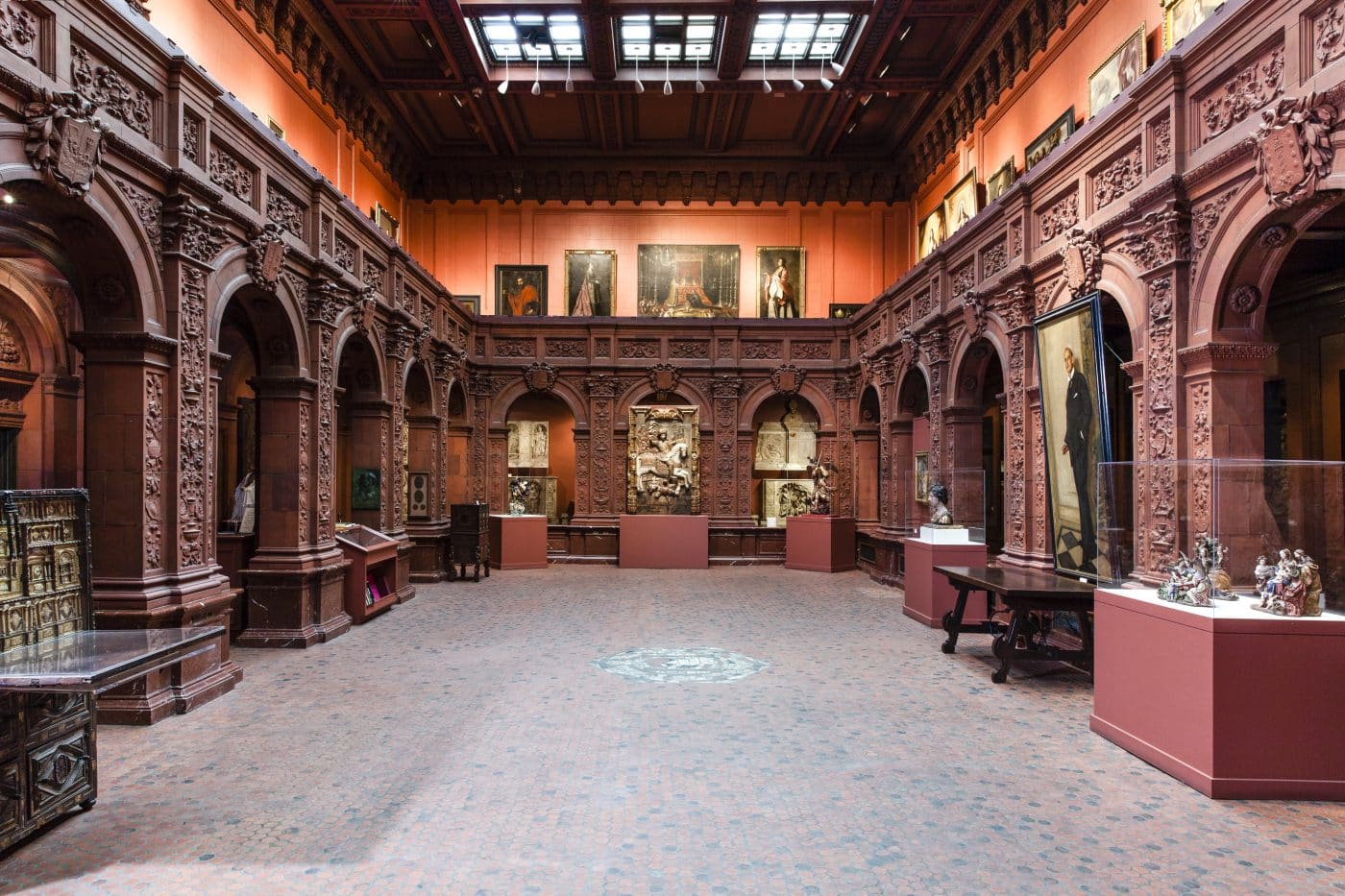 The origin of these pieces is fascinating. Although the Protestant Reformation wasn't as successful in Spain as in other countries, in several instances, particularly in the 19th century, the country deinstitutionalized church property to extract money for various government campaigns — basically nationalizing religious art.
"The government confiscated churches and church lands," Lenaghan says. "They emptied monasteries and churches stuffed with art." The properties and artworks were then sold. The latter have been in private hands for decades and have now reached the market.
Who purchases such sculptures today? "In general, private collectors, museums and foundations buy works of special relevance," says Rodriguez.
"Traditionally, classical art has been more stable than other areas of the art market," she continues. "The collector tends to look for what he does not have — that is, works that provide greater variety to his collection or improve its level due to greater quality, better state of conservation or uniqueness."
Is there a more ideal time to acquire great works than when a collecting area is under the radar?